Balmain Hair Extensions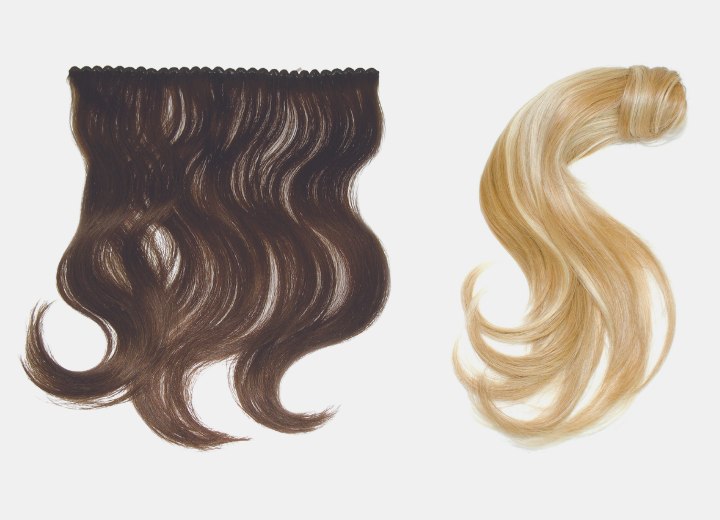 An overview of the many possibilities with Balmain Hair extensions.

Balmain hairMake-Up
A convenient system that allows the consumer to create a different hairstyle at any given time. More length, more volume, and more color in an instant.

Clip-In Fringe
The Clip-In bangs makes it possible to change your style within minutes. Place the bangs on top of your head, clip it in and you have an instant new look ... without cutting!

ClipTape Extensions
Hair extensions with clip system for daily application to play around with color, volume and/or length.

DoubleHair
This unique invention enables a hairdresser to apply 18 extensions at once in 5 minutes.

DoubleHair Color
Update your look to match the fashion by adding DoubleHair, rather than traditional chemical dyes.

DoubleHair Lite
Hair extensions specially developed to meet the needs of women with thin or fine hair.

Elegance
Five trendy hair-ups made of artificial human hair, allowing you to create a new hairstyle in no time at all.

Elegance Ponytails
Create a gorgeous and voluminous ponytail. You can now have edgy tails, romantic long hair, or a trendy high tail.

Fill-in Extensions
Fill-in hair extensions enable the hairdresser to give a fitting, affordable solution for clients who love to have a hair boost.

HairXpression
HairXpression is for women of all ages who like to be in control of the way they look, without spending too much money.

Hair Thickening Service
With Balmain's Hair+ Volume Secret, a product is now available that gives hairdressers the right tools to help women who are dealing with fine, thin hair on top.

New Glamour Shoot by Balmain
Balmain Hair presents the new Balmain Prêt-a-Porter Fashion images for the 2007-2008 Holiday and winter season.

Quick Remover
Balmain has developed a fully automated tool that removes hair extensions quickly and without any difficulty.

Système Volume
Balmain Hair discovered a new way to create lasting, permanent volume.

The DoubleHair Strip
DoubleHair Strip makes it possible to attach a strip of hair equivalent to 45 extensions within 20 minutes.

The Tape Extension of Balmain Hair
Reusable tape hair extensions made of 100% natural hair.