Hairdressing Schools and Online Courses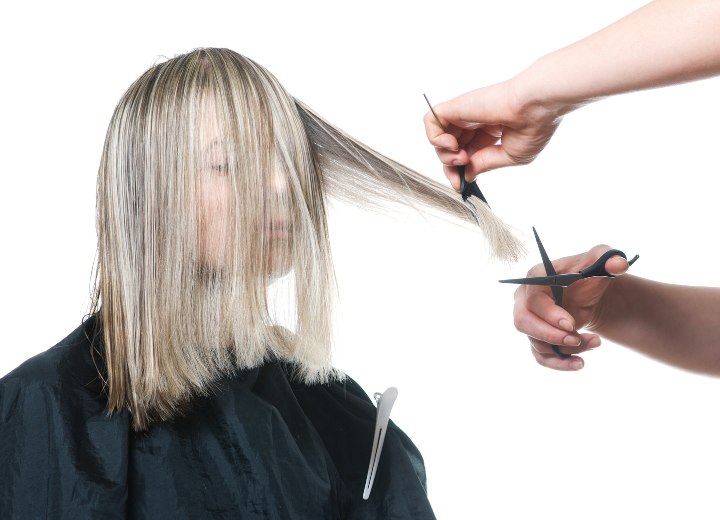 On Becoming a Hairdresser
For many, the art of cosmetology is a calling, for others, it is merely a trade that can be counted on as a fall-back position. Being a hairdresser is a career choice that has as many variations in practice as there are hairstyles.

Talents and Skills to Become a Good Hairdresser
Anyone can cut hair. But not anyone can be a good hairdresser. It is not rocket science to learn the techniques of cutting and coloring hair, but it takes so much more to be really good in this exciting profession.

The Pros and Cons of Being a Hairdresser
No matter what brings you to want to be a hairdresser, or what you expect from a hairdressing career, there are good and bad points about this path.

Haircutting do it yourself
Beginners guide to cutting hair. Articles on the basics of hair care and hairstyling and detailed information, courses and cutting techniques to create many of today's hairstyles.

Hairdressing and Haircutting coursebooks
A selection of hairdressing and cosmetology books, courses and official guides.

Online hair school
On-line hairdressing tutorials and DVDs. The site is being up dated all the time, so hairdressers or those with an ambition to be a hair stylist will always have a variety of new courses to view.

Myhairdressers.com step-by-step guides
Haircutting lessons from the most creative minds in the industry. Illustrated online step-by-step guides. Online hairdressing education with training videos.

Arrojo Cosmetology School
Arrojo's state-of-the-art school is located in TriBeCa, Manhattan's epicenter of fashion, trend, and style. The school adjoins Arrojo studio, one of New York's most successful hair salons.

Avalon School of Cosmetology
Avalon Schools of Cosmetology offers beauty educations in Arizona, California and Utah. Students learn from licensed industry professionals who have years of experience working in the field.

Aveda Institutes
A holistic vision of what it means to be successful in cosmetology. A salon-like environment puts students behind the chair in direct contact with clients, for personal practical experience.

Empire Beauty Schools
With 88 locations in 21 different states, Empire is one of the largest cosmetology school systems in the USA. For more than 80 years, Empire has been providing cosmetology education to future beauty professionals.

Paul Mitchell Schools
Paul Mitchell cosmetology schools prepare students for careers in the beauty industry as licensed cosmetologists. Students are guided through three levels: Core, Adaptive and Creative.

Saco Hair Online
Saco's online education is an easy and accessible way to keep yourself educated wherever you may be in the world. You will find a comprehensive selection of hair cutting and hair coloring techniques alongside creative, salon friendly looks.

Sassoon Academy
Developed and designed to be contemporary and forward thinking, Sassoon hairdressing courses are delivered with passion and technical excellence.

Toni&Guy Hairdressing Academy
International leaders in the hairdressing industry, setting new standards for hairdressers and making good education available globally.