Jobs in Hairdressing & Beauty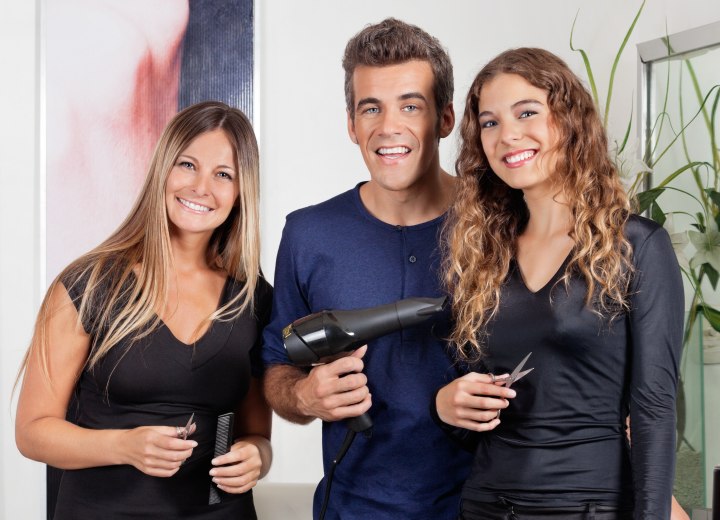 How to Pass a Hairdressing Job Interview
How to successfully pass a hair salon job interview. How to prepare for a hairdressing job interview and what to wear.

On Becoming a Hairdresser
For many, the art of cosmetology is a calling, for others, it is merely a trade that can be counted on as a fall-back position. Being a hairdresser is a career choice that has as many variations in practice as there are hairstyles.

Talents and Skills to Become a Good Hairdresser
Anyone can cut hair. But not anyone can be a good hairdresser. It is not rocket science to learn the techniques of cutting and coloring hair, but it takes so much more to be really good in this exciting profession.

The Pros and Cons of Being a Hairdresser
No matter what brings you to want to be a hairdresser, or what you expect from a hairdressing career, there are good and bad points about this path.

What a Hairstylist Really Sees
Stylists are trained to look at more than just the hair when a client comes into the salon for services. This is because creating a flattering look requires more than just an evaluation of the hair.

Salon Assistant Jobs
Being a salon assistant is a phenomenal way to get hands-on experience not just in a school and classroom but in a highly functioning hair salon.

Freelance Hair Jobs
There are not many trades that make it so easy to work freelance as a career in hair. Salons are perhaps the first thing that comes to mind but there are many other options and the limit is only your own imagination.

Mobile Hairdressing
The freedom you have being a mobile hairdresser is unbelievable. You don't feel tied down to anything, you work your own hours and your make your own money.

Occupational Diseases Among Hairdressers
In studies on occupational disorders and diseases common among hairdressers, the results show that many hairdressers suffer from an illness directly related to their occupation.

Hairdressing Industry and Dermatitis
Questions and answers to help prevent you being affected by Occupational Dermatitis.

Don't simply trim around Hairdressers Insurance
Hairdressing insurance is cover that all hairdressers should have whether you are a self employed hairdresser or if you run a larger business with several employees.

The Adventure of Being a Hair Model
If you have beautiful hair you have a good chance to become a hair model. Most salons are on the lookout for models so that they can practice the new looks.

Scissor Happy Hairdressers
How scissor happy hairdressers make unhappy customers.

What does Hair and Personality have to do with it?
Why hairdressers are like bartenders and psychiatrists, and why most people consider them a unique breed unto themselves. A fun story, with a lot of reality.