Perms and Perming Hair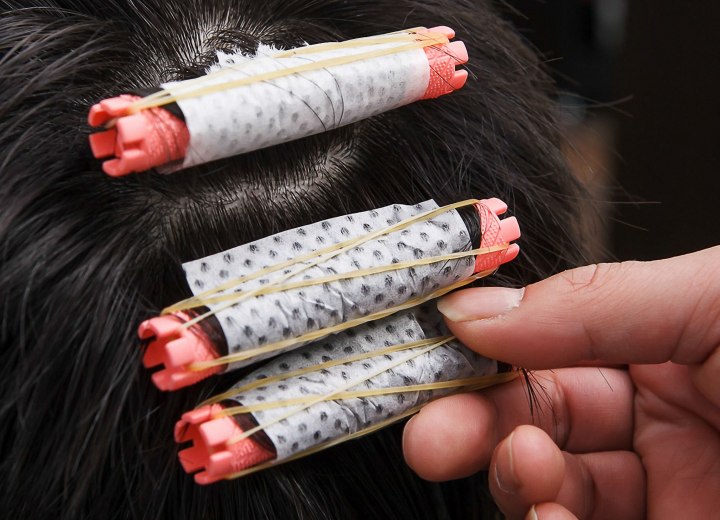 A Guide to Permanent Waves
Each formulation of permanent wave has its own reasoning and purpose for being, since there are so many different hair types. It's important to understand permanent waving and the pros and cons of the different formulations in order to know what's best for a given individual's hair.

Are Permanent Curls Right for You?
Perming your hair is a big deal. It is a chemical treatment and it can take its toll of your hair. Be informed and use caution.

How to Wrap a Perm
Wrapping techniques for a body wave.

How to Wrap a Spiral Perm
A diagram showing the basics of wrapping a spiral perm. The difference between a spiral wrap and the standard perm wrapping method is found primarily in the resulting curls.

How Perms Work
Understand how a perm works and take better care of your permed hair.

Perms Q&A
Questions and answers on anything that has to do with perms and the perming process.

Perm Rods
The size of the perm rod you need to use depends largely on the length of the hair being permed and the amount of curl you want to have in the finished style.

The Scientific Process of Perming and Relaxing
The bonds we are most concerned with in styling the hair are the side bonds. Breaking and reforming these side bonds allow us to rearrange the wave pattern of the hair.

Long Curly Celebrity Hairstyles
Pictures of celebrities with long curly hair. Many style ideas for when you decided to get your hair permed.

After-Care for Colored or Chemically-Treated Hair
The best way to care for permed, straightened or colored hair in order to restore its condition and preserve the new style or color.