Hair Styling How To (2)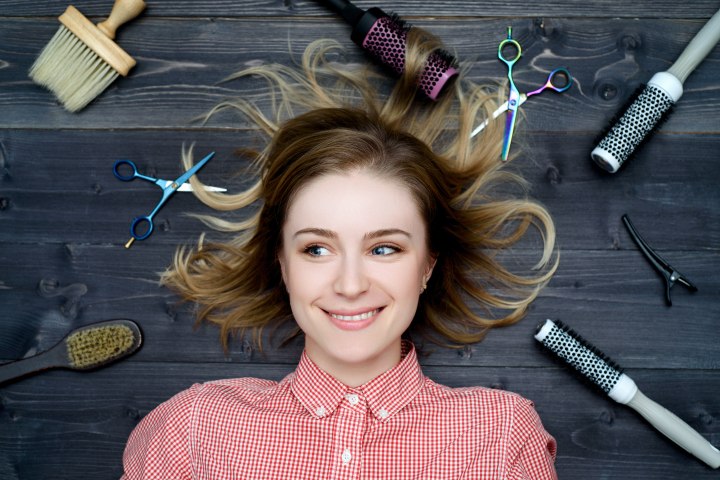 How to Blow-dry a Short Bob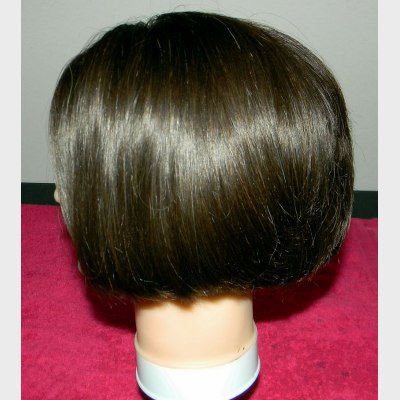 This tutorial shows you exactly how to blow dry the classic short bob into the timeless style that the short bob was initially created for. This hairstyle is sleek and flawless. The style is feminine and grown up, but with a slightly playful twist. More ...
How to Blow-dry a Short Inverted Bob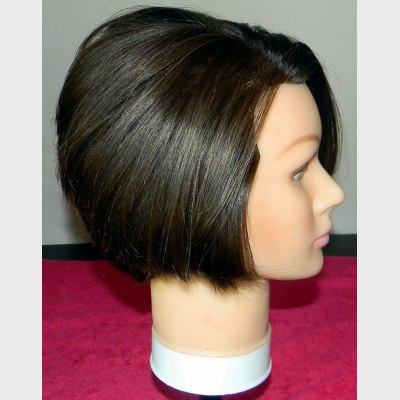 Styling instructions explaining how to blow dry a short inverted (angled) bob and how to create volume while doing it. The hair is being styled with a flattering side part that is so much in fashionable demand these days. More ...
How to Create a Faux Bob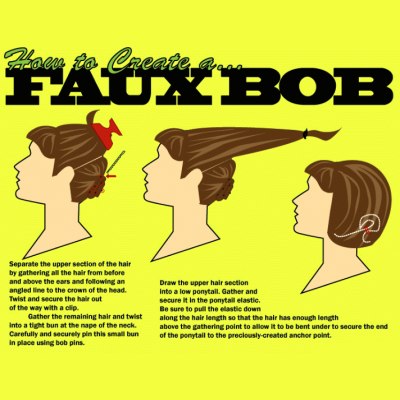 Many women with long hair often think of going for a shorter bob cut, but realize that it is a big commitment to cut one's hair. And sometimes, they may not really want to make that commitment. Here's a little trick to let you create the look of a short bob without losing any length. More ...
How to Crimp Hair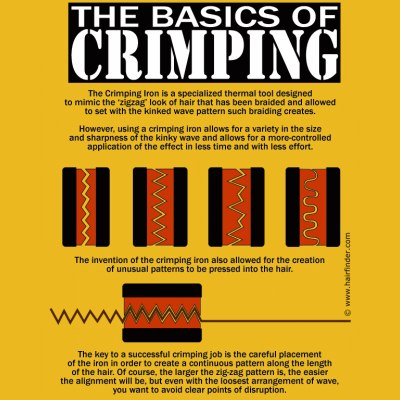 Unlike curling irons and flat irons, the crimping iron was designed to add a wave to the hair, much like the effect of braiding the hair while damp and setting the wave by allowing it to dry while braided. The crimping iron has the benefit of being a faster process. More ...
How To Imitate Celebrity Looks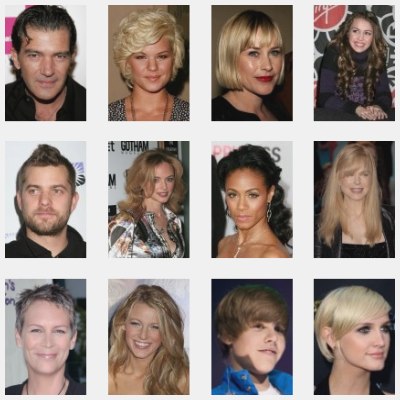 Learn how to imitate the looks and styles of celebrities. Detailed descriptions of the Hollywood looks and illustrated hair cutting and styling techniques. Copy the looks of Antonio Banderas, Ashlee Simpson, Justin Bieber, Jessica Alba, Miley Cyrus and many other celebrities! More ...
How to Get Straight Hair without Using a Flat Iron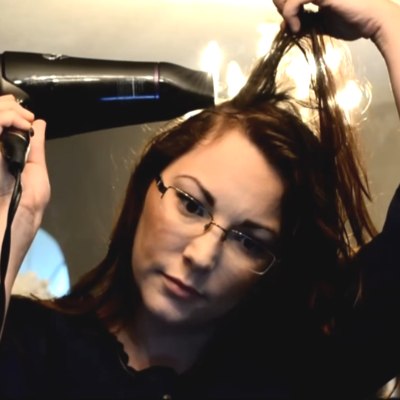 Damage is consistently being done to our hair, for most, on a daily basis. Using the well-known blow dryer and round brush technique is the best way to straighten one's hair. Not only is the heat significantly less but it also takes less time! More ...
How to Get the Balmain Beach Look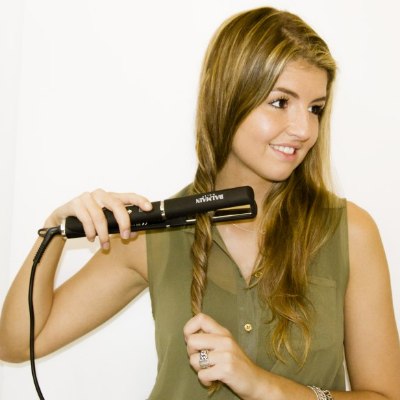 Beach waves are super trendy and an effortless and timeless look for long hair. Now it is easy to create beach waves with Texturizing Salt Spray by Balmain. Create voluminous full bodied hair and moist hair to create a nonchalant effect. More ...
How to Style Beach Curls for an Angled Bob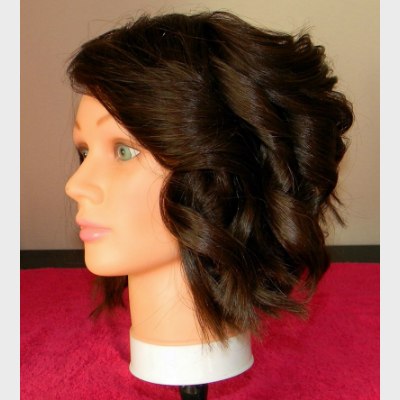 Tutorial showing how to style beach curls for an inverted bob. A beautiful hairstyle for prom, the beach or graduation. As the inverted bob isn't a very long hairstyle, it is relatively easy to ensure that the curls stay in for the duration needed. More ...
How to Style Beach Waves for a Long Bob

Styling instructions for beach waves for a long bob. Remember we're going for the beach curls here, so you're going to want to get rid of the bulk of the "perfectly" created curls. The idea is to mess up the curls a bit so that it seems more natural. More ...
How to Style the Hair of a Bedridden Individual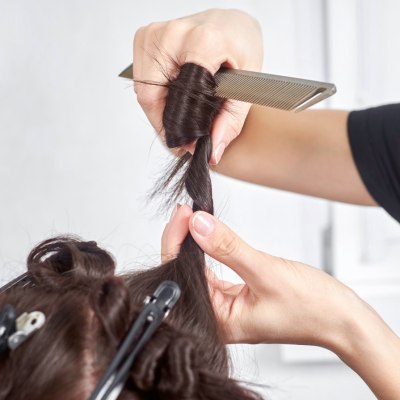 Although the styling of the hair is something that is most frequently done, and it is the simplest as far as preparation and precautions are concerned, styling can take on many variants and different advance preparation depending on the tools you choose to use. More ...
How to Tie a Scarf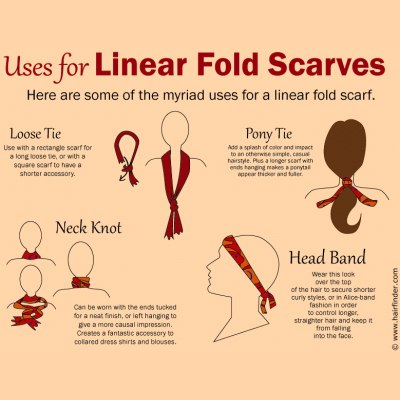 There are some basic scarf folds that can be applied to a number of uses as hair accessories. You can use a scarf as a ponytail tie or wear it over the top of your hair. Let's take a look at a few of the basics and see to what uses they can be employed. More ...
How to Use Gel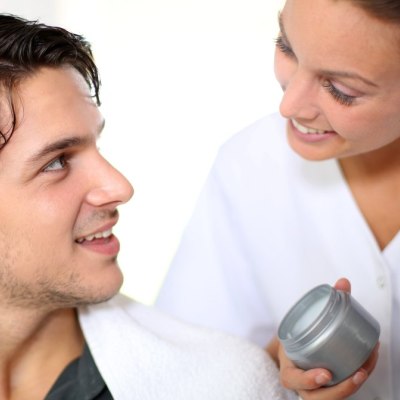 There are different types of hair gel, and these all serve specific needs and are better suited to different hair types. While a number of styles can benefit from styling gels regardless of the hair length, the use of gels often really shines in cases where the hair is short. More ...
How to Wrap a Perm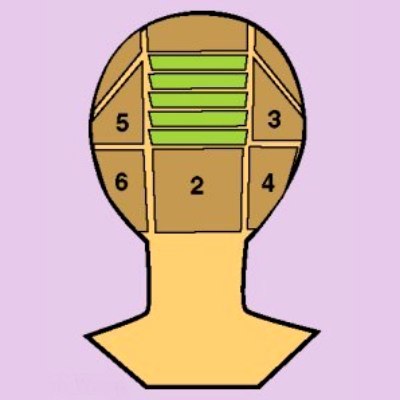 The biggest factor in a successful perm is the perm wrap. How the hair is wound on the perm rod, the size of the rod, and the number of rods used all effect the outcome. So, we're going to show you how to wrap a perm. For our demonstration we will wrap a body wave. More ...
Interlocking Combs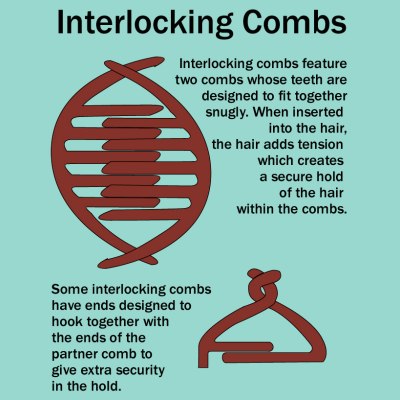 Interlocking combs are great for women with long hair who want to secure the hair away from the face without using potentially damaging ponytail elastics, annoying hairpins, or unattractive banana clips. Standard interlocking combs generally come in pairs. More ...
Long Back-angled Bob with Volume and Curls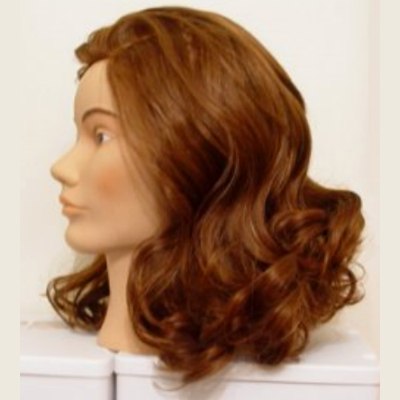 For our demonstration, we chose a wet-set with large rollers for big, full curls with a lot of strength. If you are practiced at creating a curly style with long hair, you know that various techniques will give you differing levels of strength in your curls. More ...
Long Hair Roller Set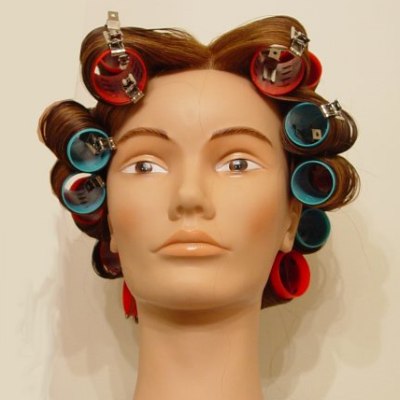 The big, soft-curled style is becoming popular again. The head full of tousled curls that was so popular in the late seventies and early eighties is once more in vogue, and updated by the use of hair product formulated to produce curl without frizz. More ...
Perm Rods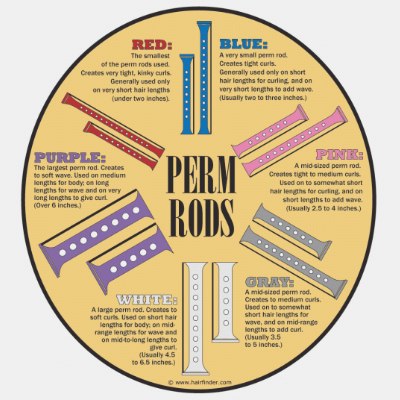 Choosing perm rods is one of those subjects that requires a little finesse when it comes to choosing the right one. The size of the perm rod you need to use depends largely on the length of the hair being permed and the amount of curl you want to have in the finished style. More ...
Spiral Curls & Barrel Curls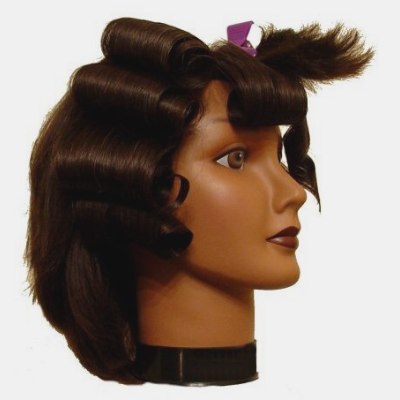 There are two different types of curl that are most common in curling iron styling - barrel curls and spiral curls. In order to help you understand how to achieve the proper results with these curls, we performed a demonstration on a manikin. More ...
Next Page