DIY Haircutting Instructions (2)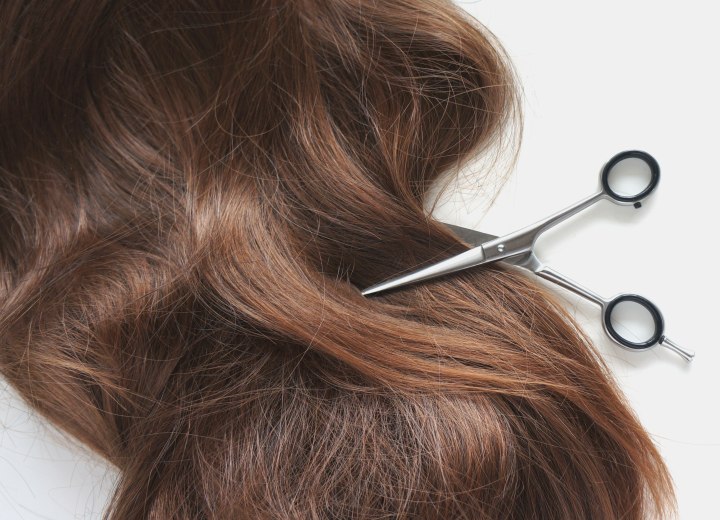 How to Cut a Choppy Pixie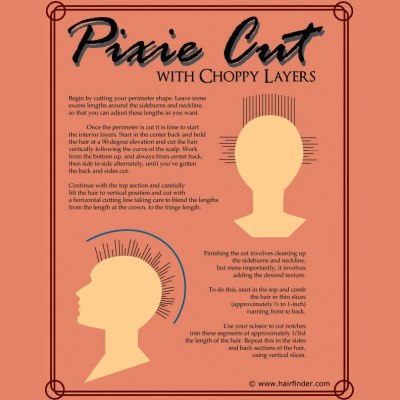 Today's pixie haircuts are at times shorter than many were traditionally, but the essentials of the cut are the same. The pixie cut is fairly straightforward. Unless you're starting with very long hair, you don't even really need to section the hair to start working. More ...
How to Cut a Dramatic A-Line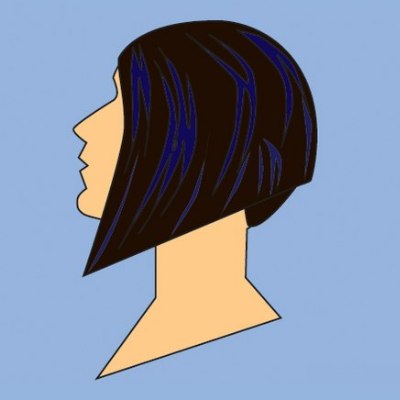 An A-Line cut is a classic blunt cut bob with slightly longer length at the front of the head than at the back, creating a slightly angled line. This hairstyle is also referred to as the "concave bob". It looks best executed on straight hair with at least medium density and thickness. More ...
How to Cut a Fringe

Any individual contemplating the incorporation of a fringe into their hairstyle should be aware of what their hair is most likely to do. Let's take a look at the concept of the fringe, the problems that can be inherent in various hair types and solutions that can be adapted. More ...
How to Cut a High and Tight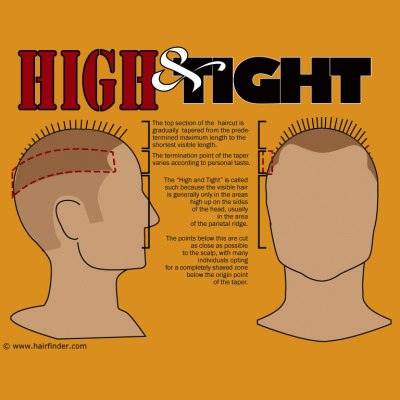 There's been an increased interest in the military inspired haircuts for men that have been around for generations. We're going to discuss the cut referred to as "high and tight". It is, obviously, a clipper cut. It's similar in many ways to the "high top fade" and "buzz cut" styles. More ...
How to Cut a Long Bob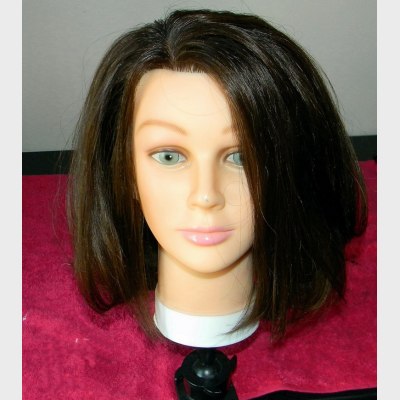 Illustrated cutting instructions for a long bob, demonstrated on a training head. Draw out a section of about two inches at the nape of the model's head. Clip the rest of her hair securely on the top of her head with a crocodile clip. More ...
How to Cut a Long Graduated Haircut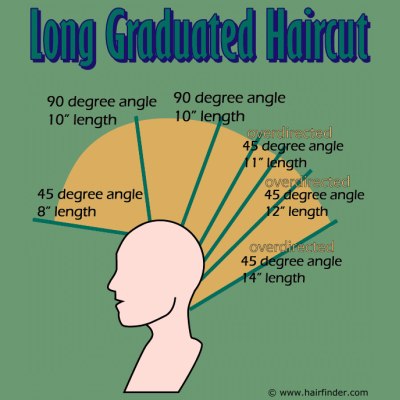 The long graduated cut is traditionally a cut for women who want an especially long layered look. As with other haircuts, the term long graduated cut can refer to a wide variety of specific looks, since the key techniques of the cut consist of tension in the segment being cut. More ...
How to Cut an Inverted Bob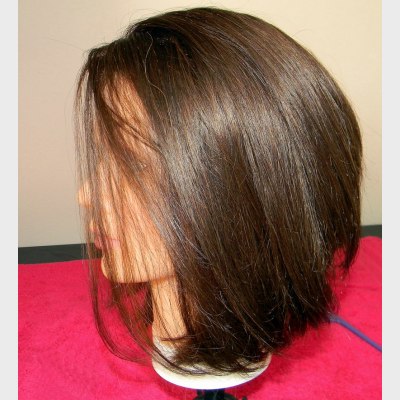 Cutting tutorial for an inverted bob. These are the main characteristics of an inverted bob: shorter at the back with progressively longer sides framing the face. An easy to maintain hairstyle that is flattering on almost any face shape. More ...
How to Cut a One-length Haircut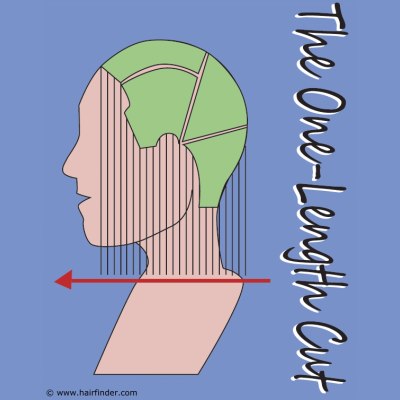 One of the basic haircuts in a stylist's repertoire is the blunt cut. This is the hairstyle that most people refer to when they say that they want the hair to be cut "all one length". Here's the easiest way to execute this staple haircut. More ...
How to Cut a Short Graduated Haircut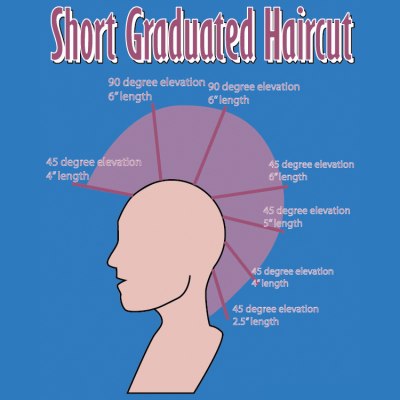 A graduated cut is a haircut that results from cutting the hair with tension, and low to medium elevation or over-direction. Many graduated cuts also have a stacked area around the exterior. The term "short graduated cut" can refer to a wide variety of specific looks. More ...
How to Cut a Short Inverted Bob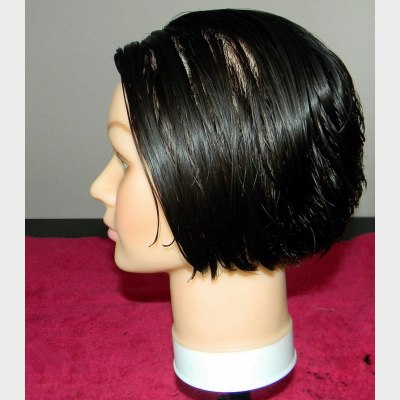 The short inverted bob (also called angled bob or plunging bob) has seen a huge resurgence in popularity in the last few years. This hairstyle goes well with oval, heart and triangular face shapes and faces with distinct or unique features. More ...
How to Cut a Short Bob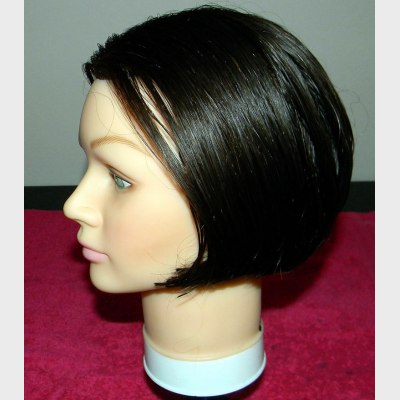 The short bob is a very in-demand style these days. Women often opt for a fresh start and a short style. Impress your clients with your short hairstyle finesse and know-how with this short bob cut. The hair follows gentle curves and uniform angles along the silhouette of the head. More ...
How to Cut a Short Stacked Bob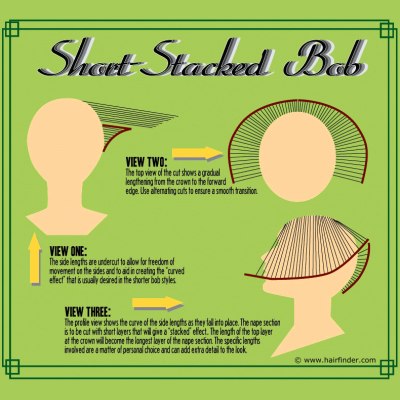 For this type of bob, we need to discuss some important factors that have to be considered to make sure the cut is going to be suitable for the individual. These factors include the hair's texture, the hair's wave pattern, the shape of the face and the overall balance of the silhouette. More ...
How to Cut a Uniform-Layered Haircut

One of the basic haircuts in a stylist's repertoire is the uniform-layered cut. This haircut utilizes techniques that are a part of many other hairstyles, making it a valued technique to master. Here are step-by-step instructions for this haircut. More ...
Stepped Haircuts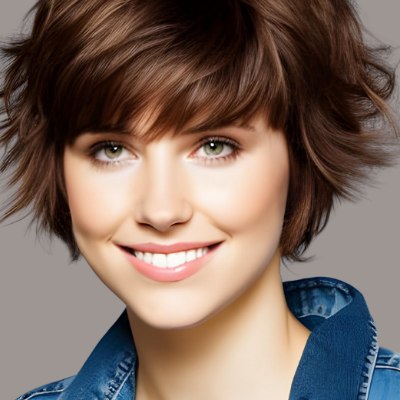 The term stepped haircut is one that few people understand. For some stylists, the term is interchangeable with a graduated haircut, but technically there is a specific difference. A stepped haircut does not take as much action to create smooth transitions in the varying lengths. More ...
Tapering with Scissors-over-comb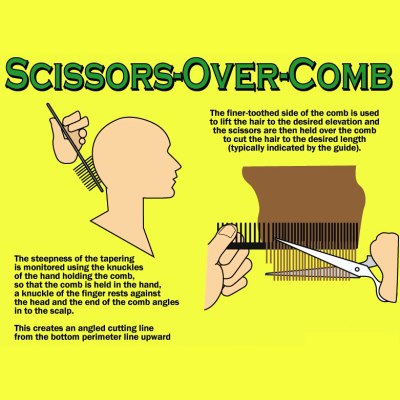 The term scissor-over-comb means just what it says, but it's not as easy to do until you've had some practice. The purpose of this discussion will be to help you understand how (and why) to perform a scissor-over-comb cut. More ...
How to Cut Hair for an Individual who is Bedridden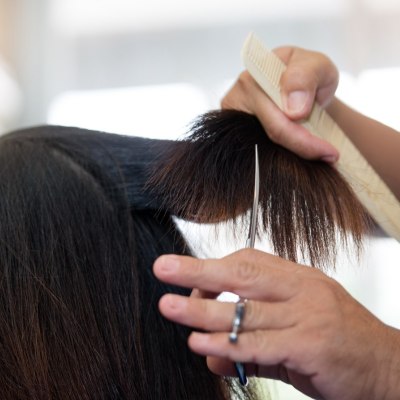 A common issue that arises for those who have long-term serious health issues is having their hair cut and trimmed to maintain a pleasing style. Solutions for this problem vary and there are issues that should be addressed. More ...
How to Hold Your Shears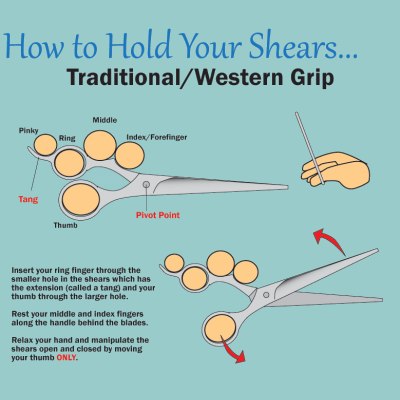 If you don't hold your shears properly, you're going to regret it. Here are the two main variations (the Traditional/Western grip and the Eastern/European grip) for gripping the shears, and a little information on the tasks for which they work best. More ...
How and Why to Trim Long Hair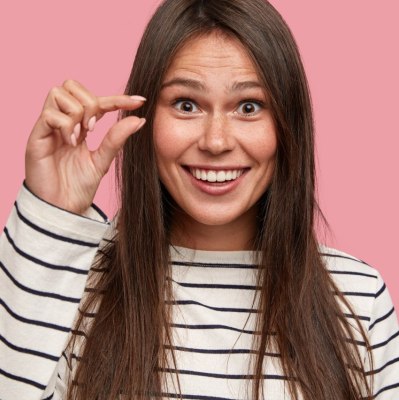 Sometimes, long hair gets damaged by environmental conditions, or specific styling requirements. The results can be severe in the long term. In order to keep your hair looking healthy, even if it's long, you must keep it trimmed. More ...
Layers of Style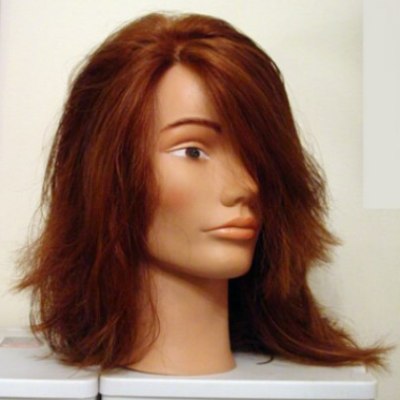 There is a major difference in styling hair with and without layering. What follows are examples of two separate roller set styles created on the same manikin. The key difference is that the manikin's hair was cut between the two styling sessions from a blunt cut to a long-layered style. More ...
Next Page