How to Cut a Short Inverted Bob
The short inverted bob (also called angled bob or plunging bob) has seen a huge resurgence in popularity in the last few years. Everyone from Paris Hilton to Jennifer Lawrence has elected to snip off their long locks in favour of this feisty new hairstyle.

If you crave something new and exciting, and you're brave enough to say goodbye to your long tresses at least for a while, then this might be as good as a vacation for you. This hairstyle goes well with oval, heart and triangular face shapes and faces with distinct or unique features.




Click to enlarge

1. What you'll need: scissors, clips and cutting combs.



2. Note that we're working with wet hair while cutting. Also note that this model's hair is already cut in a relatively short style. If your model has long hair, cut the length of the hair off to approximately below the nape of the neck, and then continue with the following steps.

Comb the hair back towards the back of the model's head. Remember to work very gently with wet hair, as hair that's wet is at its most vulnerable state, and breaks exceptionally easy. If your client's hair is especially knotty, damaged or curly, apply a spray-on detangling product to avoid damaging the hair.

3. Use your cutting comb to draw a parting from the centre of the forehead towards the curve of the occipital bone-area. Now draw a parting running from behind the one ear towards the opposite ear, along the occipital bone ridge.

This horizontal parting should intersect the vertical parting that you drew first, consequently creating the separate sections in the front of the model's head. Clip each section securely with a clip to keep the hair separated.




Click to enlarge

4. Draw vertical sections in the middle of the back of the head, and cut the hair even with the length at the nape of the neck. Note that we'll firstly be working in a triangular shape here at the back of the head. The reason for this is to create the unique inverted shape of the short inverted bob.

The hair at the back of the inverted short bob is the shortest hair of the style. This section's hair should be short enough that it can be styled standing upright and messy if the client wants it this way. Remember that this is a more edgy style; your goal is to texturize the hair so that it can be worn in an array of modern, punk or classy styles.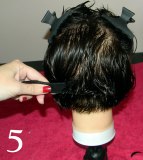 5. Note the triangular shape that we've cut first; ranging from the middle of the occipital bone, towards the base of the nape of the neck. Do you see how short this hair is in context with the rest of the style?

Also see that this hair is short enough to be styled in an upright, messy bedhead style if the client feels like it. The hair flanking the sides of the triangle is progressively longer, creating the length towards the front needed to have an inverted bob.

Next Page Last Page