How to Pass a Hairdressing Job Interview
So you're ready to find a new hair salon. Maybe this is your first job out of cosmetology school, or you might have outgrown your current space. Perhaps you are ready to take your career to the next level, or maybe the salon you are currently working in is transitioning into a new direction that you do not want to go.

In a field that is highly creative, you may be wondering how one prepares for such an interview. There are two ways to prepare. If you are a new cosmetologist, your preparation will be different than a seasoned stylist who has their own clientele.



Seasoned Stylist Preparation:

If you are currently or previously employed in the salon industry, as an experienced stylist you can expect to be asked questions about how many current clients you have and if they will follow you to a new location. You can expect to be asked how you retain your clients' business, keeping in mind if the new salon has a price increase in services, how will your current clients respond to this? The volume of new clients you will bring over to your new salon and retain will greatly impact and influence the new salon's financial success.

Your potential new boss (new hair salon owner) has to keep in mind that statistically speaking, a small percentage of your clients will stay at your old salon (for numerous reasons) especially if there is a price increase at the new salon or the drive to the new salon is too great or inconvenient. So this is something that you and your prospective new boss both have to keep in mind.

New Cosmetologist Preparation:

If you're a bundle of nerves as you embark on a new career field and are interviewing for your first job as a new stylist, relax and know that everyone has to start somewhere. Use your newfound career passion to your advantage! Tell the interviewer that this is not just another job for you, this is your career! Let them know that you are passionate and excited for this career to take off in their hair salon. Trust that you have the skills and tools you need to be successful.

You can expect to be asked what you can offer that can guarantee more business for that salon. For example, you might be asked about the number of services you can perform as well as your level of expertise. A stylist who can formulate hair color and do perms and hair extensions is more valuable than a barber who only cuts hair. Strategically mention that a stylist who can perform many services and has expert knowledge, such as the ability to formulate color corrections or sew in hair extensions, is more valuable than a stylist who only cuts hair.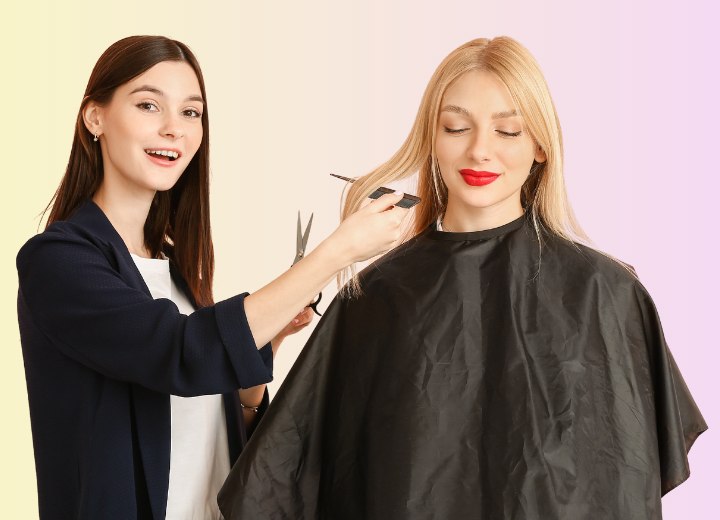 Portfolio:

It doesn't matter if you are new to the industry or if you have been in the industry for decades, you will want to provide before and after photos of your work. It's always smart to have a portfolio of some kind. This is something you can start working on even while still in cosmetology school. After all, you are required to provide a certain number of services to clients, so ask them to take before and after pictures to help build your portfolio. Not only are the clients that you provide services to while in school heads you can put into a portfolio, they are also potential clients that you can win over and bring to your new place of employment.

Customer Service:

If you don't have much experience, then emphasize the qualities and skills that you do bring to the table. For example, excellent customer service raises the bar. Most clients state that excellent customer service is the primary reason why they choose to stay at a salon, even when their hairdresser leaves or if their hairdresser makes a mistake. Outstanding customer service means taking care of your client and making any mistakes right with them. Clients know that human error happens... but how you handle it makes all the difference. Mentioning that to your interviewer is a good way to improve your chances of employment.

What to Wear:

You may be wondering what to wear or how to style your hair. Whether you are a seasoned stylist or a newcomer, the way that you present yourself is equal. Being a stylist is all about the details. Your outfit (from head to toe) not only shows that you take this profession seriously but it also allows your personality to shine and when paying attention to detail, such as polished shoes or manicured nails, you demonstrate that you have an awareness of particulars.

You never get a second chance to make a first impression. Not only is black a flattering color, but black is also the standard color for salon attire. The best bet is to go with a suit (skirt suit/pantsuit). Don't worry, your personality can still shine through with a unique shirt or interesting accessories. You can't go wrong if you show up to an interview in a suit. You can be underdressed but never overdressed for an interview. A suit may not be your style, but it shows that you are serious about this career and it won't be your everyday ensemble. If a suit isn't in your budget, try a conservative knee-length dress and heels. Make sure to get an outside opinion (your partner, friend, or parent) of the chosen outfit.

Continue reading ...