Heather Graham's Long Hairstyle
From her role as the cool elder daughter of the feature-film version of the TV classic "Lost in Space" to the "Belle on Wheels" Brandy in "Boogie Nights", Heather Graham has always been one of the best reasons to look at a movie or television screen (She's done numerous comedic TV roles - "Scrubs" and "Arrested Development" - and had an unfortunately-failed sitcom of her own). Heather's fresh-faced beauty has kept the camera trained on her whenever she's out in public and whether dressed up, or dressed-down she always looks stunning.


Heather's honey-colored locks have always been her crowning glory, whether styled in cascading coils or blown-out and ironed smooth. Her hair always looks real, and attainable. Fortunately it is.

The Cut:

In the photo above (taken at the 2006 Creative Coalition Gala hosted by Gotham Magazine) Heather's hair is cut into a classic long-layered cut reminiscent of the big screen starlets of the late sixties and seventies. The top layers of the cut are kept exceptionally long and the lower layers are textured for smoothness.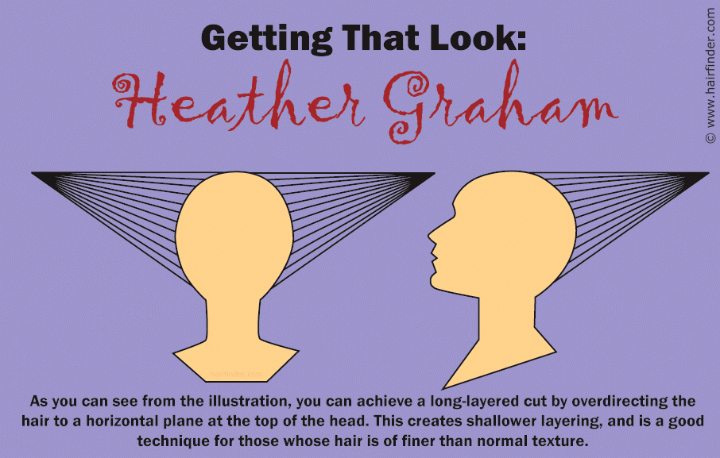 Click to enlarge

The illustration shows a technique for achieving this look without having to hold the hair directly over the head. The hair can be held out so that the top layer of the section is horizontal and parallel to the floor. The hair beneath is then combed up to meet the horizontal layer and forms a triangular shape when viewed from the side. The sides are pulled forward initially to create a matching length on each side and these lengths are used as a traveling guide as you work around the head.

Next Page