Roller Styling Techniques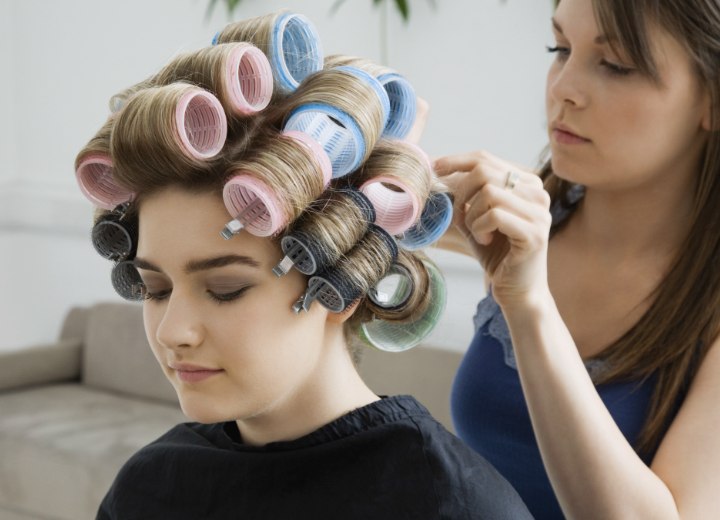 Rollers 101: A How-To and What-To Guide for Roller Styling Hair

We've mentioned many times that roller sets are a great way to achieve long-lasting curls in a hairstyle. In fact, many styles are entirely created using rollers. Adding curls adds volume and fullness to the hair, and it can dramatically transform a haircut into a completely new look.

However, for an entire generation of women, the concept of a "roller set" has been considered an old-fashioned technique, and much of the usefulness of roller-set styling has been overlooked.



Of course, this doesn't apply to many salon stylists who view rollers as an essential part of their styling arsenal and use them regularly. It also doesn't apply to those clients who appreciate the long-lasting styles achieved through roller styling. Where it does apply most is in home use, where the introduction of tools (like the curling iron and flat iron) has been accompanied by the notion that these modern approaches to styling are inherently superior because they provide almost instant results.

This attitude has become so widespread that most salons have experienced a steady decline in the use of roller sets for styling hair, except for chemical services like perms. With each new generation of licensed stylists joining trendy salons, we observe fewer and fewer professionals who regularly practice using rollers to style hair. However, our primary focus today is on the personal, in-home use of rollers by individuals for hair styling.

Therefore, in the spirit of rekindling interest in using rollers for hairstyling and helping individuals make informed choices about the right tools for them, here are some basics of roller styling.

The Tools

The tools used for styling hair that fall under the category of "rollers" come in various designs and have different suitability depending on the situation. This means that everyone has specific criteria and needs when it comes to styling their hair, and there are different types of rollers that work better or worse in certain situations. These tools can be classified into three categories: wet-set styling, thermal tools, and perm tools. We have previously delved into detailed discussions about perm tools, and you can find that information here.

In the other two categories, thermal tools have a similar appearance and construction, but they differ significantly from wet-set tools in that thermal tools almost always require the hair to be dry before use. On the other hand, wet-set tools can accommodate varying levels of moisture in the hair.

One of the major advantages of roller sets, in general, is that they typically require less heat for styling the hair, if any at all. As a result, they do not contribute to the cumulative damage caused by repeated thermal styling. Even thermal tools like hot rollers are generally gentler on the hair compared to curling irons or flat iron styling.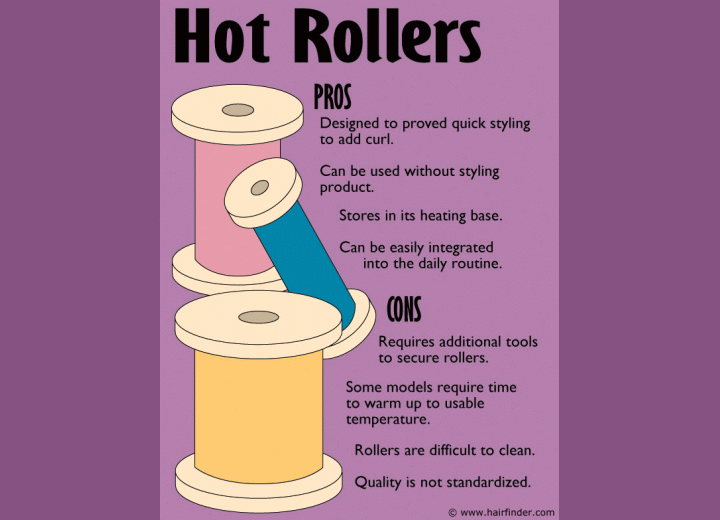 Each tool in these categories has its own pros and cons that recommend them for specific uses and situations. Here are some of the most common types of roller designs and their specific advantages and disadvantages, as well as how they can be best utilized.

Thermal Tools:

Hot Rollers

Also known as thermal rollers or heat setters, these tools typically have a core material that retains and conducts heat. The base unit serves as both a housing and storage for the rollers and is responsible for heating them.

The roller's surface may be padded or coated along the shaft where the hair is wrapped to ensure even heat distribution, protect against overheating, and prevent hair from sticking or snagging. Dry hair is wrapped around the preheated roller and secured in place using the accompanying clips or pins (usually provided).

Continue reading ... Page three Page four