Flave by Eric Zemmour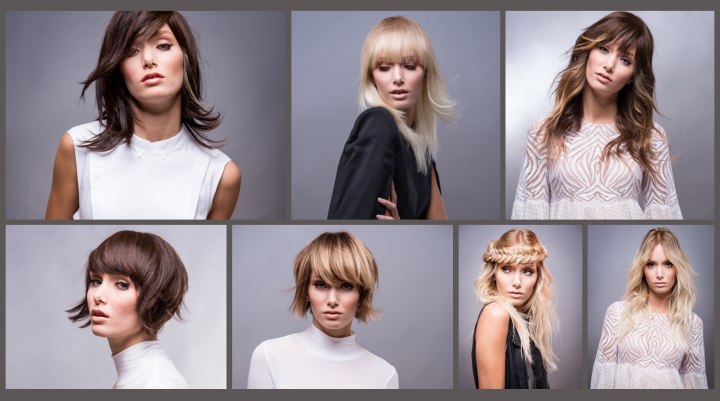 This season signifies the celebration of individuality and self-expression. From very long, wispy layers to short and choppy bangs, it really doesn't matter what you prefer, as long as you own the look and wear it with attitude and confidence.

Whether you're a die-hard blonde, a life-long sultry brunette or a color chameleon, you'll probably spot a style among this collection that stirs your juices. Creativity and feline finesse are the power words of this collection, and you'll soon see why.



This season, we celebrate wispy tendrils, wavy tresses and choppy highlights. Set your inner fashionista free, and change up your look to refresh your enthusiasm for life and your zest for self expression.


Easy to Maintain Long Hair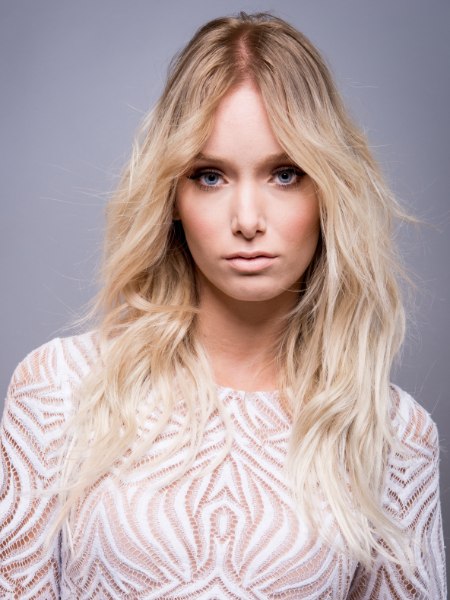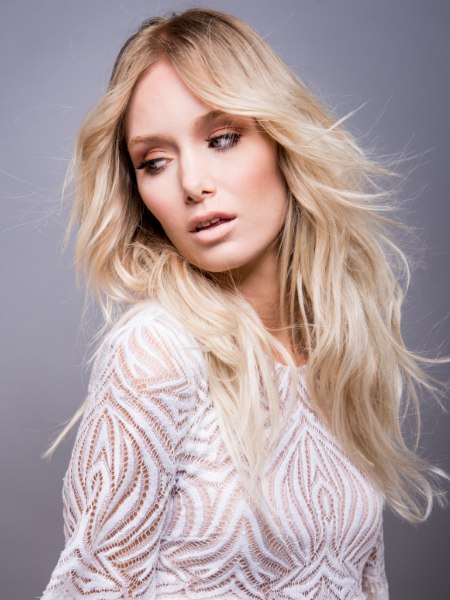 We've seen a huge upsurge in celebs coloring their tresses blonde, and switching to styles that prioritize manageability coupled with aesthetic finesse. Stylists also report the prolonged popularity of messy styles and informal curls dominating the floors of salons and even the catwalks. These hairstyles are of course absolutely perfect for the holiday mood this summer, whether you're spending your lazy days on the beach, or chasing the city lights.

This type of long layers, colored with cool, light ash-blonde highlights and a neutral light brown base color almost bleeding through have been enormously successful the past few seasons, thanks to it being easy to maintain yet impeccably stylish. You'll also see most fashionistas and top style bloggers sporting this look this season, which proves its topnotch status beyond any doubt.


Haloed Fishtail Braid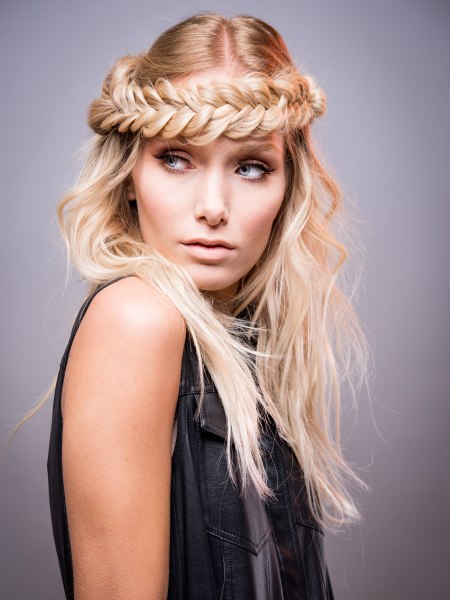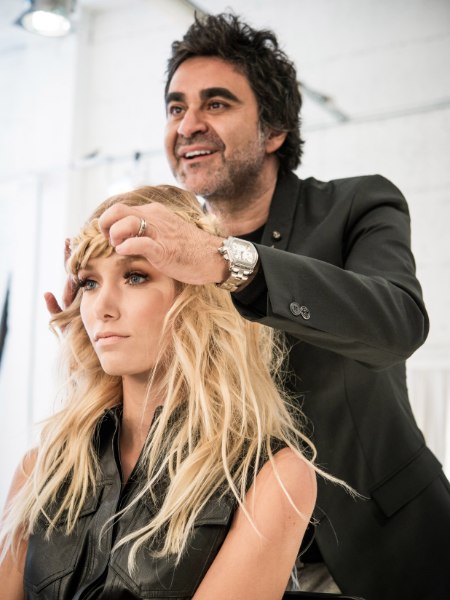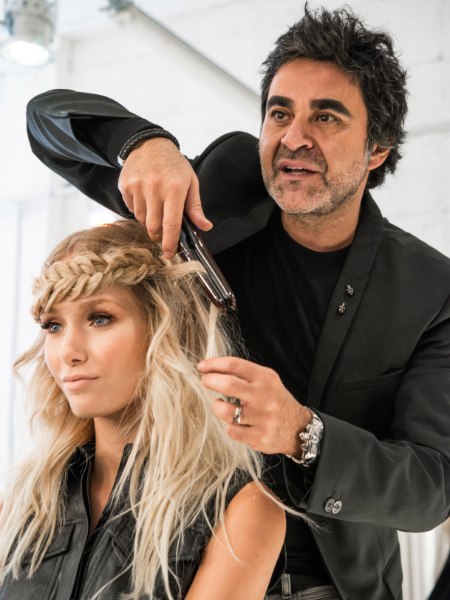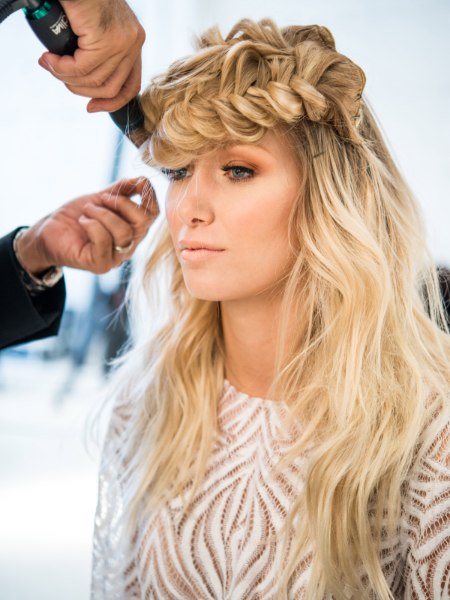 The haloed fishtail braid has taken the fashion realm, varsities and beaches by storm this season thanks to the laid back boho look that seems to be dominating our fashion front the last couple of seasons.

With style mavens such as Nicole Richie, Vanessa Hudgens, the Olsen twins and Jessica Alba, to name a few who prefer the relaxed, messy hair and unique boho look, it's no surprise that styles like this seem to be sticking around longer than a lot of other hairstyles.

This cool light blonde fits this style very well, as the color shows off the braid's dimension as well as the relaxed waves of the model's hair. Beach blonde colors also work extremely well with the overall boho look, although raven haired beauties such as Vanessa Hudgens and Jessica Alba prove that brunettes pull this look off just as effortlessly as their blonde contemporaries.


Straight Hair with a Fringe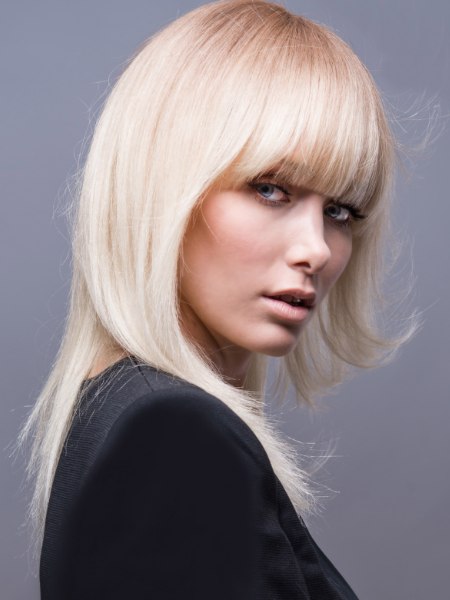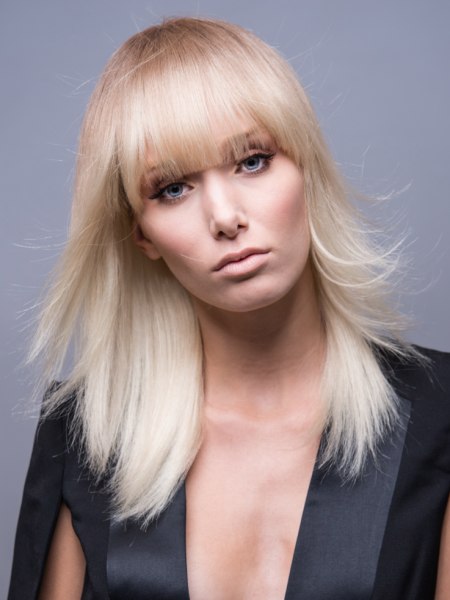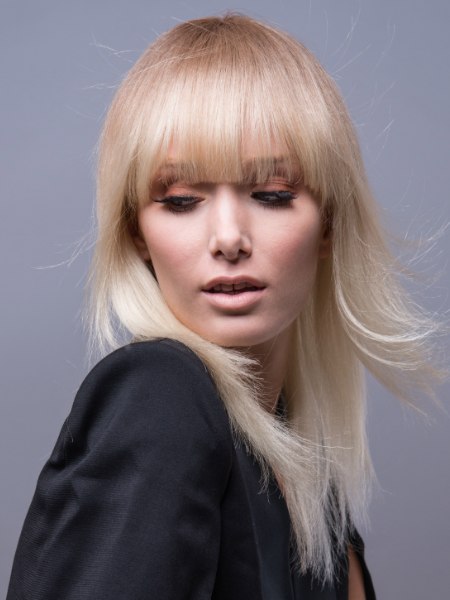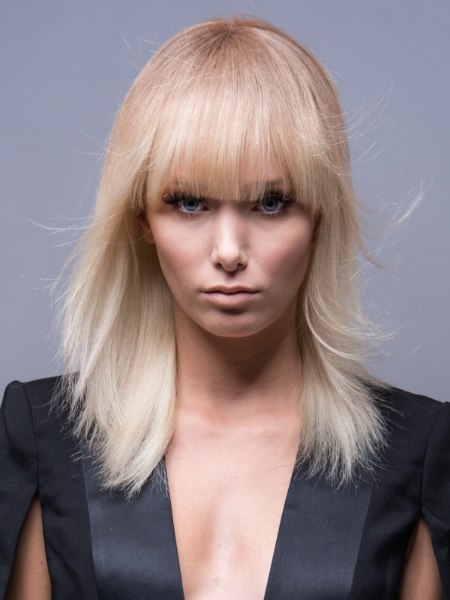 Here we have an almost opposite, albeit just as beautiful straight blonde style (when compared to the previous two styles) that has been ragingly popular this season.

The model's light blonde color is achieved by coloring the hair with lots of finely packed foils with a high volume peroxide, and toning the hair with a pearl-ash toner to increase the crisp, very light blonde color. The long fringe and wispy layers around the model's face create a flawless frame to show off her breathtaking face, while the long connected layers add that extra element of grace and glamour.

If your hair is naturally light and fairly straight, this may be the perfect style for you. If you have darker natural hair, or a naturally curly structure, this hairstyle may prove to be high maintenance and time consuming. Then again, Rita Ora pulls this look off without a qualm. So, with enough determination, anyone can rock this look.


Long Hair with a Modern Feel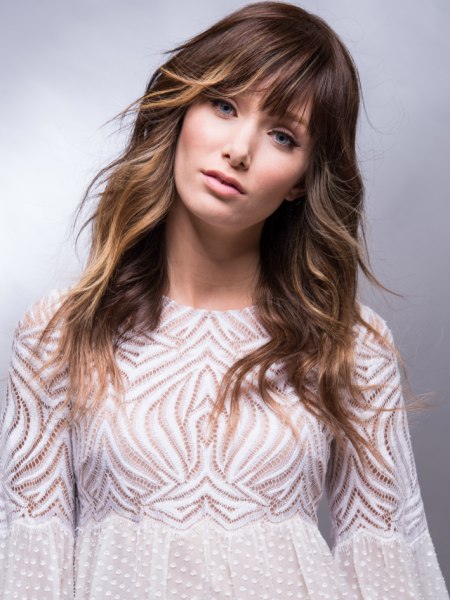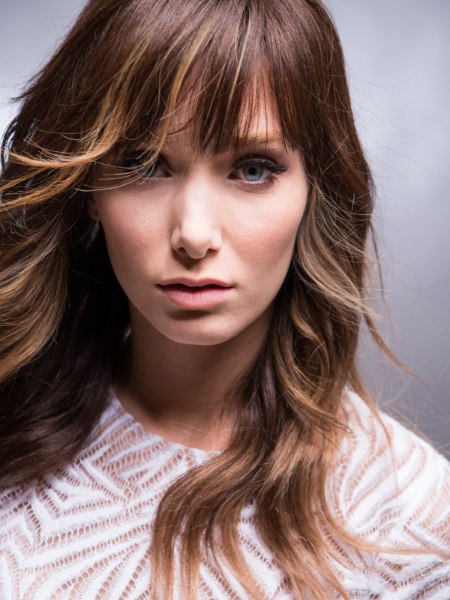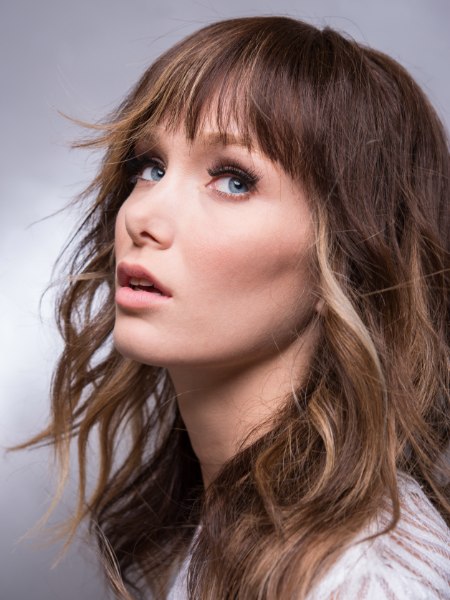 This style is enormously popular among reality show celebrities, varsity students and lots of musicians thanks to its edgy look, despite actually being one of the most easily maintained hairstyles.

The model's very long connected layers have been thinned out along the tips with thinning shears, while the fringe has been left long and wispy. The model's rich medium nut-brown base color has been interspersed with light golden blonde highlights along the tips of the hair, which lightens and softens the whole look, and gives it that uber-modern feel.



An expert will be able to tell you that the model is actually wearing professional extensions to lengthen her natural hair, as well as give it more volume and adding the lighter pieces. The waves have been created with a large-barrel curling tong and a silicone-based hairspray to keep the waves tight. Thus anyone can achieve this look if you go to a professional stylist that specializes in micro-ring extensions.


Razor Cut Hair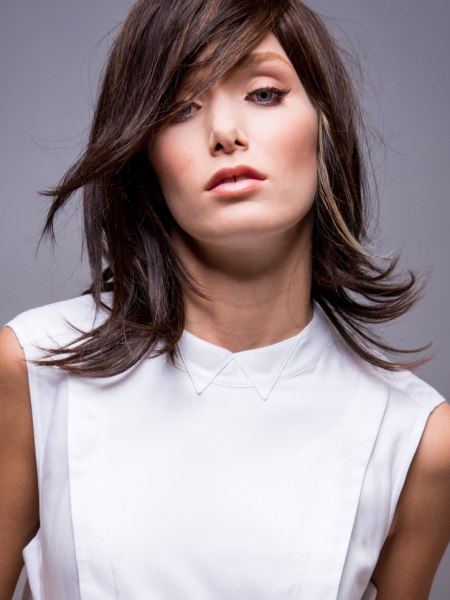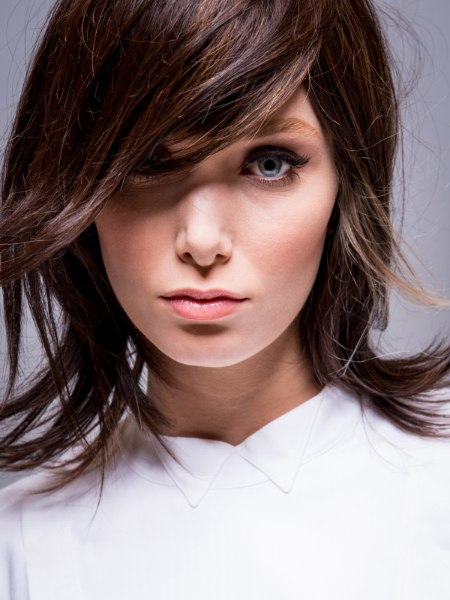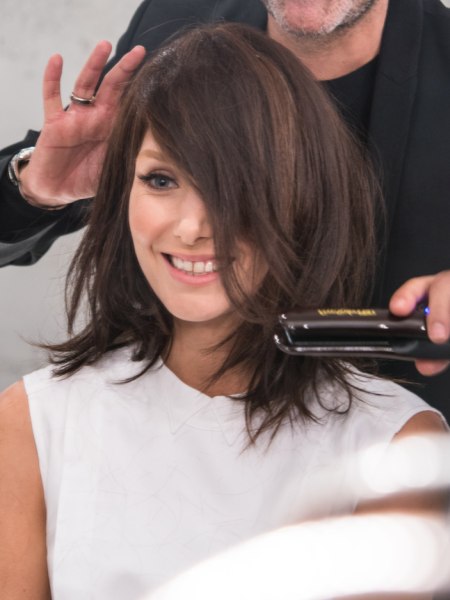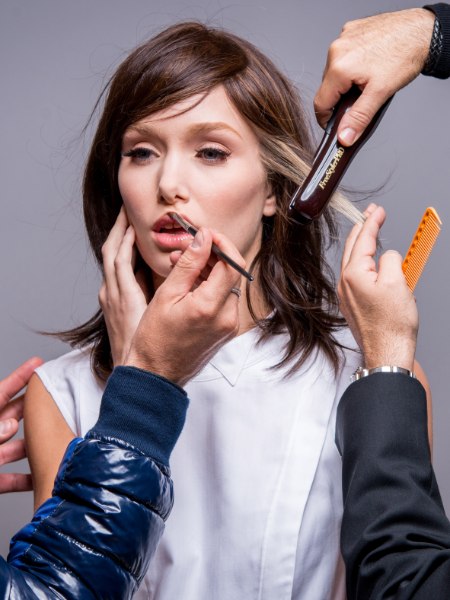 Interestingly enough, this look instantly reminds one of a young Nelly Furtado in her heydays. The model's rich medium brown hair has a cold chocolate undertone, while the stylist incorporated a few thin wisps of light brown highlights to add extra dimension and shine to the style.

The medium length layers are connected, but have been thinned out and texturized by first using thinning shears on the tips of the hair, and then adding dimension within that framework by using a set of sharp razors.

Hairdressing razors can be an apprentice's worst nightmare, (and even worse for the client if things go bad). It can also be one of the professional stylist's most valuable tools. As exemplified in this photo, texturized layers add an exceptionally spunky feel to a haircut when done right.

The model's brunette hair color complements her slightly tanned skintone and green eyes beautifully, while the white top doesn't detract any attention from, this stunning cut.


Short Layered Bob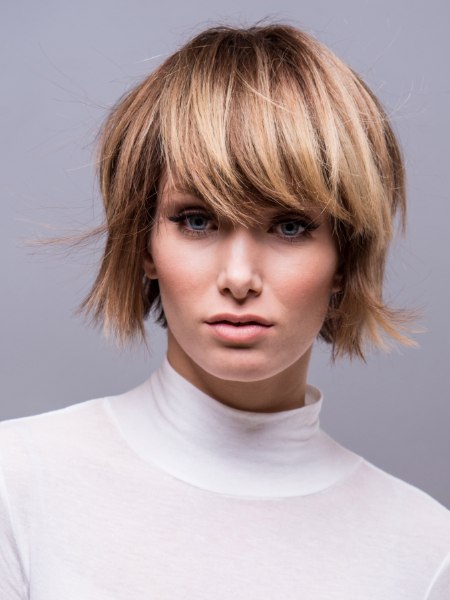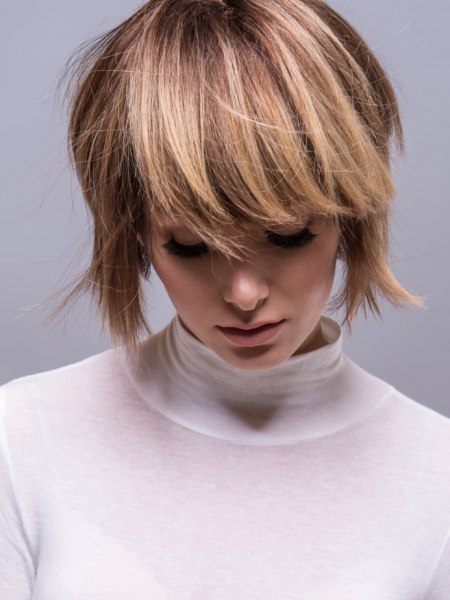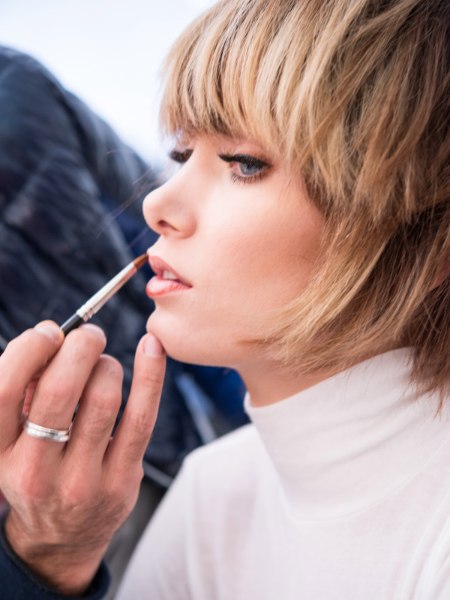 We're seeing more and more of these choppy cuts taking the forefront of our screens, glossy magazines and social platforms, especially during summer and autumn.

This short, layered bob with long and thick bangs is mouthwateringly stylish, while keeping in perfect step with the contemporary scene. This hairstyle works very well with diamond, oval or heart shaped faces, although it can be pulled off by virtually any facial structure.

The model's light copper-brown base color has been highlighted on the top half with thinly-packed golden highlights. The addition of the light colors changes the whole look to a more youthful, yet impeccably stylish style. This reminds one of the immaculately glamorous French women that seem to be born with a certain sense of coolness that defies all social and fashion boundaries with aplomb.

You'll also note how well the play of colors works with the model's peaches and cream complexion and beautifully groomed appearance. This is undeniably an all-round winner.


Feminine Short Hairstyle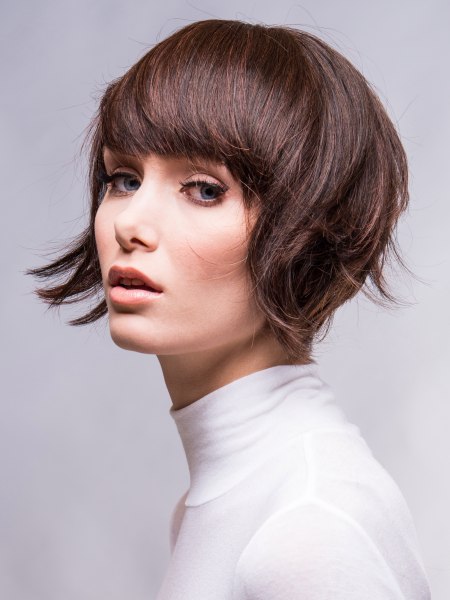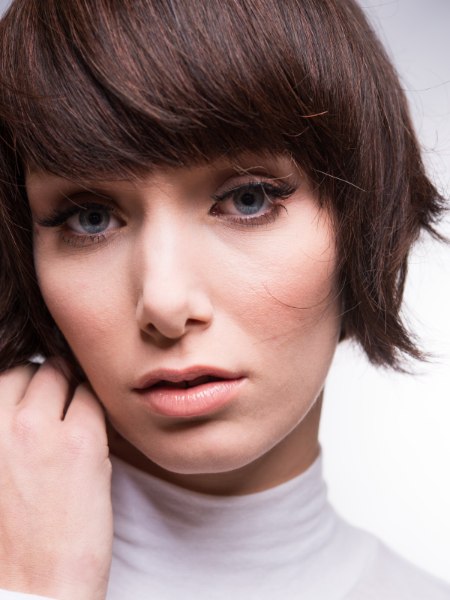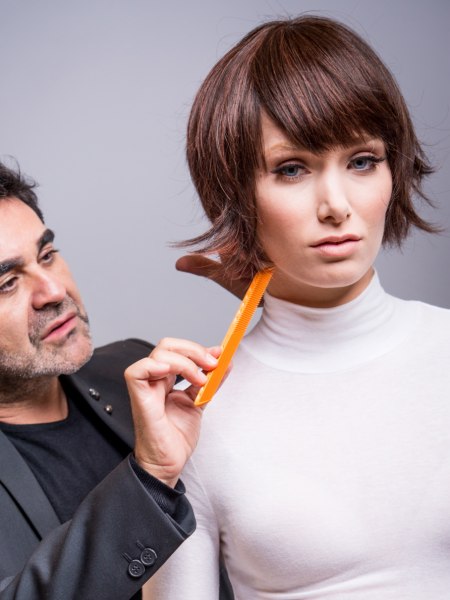 Here we have a hairstyle that combines the contemporary bob cut concept with old school Hollywood charm. The model's short, very textured A-line bob has long, wispy sides and a full, long fringe. The wispy pieces that frame the model's beautiful face lend the whole feel of the style a very feminine, almost faerie-like aura.

The dark chocolate brunette base color has a subtle golden copper undertone, which intensifies the movement and dimensionality of the color. The intense color also shows off the model's beautiful skin tone and striking facial features.

This hairstyle will work best for diamond or heart shaped faces with prominent facial characteristics such as big, arresting eyes, high cheekbones or a beautiful full mouth.

Hair: Eric Zemmour
Hair Coloring: Laetitia Immordino, Laura Manaira & Adrien Maissa
Make-up: Niels
Styling: Louis Bohème
Photography: Gérard Taride