How To Make Short Hair Feminine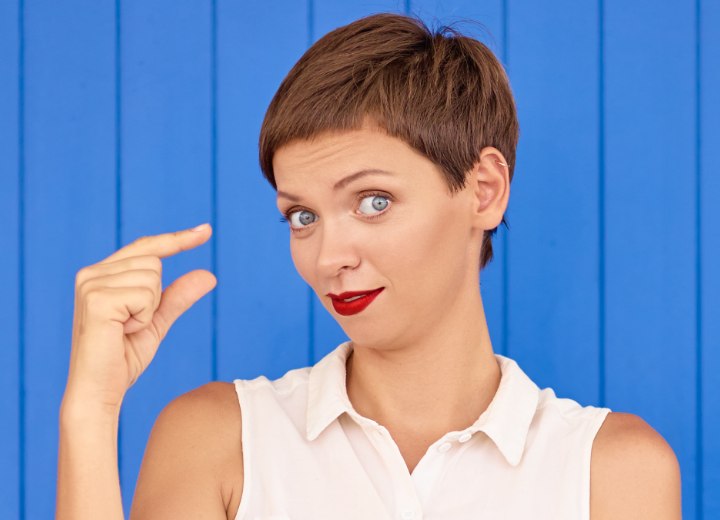 Short hair has the reputation for being practical and sporty. Many women choose a short hairstyle to keep their styling time down, stay cooler, and just because it feels light and good. With all of their advantages, short hairstyles do not have to look masculine. With a few tricks and accessories, they can be feminine, sexy, and even glamorous.

Short hair comes in many shapes and types. You'll find anything from rebellious spikes to sleek and slick coolness and even grandmother curls. All ages can find a perfect short haircut and enjoy the freedom it brings.



It is all in the Cut

The best short haircuts that exude a feminine aura often have varying lengths. Shorter sides keep things neat, but longer hair on top leaves room to create different styles and to add fullness. With this, you can experiment with looks that are tousled or have ironed-in waves. Pixie cuts are perfect if you want a look that is sensuous, but that can be styled with your fingers and just a touch of product.

With a bit more length all around, try a face-framing style that has fine layers and a lot of texture. The hair can be curved into the face and wispy strands all over are an adorable look that was made famous by Meg Ryan. Hair that looks touchable and slightly disheveled is always attractive.

But you don't have to walk on the wild side. There are many classic looks that are as feminine as anything can be and, besides that, they are timeless, ageless, and elegant. Can you see yourself with a short bob hairstyle, for example? This classic still puts the finesse on women's heads, and there are many versions of it. Wear it with a blunt edge and at chin length, with a fringe and curved points, or textured and with much movement. It is always a flattering and feminine short haircut that is sophisticated but also does not lack in terms of easy maintenance.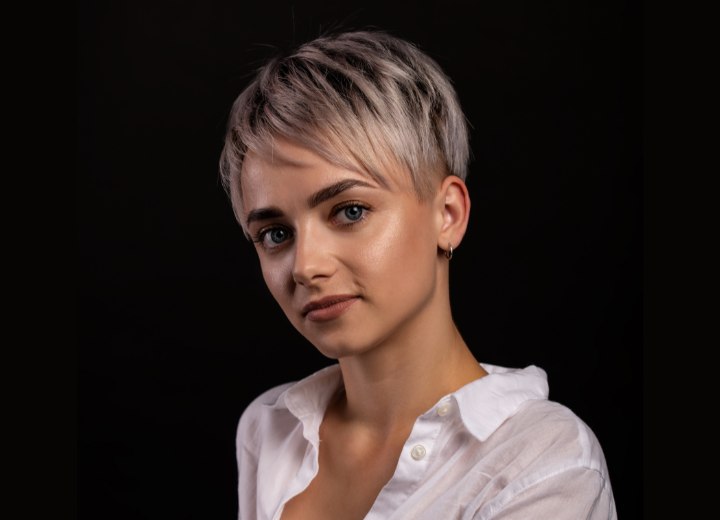 An indication of sideburns may appear to be a more masculine element, but when they are shaped correctly, they draw attention to your cheekbones and also create a harmonious line around your entire face along with a beautiful fringe.

There is only one cut that is challenging if you want to maintain a feminine appearance: the one-length all-around buzz. If you want to use clippers, then use them only to accentuate certain areas or get a sexy graduated nape.

Color does the Trick

If you want to spice up your short hairstyle, go for the color and don't be shy. It's the bold colors that will put the sass in your short tresses. Platinum blonde, red, or jet black are powerful colors with a feminine vibe, and since the hair is short, you don't have to worry as much about re-coloring or potential damage. You will cut it often enough for the hair to stay healthy.

Accessories around the Hair

To make your short haircut feminine involves more than just the hair. Short hair is the best way to show off your pretty earrings! And the bolder, the better. They stand out especially when the hair covers most of your ear and only the delicate earlobe peeks out. With a great earring, the effect can be tremendous. Depending on the type of jewelry chosen, you can turn on the glamour in an instant or show your sophisticated side. This type of play with a hairstyle and accessories is very, very stylish and so easy.

This also applies to necklaces, whether they be pearls or the trendy statement jewelry. Women with long hair often have the problem that their hair, when worn open, gets stuck and tangled in their necklaces. This can be painful, since some of the hair gets pulled out and it is just annoying to have to pick it out of the jewelry. With your sassy short hairdo, you don't have to worry about tangles and can wear the biggest, funkiest, and most outrageous necklaces, which are more visible and "outchless".

Things you can put in your Hair

Even short hair can handle a pretty hairpin, barrette or hair jewelry. With one clip, you can add sparkle and femininity to any look. Try out some of the chic new hairbands. These come in many colors and range from simple to elaborate. For just a subtle effect, a hairband, just a few shades off of your own hair color and not wider than half an inch will give you an instant lift in mood and style.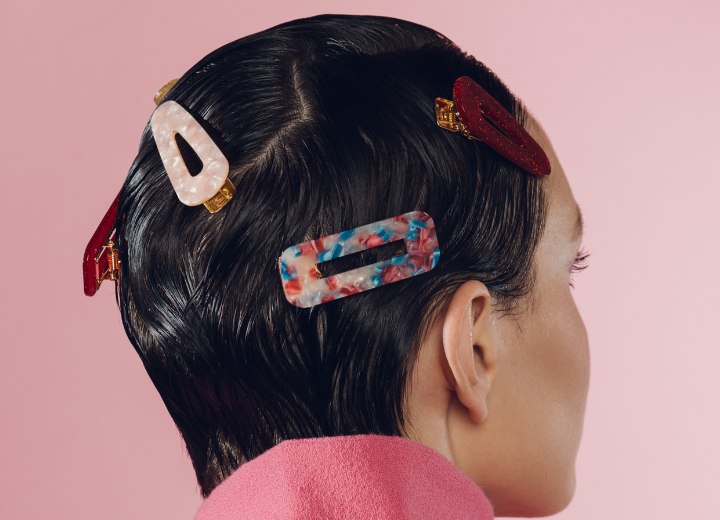 Color effects add a burst of good vibes and feminine playfulness even to extremely short hair. Temporary colors can be applied easily and wash out quickly. Try the brush-on colors for smaller sections. Often, just a narrow section in an interesting color is enough to make a look interesting, artsy, and sexy.

Use a thin scarf to wrap around your head from the neck to the top of your head, leaving the back and the front section uncovered. Basically use it like a headband. Colorful, elegant silk scarves can transform your entire appearance like this and infuse it with feminine power.

One of the most important things to put in your hair is shine. Keep it clean, healthy, and nurtured, and then it will come all by itself. For a little extra boost, there are shine sprays or even a sprinkle of neutral-colored glitter that will add a festive touch for small and big events.

Make-Up for Short Hairstyles

To add more feminine vibes to your short-haired appearance, use eye-shadow and other cosmetics. It doesn't have to be bold if you're more of a natural type, but a light shimmer on the eyes, some mascara, and a tinted lip gloss can do the trick.

If you like stronger effects, focus on either the eyes or the lips. Strong eye makeup and heavy lipstick together look overly done. A little translucent powder on your face can often replace a foundation but harmonize your skin tone. Use just a hint of blush to get the glow!