Cool and Warm Hair Colors


Hair Color and Skin Tone

One of the biggest and most common mistakes made when it comes to hair color choices is failure to understand one's own skin tone and the way it responds to hair color. In decades past women would have "color analysis" and be classified in "seasons".

In recent years the ideal has been the use of metals – namely silver and gold – to test for and denote a person's color palette. These classifications of silver and gold directly correspond to cool and warm palettes respectively.



The use of the silver/gold determiner came about because cool and warm color palettes could be easily qualified using pieces of silver and gold jewelry. Simply lay two pieces of metal jewelry against the skin – one silver and one gold – and the metal that appears brightest against the skin indicates the person's color profile.

Cool palettes are generally pale of skin with little in the way of pink or bronzing to the skin. Natural hair colors for cool palettes tend toward ash-based shades and coal black all the way up to platinum blonde. Eye color is often icy-blue, green, violet or gray, with occasionally a pale brown tossed into the mix.

Warm palettes are usually ruddy and/or bronzed in complexion, and even when fair-skinned have a pink tone to the skin. The hair colors that tend to occur more naturally among warm palettes are chocolate browns, rich auburns, reds, and even on up to strawberry and golden blondes. The eye colors for the warm tones tend to be hazel, and the many shades of brown, and occasionally gray.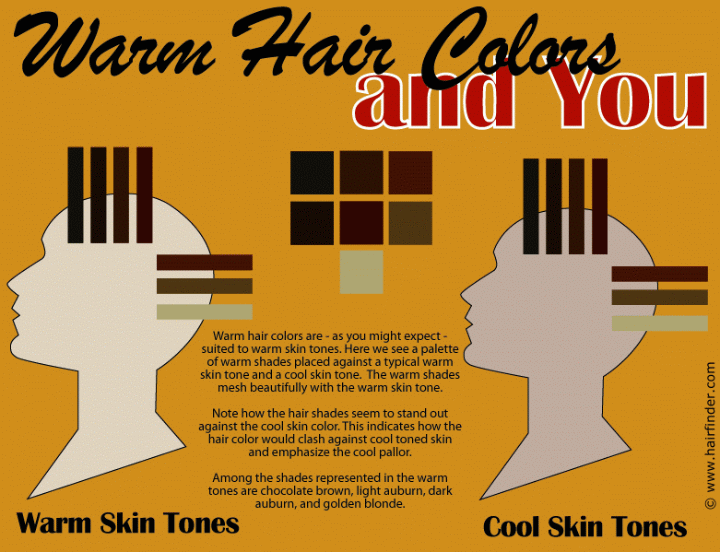 Choosing Haircolor…

When an individual wants a change in his or her hair color, it's important that he or she chooses the right color as a replacement. If the skin tone is warm, such as shows off gold metals best, you want to choose a haircolor from the same color palette.

To be sure of this, you need to check for the base color of the haircolor formulas you want to use. If you are buying your color from the beauty supply store (where you need to buy the color and separate developer) the bottle will typically tell you what the base color is for a given shade.

{Note: If you purchase your haircolor from a prepackaged kit at a drugstore or supermarket, you may need to check the manufacturer's website to view color charts that will show the base colors and palettes for the shades offered in the product you wish to use. A little investigation can help you avoid unfortunate results and ensure that your new color looks its very best.}

The warm base colors are typically red, orange, and yellow (gold) or combinations of these. Combining the base color with the lightness levels ranging from 1 to 10 gives a full spectrum of warm shades of color, and provides nearly all the options you might want. Such color names as dark chocolate brown, auburn, copper, sunset, bronze, golden all indicate warm tones.

If the individual has a cool skin tone – his or her skin shows off silver metals best – then a cool color palette is called for. The base colors in the cool palette are violet, blue, and green (which may also be called drab or ash) and may be a combination of these base colors. Many cool colors will include identifying keywords, which may be as simple as "cool", or may include words like ash, bright, or blue.

Next Page