AW 09-10 by Jack Holt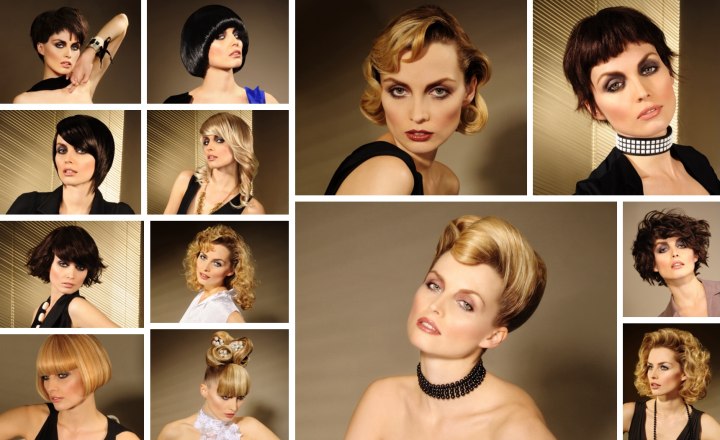 Scroll down for more photos ↓

The autumn-winter hairstyles collection from hair designer Jack Holt is a study in archetypal glamour.

With styles and looks identified by names that indicate not only the periods from which the inspiration is drawn, but in most cases acknowledge specific individuals responsible to popularizing specific looks and thereby shaping hair trends.



In spite of the range of looks shown, they all carry a common theme: dramatic glamour. The colors are rich and vibrant, but natural, and the textures range from silky-smooth and glossy, to chippy, choppy, soft and diffuse. Each according to the appropriate style.


Hit Girl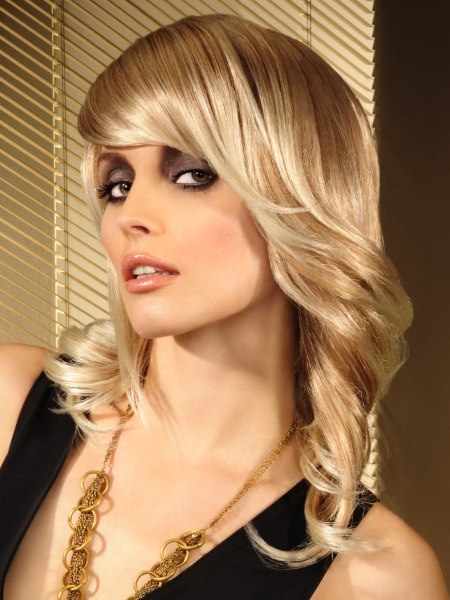 With long, razor-cut layers and twisty, feathered curls to frame the face, this sultry look has been popularized by the pop music and film starlet crop of the past decade.

This hair style has been seen on the likes of Britney Spears, Jessica Simpson, Mena Suvari, Lindsay Lohan, and even Paris Hilton and Nicole Richie.

With smooth styling the hair gently curves across the brow and twists into soft "sausage roll" curls. The look is casual but definitely glamorous.


Pfeiffer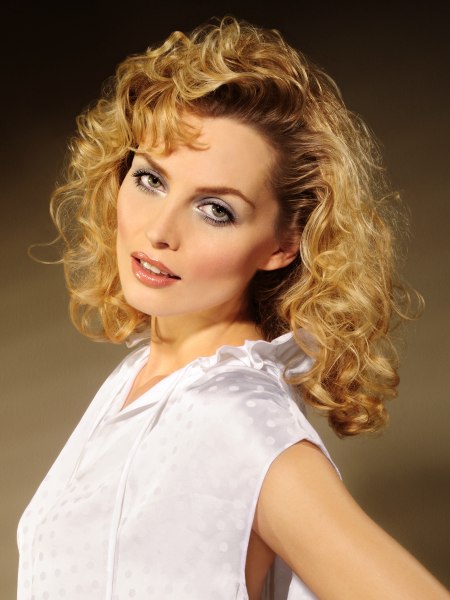 The name is the dead giveaway, but the look wasn't hard to identify to start with. Her dove-eyed gaze and luminous skin made her a face that could easily rival the fabled Helen of Troy, and as a result Michelle Pfeiffer made waves with every look she adopted.

This full-volume, curly hairstyle with an upswept fringe and feathered tips was something of a signature-look for Ms. Pfeiffer. Key traits of the style are lots of lift at the scalp and lots of crisply defined, frothy curls.


Beautiful Day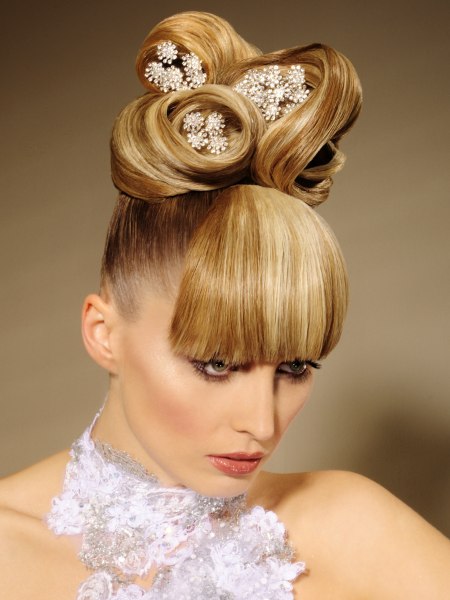 In the 1950s, glamour was ornate, crisp and clean, and this obvious wedding hairstyle borrows heavily from that theme.

With a razor-sharp line on the fringe, and sleek styling the remainder of the hair is tightly drawn up to the upper crown section of the head, then sculpted into large swirls of hair which create smoothly shaped "nests" for jeweled ornaments.

As a bridal style this look makes for the perfect example of the "hair-as-showpiece" concept.


Fashion Pixie Cut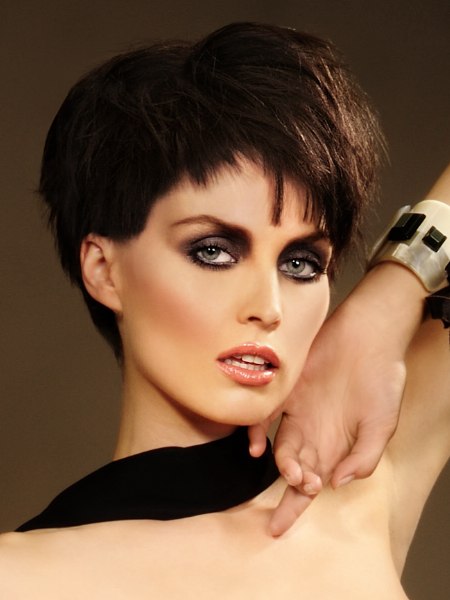 Runway fashion models are meant to look good, but to create a look that doesn't detract from the fashions they are modeling. The hairstyles should reflect the style of the fashions and should make a complimentary addition to the model's silhouette.

This short, layered pixie haircut is an ideal example of an edgy fashion style. The tapered sides and back emphasize the bulk in the top and crown, while the chipped-in texturing gives the look a trendy feel.


Cabaret Rock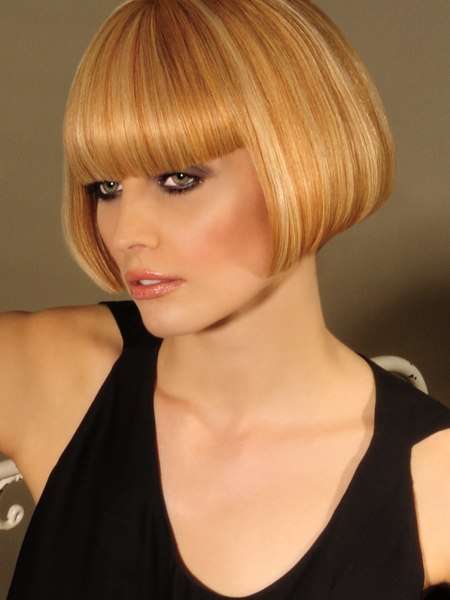 "Stage" glamour is another of the great archetypes of fashion, particularly in metropolitan areas. Cities like New York and others with booming theater districts see actresses become fashion mavens, and the looks popularized on these stages soon find their way into the mainstream. This sharp, cleanly defined bob is terrific.

The soft, multi-tonal hair color makes a perfect balance to the hard lines of the cut and style. It's a look you could expect to see in the myriad clubs and theaters of any major city - both on stage and in the audience.


Angelista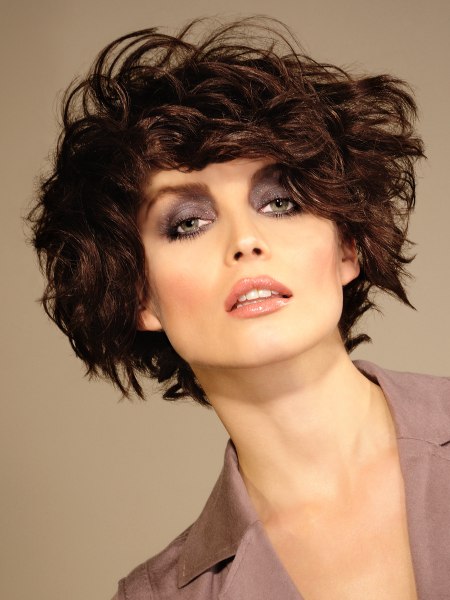 We expect a lot from a supermodel, and this hairstyle referred to as "Angelista" is exactly the kind of "a lot" we expect. Sassy, short and layered with lots of choppy texture, the look packs volume and body in a trendy, bold look.



It's a hairstyle that's both edgy and sultry, and will not only turn heads when you walk in, but will make sure they follow you through the room. The blow-out style gives movement and energy to the look.


Instinct Basic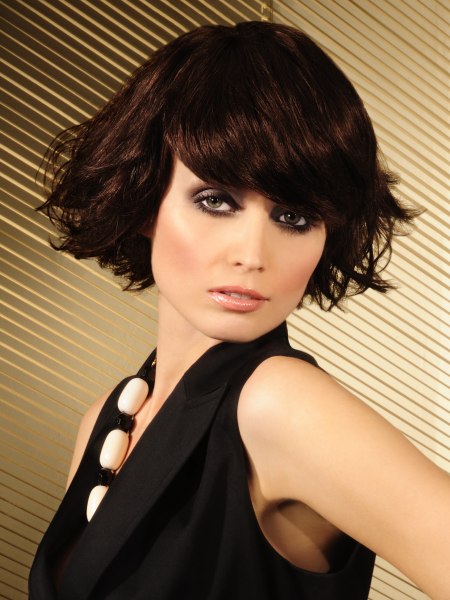 When you think of "Basic Instinct", the movie, you think of women who are in-control of their lives and their actions and take those into directions that would make weaker women blush. But if you're a woman who likes to have some control of her surroundings, you can't go wrong with a hairstyle that clearly states "I am woman, hear me roar."

With a full-forward fringe, blunt base cut and choppy texturing, the short hairstyle is pumped full of volume and is versatile for whatever scene you want to get into.


Lili Marlène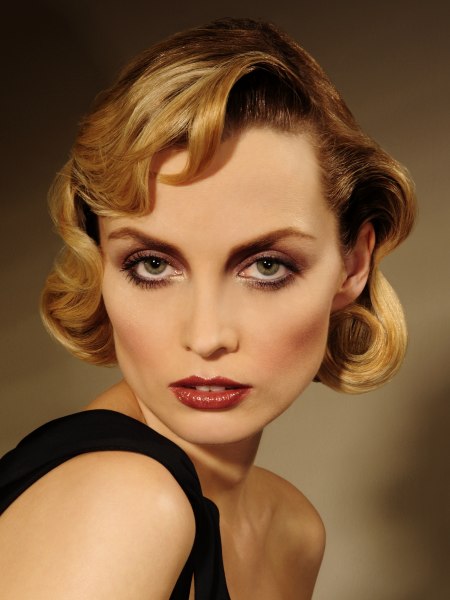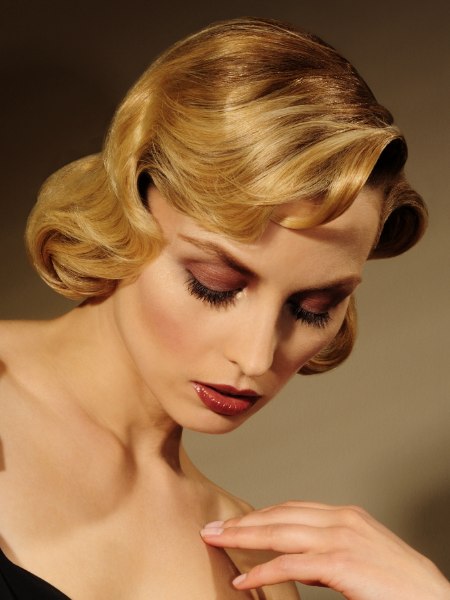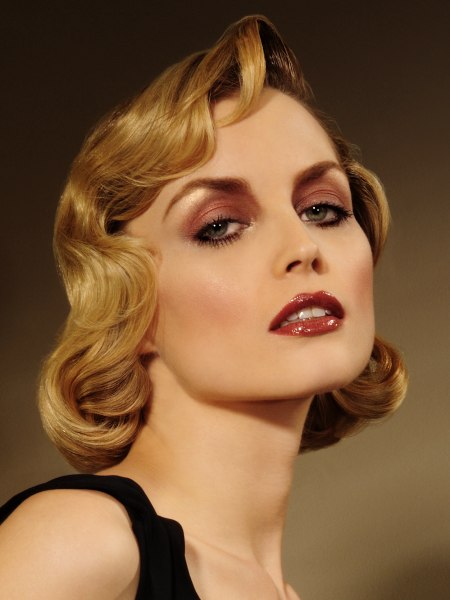 As a signature song, the ultra-sultry Marlène Dietrich performed this number countless times. She is perhaps best known as the culmination of many disparate traits that seem to simply "work" for her. This short hairstyle brings to mind all of those traits. In the carefully coiffed curls and sweeps, we see a smoky, sultry feminine beauty.

Yet the length of the hairstyle is just a touch too short to be overtly girly or romanticized and reminds us of Dietrich's hinted androgyny, which with her husky voice and exotic accent made her one of the most memorable glamour icons of all time. This is a style for the woman who knows who she is, what she wants and isn't afraid to stand up to anyone for it.


Dark Stone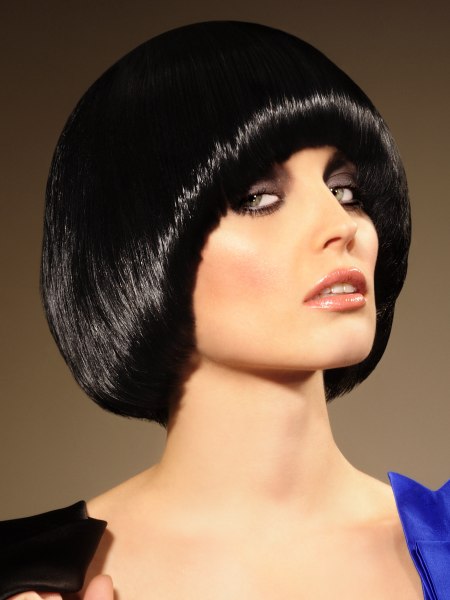 Onyx; Obsidian; Jet; these all come to mind when we view this hairstyle. The highly polished sheen and glossy reflectivity of the straight styling bring what would otherwise be a light-absorbing color to life.

The cut calls to mind the "pudding bowl" and "purdey" hairstyles of the late 60s and 70s and it further lends to the look and feel of polished black gemstones.

It resembles nothing so much as a cabochon-cut onyx or a curved panel of polished jet. The smooth styling lends itself to movement in the hair and will offer an inky quality as the head turns to watch other heads turning.


Victoria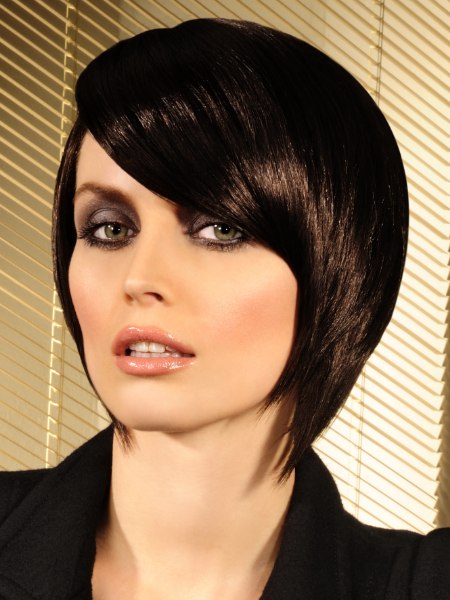 She started her celebrity as part of a Spicy Pop Group, and later kept her visibility up when she joined forces with a hyper-hunky soccer superstar, and now, she's a woman to watch as she sets trends as easily as she changes her hairstyle.

The look is an interpretation of the neoclassic pob haircut - that concave bob style with elongated forward lengths framing the face - usually in the company of a curved or side-swept fringe.

The razor-cut ends provide a sleek and smooth graduation to the layers and help to retain the satiny finish of the hairstyle.


Pétula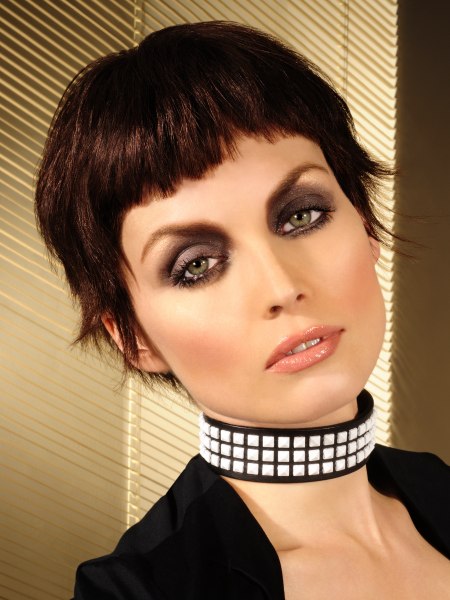 When she sang of taking us downtown, we knew we were with someone who was vibrant, energetic, and exciting. Her peers in hair fashion - Mia Farrow, and Twiggy - also sported the gamine-short pixie hairstyles that were so boyish they simply enhanced the natural femininity.

The cut is edgy with texture in the lines and layering giving a slightly uneven quality that makes the rest of the face seem even more flawless. The wispy, out-turned ends draw the focus to the eyes and the cheekbones.

This is a look for the woman who never hears "you have such pretty hair" because the viewer can never get past the beauty of her face. And in spite of that, her hair is still stunning.


Rive Gauche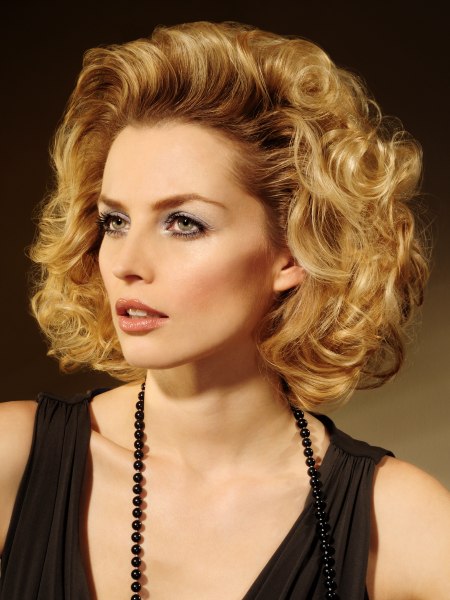 There's a certain style associated with the "Rive Gauche". It's sophisticated, elegant, knowledgeable and never trendy. In short, it's a classic look that makes the newcomers seem less polished and less-desirable.

The medium long hairstyle is full-volume and full-bodied with large soft curls that sweep and flow like the currents of the river to which the Rive Gauche belongs.

This is a hairstyle for the woman who wears her beauty with ease and comfort. She knows it takes time and effort to look just so, and is not afraid to make that happen.


Rockabilly Princess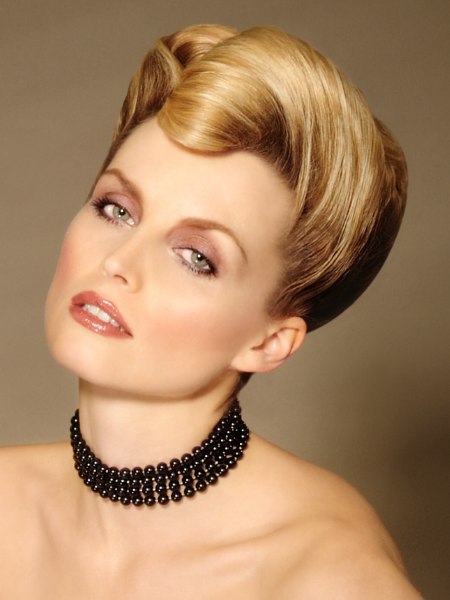 Few things are as fun, and approach life with the kind of devoted abandon as the Rockabilly Princess. These self-made royals like the music heavy on the guitar and easy to dance too. And they plan to look like a million bucks while they're wearing down those heels.

This Rockabilly-inspired up-style takes its elements from the classic Rockabilly male's Pompadour and gives it that "girly twirl" (feminine twist). The hair is given a sharp upsweep to the top of the head and wrapped and rolled into a cocks-comb look. It's fun and free-wheeling and ready to roll.

Hairstyles: Jack Holt Coiffeur Créateur
Photography: J.P. Darbois & H. Peyre

See also: Short hairstyles | Long hairstyles | Up styles