Lauren Holly: Less is More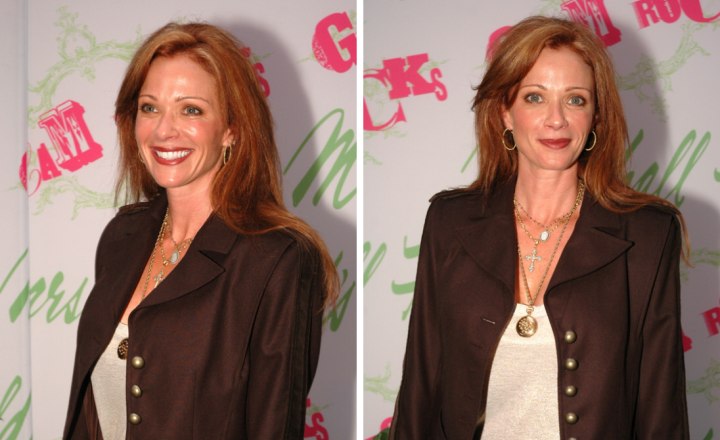 From flowing long hair to a stunning short pixie cut!

When I think of Lauren Holly I think of the roll she played with Jim Carey in the 1994 movie "Dumb and Dumber." If that doesn't make you laugh, nothing will ...

Our first picture (08/12/2005) heralds a long haired Lauren complete with a long black blazer covering a white blouse. We see her hair with her customary colors of a reddish caramel with blonde stripes in the front zone. The difference is that, her hair is flowing all the way down her back.



She is standing in front of some kind of graffiti that isn't the most complimentary for Ms. Holly. Let's look a little bit closer. I declare, I do believe I see air pieces or extensions used here?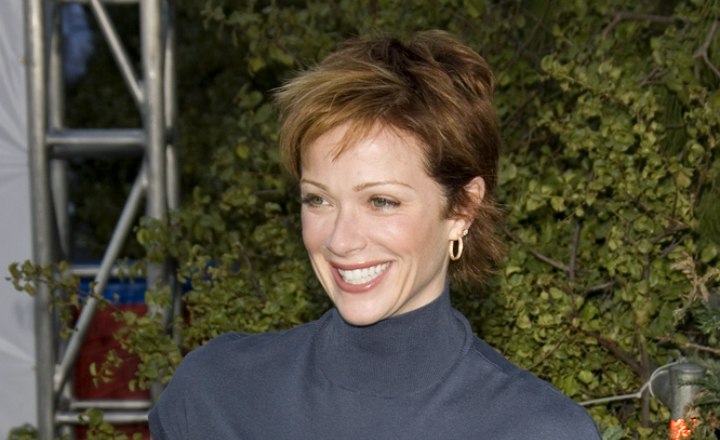 Our second picture (02/02/2006) looks more like the Lauren I am used too. She is wearing black again, and is dominated by her ultra chic cropped style that is shortly layered and pleasing to her lovely oval face. Thus, we know her by the trademark of her very red hair.

Notice how complementary her hair is next to the color of her face and how it brings warmth to the rest of her skin. Although Lauren is wearing a lot of make-up, she looks very natural. Note the neutral tone of her lip color.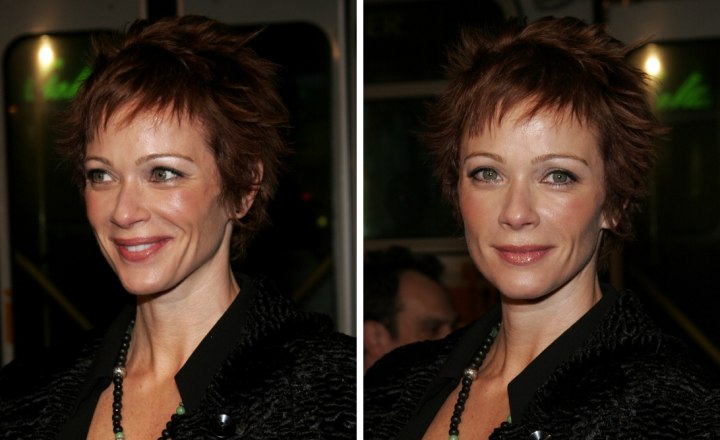 No one should look this good and live! I'm just kidding, folks. Here (02/25/2006) we see Lauren's hair styled in the boyish, layered, carefree cut wearing a navy blue turtleneck and sunshine of a smile ... I'd smile too, if I looked like that, wouldn't you? Her short hair bears the radiant red with a few foiled streaks for mirth and merriment, I'd say. She looks very simple and outdoorsy and I guarantee you, her hair only takes her about three minutes to fix.

If you are ready for this type of look (and aren't we all?) make sure you go to a reputable hairstylist and take this picture with you. Once you get the haircut, the only thing you'll have to do is shampoo; condition and blow with your dryer using upstrokes with your fingers and you are ready to go anywhere.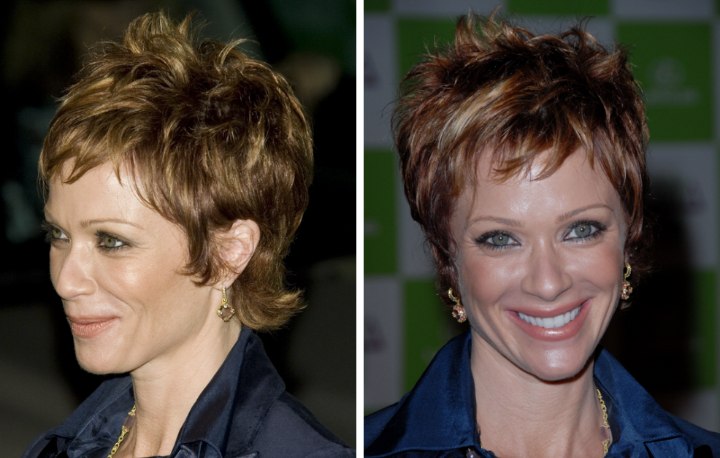 Just when you think Lauren cannot get anymore stunning you look at these last two pictures (11/08/2006) and gasp. Just for fun, picture Lauren with the long hair she has in the first picture. Truthfully, she wouldn't look quite so streamlined. Short hair always makes us look thinner and neater. Ms. Holly looks like the true celebrity she is. She has her coppery red overtones with a few foiled neutral blondes that look like she was born that way.

Her eyebrows match her hair and skin tones are pleasingly pink. Her pixie style is no doubt, tapered up in the back quite short and shaped up around the ears. There is a fluff in the crown as the top is smoothed with playful layers. This is a no stress hairstyle that can be worn for any event, as captured here, Green and white background was a better choice for Lauren Holly with her red hair.

See also:

Age appropriate hairstyles

Over 40 hair and hairstyles

Hair and the aging woman

Hair tips to avoid making yourself look older