Tips for Redheads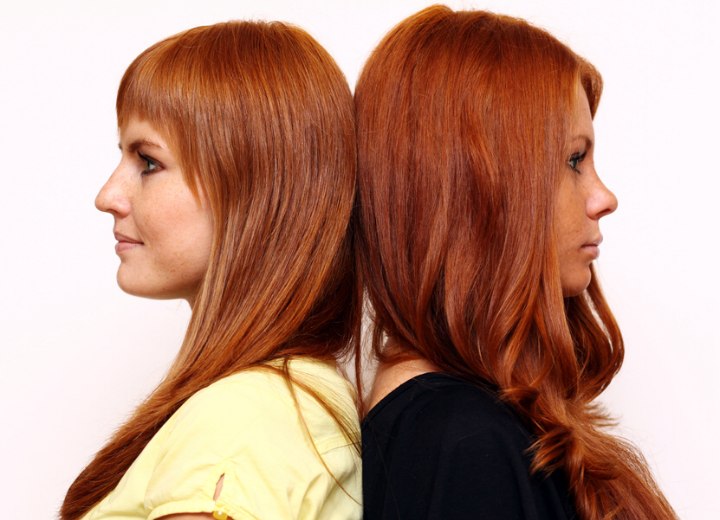 If you've always wanted to have gorgeous red hair like Nicole Kidman, Julianne Moore, Tori Amos, or Lindsay Lohan, here is a short guide to help you choose the right shade for you, whether you're blonde or brunette.

There is a vast number of permanent and non-permanent hair colorants available, from strawberry blonde to red wine. Even dark-skinned or Latina types can look great with red hair (think Beyoncé). It all depends on the shade! And if you already have red hair, scroll down for some maintenance tips to keep your hair color vibrant and your hair healthy and shiny.



Going red

If you have blonde hair and fair/medium skin

You would suit a strawberry or light copper red. If your hair is very light, be careful with most home colors and henna, as you could end up looking like a carrot! Light hair will always take in hair colors more intensely than dark hair as it has different pigments. If in doubt, try a non-permanent dye in your desired color first and experiment until you find the right shade for you.

If you have dark blonde or light brown hair and fair/medium skin

You can wear most shades of red, depending on the undertones of your skin. If you are a "summer" or "winter" type (cool undertones to your skin and you can wear colors like navy, pink, cool blue, bright red, and black) you would suit a hair color like cherry, burgundy, intense red, or even aubergine.

If you are a "spring" or "autumn" type (warm undertones to your skin and you can wear colors like dark green, olive, beiges, and browns) you should choose warmer reds such as auburn, russet, and copper. The general rule is the lighter your hair, the brighter and lighter the shade of red that will suit you.

If you have brunette to dark brown hair and olive skin

Intense red or plum colors could look great on you, as well as dark cherry red and mahogany tones. Lighter reds might look better with lighter skin. If you like to stand out, intense red highlights could look very striking on you!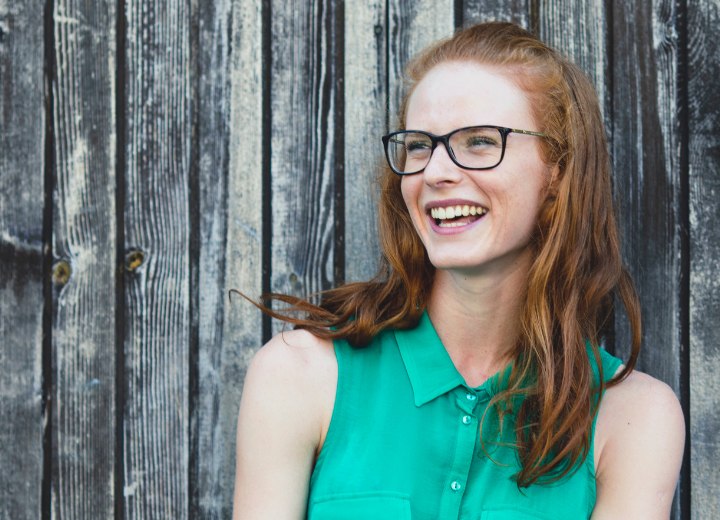 If you have black hair and/or dark skin

If you want to go really red, I would strongly advise having it done professionally, as your hair will most likely need pre-lightening prior to coloring in order to see the effect. Red chunky or finer highlights, as described above, could be an alternative to the rather hair-damaging process of both bleaching and coloring your entire hair.

Also, regrowth is less visible and you don't have to visit your hairdresser every four weeks to get the roots touched up. A dark cherry or red wine color, however, can be used without pre-lightening and gives your hair a subtle hue of red - and a great shine.

If you have gray hairs

If you want to cover your gray strands and go red, it is essential that you color your entire hair in a color close to your natural shade before applying the red. This is particularly important if your natural color is quite dark. Gray hair has virtually no color of its own and is therefore most affected by chemical dyes. If you have an even hair color to start with, you won't end up with orange strands and roots...

Red hair color maintenance

Red-colored hair fades easily, so choose a color-protecting shampoo and conditioner, like the L'Oreal Vive or Pantene Pro-V Color Revival range or any other product for color-treated or permed hair. Many companies, such as Pantene and John Frieda, now offer special products for redheads that maintain and intensify the color, including nourishing masks and styling mousse.

Another way to freshen up your color or to subtly change its shade is to use non-permanent dyes that last for 3-10 washes. Choose one without ammonia or peroxides, and when using the color guide on the box refer to your current shade rather than your natural hair color.

A few words on henna: This dye made from the leaves of the henna plant comes in a variety of red and brown shades and coats the hair rather than penetrating the hair shaft like chemical colorants. Although much less damaging for the hair, it should be used with caution as especially blonde or gray hair can suddenly become very, very red.

When used at home, it can also make a real mess of your bathroom floor! However, you will have very shiny and healthy-looking hair when using henna. It is generally not advised to combine henna and chemical dyes, though, as the chemical reactions could leave you with lovely green hair as an end result! Colorless henna is also widely used in products for damaged hair.