Aqua Trends for Long Hair (2)
Previous Page

Step 2: Slightly lean head to the side and thoroughly dry hair against the direction of its growth. Don't use a very hot setting and smooth through the hair with your fingers now and then – this gives it a light structure and preserves the moisture content of the hair.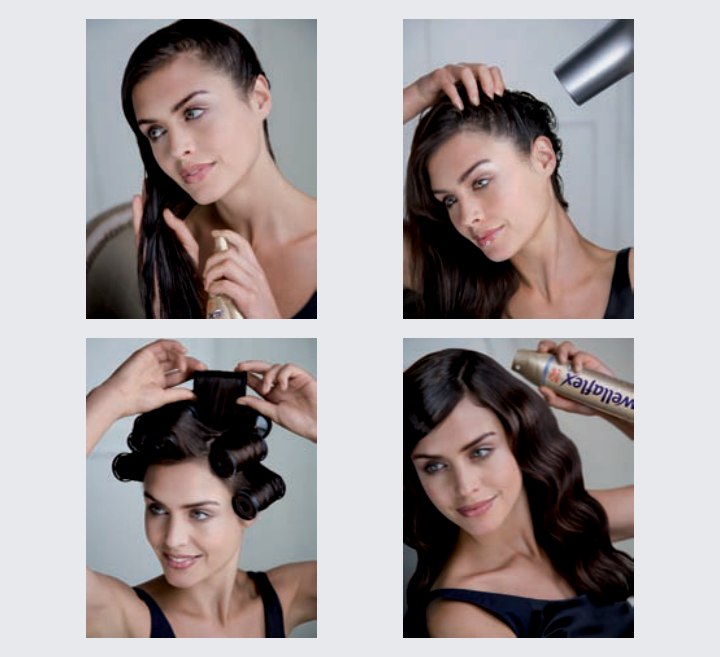 Step 3: To get soft water waves roll the hair on large heated curlers. Make sure the individual strands are not wider than the curlers. Once completely cooled off remove the curlers from the hair and shake it out gently. The flowing wave effect develops by brushing out the hair with a soft brush.



Step 4: In order to give the waves a lively glow and make them last all day long finish it all by spraying on wellaflex Hydro Style hairspray evenly from a distance of 20cm. This way the hair is protected from loss of moisture and UV rays while sparkling in a natural glow.

Sascha Breuer's Pro Tips for Perfectly Nourished Hair full of Shine and Moisture
Hydrated hair is the best basis for every styling because a good balance of moisture strengthens the resistance of the hair and securely protects it from damaging effects of the environment. Styling is easier, lasts longer and the hair has a healthy shine.

"A glowing mirror like shine is a must with the new aqua trend looks," knows wellaflex Styling Expert Sascha Breuer. "For this the moisture balance of the hair needs to be right. Otherwise the hair reacts too much to changing effects by the environment and dries out or becomes frizzy." The top stylist lets out his best insider tips for perfectly nourished and protected hair for wellaflex.

1.) Healthy ends are indispensable for naturally flowing hairstyles. This is why the ends should be trimmed and nourished regularly especially with long hair. Shoulder length cuts should be avoided all together since here the tips touch the shoulders and quickly dry out and become stressed through the permanent mechanical strain.

2.) The right care can make long hair a true eye catcher. Hydration plays an important role for this. Only with a balanced content of moisture long hair can be styled to great trendy looks. I recommend using light care products that do not weigh the hair down, give it intense moisture without leaving an oily film. For stressed ends an additional intensive treatment can be applied, that should however be applied to the ends only.

3.) Next to care the right styling products are essential for lively looks with a rich shine. Styling products can provide additional moisture to the hair and protect it from damaging environmental influences.

The Hydro Style series by wellaflex is my absolute favorite for naturally strong hair full of shine and life: the hydro active complex in the hairspray, the mousse and the blow drying spray provide intense hydration and coats each hair as a protective layer.

This way the hair is protected from loss of moisture and effects by the environment until the next shower and retains a healthy shine. The style always stays flexible and dependably holds up all day long.

4.) To protect the hair from a strong loss of moisture during blow drying you should always use a mousse or a blow drying spray and make sure to use the right blow drying technique. Many women blow dry their hair over their head because it is fast and easy. Unfortunately this can overly dry out the ends and the style can look frizzy and without shine.

A better and gentler way is to lean the head to the side and start at the roots to dry the hair in sections against the direction of its growth. In the end blow dry strands over a round brush into shape or just loosely style with the fingers. This is how natural volume develops without unnecessarily stressing the hair. The blow dryer should be adjusted to high air output and low heat to avoid pulling too much moisture out of the hair.

Photos and text by Wellaflex