Cebado - Women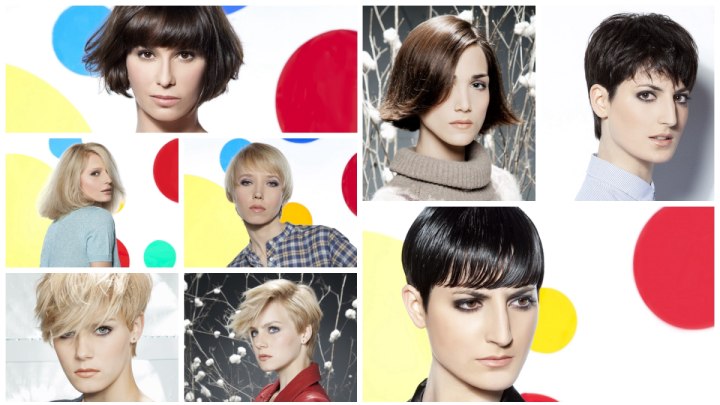 Scroll down for more photos ↓

Cebado goes all the way and leaves no hair unturned. All lengths and most common styles are part of this stylish line-up and part of an exploration into new versions of famous hairstyles that are made to wear every day. Long romantic styles, medium length elegance, short sassy haircuts and a few timeless classics that were updated give every woman the chance to find her favorite Cebado look.

Lines are smooth in all lengths, and the emphasis is on a natural flow, a pleasant element of casual amidst a lot of style, and also on femininity. This collection does not try to push the limits or to shock. Instead, it creatively discovers variation of cuts, small changes in styling that can make a huge difference in character and appeal.


Romance in Brunette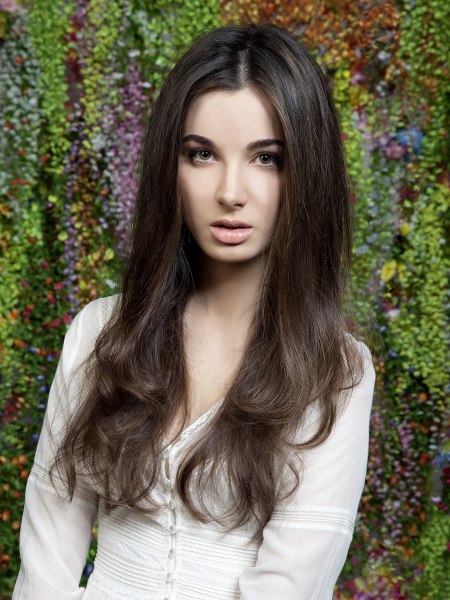 For very long hairstyles to look this spectacular, it is important to style the hair in a way to promote a bit of lift and volume on the crown and along the sides. The layers come into play only way towards the bottom of this romantic look and cannot help much in adding volume.

A good lift on the roots while blow drying the hair can do the trick, however. Large waves and curves enliven this smooth look and bring a lot of alluring movement into the lower third. A smoky brown looks very natural and is a great color for her light complexion.


Voluminous Length


Manes want to be free and unfold their full magic while blowing in a soft breeze. A great way to show off your long hair and still look elegant is to move the part from the center a bit to the side to create a slight asymmetry and to either use the natural curl in the hair to form large waves for motion and volume throughout.

Long layers keep the weight balanced and also aid with the generation of some volume in the lower areas. Blow dry with the hair over the head to get that chic lift on the roots and soft flow. This feminine look is a classic that does not need any wild color or accessories to enthrall.


Glamour Waves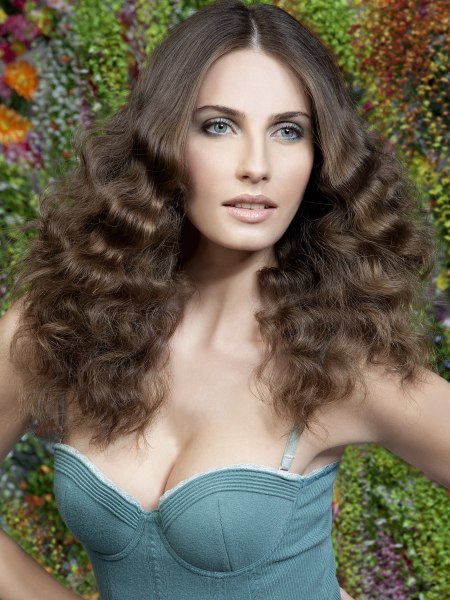 This long hairstyle is based on the previous haircut and shows how the entire vibe can change with a change of wave pattern. Large waves were turned into smaller, well defined ripples that begin at about the height of her cheekbone. The top section of this seductive look is still straight and this time separated right in the center.

If you don't have natural curls, do not despair and talk to your stylist about ways to get those bedazzling waves. The shape of the opulent mass frames her face with glamour and brings much attention to her eyes.


Unraveled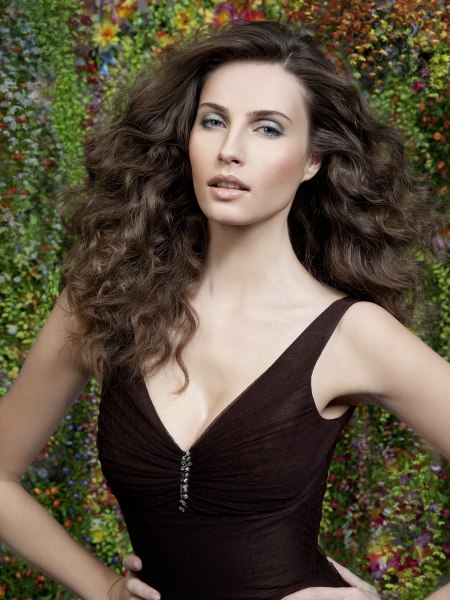 Add another notch of stylishness and loosen up the tight and uniform little waves of the style before. Then move the partition to the side, and the result is a bouncy voluminous, long hairstyle with a high level of sophistication.

Wilder and easier to manage than its twin style from before, this vivacious mane of brunette delight is a great look for the afternoon cocktail party or a rendezvous.


Brushed Out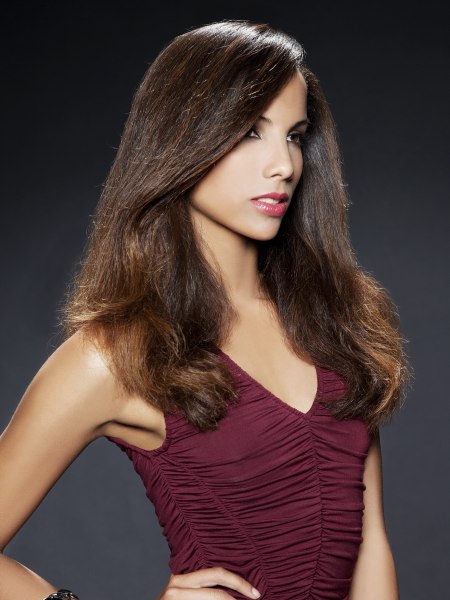 Many hairstyles do not include a determined action of a brush in their styling directions. This one takes another course and gets its velvety texture just from that. The large curls are not meant to be well defined in this look, but the diffuse, soft look is very much wanted.

The smoothness also raises the shine and infuses the long hair with a rich, thick fluffiness. The entire appeal is very natural, and this is enhanced also with the toffee accent color around the tips of the dark brown background.


Flamboyant in Gold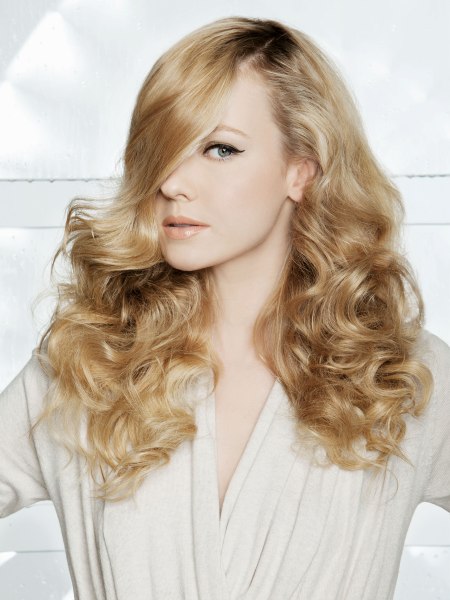 If you have it, flaunt it. You might get some envious looks, but you can live with those. Long blonde hair likes to be curly and outrageously attractive. A bonus to this already spectacular mane is its timeless elegance. The finesse factor is turned up a couple of steps with the long, smoothly flowing and curved fringe that is draped across half of her face, shrouding it in alluring mystery.

The opposite side is styled back enough to expose a part of her ear, just enough to display a gorgeous piece of jewelry if this extraordinary bundle of blonde curls is not dramatic enough for you.


Blonde Bluntness


This long bob has attitude. Cut blunt all around the perimeter, including the fringe, this classic is in its simplest yet edgiest form. The edges and front corners were just slightly textured to provide some trendy softness.

If you are looking for a style that sets you apart, go for this look that already made Blondie famous in the 80s and that is still on top of the hairstyle charts. A platinum blonde with accents in honey and ash blonde for more definition has an eternal touch just as the style itself.


Flirty with a Bounce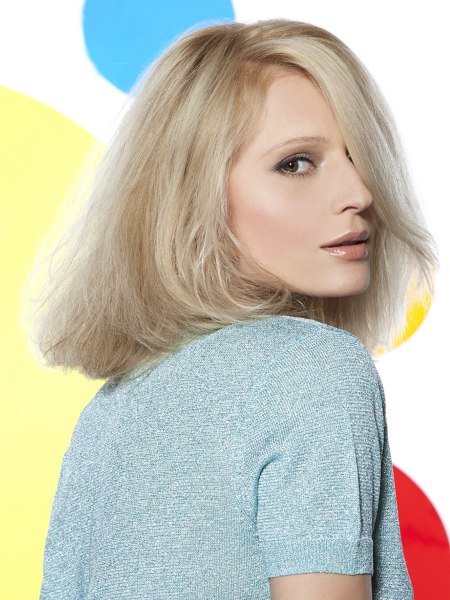 A long bob was styled to contemporary perfection with a long sweeping side fringe that coyly covers one eye with a veil of softly curved hair. The ends are turned inward all the way around which makes the hair bounce beautifully with every move she makes.

Soft and flowing lines keep things appealing, and the hair color is a very light blonde, as mysterious as the cool light of the moon. Movement in elegance is the key to the success of this classic inspired look.


Silken Splendor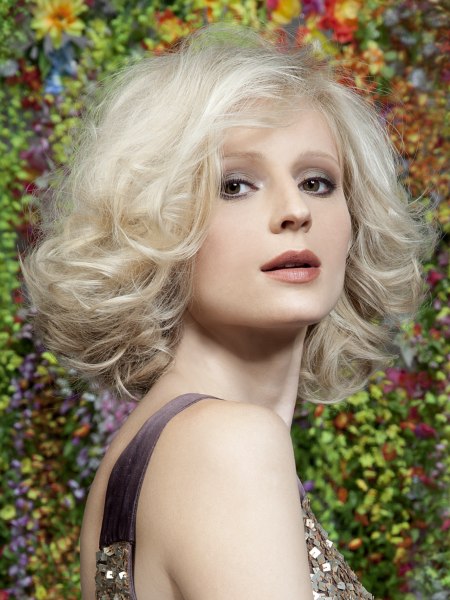 As fine as spun silk threads and ready for a red carpet or the ballroom, this soft and curly medium length hairstyle will have everyone on their knees around you. Elegant and sophisticated without any pretentiousness it exudes confidence, style and enlightened taste.



Large curls are strengthened by layers and after setting they are gently separated. The very top is combed and teased for a cotton candy effect that shrouds the entire look in a diffuse, flattering and most of all magical light.


Soft Short Hair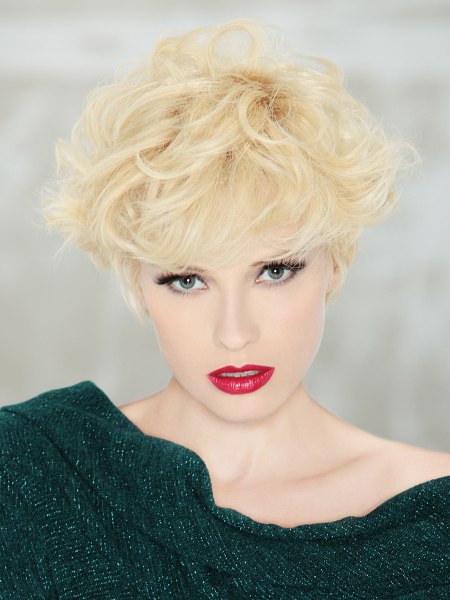 This vanilla blonde short haircut might look soft and sexy, but it is not to be underestimated. Versatility is its middle name and it can be styled from simple to punky to glamorous with just little effort. This wispy version spreads its charm with layered deconstructed curls that swerve into all directions.

Control comes in along the sides and the back with a fine-tuned outline and a shaped cut. Steep graduation on the neck keeps things cool, and all of the weight and heavy motion is happening above her ears.


Sweet and Easy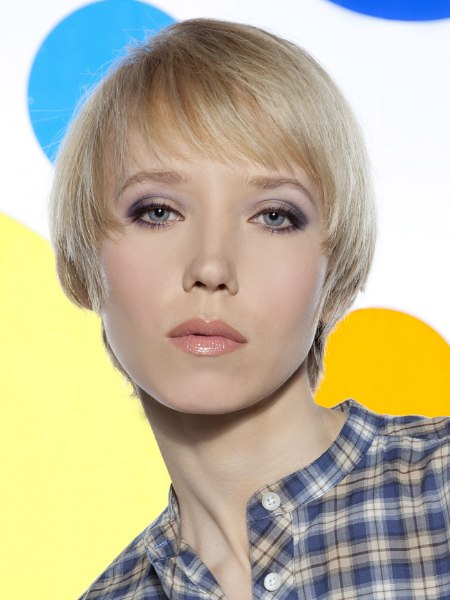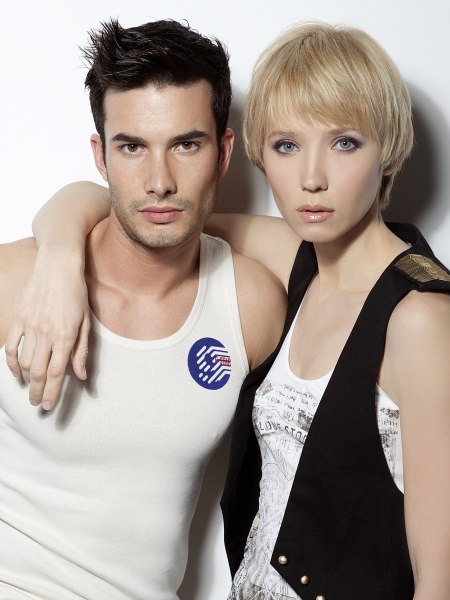 A flattering short haircut that is a light and low maintenance solution for the active woman does not have to be without finesse. This finely textured specimen is full of details that emerge the longer you look at it.

A fine curve of the fringe, the little points that curl into the face right under her eyes, the finely tapered sides and a attractive neckline make this one special. The hair color is a very natural-looking blonde with ultra-fine platinum highlights.


Funky Fringe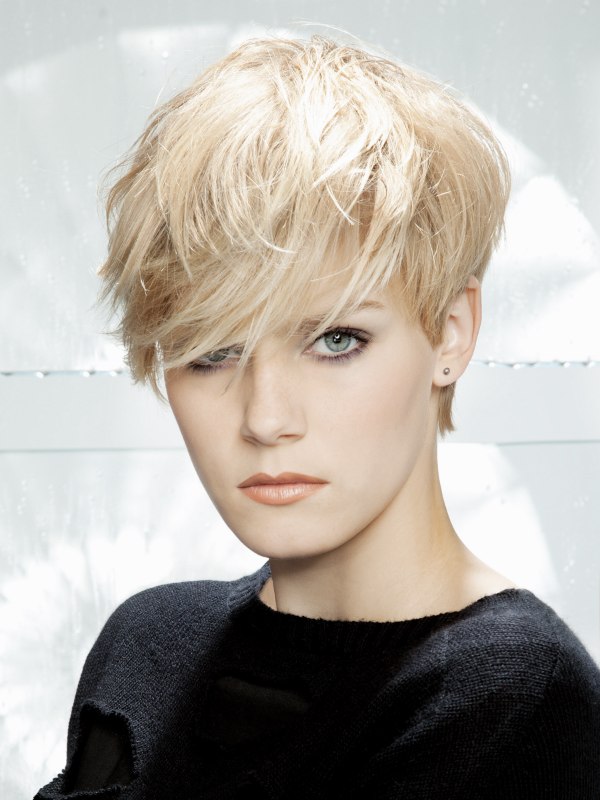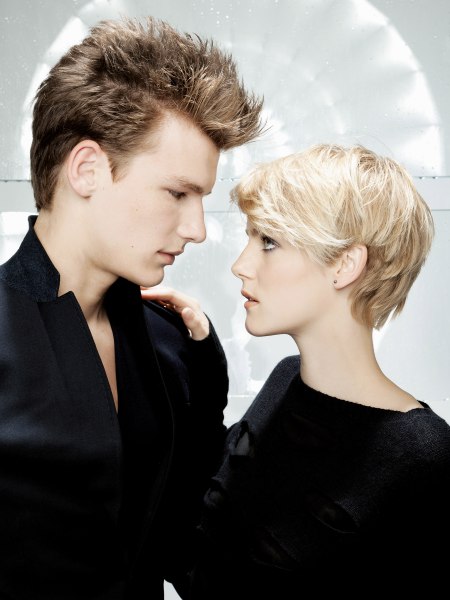 The shorter they are in the back, the longer they are in front. Trendy short haircuts have all the length in the fringe, which is like the frosting on the cake or like the cherry on the sundae. A well sculpted fringe makes the look, gives it character and uniqueness.

This one is full of texture and layers which are styled in opposite directions to create as much movement as possible. The sides were just slightly curved for a balanced volume. Several shades of blonde put deep dimension and light into the style.


Sassy Haircut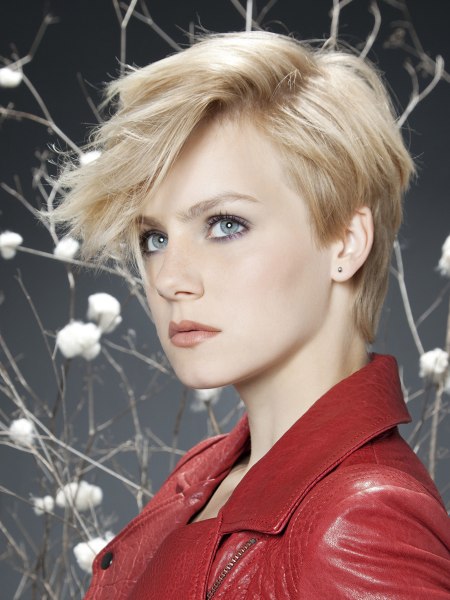 Give your neck a sexy makeover with a short haircut like this. Smooth and soft with an expressive fringe, it is all you need to make it through another fashion season in style. The androgynous flair of the base cut is balanced out by a long, flowy and feminine fringe that sweeps in a generous motion across her forehead and is styled with a lot of lift and straight lines.

A very attractive touch is also the angled line that reaches from the tip of the small sideburn all across the side. The hair color is a light, but warm blonde, light the hue of fresh hay.


Long Textured Bob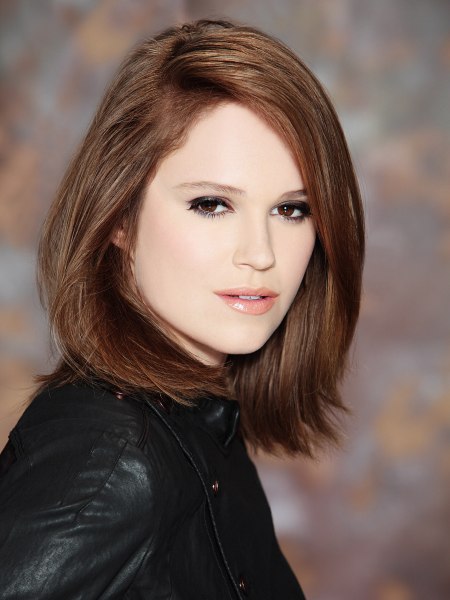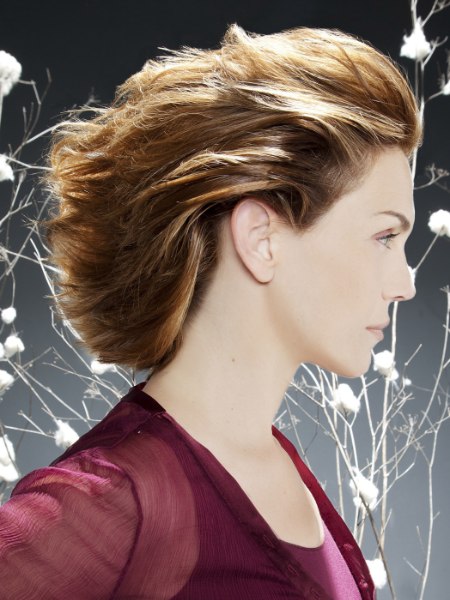 The irregular partition with a deep dip to the side gives this long bob an adventurous styled-unstyled character. The position of the part also influences the length of the hair on the broader side, thus resulting in different lengths and patterns depending how the cut is styled.

This version is very casual and chic with a sense of freedom and excitement. The warm brown hair color gleams with highlights in gold.


Preppy Bob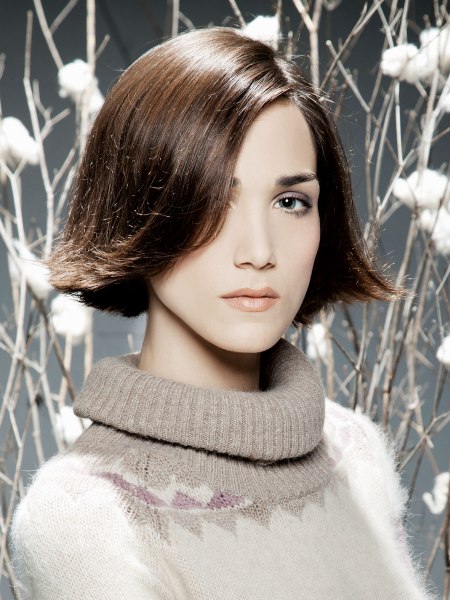 Flipped up ends on this almost chin length bob style give it a neat and preppy appearance. The ends are gently curved and feathered towards the back, a refined move that adds softness and dynamic motion to the chic haircut.

This look is all polished and still has an edge and sensuality in its smooth lines. A curved side fringe is sophisticated and has the right size to be mysterious but not obstruct her view all the way.


Sculpted Curls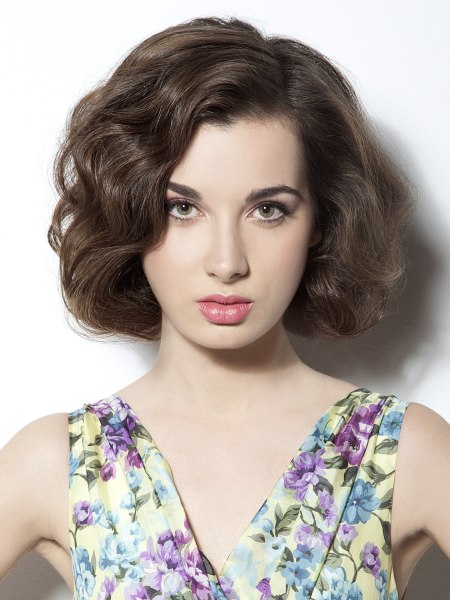 As fresh as a spring time mist, this short, curly and wavy hairstyle will affect the way you go through your day and perhaps it will bring you a surge of new energy. It has a beautiful wavy structure, well defined, round and curved all over and brimming with nostalgia.



This hint of retro is a trend that seems to be here to stay, and who would complain about that? It comes with a plethora of feminine, timeless looks that were famous once and are again now.


Pagegirl Power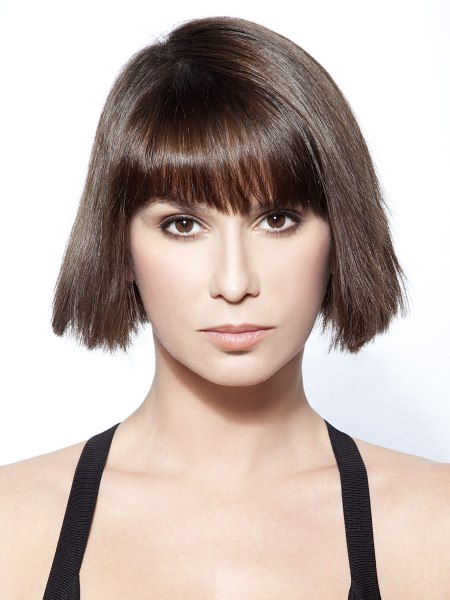 A few new tricks turn this classic into a unique trend-look for all who enjoy timeless style, but who also want a short haircut that is modern and has an edge while being tailored to match their features. A double curve gives the fringe not only a perfect fit to her eyebrows but also a sexy diabolic charm.

The blunt cut sides were textured with the tip of the scissors to make give the line more interest and also to make it softer. Asymmetry is present ever so slightly in the fringe, but to a larger degree in the partition and distribution of the hair on the sides. All is bathed in a warm and luscious brown tone.


Bob with a Swing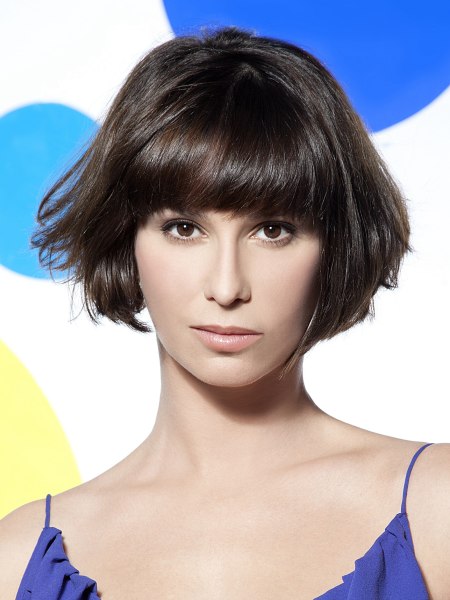 This haircut will make you want to dance, and you can be sure that you won't be a wallflower. All that movement is totally irresistible and it bounces with each step you take. The chin length bob was tapered in a shallow angle on the sides that gives it a sassy shape with most of the volume at eye-level.

The fringe is straight and gently curved to the side. During styling the hair was massaged with a good smoothing and shine product before it was arranged in its seductive disheveled way.


Pretty and Low Maintenance Pixie Cut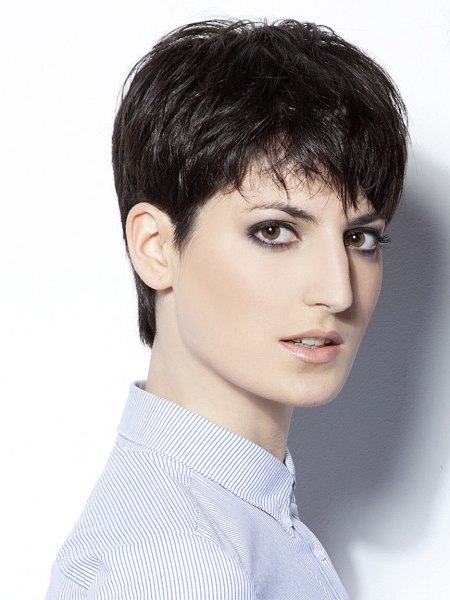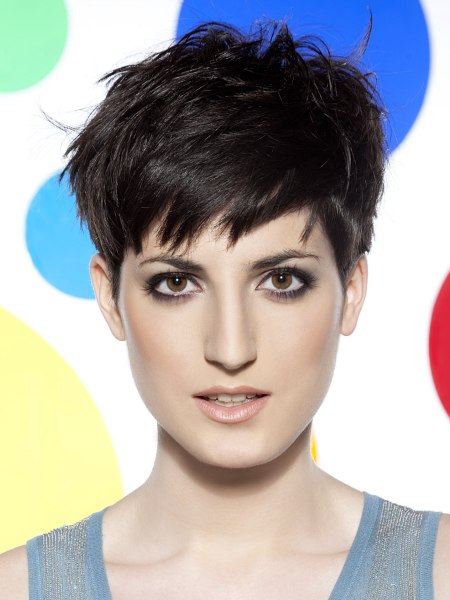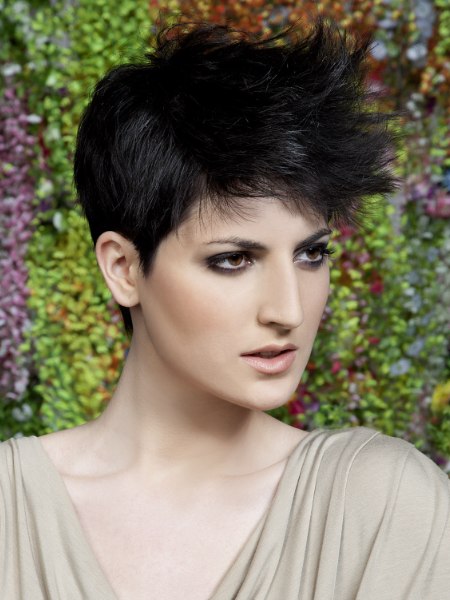 If you like blouses or jackets with chic collars or turtleneck tops and a low-maintenance style then this pretty haircut might be just the one for you. Short on the neck, accentuated in the neck and textured throughout it is as short as they get, but has a lot of modern style and even more mojo.

Bring out the spunky you and who knows what else you might discover. The dark brown is just short of black, but much smoother and gentler on the eyes.


Slick with a Kick


Kick it up a notch and dip your fingers into that pot of pomade. Why should men have all the fun? Applied to dark brown hair, pomade or wax darken the color to a glistening black and the buttery stickiness allows you to shape it, bend and curve it anyway and anywhere you like.

Here the allure of the short haircut runs high with a round helmet shape and the wavy, textured fringe. Small sideburns are cut in a perfect little triangle add the finishing touch to this truly polished look.

Hair: Cebado

See also: Short hairstyles | Medium hairstyles | Long hairstyles