VOG Coiffure
Hairstyles Spring-Summer 12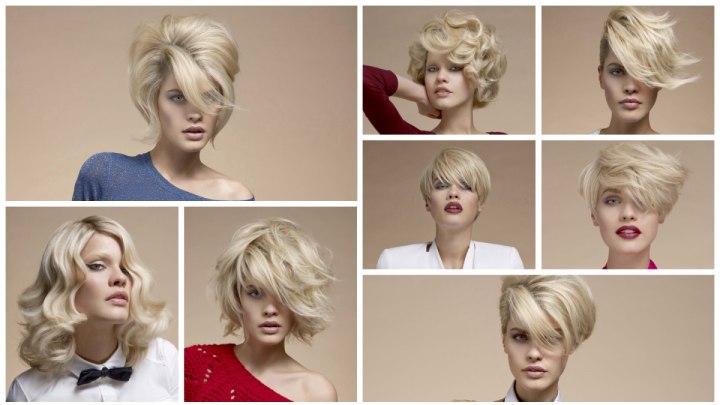 Scroll down for more photos ↓

After bursts of color have pushed our senses to the edge, VOG Coiffure surprises once again, but now with a monochromatic collection of hairstyles. The soft and neutral blondes make us focus on the shapes of hairstyles once again. The cuts and textures, the stylings with all of the curves, curls and heavy (e) motion are the stars of this spring and summer hair collection.

Get ready for drama, seduction, icy fire in shapes that are classic, retro modern and a mix of all of those. Lengths are medium to short and styling is strong, even elaborate in some cases. This collection highlights character and there is a style that can be tailored to perfectly suit any personality. These looks are there to make you shine. You and your new lipstick.


Chantilly Waves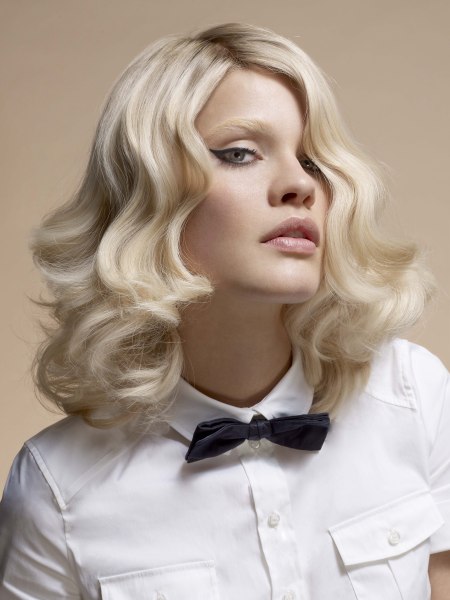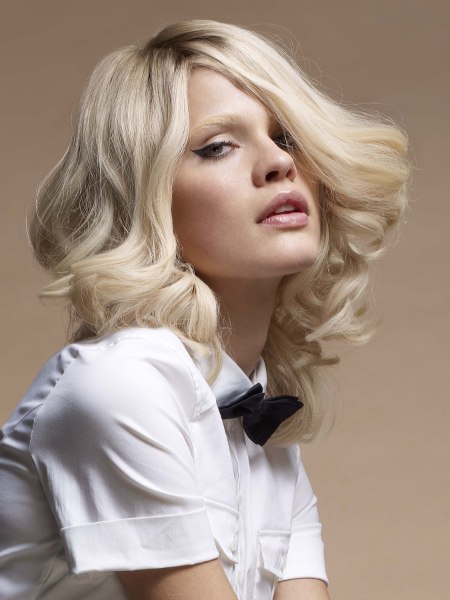 The color of cream and the texture of a fine meringue are combined to create this delectable hairstyle. A trendy retro flavor puts this shoulder length look on the wish lists of many fashion mavens all around. The hair has been layered in the bottom quarter, starting at the chin line.

The large waves are in synch with each other and form a beautiful rhythm in their flowing motion. The color is a neutral, but very diva platinum and vanilla blonde with a matte sheen. This haircut offers high versatility and can be styled in many different ways and it is even long enough to be pulled into a ponytail or an updo.


Windy Bob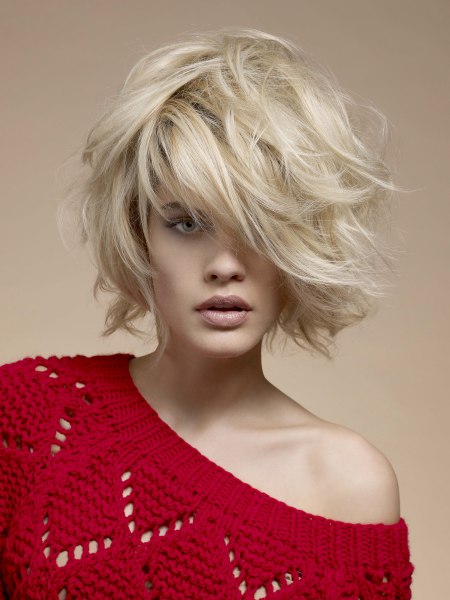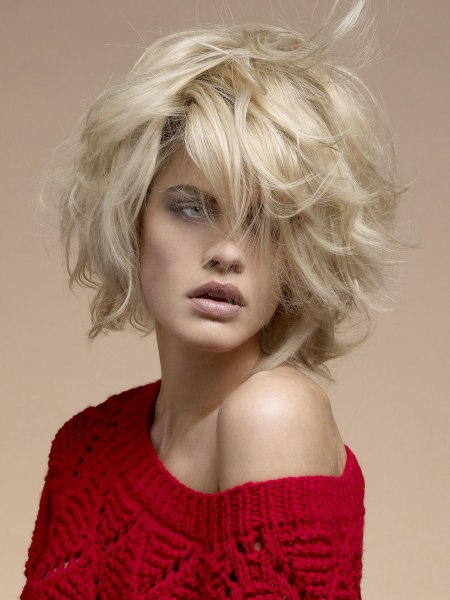 Put the motion into a bob, add a little Meg Ryan pout and you are ready to make some waves! This adorable look gets it twirling power through some thick layers styled up and around the head with the help of a good dose of flexible hold products.

Pull it to the front and the side. A mist of spray will keep it all in place. What a perfect hairstyle for a stylish and casual summer day that does not have to include a cold shoulder at all.


Dolled Up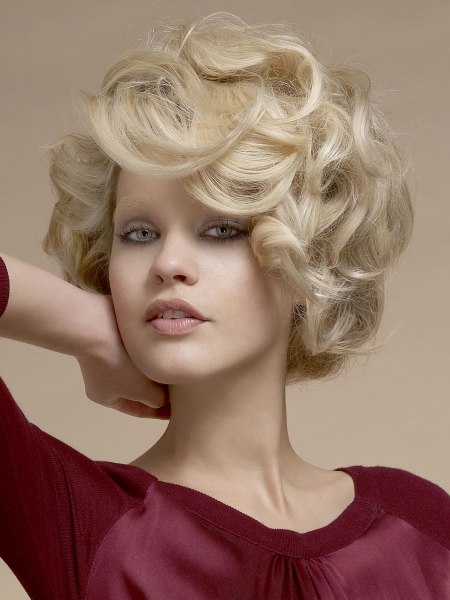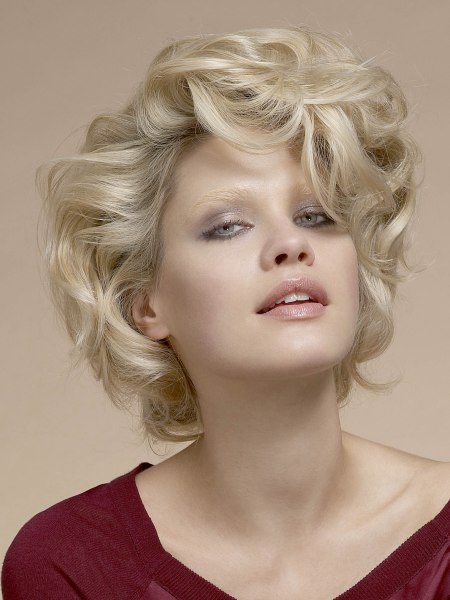 These aren't your mama's curls, however the flavor of the 60s still lingers. Updated and lifted to cult status, this feminine look makes a bigger splash than ever.

A layered base cut, at mid neck length was rolled to large curls which are then draped around the head in strong definition and with emphasis on the front section that shows an especially bouncy series of curls hovering over her forehead. The frosted blonde tone is a great timeless and seductive match to this classy short look.


High Fidelity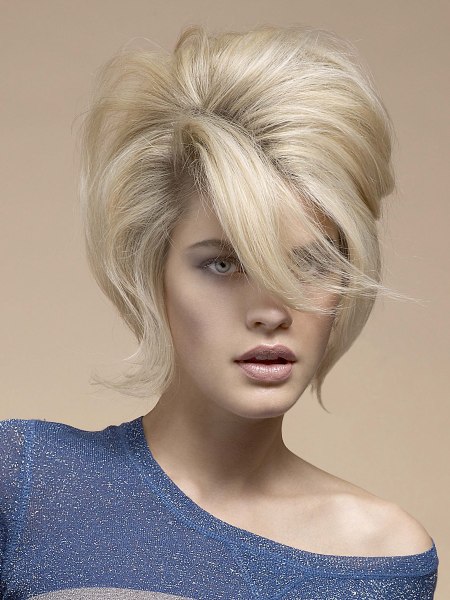 Grab your mint julep, put a little twist in your step and let the good times roll. Retro galore is trendy and also very alluring. This top-heavy hairstyle was created by teasing the hair around the roots, piling it sky-high and then smoothing and shaping the outside layers.



The large sweeping fringe is just breathtaking, and the thin points that are flipped out bring the seductive element to this style.


Ivy League Look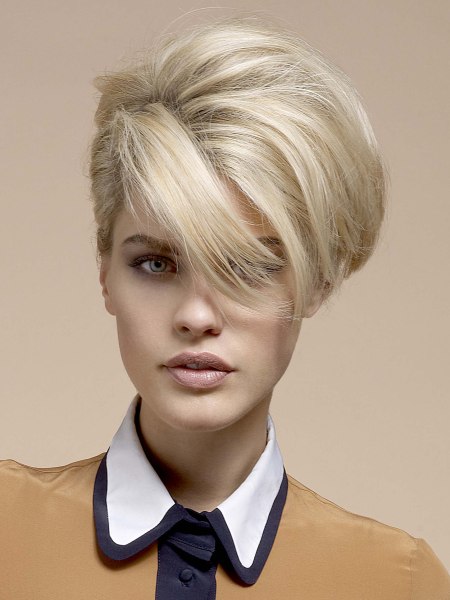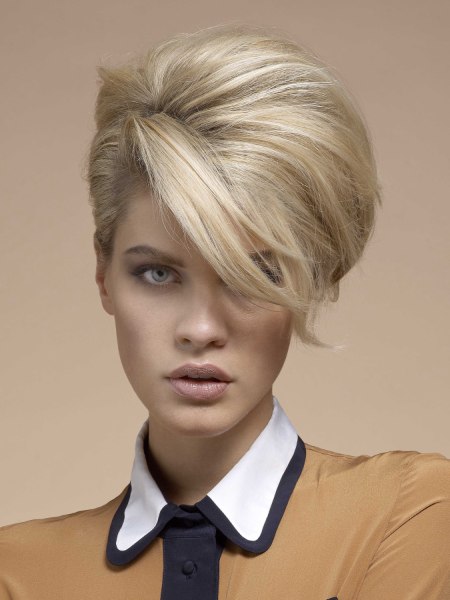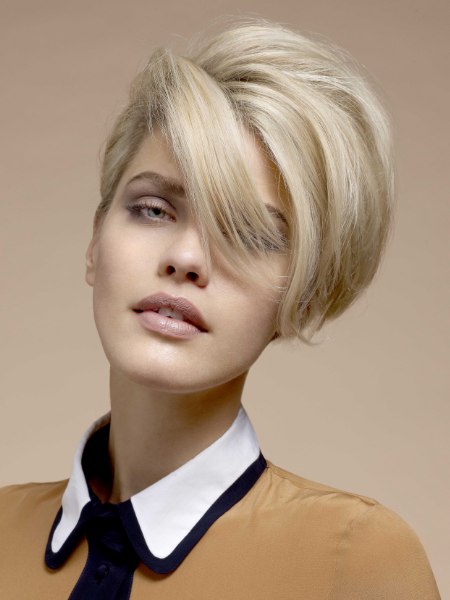 Show your classiness with a class of 64 hairstyle. Of course in a new and updated way. A little asymmetry always helps to push a hairstyle further up the fashion hit-lists and retro does not have to mean you look like a picture in an old yearbook.

This teased and very poufy style features an elegant long and sweeping fringe and is shifted to one side. The ends are tugged under and in for this cool chignon effect.


Living on the Fringe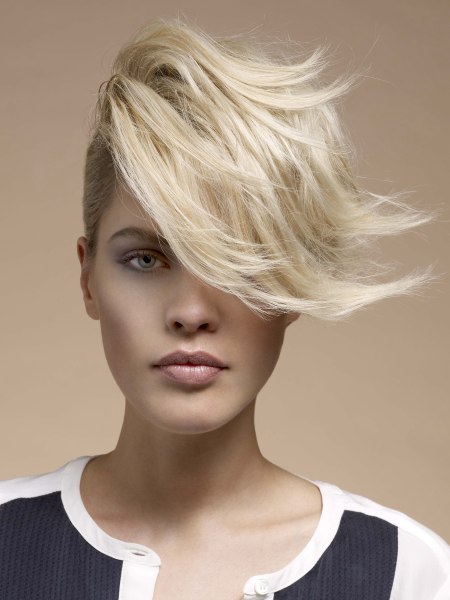 Make the fringe your star and outshine all others. With the rest of the hair pulled tight and sitting snug around the head, this free-flowing fringe pops out with a big bang. Motion and commotion are vivacious and shaped with aerodynamics in mind.

A good root lift creates the dynamic height on the crown, and the higher this is the steeper the slope. This look is all about movement and extravagant asymmetry. This extreme shape, however, is mellowed out a bit by the soft light of the vanilla blonde color.


Haute Allure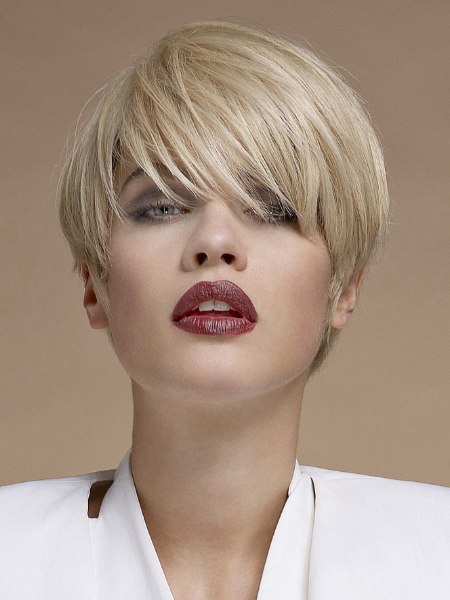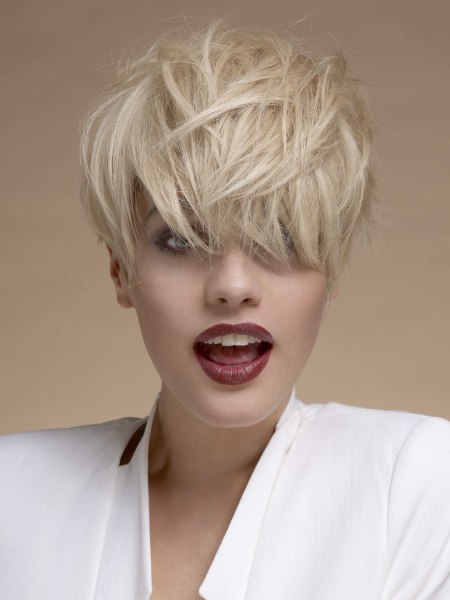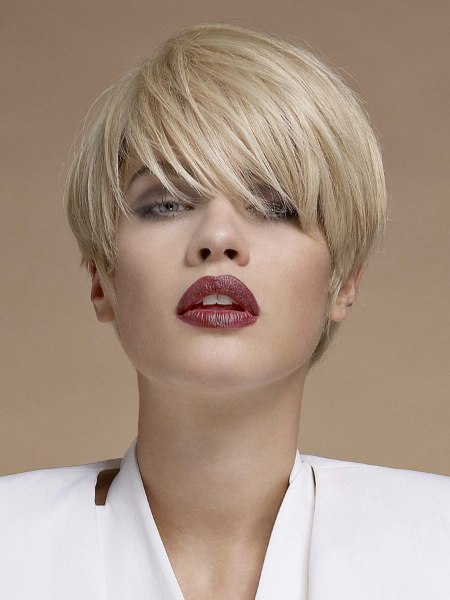 Texture all over gives this beautiful short haircut its round shape and soft edge. There is a lot of glamour in just a few inches of hair and the attraction becomes irresistible with the smooth blonde color that reminds of Marilyn Monroe.

Subtle highlights in the already light color bring an unsurpassed luminescence that really makes this look one of luxury. Long bangs, styled diagonally shroud her eyes in mystery and also have a slightly rebellious streak.


New Day, New Look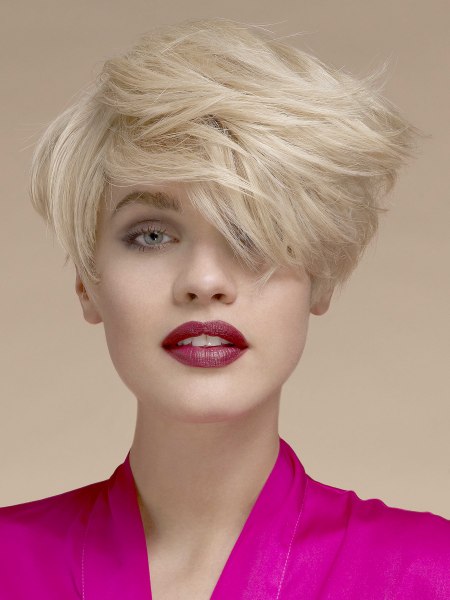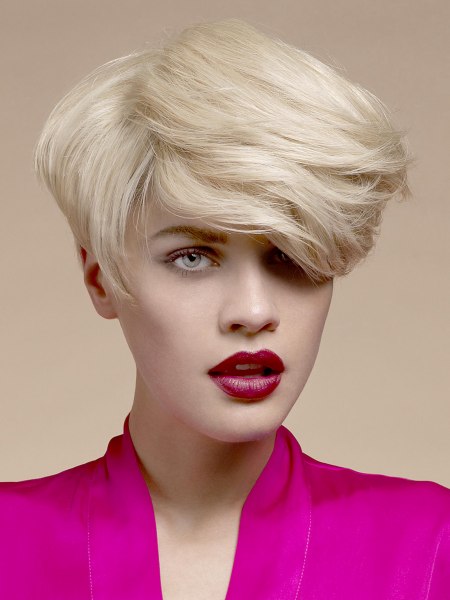 The previous short haircut comes with a few surprises. The versatility of the pixie cut allows a range of different stylings that each have a different character and expression. You can go from elegant to edgy in no time, switch from sexy to sassy just as fast.

To create this version, the hair was styled from the crown towards the front and then vertically across. Overlapping textures and directions bring motion and extravagance.

Hairstyles: VOG Coiffure

See also: Short hairstyles | Medium hairstyles