Minimal Chic by Hooker & Young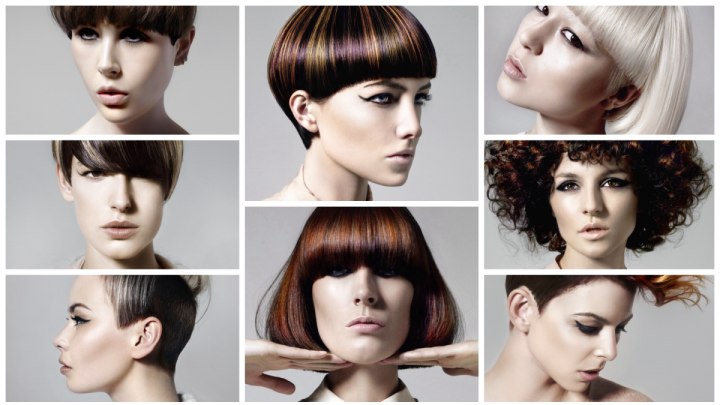 Gary Hooker and Michael Young redefine minimalism in this dashing collection. If your idea of a minimalistic hairstyle was a blunt cut bob, allow yourself to be surprised. Minimal Chic is all about creating the biggest impact with the most simple methods.

Cut and color are used so boldly, but even with the simple techniques, the results are nothing less than extravagant, beautiful and highly short refined hairstyles. Simple lines, elegant silhouettes without unnecessary fluff and highly creative color combinations are masterfully brought together and infused with the magic that can only come from very inspired artists of the hair world.


A Round of Bangs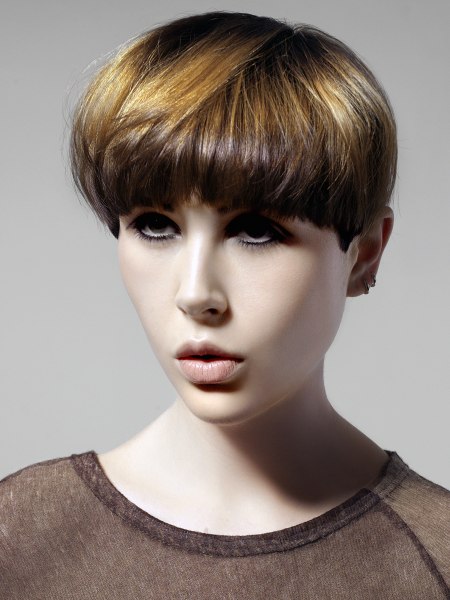 These bangs are serious. So serious they don't allow any other part of the hairstyle to dominate. The short round haircut has a bit of mod attitude, preppy neatness and a feisty gamine element as well.

Cut with a subtly textured line and tiny, adorable sideburns peeking through, the geometric shape is very minimalistic in its nature which is brought to luxurious radiance with the bright golden highlights atop the more humble ash blonde base color. For a special effect and with minimal effort one strand in front was styled diagonally.


Slick and Round Cut with Highlights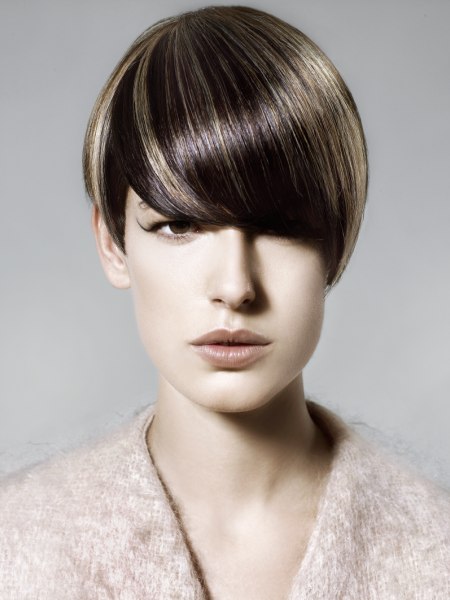 Understatement is always très chic and packed in the minimalistic hair design by Hooker & Young it also has a unique intensity. The short haircut fits her like a silken glove and smooths around her head in an interesting line.

Gentle asymmetry, deep plunging bangs and a teasing gap above one eye are just part of the allure. The true highlight is the hair coloring, with silvery streaks dividing the dark background with varying density. This pattern plays with the light as well as with the senses.


Chantilly-Hawk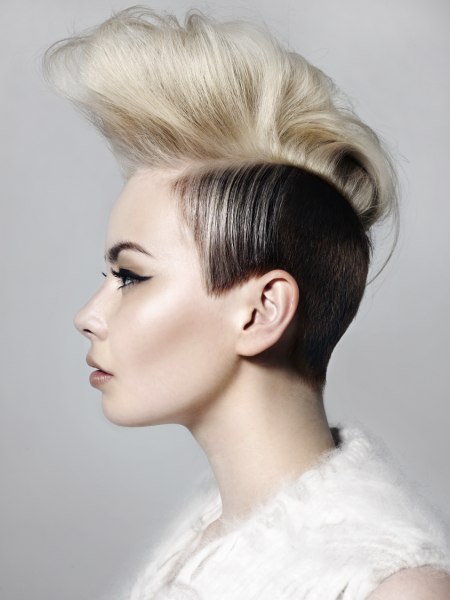 Too beautiful to be called a Mohawk, this high rising hairstyle still has the fundamental building blocks of the essential punk style. However under the talented hands and with a vision that combines contrasting colors and contrasting textures next to each other it turns into a sculpture, ready for a museum of modern art.

The back was clipped so low that it takes on a velvet texture. From the center of the ear forward however it suddenly turns into a shimmering streaked pattern. The latter is derived by combing a thin veil taken from the longer whipped cream soft top over the darker sides. Also note the elegant movement of the "hawk" part.


Exotic Hair Color Pattern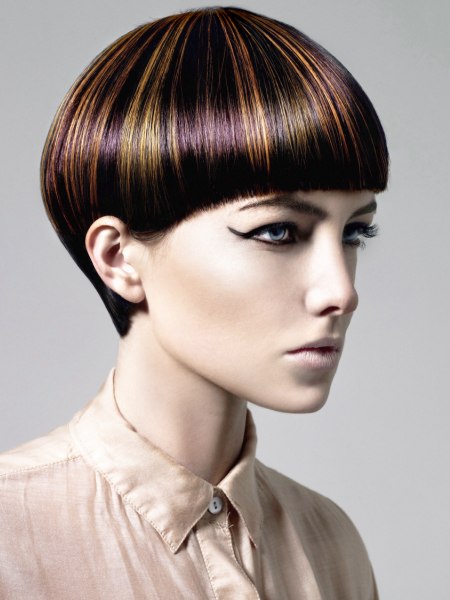 Architectural, thought through lines that were meticulously adjusted to fit her head and face shape in perfect balance and harmony. Barely touching the eyebrows and molded onto her neck, this short haircut, a young and modern descendant of the mushroom cuts, gets its real flavor with the daring color scheme that only the daring shall wear.



A blackish, dark purple tone was highlighted with bold streaks in yellow gold and light copper. Cool and warm colors create a feast for the eyes with their radiant dance.


Iridescent Bob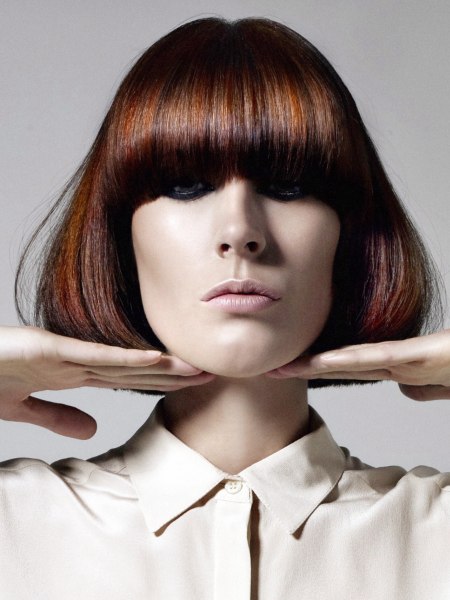 The classic in new lighting! A chin length bob with sleek but generous volume and a sexy inward curve shines in a whole new shimmer after encountering the exciting color palette of Hooker & Young.

The base color is a rather humble medium brown, but the highlights could not be more exciting. Iridescent hues of deep gold, cool berry and moonlight take turns to spread their radiant magic and to cast a spell on everyone who dares to look long enough.


Snow White, the Real One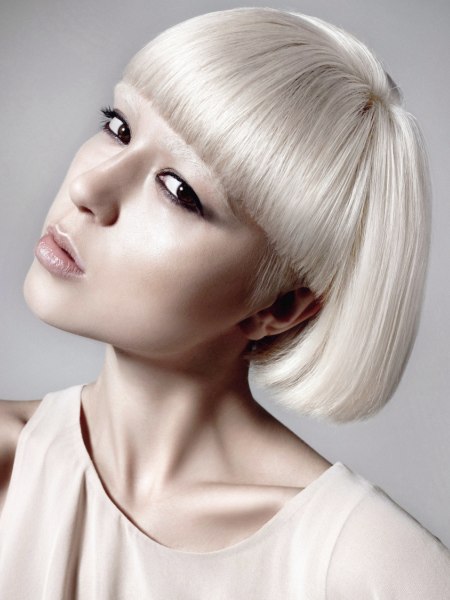 Yes, she does exist! The real Snow White wears a short bob with an edgy, but simple design. The extremely straight bangs, with eyebrow touching length, are extended to the sides all the way to the back of the ear where they run into the approximately chin length section of the cosmic fantasy look.

The hair color is as pure as the lines and not interrupted by any other color. Marble white, chalk white, matte platinum or however you may call it, is a bold choice that deserves a standing ovation. Encore, encore!


Sexy Girlhawk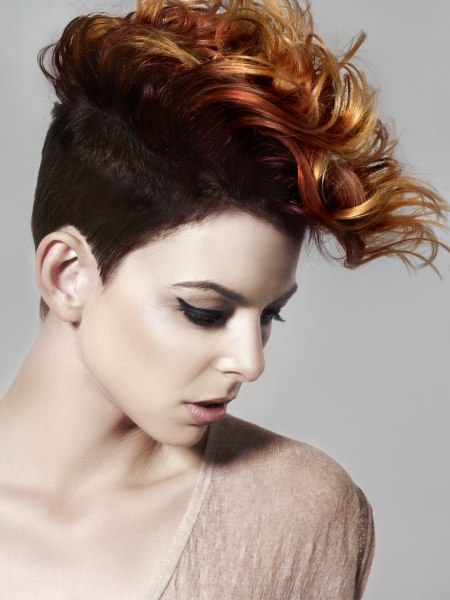 The Mohawk look has been rediscovered on the haute runways of the world and by international hair designers. But gone are the visions of neon colored spikes and a new sexy make-over has found the epitome of punk hairstyles.

Here a long and very wavy top and center is colored to enhance the flame shape and movement with darker red tones coming from underneath and shadowing the sides and a burning gold and hot blonde sizzle away in the center. The sides are cooled off already in a smokey dark brown, clipped as short as possible.

It may not appear this way, but there are actually many different styling options with the new Mohawks. Check in with your stylist and find out!


Curls to the Extreme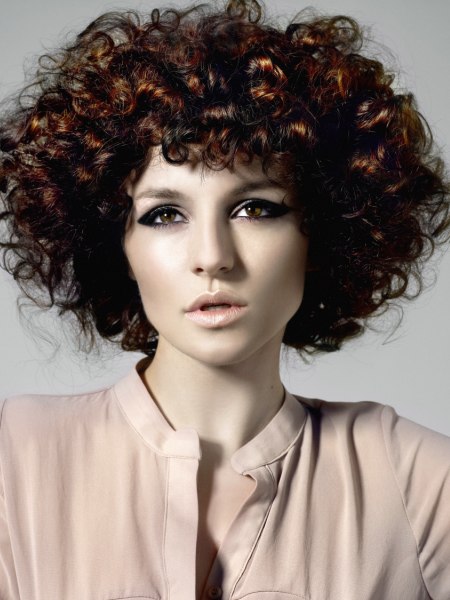 Extravagant, flamboyant and full with opulence and sensuality, this short retro inspired hairstyle features the most curls of the season. In fact it celebrates curls, each and every one of it. Layers balance the weight of the hair and create a beautiful oval shape with the widest section right at her eye level. From there on upward, a thrilling color effect also comes into play.

The dark curls are enhanced to breathtaking dimension with highlights in hazel and lavender. Cool and warm colors with all of the shine and sparkle one can handle and the world better watch out!

Salon: Hooker & Young
Hair: Gary Hooker & Michael Young
Make-up: Natasha Lakic
Styling: Claudia Behnke
Photography: Ram Shergill