Glam Up by J.7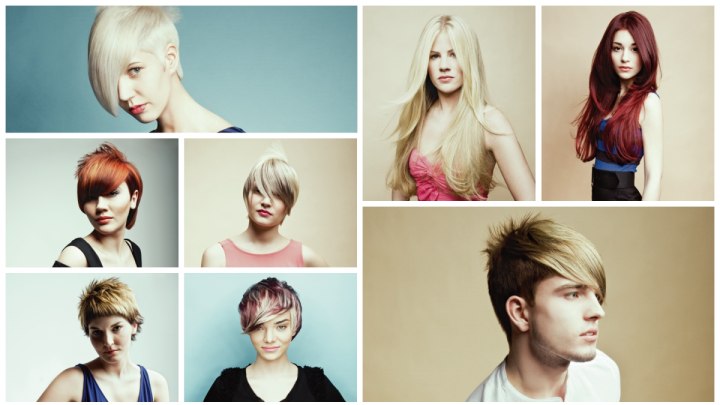 Scroll down for more photos ↓

J.7 don't have to ask us twice to Glam Up. We are so ready and thanks to their creative minds and skilled hands on the scissors there are some great hairstyles out there to inspire us for a stylish new spring and summer season.

Short hairstyles with intense shapes and textures are dominant, but long styles are part of the line up as well and just sweep us off our feet with their gem tone colors and their beautiful shapes.



The fringe is a fashion focus once again and comes in all lengths from supershort and blunt to XXL and textured. Men are invited to the party as well and show of their hair in short crops or 80s inspired layered and multitextured new romantic haircuts. Life is short, so glam it up while you can!


Long, Sleek and Blonde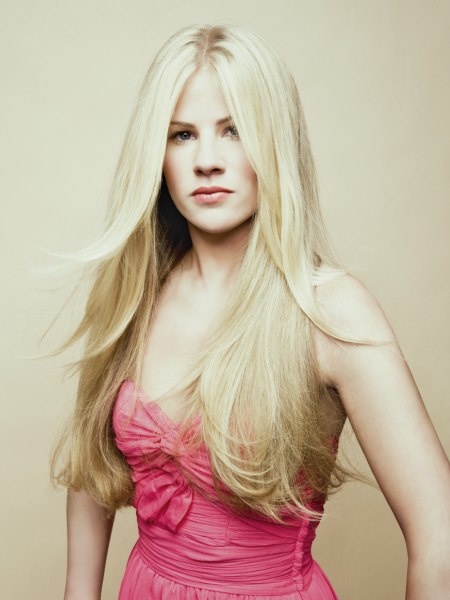 Simplicity is the key, but nothing really looks "simple" when it is this blonde, this long and this silky. And it does take more than just the length and a center part to look this fabulous. Especially for long hair it is important to keep the ends trimmed to get this supple of an appearance.

The hair was cut into very long layers with a low tapering along the front. This allows the hair to swing out to the sides in these large curves that also have some fine but deep texture along the tips. A very lioness mane develops with added volume on top, simply by lifting the roots when drying the hair.


Extra-Long Layers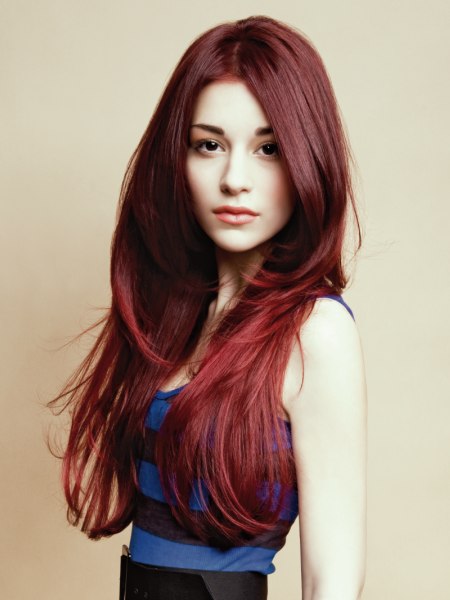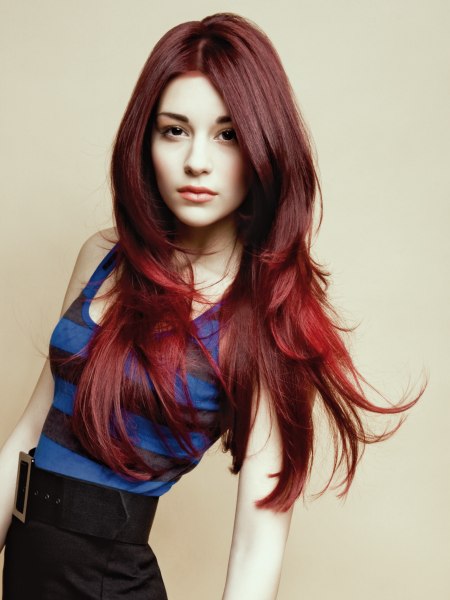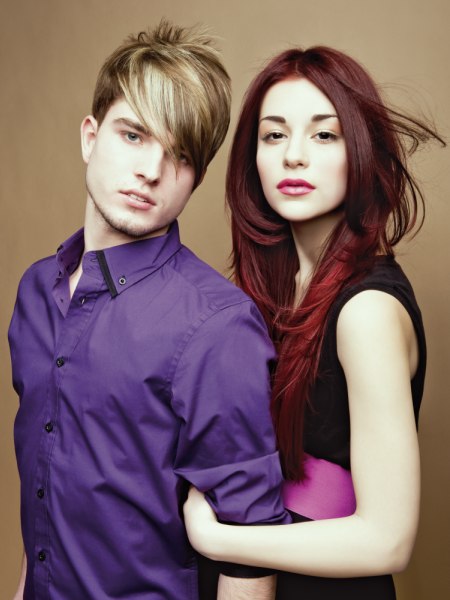 Take something that already looks good and supersize it! It will be glamorous, beautiful and just blow everyone away like this extra-long and extra-layered hairstyle with the extra cool color. We love it in a glass, but Merlot also does a lot of magic on hair.

Part earthy, part smoldering and truly unforgettable in its intensity, this dark red hair color pushes the feathered and so flattering style into fashion wonderland. Styled to shiny sleekness the layers are pronounced and the lines are very elegant, sophisticated but also do not lack any sensual appeal.


Long Red Hair Ironed in Waves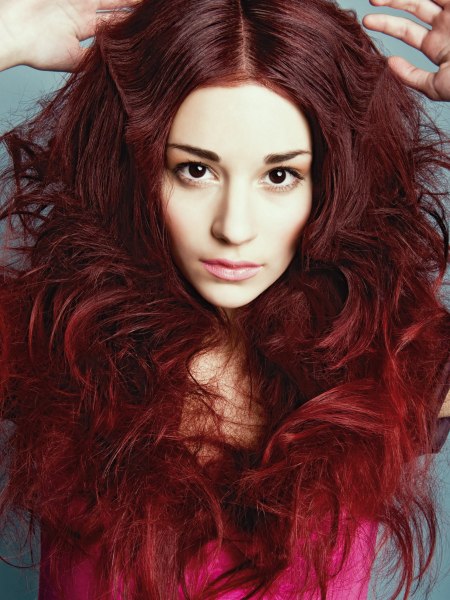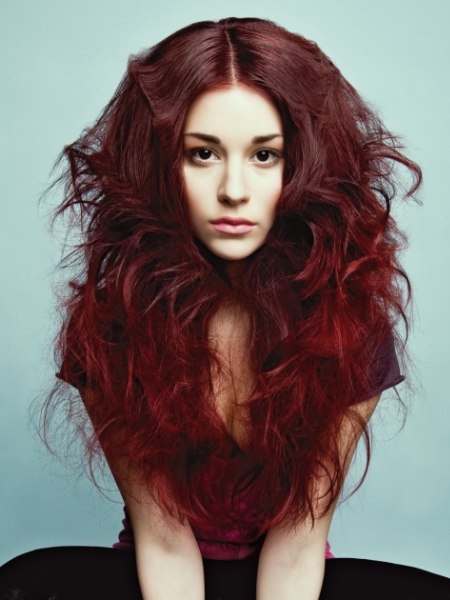 Who says that waves always have to be round all the way? Think of edgy ripples, balanced with a demure center part and all dancing to the same rhythm down her shoulders, while developing ins size, texture and finesse on the way.

The amazing and unusual effect that turned the previous hairstyle into this artistic face framing work of sheer glamour is done with the help of a flat iron and a lot of skill. The key is to balance especially the top folds symmetrically for her to get this elfish look.


Glamorous Short Haircut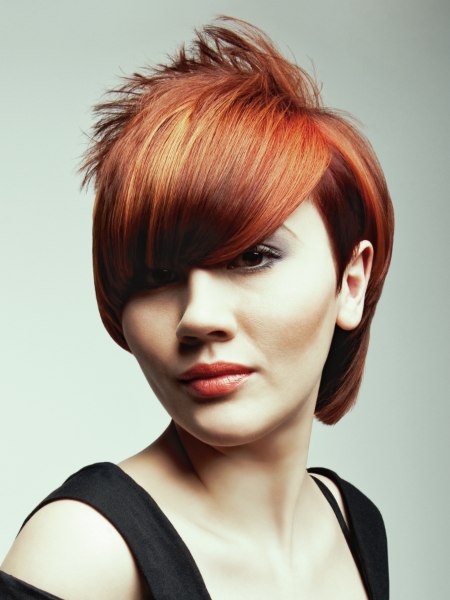 This one has it all. Sleek lines, texture, a range of colors, depth, dimension, finesse and most of all - attitude. The lines play in unison like a well composed melody while the hair colors tease the eyes with their changing hues from blonde, copper and red berry to smooth chocolate and caramel colors.



The combination of the cut and color is a true treat to behold and even more to wear it. A fun little edgy element comes in with the short spikes that lift up in the back of the crown and add a good dose of spice to the asymmetrical and smooth style.


Short Haircut Glammed up with Curls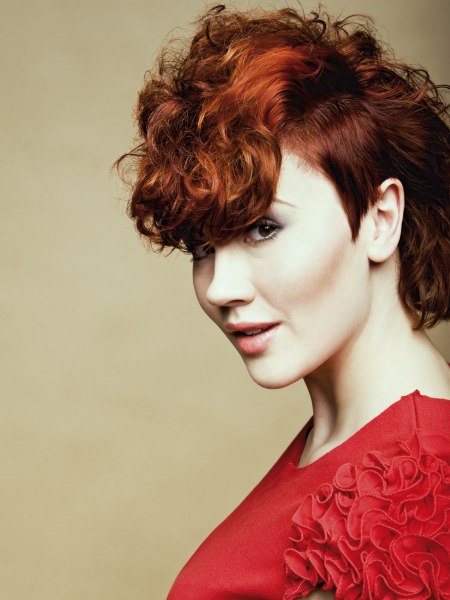 Same short haircut, different mood. Adjust your hairstyle to any occasion just by changing the surface texture. The sleekness has to stay home on a special night and it is time to curl up. The long fringe now doubled in volume with all the ringlets and ripples, that also grace the long back side and add good volume to the crown.

The only part left untouched by the curling iron is the feisty little tease of a sideburn. The colors that appeared more striped in the base look are now intermingled to a marbled delight.


Face Framing Fringe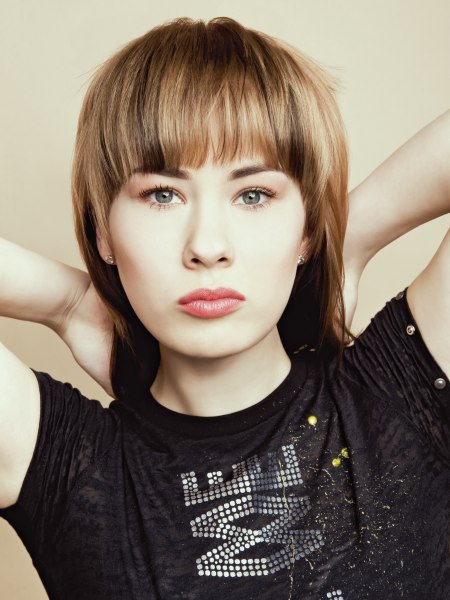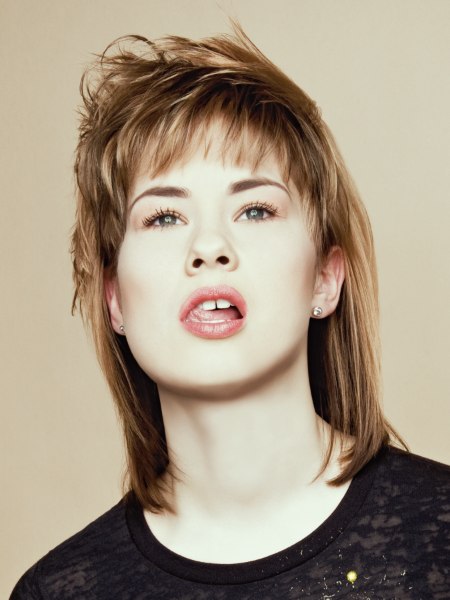 Modern rockstars still glam it up but now with a lot of style and shape in their hair. This medium haircut puts the face into focus and accentuates fine features with its symmetrical, face framing shape.

One line curves from one side of the neck around her face to the other side and on the way it shapes the alluring fringe and the charming tapering along the sides. The light and dark shades of hair colors are applied in stripes of various thicknesses and add a cool edge together with a lot of dimension.


Fringe and a Feather of Hair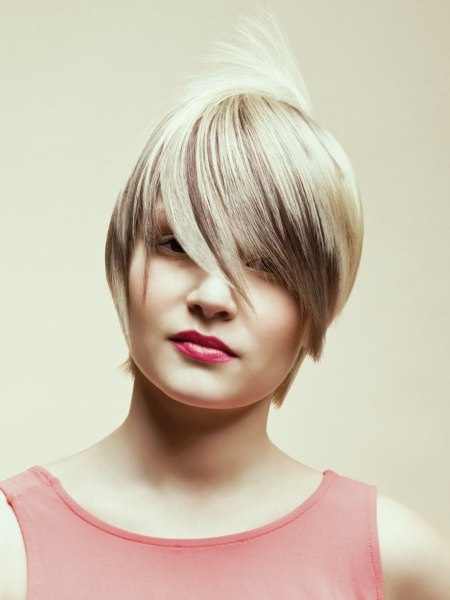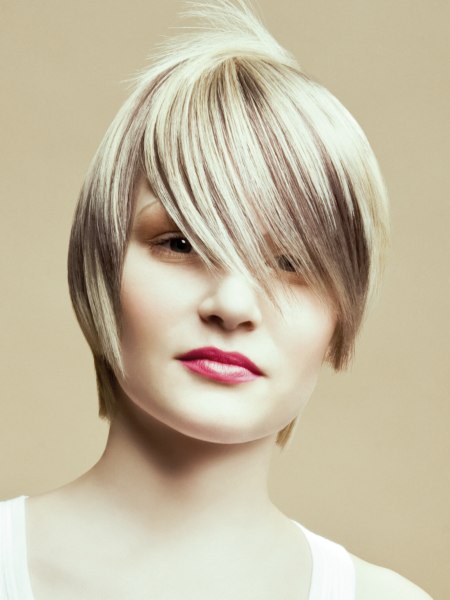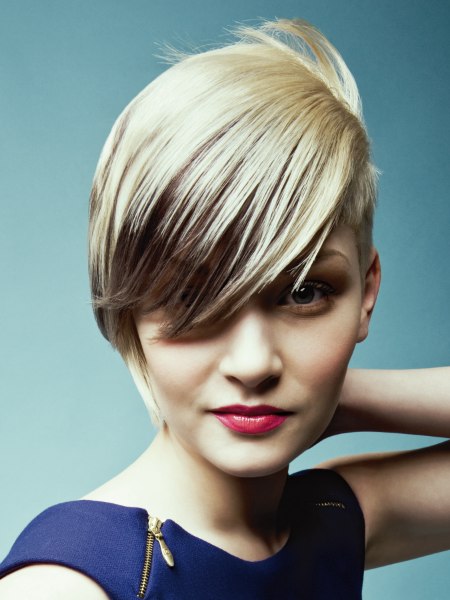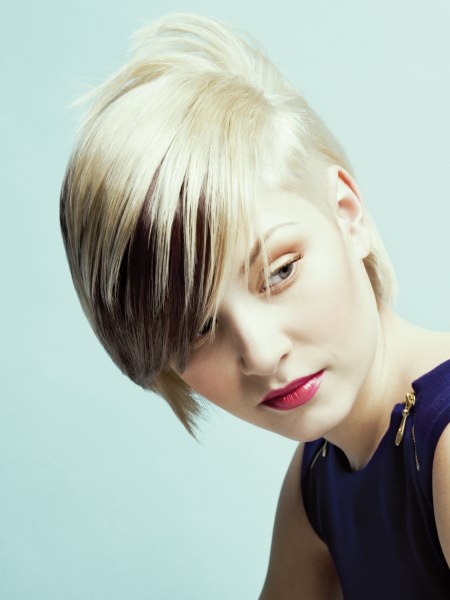 Poetry can be made out of words, but also out of hair. The visual effect renders leaves one in an inspired and amazed state, just like a beautiful poem. Motion, rhythm, flow are balanced and yet exciting in this short haircut. The first attention getter is the extra long fringe, that reached all the way to the tip of her nose.

Then there is the dynamic motion that is created by an angled styling, which is accentuated by dark streaks in the platinum blonde hair. As the frosting on the cake a textured feather of hair lifts up in the back and is connected by color to the wide swoop down her forehead.


Short Haircut with Blunt Edges and Spikes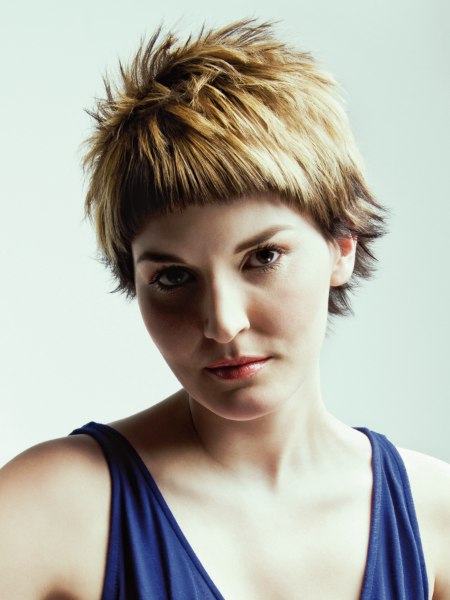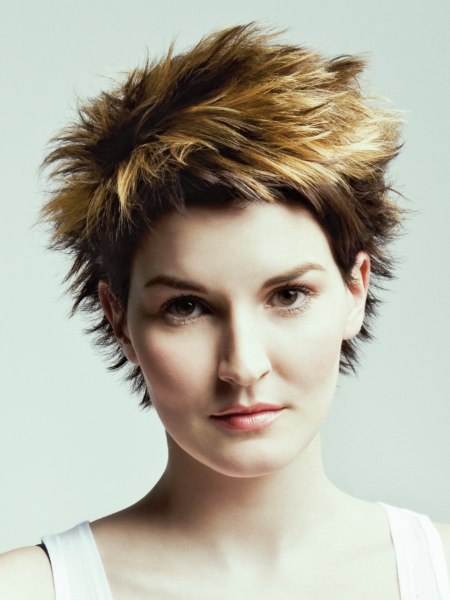 The fringe is again the focus, but this time with only minimal length, however increased thickness. This is enhanced by the bluntness of the cutting line which is only softened up by a gentle and very shallow nibbled texture.



Towards the top there is more and more lift and movement in the hair, an effect that is also repeated in the back of her head. Two tones, dark chocolate and golden blonde, are layered upon each other for a stunning and artistic effect.


Power Play of Hair Colors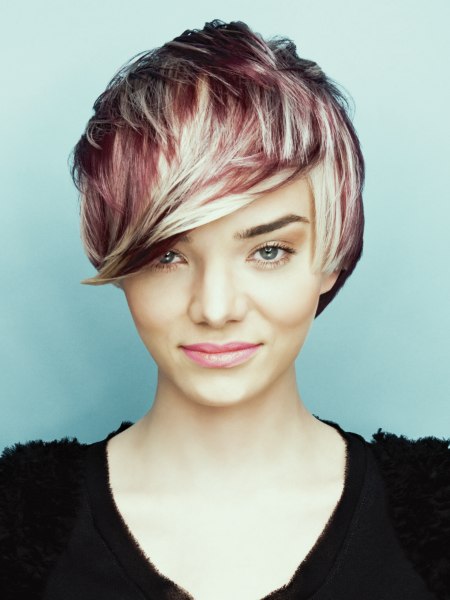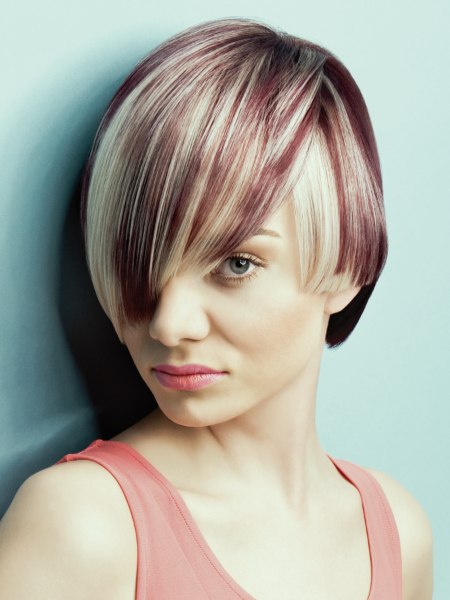 This short haircut sparkles with the power of precious and intense hair colors. Purple and platinum play well together as it is now proven. The metallic coolness and the warmth of the luscious berry tone enhance each others strenght and sparkle like a hundred stars.

The hair color was applied in layers which come out in the most amazing effect when the hair is styled in different ways. Here the short hair was styled forward and brings much emphasis to the fringe.


Geometric Shape with a Petal Fringe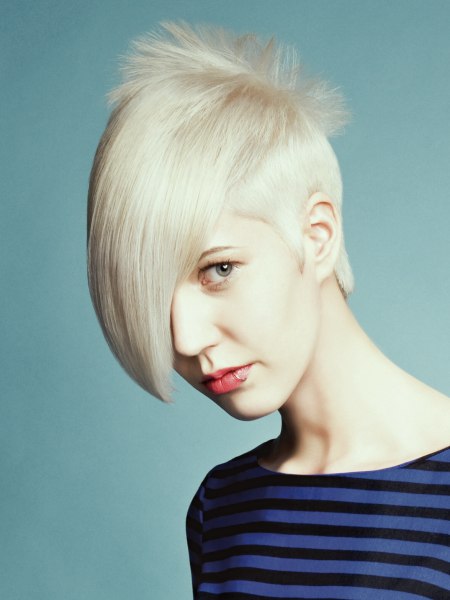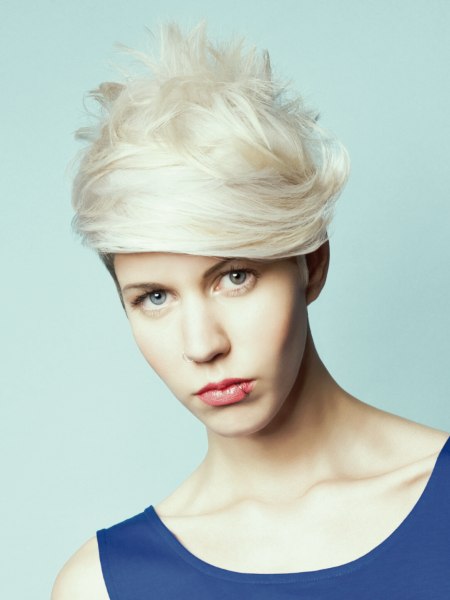 It could be one of the more exotic exhibits in a botanical garden, but this short haircut, meticulously chiseled out of the platinum blonde hair, is ready to go to a party, a fancy vernissage or anywhere else, where this much extravagance is the perfect choice.

An overlength fringe with a very short back and finely shaped sides were inspired by punk looks, but those rebellious styles have come a long way and are not shocking anymore but become more and more a statement of fine design and a refreshing break of stale molds.


Short and Spiky Men's Cut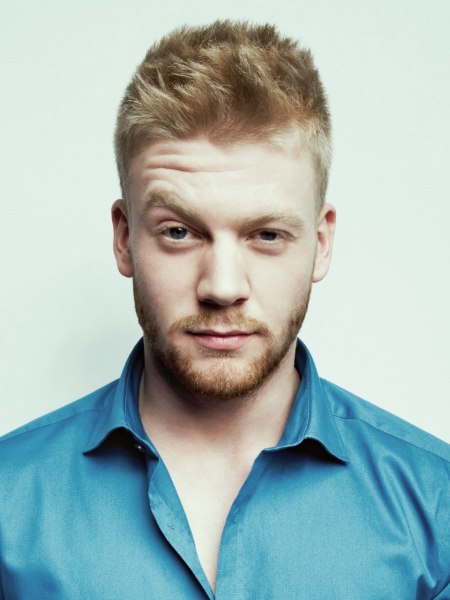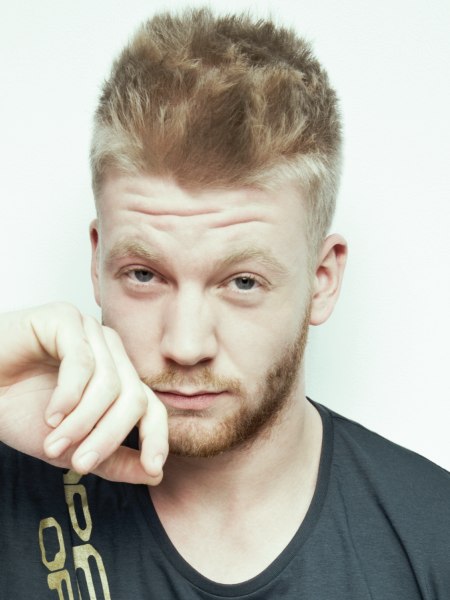 It does not get too much shorter than this. Buzz cut sides and about an inch on top come together for a youthful haircut for men. The top hair has the right length to defy gravity and stand up straight even without adding much product to it.

With finetuned outlines this cut is neat enough to look good with any suit, but the movement and dynamic on the crown also make it suitable for a rugged leather jacket.


Contrasting Textures and Colors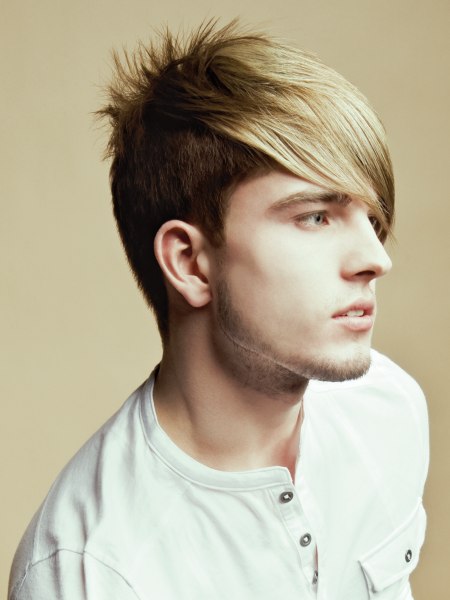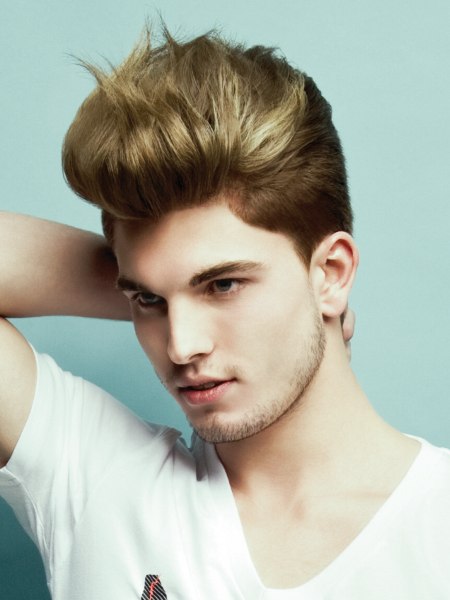 Contrasts attract and fascinate especially when they come in color as well as in texture. One half, the side and back, of this thrill ride of a men's hairstyle is on the classic side with its fine graduation and no frills.

Those come in however with the long and sleek fringe and the transition point between the two, which is decorated by a bundle of lengthening spikes. With a darker bottom and the light blonde top the match up of opposites gets its perfect finishing touch.

Hair: J.7 artistic team
Photography: Vlado Golub

See also: Short hairstyles | Medium hairstyles | Long hairstyles | Men's hairstyles