"American Style" by Intercoiffure Mondial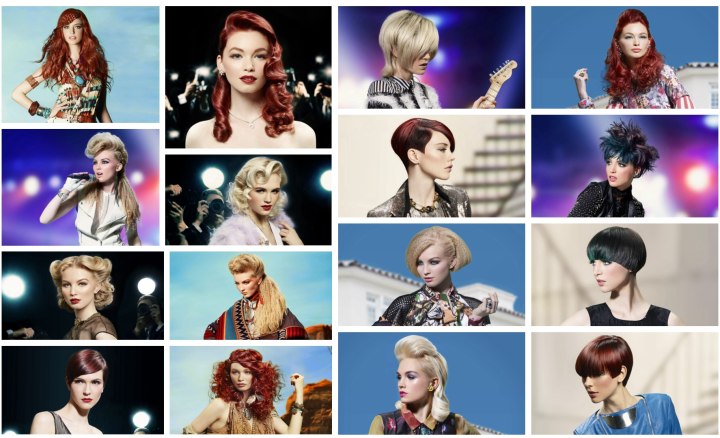 Hollywood, the Wild West, Rock'n Roll, Palm Beach and New York inspired this collection of "American Style" looks for hair. Intercoiffure Mondial gathered the essence of each of those famous places to create iconic styles that reflect the diversity, extravagance, glamor and free spirit of America.

Cool, refined and sophisticated short cuts exude an affinity for the traditional and precious, opulent, over the top looks with a load of glam are the west coast opposite with a high heeled Hollywood vibe. In between are untamed and voluminous hairstyles that carry the famous pioneer spirit.



Power and femininity strike again with the Palm Beach casual elegance and relaxed luxury. America has left its mark on the international fashion scene and has graduated!


New York 1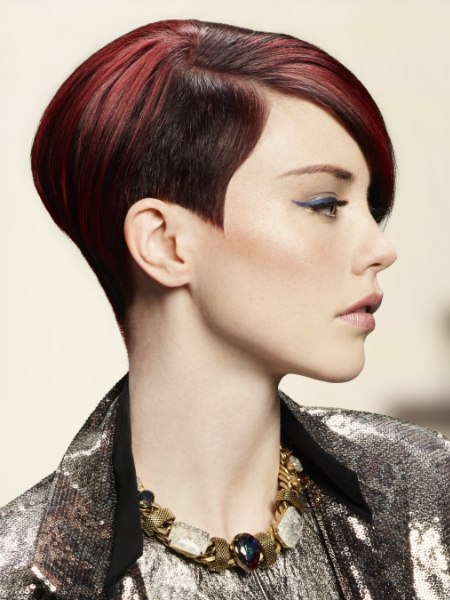 Sleek, concave and curved to fit her features. An elegant short hair cut that carries enough understatement to be posh. Curved lines are tailored to follow the shape of her face, smooth along her cheekbones and accentuate the right places. The neck is equally fluid, as if it was poured on and solidified.

Anti frizz serum is a must have to make this style work. Avoiding rebel strands and adding more shine brings out the beautiful hair colors. A balanced application of red and onyx black plays with shadow and burning light in the most intriguing way, that even outdoes the big rocks around her neck and the precious sequins on her jacket.


New York 2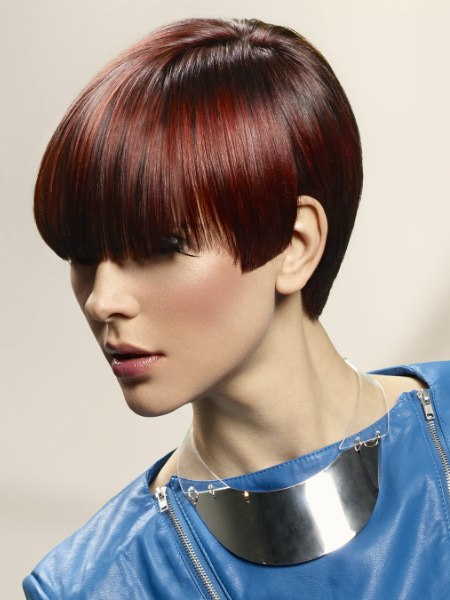 A short hairstyle with a sleek and aerodynamic design is the perfect city look. Its versatility cannot be surpassed as it can go from neat and sleek to dramatic and glamorous with just a change of styling. Here we are looking at the sleek version, which underlines the geometry of the cut.

Alternating parts that are textured and blunt create character and are worth more than a second glance and the turning of some heads. The shape may be simple at first impression, but there is much fine detail woven into it. The hair color is a passionate wine red that warms up the calculated and controlled character of the cut.


New York 3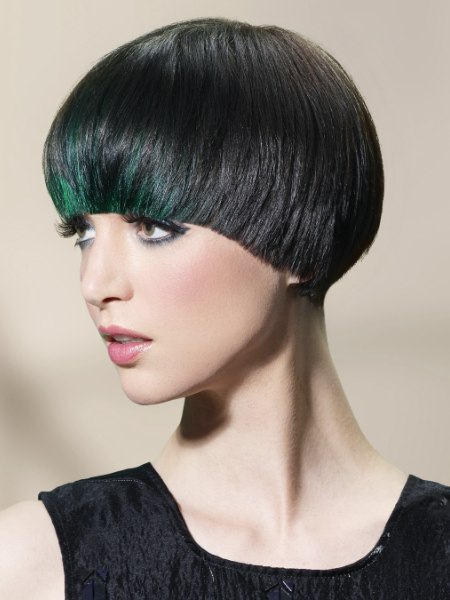 Put on those Liza Minnelli Eyes and a short hairstyle to go with the theme! Bowl cut with rounded soft volume that fits like a charm and with the green hair color accents around the front you'll have your very own cabaret. Stylish minimalism at its best! This look shows how much can be achieved just with subtle and fine tuned effects.


Palm Beach 1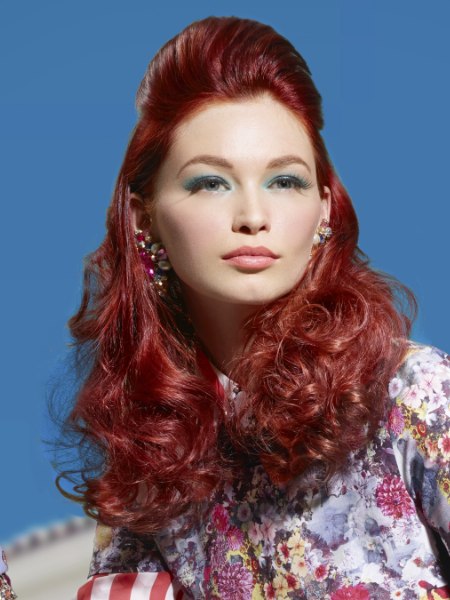 If you have it, flaunt it. There is no reason to hold back and to be humble. Compared to the held back energy from further up north, the sun filled lifestyle in Florida inspires one to show off with determination.



Huge volume, a powerful color and statement jewelry may be nouveau riche, but they are also much fun. So forget the stiff upper lip and get yourself a drink with a little umbrella in it. A red curly mane with the long fringe pinned up looks thrilling in a convertible, a pool chair or for a happy hour at the bar.


Palm Beach 2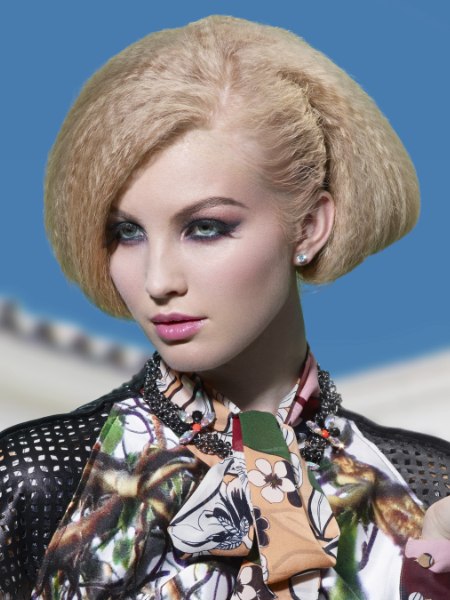 Playfulness mixed with traditional design can be this exciting! Her long hair was given a crimped texture and then folded under and tugged in the right places to resemble a short bob. You don't have to cut your hair to wear the classic of all classics!

Her hair is beach blonde, drenched with Florida sunshine. It moves around her head in a thick and undisrupted flow. The smaller side has an additional comb or pin to hold it behind her ear.


Palm Beach 3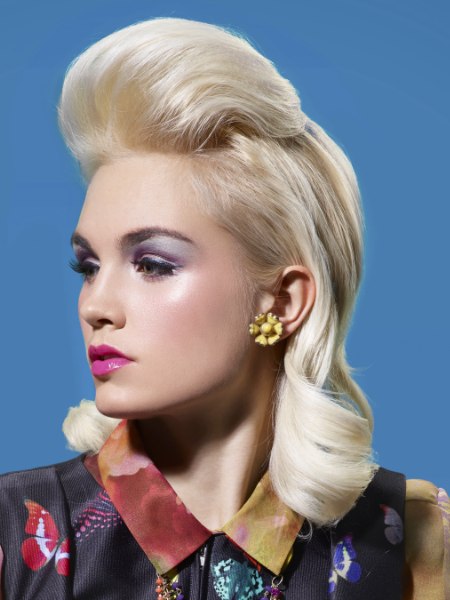 A brunch or afternoon tea demand a polished look and southern women still enjoy to be the belle of the day. A high quiff was shaped with a round brush and then a fine comb for teasing the hair from underneath. It was smoothed over her crown and invisible pinned.

The sides feature grandiose curls that are made with a thick barreled hot iron. All of the hair is out of the face in a style that is easy to create, but that looks elaborate and luxurious.


Rock'n Roll 1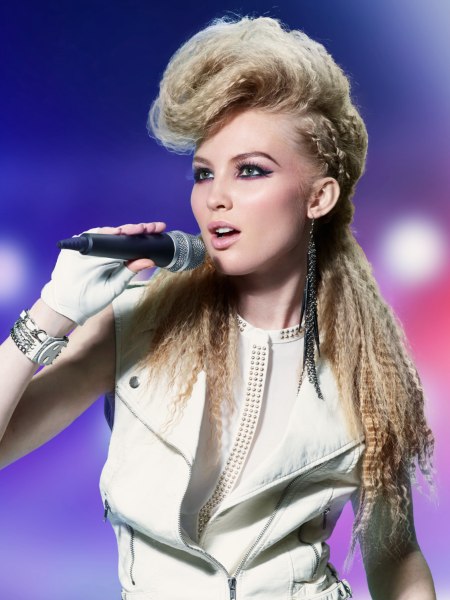 With her crimped up and down look she can span several genres of music and definitely does so in the terms of fashion. A little rasta, a little Marie Antoinette and a hint of country. It is all there! The texture is created with a special hot styling tool, please do not try the waffle iron!

Many small braids left in over night can generate a similar pattern in the hair. The hair is bound in the back and with the tight sides and the boisterous top, there is also the effect of a fake Mohawk look. This is a hairstyle made of many quotes from other famous looks, like a great patchwork or melting pot.


Rock'n Roll 2


This short hairstyle makes you feel the beat and the heavy guitar solos. Not messing around it just goes right for the highest pitch. Lifted spikes, much ruffled texture and a general rebellious attitude now come in two hair colors with a beautiful metallic hue.

The fringe is a dark teal blue which viciously gets drawn into the purple turbulence in the rear. The layered hair is treated with enough mousse and spray to make it through even the wildest nights in style.


Rock'n Roll 3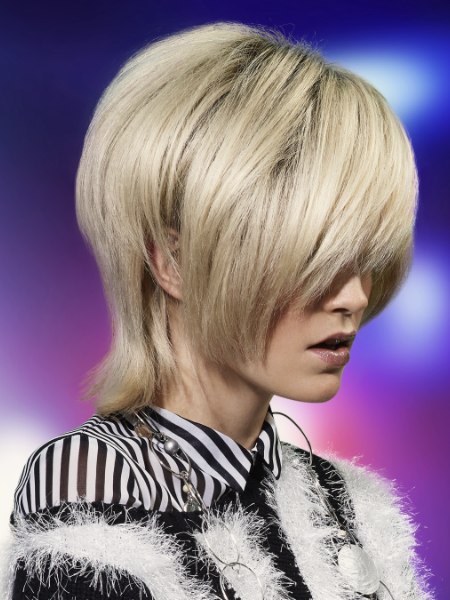 Long fringes, straight and disconnected lines are trendy not only with the new romantics. The "grown out" look with alternating lengths, jagged edges and an inconspicuous color appeals to all modern poets and those who appreciate high style, but no high drama. A muted blonde hair color with darker roots looks natural and gentle.


Wild West 1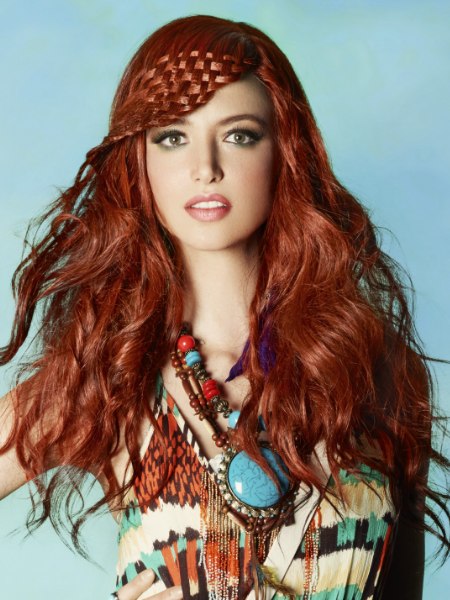 Now we know why the west is still called "wild". This long hair just wants to be tousled by the wind and glisten in the sunshine. A force of nature in itself, it is only tamed just a little in the fringe.

The intricately woven texture reminds of ethnic artifacts and it corresponds wonderfully with her outfit and the extra large accessories. As red as mahogany or the sunset in the desert, this vivacious look represents the last frontier with all of its beauty and danger.


Wild West 2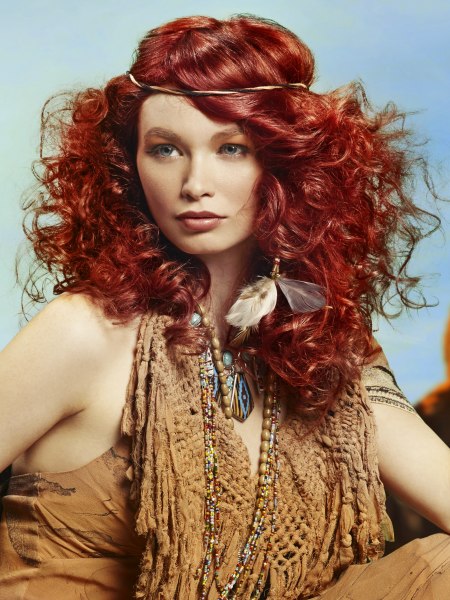 The attack of the curl! Shockingly red, but with an earthy undertone in design as well as in color, this enormous mane made of a million curls is ready to break some hearts along the way. With her part just off center, one side has more mass than the other and a chic diagonal line falls over her forehead in lieu of a fringe.

The top is controlled by a thin hair band, which holds the hair down. The front section is twisted around itself into a barrel shape that does not just look very stylish, but it also keeps the hair out of her face. Feather earrings and statement jewelry with an ethnic look complete the style.


Wild West 3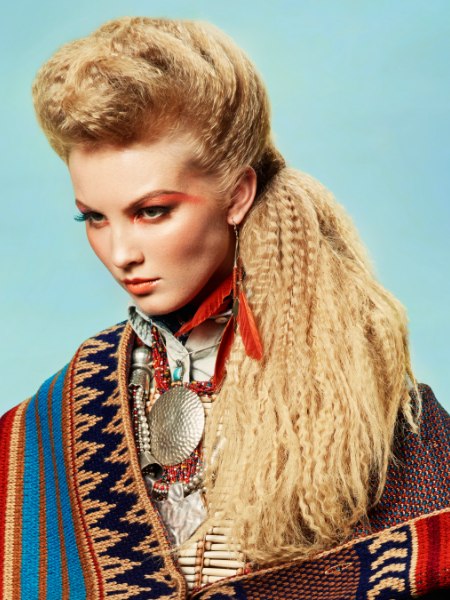 Haute coiffure the wild west way. Inspired by textures of American Indian textiles and with colors taken from the western desert landscapes, this long blonde hairstyle stuns in more than one way. The mid back long hair is crimped from root to tip and then separated to a half updo and a long, amazingly thick pony tail. The top part is styled in a vintage shape using a loose French braid technique.



Without looking at the rest of the image it could be the hairstyle of a pioneer woman from the 1800s. The breathtaking length with all of its texture is just the opposite and together both elements capture a wild, determined, intrepid warrior spirit, which is emphasized by her clothes and magnificent jewelry.


Hollywood 1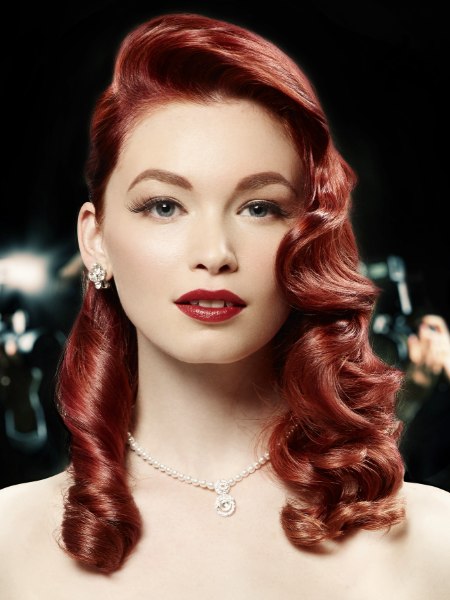 Flawless beauty and glamour oozing from every follicle, these are the Hollywood styles. From the time of the great movie goddesses comes this shoulder long, wavy wonder in a breathtaking titian red.

Each wave is carefully sculpted and measured. A low side part leads to the surge of a fringe, rising high and then flowing into the spirally twisty and most of all shiny cascade down. Match your lipstick to the hair color and you are on your way to the hall of fashion fame.


Hollywood 2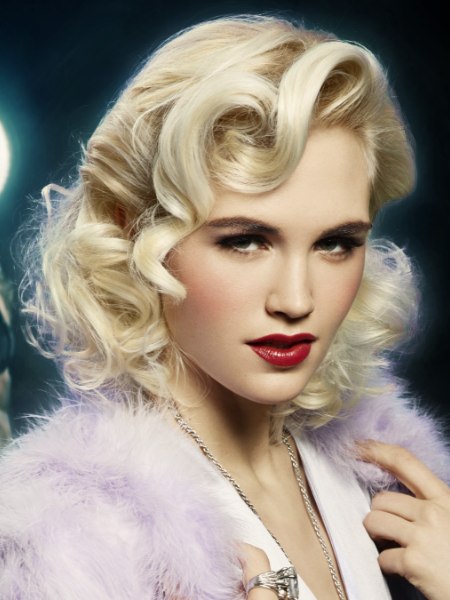 This secret agent of blonde knows how to wear her medium length hair. Separated with a low part, the fuller side is rolled to flawless curls that can only be made in the land of movie sets and dreams come true. Monroe, Mansfield and Harlow were not the only ones who used the power of the blonde, but they did it so well, that they are still curl models for the rest of us.

Platinum blonde with a hint of vanilla and smooth, well defined spirals, curls and waves to frame the face in pure glamour are the top ingredients to this retro delight of a hairstyle, that has lost nothing of its magnetism.


Hollywood 3


This nostalgic and romantic hairstyle is inspired from the era of Gone With the Wind and you can almost hear Scarlet O'Hara say: "Dreams, dreams always dreams with you, never common sense." Since common sense is mostly overrated, we still love those vintage looks and how they make us feel.

The hair is parted in the center and the frontal sides are lifted up and rolled in. The hair behind the ears is crimped, giving it a modern and contrasting texture which lifts all the dust off the vintage idea and transports it to the daring creativity of the 21st century.


Hollywood 4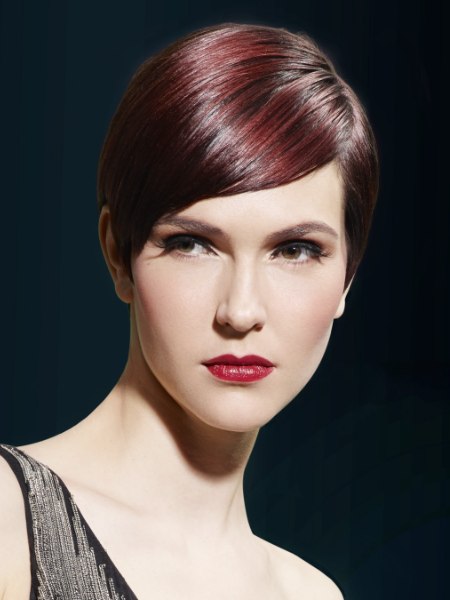 The 1960s came with a new style that was dominated by minimalism. The grand styles of the movie world sex symbols were replaced by shorter, less elaborated looks with smooth lines and an androgynous quality.

Audrey Hepburn was one of the stars who left a lasting mark in the book of famous hairstyles. Get the signature look with this short do in a merlot hair color. Swift lines and gentle curves define the shape and subtle highlights add dimension. Add gloss spray to maximize the precious shine.

Copyright: Intercoiffure Mondial
Photography: Roberto Ligresti