Hair Lengths
How long is your Hair? Find the right words for your length!

We all refer to the lengths of hair in very general terms as "short", "medium long", "shoulder length" or "long". But do these words really convey the message? There are often misunderstandings when someone describes the different hair lengths to another person and when this happens at the salon, the consequences could be rather unpleasant.



To avoid any further confusion about hair lengths and their definition, Hairfinder created a very handy hair length chart to shows us the most common lengths and all of the in-betweens. It is easy to remember since the lengths are measured at the level of body parts from ear to ankle.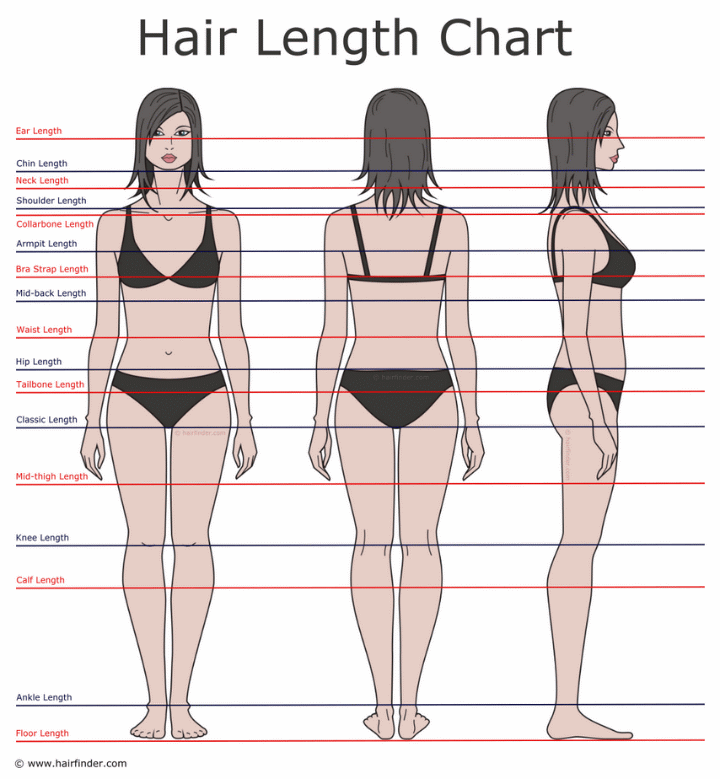 Find out what you current hair length is and which one you would like to have. We'll also tell you how long it takes to grow the hair from one line to the next, based on an average height woman with an average hair growth rate of 0.5 inch a month.

The Short Lengths:

Ear Length is the shortest level of hair and, as the name implies, it reaches the ears. This could be the earlobe or even the top of the ear. If you are asking for a haircut this short, your stylist will get a clear idea of how daring you want to be.

Chin length is one of the classics and many of the most stylish looks have it. Just think of all of the cute bobs or retro looks with a 1930s flavor. Chin length also looks great with textured and layered short haircuts.

The Medium Lengths:

Between short and long the medium lengths are a great way to get volume in your hair and also just enough to create stylish updos.

Neck length is most flattering for most face shapes. The cutting line is between chin and shoulder length. It is often used for wispy shag looks that have layers, longer bobs and it is also fun for curly hair.

Shoulder length is a nice compromise for those who want the feel of longer hair, without all the weight. This length can be tied to ponytails, chignons and all kinds of pretty updos and also looks super stylish when just worn straight down.

Long Hair:

Anything below shoulder length is considered to be long hair. And how many steps of it there are! Keep reading to find your ideal cutting line.

Collarbone length is just below the shoulder line and gives the hair an extra couple of inches of movement. At this length you can consider braiding the hair and it is also great for long layers with finely textured tips.

Armpit length is when things get serious in terms of a true mane. Add some layers and perhaps waves for more volume and drama and you'll have a very sexy and alluring look.

Continue