With Love from Rome
Intercoiffure Mondial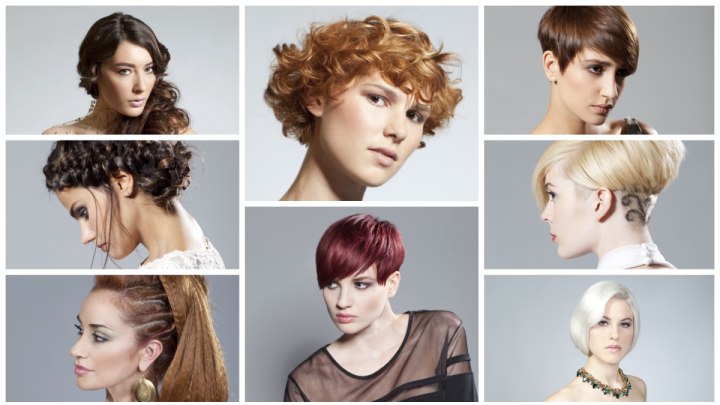 Hair fashion and Italy are a combination made in fashion heaven and this collection by Intercoiffure Mondial not only shows us the best of the best in Italian Coiffure, but in addition comes with amore, lots of it. Love for design, for hair and for creativity that pushes boundaries, challenges and brings so much beauty to the world.


Undercut with Hair Tattoo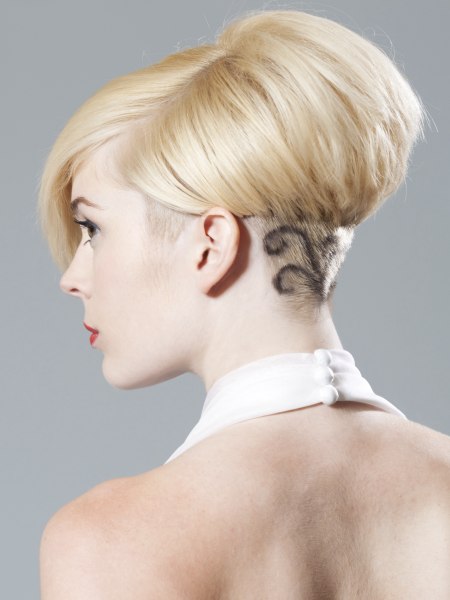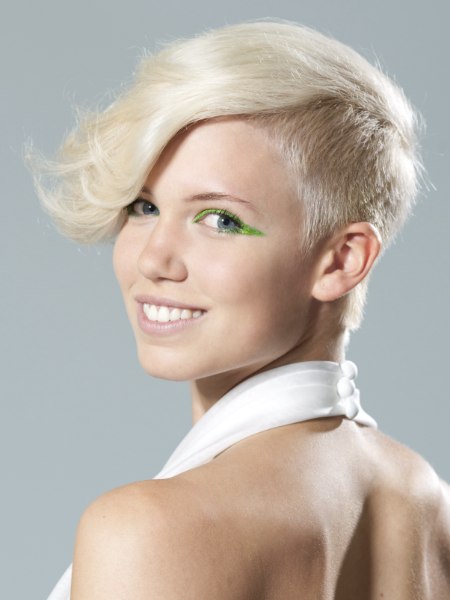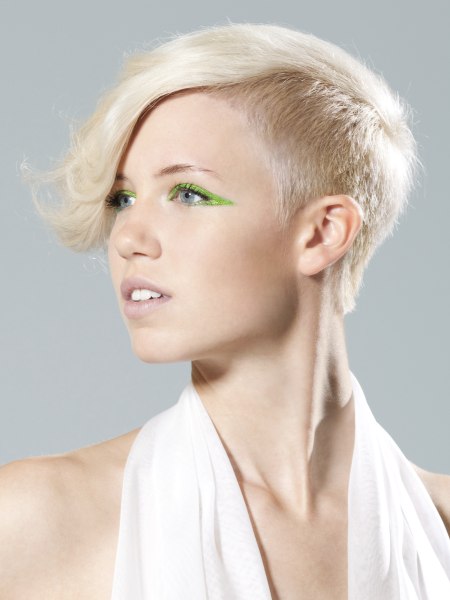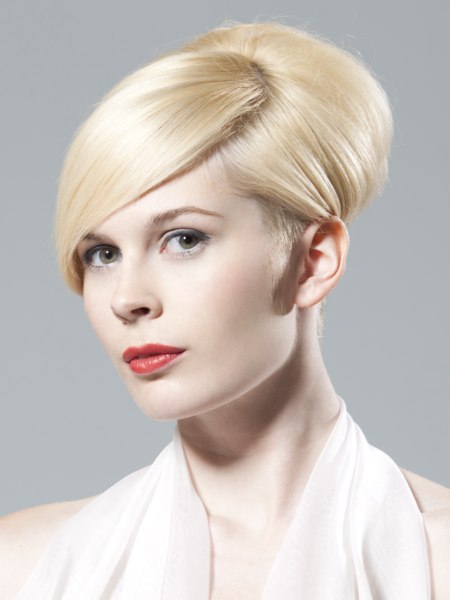 Luxury made in the 21st century can have an edgy side. This very short haircut includes famous classic lines of timeless elegance, infuses a modern undercut and a fascinating new coloring technique.

The high top is ultra feminine and stands in a strong contrast to the undercut sides and back. The overlapping hair can be styled to the other side to reveal the short clipped hair underneath.



Styling options of this ravishing cut are plenty and with a swirly color adornment in the back, also called hair tattoo, a new trend with unlimited possibilities is born. This look proves that femininity and romance in hair can be created with short lengths and masculine as well as rebellious elements. It is all about balance and artistic composition.


Dark Rose Short Hairstyle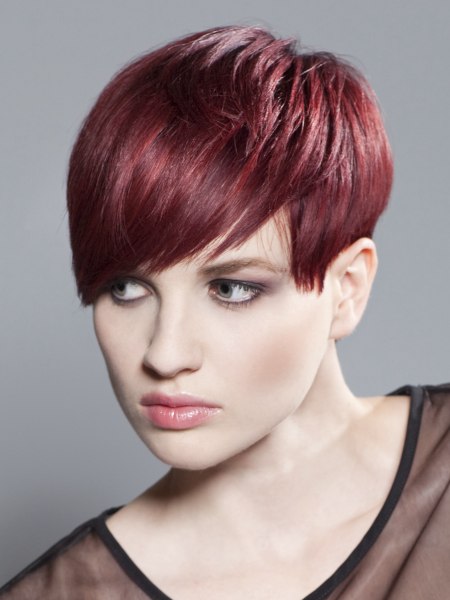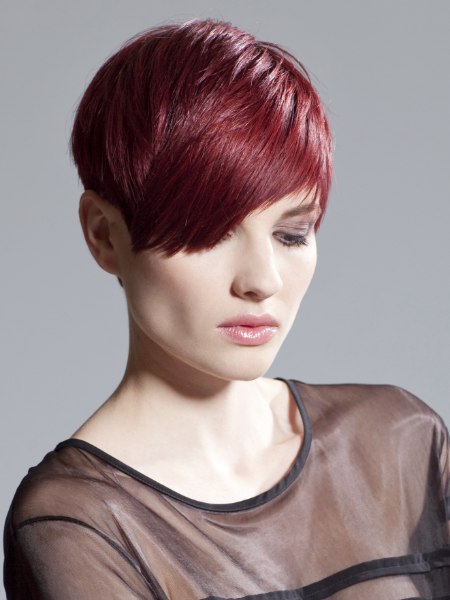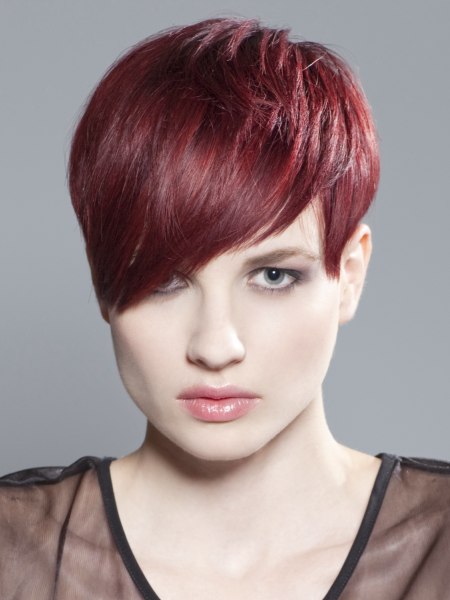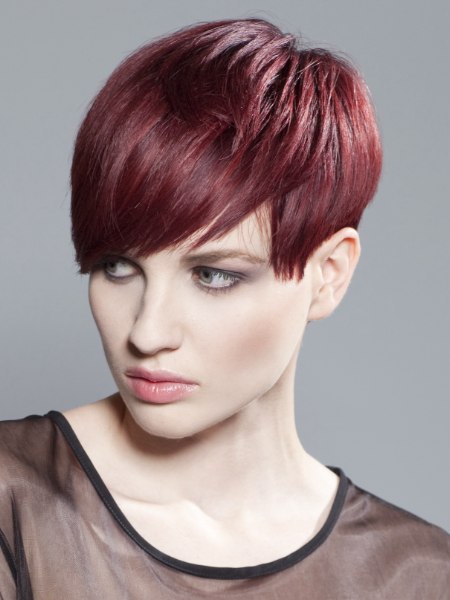 It may be a tomboy cut, but with the dark rose color it immediately presents its romantic and feminine side. Still playful and rebellious with a spunky attitude, this well textured short haircut is styled to a very chic forward direction.

The teardrop shaped bangs are the longest part of it all and the tiny sideburns are just adorable. Sides are cut above the ears, and the back is clipped to an almost stubble texture. Check out the images for different angles.


Mild and Flattering Short Haircut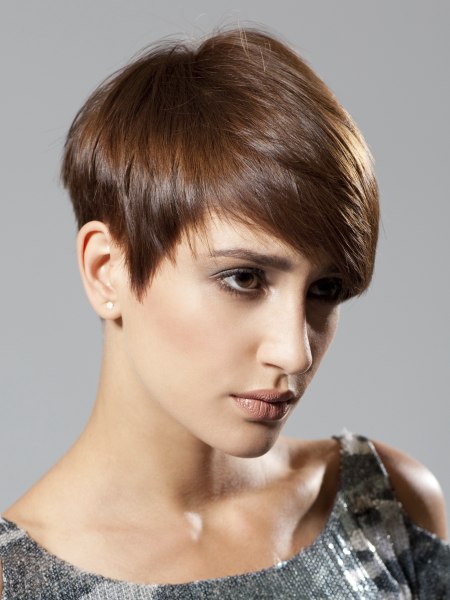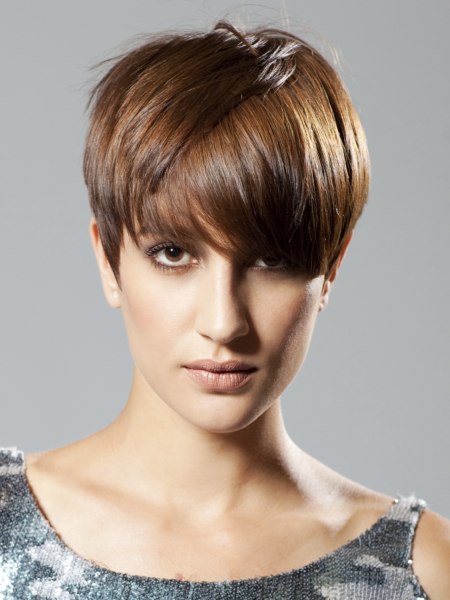 As mellow as a good latte, but with the timeless chic of true sophistication, this hairstyle also features a long top with short all around.

Fine layers give it a decent volume together with some texture and the length allows the hair to move generously and to be styled in some great ways like overlapping directions (as can be seen on the second photo). The hair color is a rich and warm brown with little honey specks.


Expressive Fringe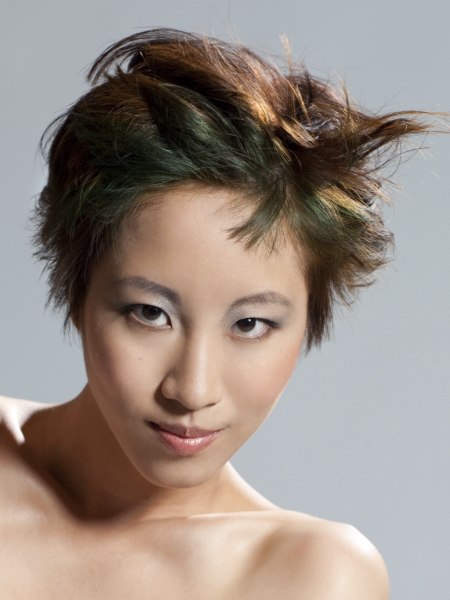 Kissed by the muse of dramatic hair, the creators of this fine short hairstyle seduce us not only with their evolved art of cutting, a unique shape and texture, but also with the coloring. Tones of green, light and dark bring attention to the free-form fringe with its angles and the smooth transition into the sides.

The main body of hair is layered throughout and cut to a rounded shape. A couple of strands just beyond the bangs do their own thing and are ready for take off, but of course in a stylish way.


Short and Luscious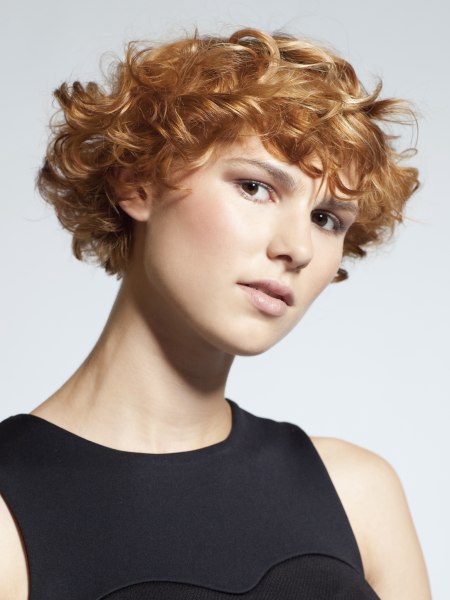 Copper and blonde are among the favorite hues not just of this season. The warmth and the golden glow of this combination is unsurpassed and is shown off audaciously with this gorgeous short and curly hairdo.

Layers keep the balance in the form and make sure that the little wispy tips can flare up anywhere in the style. No gimmicks are needed for this one. It gets all of its energy and pure beauty through the natural curl and that color. A hot iron can help to get the perfect size and shape of curls.


Regal Bob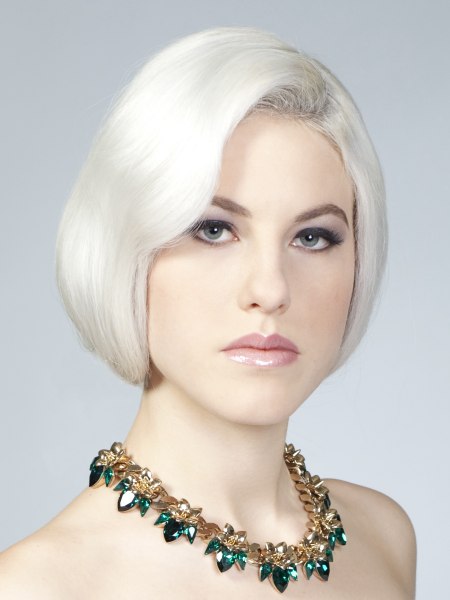 With a platinum hue as pure and luminescent as this, a chin length bob turns regal. It has an almost surreal quality with its cosmic color and the beautiful soft shape. A little lift on the side bangs, a large well placed wave and a snug, face framing fit complete the art of this short hairstyle.

Seductive and feminine, precious and rare it expresses confidence, poise and a sense for the best in life. It is made for a woman of exquisite taste and elegance.


Dipped and Streaked Color Effect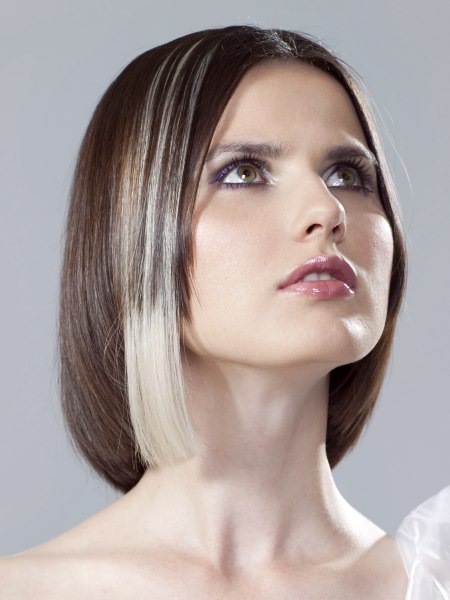 A bob is taken out of the ordinary with a long section of hair featuring a unique color effect. The bright tone was applied in three distinct strands that lead the eye to the lower third part which looks as if it was fully dipped into pure light.

The haircut itself is a round bob with tapered sides and the chic of skilled understatement. Cut and color are of superior quality and the combination of a rather humble base shape with just one striking effect is pure genius.


Summer Hair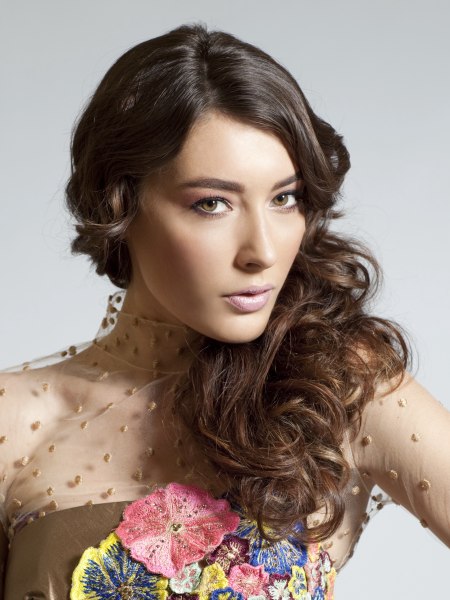 As light as a summer's breeze, the curls cascade down one shoulder where they are loosely bundled for maximum effect. With a side partition it is easy to get all of the gorgeous mass to one side.

The curls increase in force from top to bottom and leave the face framed with romantic waves. Her hair color is an elegant, neutral and warm brown that lightens up slightly towards the ends for a sun-kissed, golden effect.


Bellezza in the Wild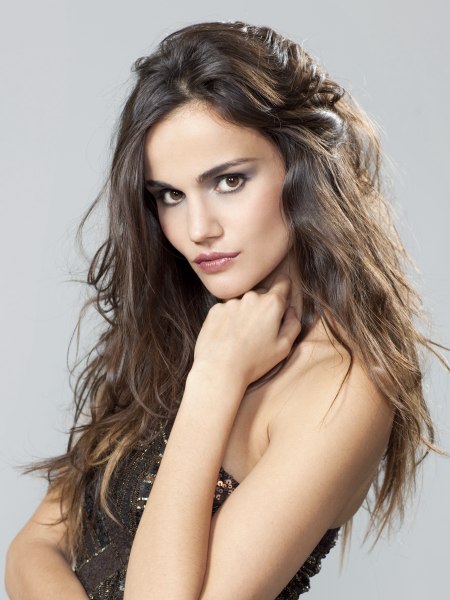 Majestic like a force of nature. Hair this long looks best with layers, not only to keep the weight on the lighter side, but also to create movement and to distribute the volume where it is wanted and needed.

Intercoiffure Mondial created a sexy masterpiece with this look. Mid-back length, long layers and brown tones with a few golden effects are what this dream is made off. Seductive and luxurious, wild and extravagant in all of its generous splendor for all of the confident goddesses out there.


Historic Make-over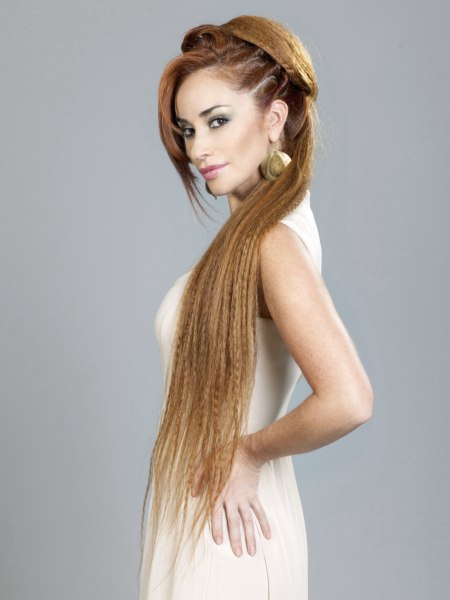 You could just see her promenading the streets of ancient Rome among the temples and the gardens. A very long hairstyle inspired by a grand history and translated into modern days. This look accentuates the powerful female with her lioness spirit. Hip long hair was crimped throughout and styled to a semi updo.

Twirled strands pull the hair out of the face and towards the back where it plunges down in one thick bundle. A feathered and angled long fringe adds softness to her face and several slung and pinned sections bring height and artistry to it all.


Dramatic Upstyle for Long Hair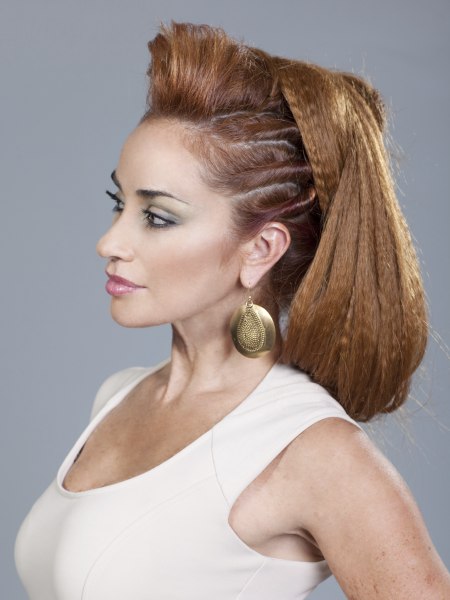 Ancient inspiration turns into modern beauty with this eccentric but yet timeless upstyle. The extremely long and crimped hair seen in the previous picture is now restyled to a sling in the back. Her long fringe was styled farther to the side to not obstruct an open view of her face.

The side is defined by three thick strands, that were twisted to a rope-like shape before they disappear underneath the large bow-like structure in the back.


Asymmetrical Cornrows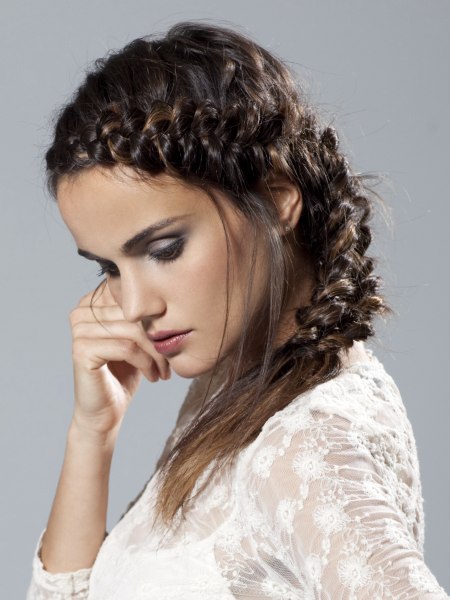 To achieve this elaborate and drop dead gorgeous peasant look the hair should be at least a few inches longer than shoulder length. Starting at the side of the forehead a stunning braid was created using the French braid technique in which more and more strands are added into the braid as it grows longer.

This technique lets the braid stay close to the head. All of the hair is eventually incorporated, and just a few strands are left hanging on the side to increase the dreamy and romantic expression.


Peasant Style Updo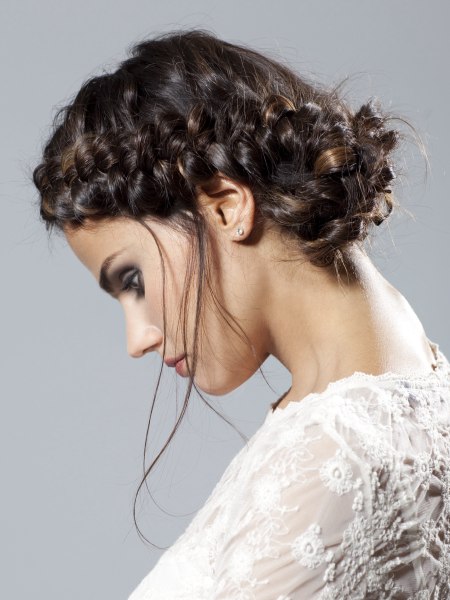 Asymmetry can be this beautiful. It might take a little bit of effort and a helping hand, but this braided headband is among the most romantic and timelessly beautiful looks ever.

It starts with the French braid along one side as described before and instead of letting the end hang it is tucked under to a small chignon. A few loose strands are always a great way to soften up a look.


Curly Fringe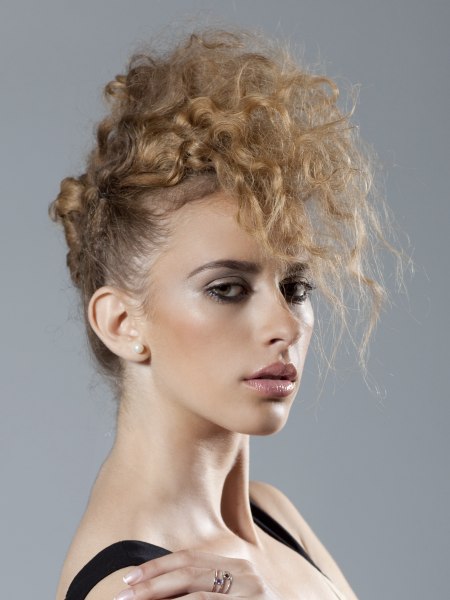 The veil of curls that build up above her forehead is much too refined to be called bangs. In fact it is not the frontal hair at all, but the result of twisting and twirling the hair all around to form an unconventional upstyle.

It is all of the ends that were shaped to this high quiff-like structure with its fine tips creating a mysterious appearance with a rebellious, untamed yet sensual and soft appeal. Her hair color transitions from a subdued ash blonde along the roots to a vivacious champagne tone in the lengths.


Feminine Chic with High Crown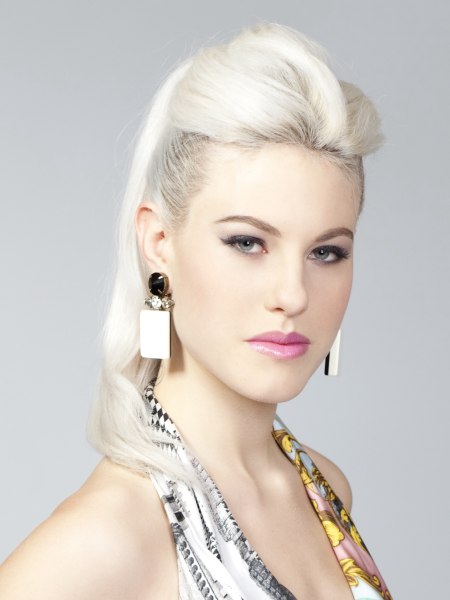 Sides cling so close to the head that they could, from a distance, be mistaken for an undercut. The hair on the crown was bolstered up with a good root lift, some product, hot air and a good brush. It was then taken to the back an bound to a high sitting ponytail.

Some large curls along the length give it an elegant spiral shape. Platinum with a darker silver on the roots gives it a luminous, metallic and highly fashionable radiance.

Hairstyles: Intercoiffure Mondial
Photographer: Rob Peetom

See also: Short hairstyles | Medium hairstyles | Long hairstyles | Up styles