Seduce with Short Hair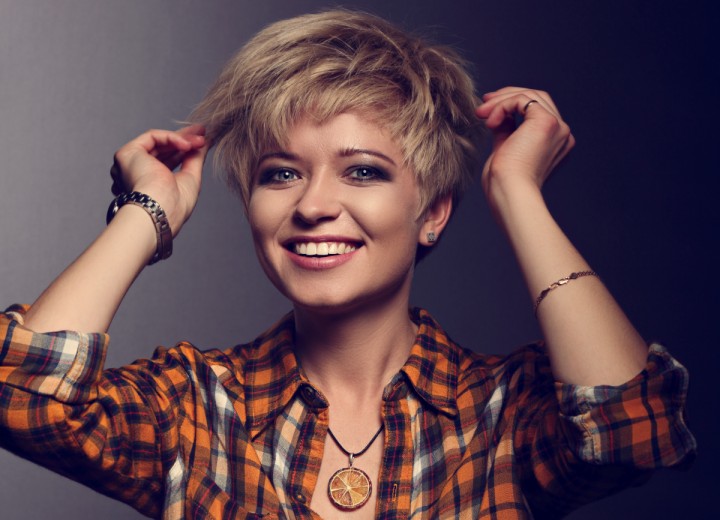 A long tumbling cascade of hair has been the reference for sexiness for many years, especially in the sixties and seventies. Many are questioning if short hair can really be sexy. The answer is short and simple: yes! Short hair can be very alluring.

Just think of the many bombshells and celebrities who have or had short hair. Teo Leoni is a good sample of how short hair can make one look simply gorgeous. Demi Moore looked at her best with her beautiful short crop in Ghost. Everyone remembers how attractive Halle Berry was with her very short haircut.



It is a fact that short hair looks best on someone with a square or oval face shape. If you are careful and choose a style that suits you, short hair can look good on any facial features. Ask your hairstylist for advice.

There are a lot of possibilities with short hair. Be creative and bring some variation in your haircut. It is that creativity and details that will make the haircut look sexy and seductive.

One option is clipping the hair shorter through the nape for shape and leave it long through the front and crown. Contrasting highlights can create a textured look. Short wispy bangs will look lovely. Rub a bit of gel into the root for height.

Styling products offer an easy and maybe the most important of all, a temporary way to achieve a textured finish. Layered short hairdos can be dressed with grooming cream, then tousled and finished with a bit of pomade at the ends. The pomade will give a beautiful effect.

Are you adventurous and ready to try something daring? Go for a short gamine crop! An adorable short hairdo can make the most of a luxurious head of hair. Less is more! Long layers up top and shorter lengths through the neckline go together perfectly. It will give you a very versatile look that adapts perfectly to spiking, gelling and tousling.

Another option for a sexy gamine crop is shorn extremely short at the neckline and the bangs area. It is left longer and spiky on top and at the crown. The top is ruffled into slightly punky spikes. Combine the buzzed nape of this very short haircut with a button front shirt buttoned up all the way to the neck, and you'll get a stunning sophisticated look! Ready to go even further? Put on a tie on that shirt or blouse and your boyishly short hair will look extremely sexy in this combination!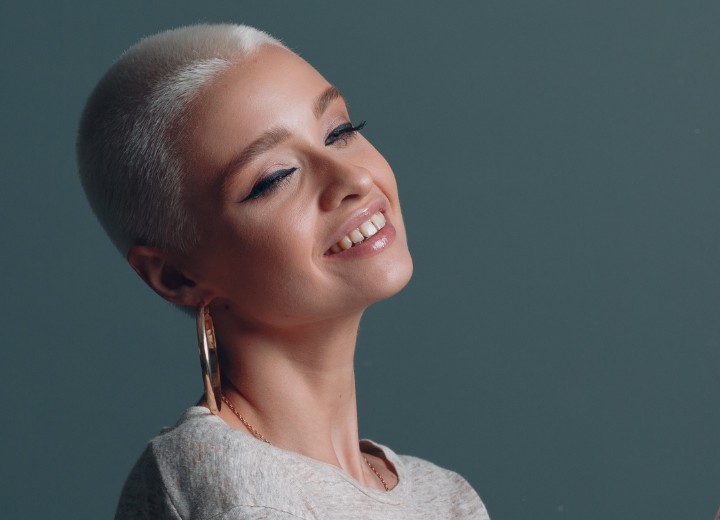 Not ready for really short hair yet? Then a short bob might be just what you need! Bobs are perfect for all hair types, from coarse to fine. Light layering will give the hair extra swing. A slightly angled line and a couple of shorter locks around the face can give a cut a strong and sophisticated presence.

A bob parted on the side and worn with long side swept bangs can look very sweet. When hair is perfectly straight and with turned under bangs you might get a doll like effect. This can be a gorgeous style for someone with the perfect facial features for it, but for others it might be disastrous.

It is always important to "do" something with your bob hairstyle. Leaving it just straight and having it cut in a perfect straight line might result in a boring look.

For someone who wants to make a statement with her haircut, a steeply angled bob with a shorn elevated nape is the perfect look. Color it in two contrasting colors to make the look even more stunning! The neckline is a very important part of your head where sexiness is concerned. If you are not covering it with long hair, then why not emphasize it to make your haircut extra cute?

©hairfinder.com

See also: Short Hairstyles Photos