Hair Fashion Spring/Summer 09
Zentralverband des Deutschen Friseurhandwerks Haircuts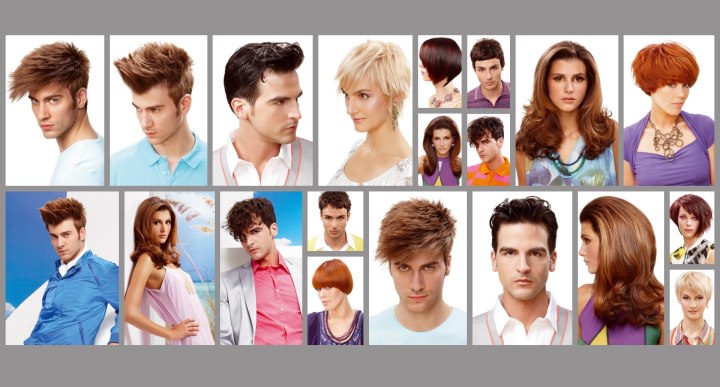 Scroll down for more photos ↓

The looks of summer show creative versatility and are setting new standards for hair fashion.

Like no other season, summer always instills in us the want for a change and something new. Quickened by the first rays of sunshine and cozy warmth, a new desire awakens - to change things and to even head out on an adventure.

It is the perfect time to bring a change: the visions for the hair trends of spring and summer 2009 by the Zentralverband des Deutschen Friseurhandwerks (ZV), the Association of the German Hairstyling Trade, are an ideal basis for this. The creations demonstrate the virtuous skills of their makers and have the potential to become the classics of tomorrow.



Whether there are just soft modifications or even expressive statements that invite to a total reinvention of yourself: everything is possible. From soft, flowing textures that are radiating natural wholesomeness, to luxurious retro looks that conjure up the glamour of days gone by all the way to extremely graphic looks that are futuristic in their expressiveness. Summer presents itself with a cornucopia of styling variations.

Styles for women are dominated by feminine big hair and pixie cuts are back, bedazzling us with their unconventional and feisty charm. Men set their bets on surprising accents: Looks that incorporate skilled breaks of tradition through an artistic play with contrasts. Nerd style, Elvis quiff or perhaps vertical high hair? It does not matter as long as there is a casual and authentic appeal to it all.

A must for this summer: Highlights that provide at times subtle and every now and then bold reflexes while bringing out the glow of the base color; all together with shapes that are airy and vivacious. For hair looking as if it was kissed by the sun and caressed by a gentle ocean breeze.


Short and Fresh Haircut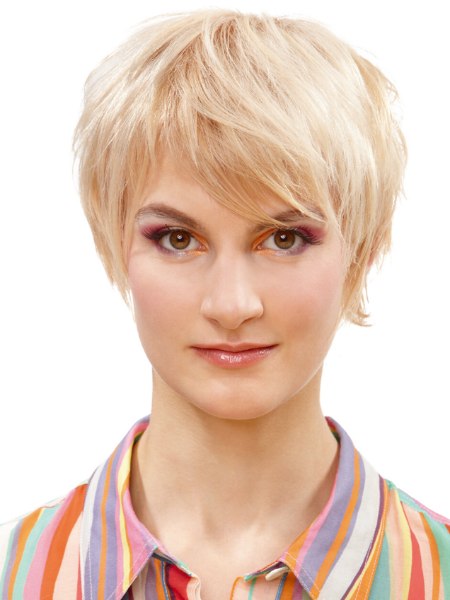 Feeling feisty? This is the right hairstyle for anyone who has an ounce or more of quirky and vivacious inside. The lovely short haircut is a long pixie cut with a lot of texture that is created by cutting the hair in lots of little angles to get a variation of lengths.

It is a fun look with a lot of options to style it and restyle it again in a totally different character. Check out the upcoming pictures and call your stylist soon! The blonde hair color adds to the lightness of the cut but it also looks great on all of the wonderful other hair colors out there.


Romantic Short Hair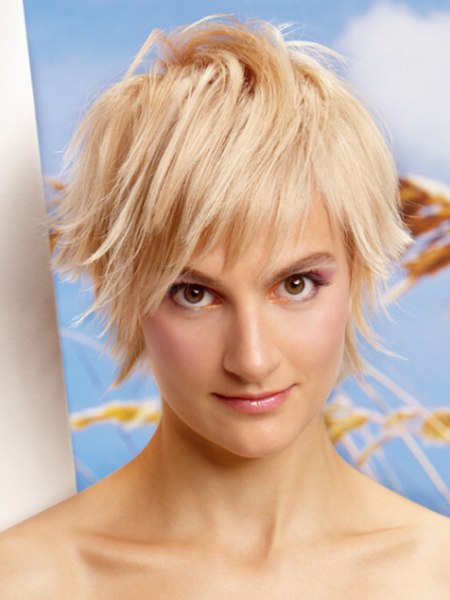 Even short hairstyles can be romantic and feminine. Of course it has a lot to do with her shoulder free outfit, but the adorable lines of her haircut hold their own. To get all this exciting movement into the hair, the tresses were combed from the back of the crown forward and finger styled into wispy tendrils of seductive style.

A bit of messiness is highly desired, but don't overdo it and keep a clear direction and texture. With the ends turned out in such a soft but distinct way, the fun can begin!


Light and Easy Summer Look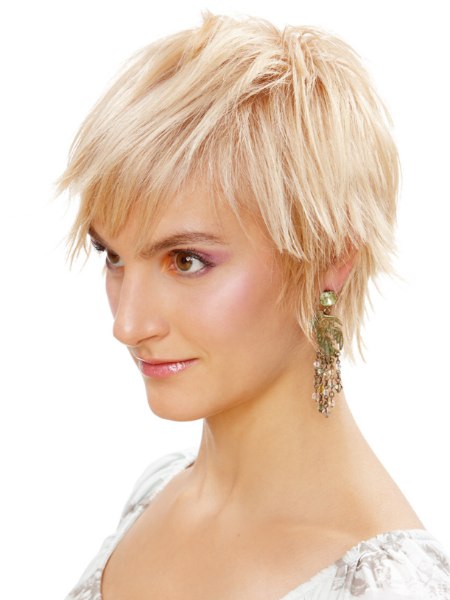 Wow them at the beach, pool, lake and afterward at the boardwalk cafes with this easygoing and fun, fresh haircut. Cut for lightness and texture and a true changeling when it comes to expressive styling options, this short hairstyle with a pixie cut soul will be one of your best friends this season.

The length of the hair allows you to create as much or as little movement as you want and you can downplay it or dress it up. Of course all of your fancy earrings will now get the attention they deserve.


Elegance in Short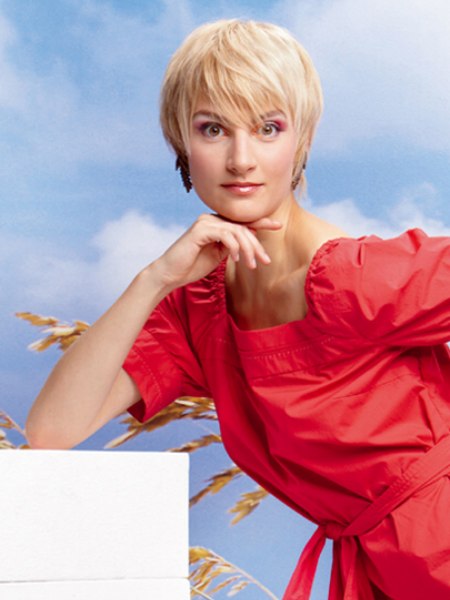 Yes, a sassy short haircut can indeed be elegant. Styled with softer lines in this version, the character changed from rebellious and flirtatious to feminine and elegant. No more wispy ends but the tips are turned low and gentle curves in the hair keeps them all close to the head.

The long fringe is styled slightly diagonal across her forehead, dipping a bit lower between the eyes, but not obstructing her view. Sophistication with a modern flavor is the theme and it goes with the little black dress, a summer dress or even business attire.


Smooth Bob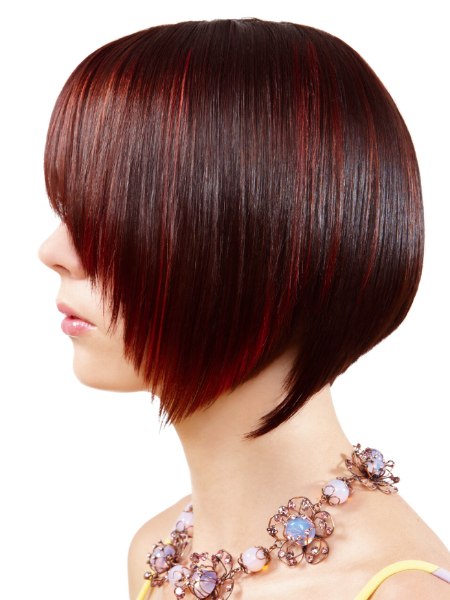 Go for the edge! Bobs will never be the same after this innovative creation. The smooth shape is disrupted by a nothing less than artistic slash of the scissors that separates the side into a triangle and a pointed shape. This asymmetrical haircut has a different look on each side and will make boredom with your hair a thing of the past.

It is daring but very wearable. Two toned coloring adds a soft marbled effect due to the application of the hair color in thin layers. An earthy brown was paired with a warm red, and every movement of the hair will reveal a new pattern.


Longer and Shorter Side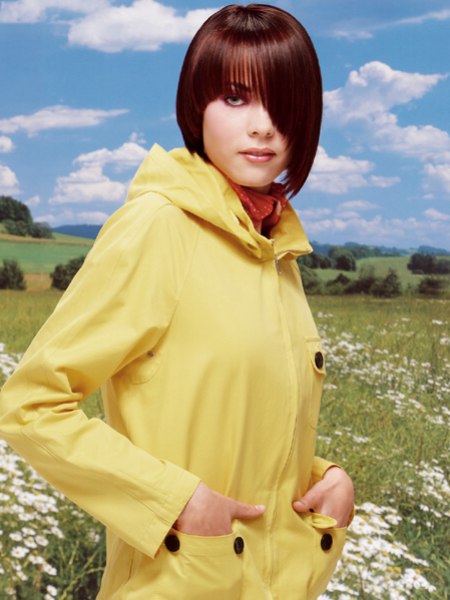 Seen from the front, the edgy haircut from the previous picture also shows a sensational shape. A shorter and a longer side surround an oval cutout over her face. The cutting line has soft texture and flows organically while covering one of her eyes.

The hair was treated with a softening product that adds shine and sleekness without any random flying hairs. Her hair color with its two exciting tones and the changing patterns is showcased to perfection with this sleek surface and the amazing shine.


Short and Longer Layers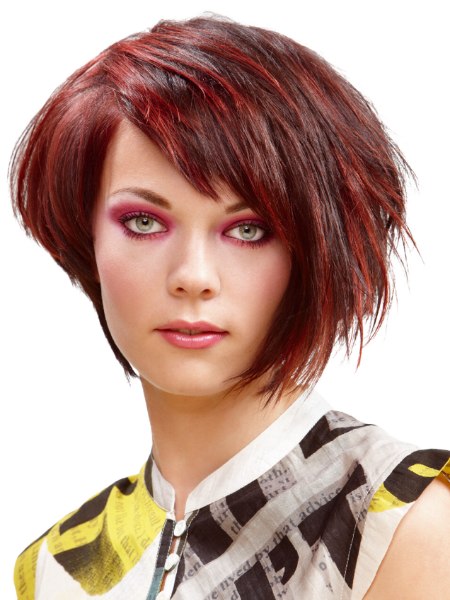 Pump it up! What a difference a bit of air between the individual hairs makes! Filled with maximum volume the asymmetrical haircut boasts a fundamentally different shape and energy. And now the intricacies of the cut become more evident.



The transition from the short to the longer layers shows intricate textures and sparkling color variations and even though the character is modern and edgy there is much softness and warmth in this hairstyle. In front the line of the jagged fringe runs across the entire face in a diagonal line and curves around the cheeks into the chin.


Slimming and Slender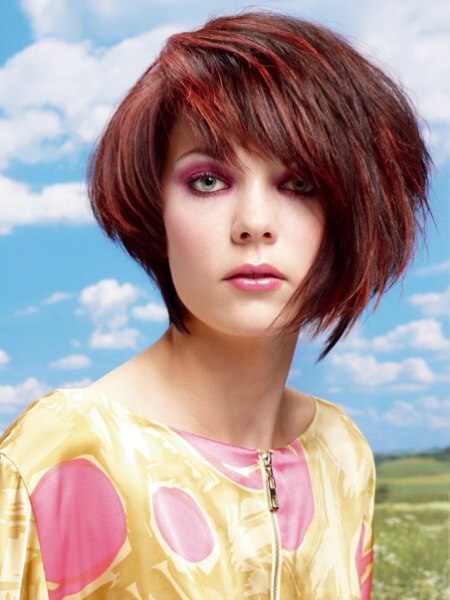 A bit more relaxed and softer than the styling before, the hair now takes on a smooth, casual elegance with a bit of bohemian flair. The lines are lower, rounder and less pointy. Emphasis is on smooth flows but still with all of the volume that a round brush and a hairdryer can create in the layered and beautifully shaped look.

The longer hair in the back hugs the neck and provides a slimming, slender effect to the entire style. This is a perfect style for laid-back days, strolls through the town and even for exciting dinner dates.


Round Harmony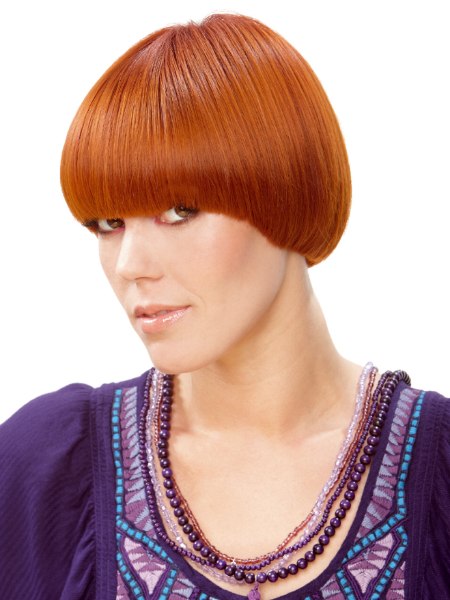 Don't be scared of being round. Not necessarily around your hips but when it comes to your hair, you don't have to hold back. This classic round haircut is once again in the focus of fashion forward women and it is as flattering and unique as ever.

Only a few hairstyles have a retro and a futuristic appeal at the very same time. This balanced symmetrical look makes a statement in every setting and every era, gone or yet to come.

The secret to its perfection is an undercut that allows the hair to gently curve inward. With a styled in lift to the roots a bit of volume also comes by itself and looks very natural. Make sure to have a smoothing lotion at hand, since this hairstyle is only as dramatic if there are no random hairs flying around.


All Season Look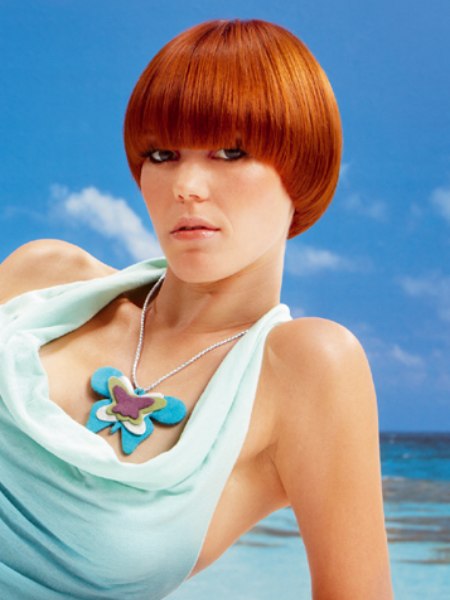 With its built in elegance you never have to worry about looking just swell. The round cut, also known as mushroom cut or bowl cut, has an undercut, that means shorter hair on the inside and a couple of certain shaping elements that make the top hair turn inward and remain this way without much help.

Even in outdoors and casual situations, all you need is a bit of a smoothing product to keep the hair from flying randomly and to add some shine.


Messy Styling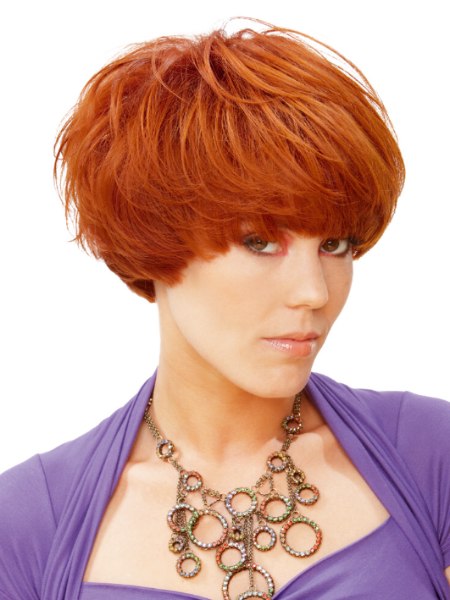 The inner layers not only help the top hair to curve inward, but they also add exciting texture, movement and volume to the short hairstyle when styled in this deliberately and controlled messy way.

Always in style the wild looks are flirtatious, romantic and just very fun to wear. Mousse and texturizing products are the little magic bottles to use.


Round Cut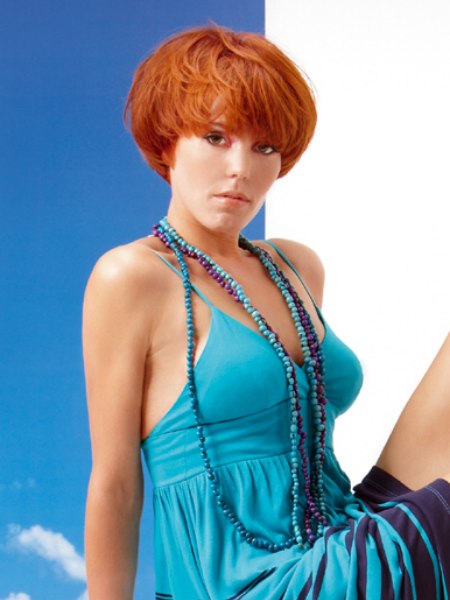 Going from classic to sexy takes just a change in styling and a little bit of product. The elegant round haircut has quite a few facets that want to be discovered, and it does not have to be smooth and cool all the time. Things are heating up here with the messy "morning after" styling.

Mousse for the volume, some wax or other texturizer to accentuate individual strands and tips are all that is needed for an exciting styling that can be done with a wide comb and the fingers.


Retro Long Hair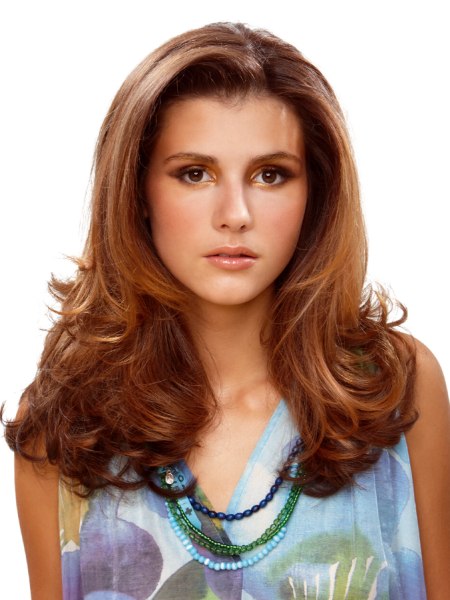 Feminine locks in the style of famous fashion eras are based on one simple cut. Long layers with a rounded edge are the perfect base for many different stylings. These can range from natural and casual to utterly glamorous and there is much in between.

Here are just a few lovely looks that can be created with the perfectly executed base cut. The length of her hair reaches over her shoulders and the warm, medium brown color with golden highlights is just as timeless as the looks that are created with this beautiful and versatile cut.


Smooth with Top Volume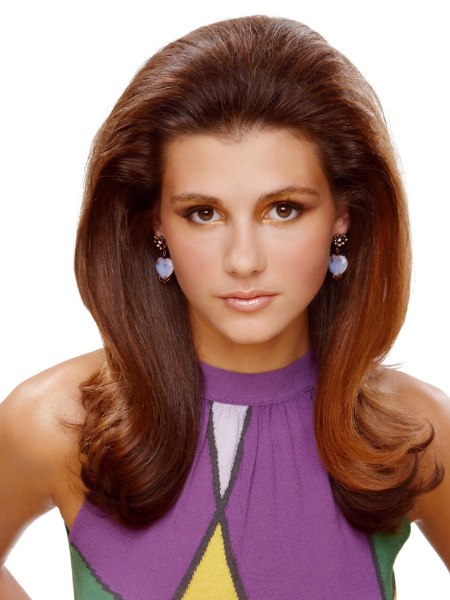 The 1960s are calling and intrigue us with a high volume hairstyle that also offers us a smooth and shiny surface and curled out ends. This curvy creation is one of the most beautiful retro looks and in its updated, modern version it is soft and flowing but still has the elegance and ultra femininity of its great ancestor.



To get the volume on the crown, the hair is teased along the roots and then smoothed over, first towards the back and then down the sides in one great curve. Details are important and the chic outward swing in the ends a must-have.


Layers and Highlights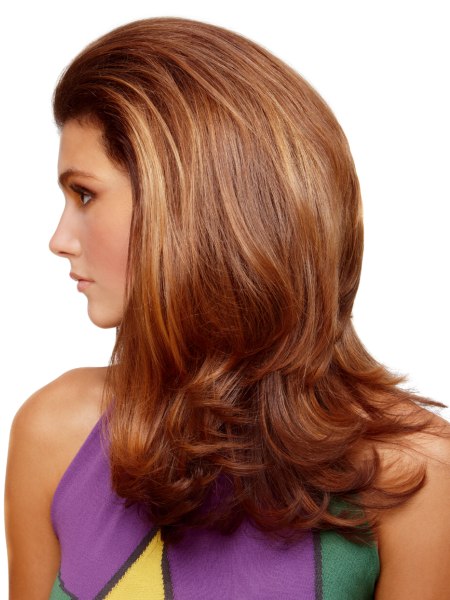 A more frothy styling makes use of the low sitting layers and stirs up the previous elegant stillness with a lot of motion. The long hair is still styled out of the face and back but with a more casual swing and less controlled contours. Loose curls bedazzle as much as the grand curve that moves from her forehead to the nape.

The side view shows how this shape is enhanced by the direction of the flow of hair with its fine highlights. A honey gold sits atop and among a mane of medium brown and accentuates the movement while creating visual volume and much depth.


Side Part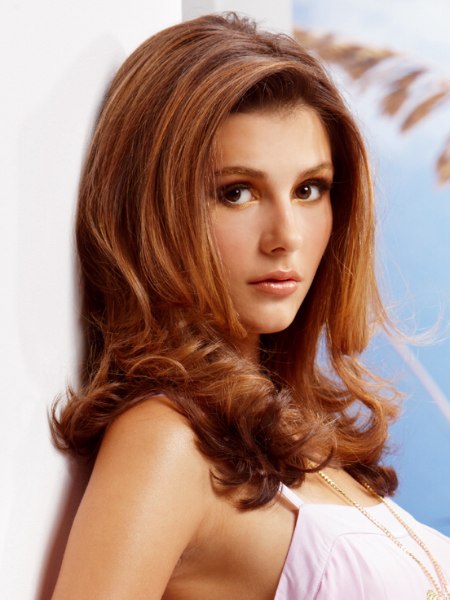 Another version to style the low layered, high volume retro look is to add a side part to all of the pleasure. This separation of the hair in one dominant and one smaller side always has the touch of luxury and sophisticated chic.

It is also closer to the natural flow and fall of the hair and will thus require less product to keep it in shape all day or night long. The hair still has a lot of inside lift resulting from gentle teasing at the roots. The wavy, layered lower quarter of the hair is turned into a messy swirling mass of pure delight.


Geeky Modern Man's Look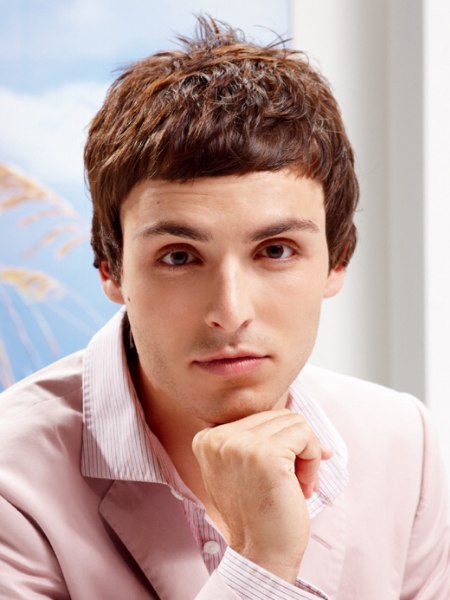 Who is the nerd now? Brainiacs are in and so are geeky hairstyles that remind of the early Bill Gates hair fashion, or the lack thereof. With some updating and modern lines the practical and understated look takes on a new vibe and we all know that young geeks turn into wildly successful men sooner or later.

So, lets celebrate the ultra short bangs, styled to a single line at the upper edge of the forehead, the ruffled texture and a few random stray standing strands way in the back of the crown. A soft brown is just as understated, but leaves us with a feeling of warmth.


Finger Ruffling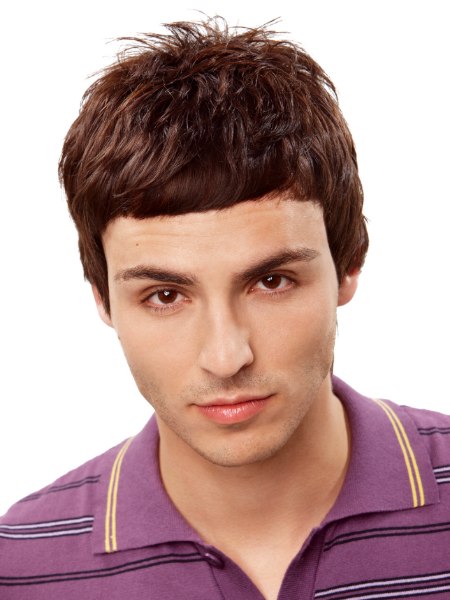 With all of the straight lines in the contour, this short hairstyle for young men can take a good dose of texture. The crown is where it is happening now and with a bit of product and finger ruffling this styled/unstyled look is quite handsome.

The key element is the straight fringe, that is so short that it barely reaches into his forehead. It does not only keep his head cool but also works as a magnet for women who like their men dapper and smart.


80s Styling for Men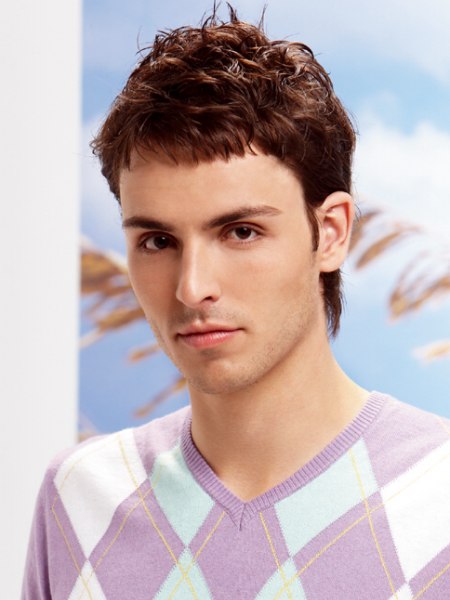 Going from geek to retro just means a change of the direction of the hair. Instead of face hugging and straight down the sides, the sides of his short men's haircut are now styled to the back, revealing the ears.

The thick line of the fringe is now loosened up and shows more texture and a lighter, casual chic. The finishing touch is on the crown with the most movement so far, styled with the fingers and a dollop of product.


Short Hair for Men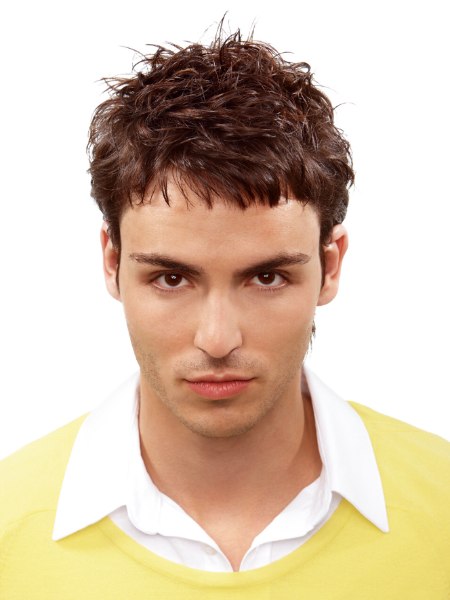 A little bit of wet look in the hair is all the rage again. But the hair has to stay flexible and not look as if the entire head was dipped in resin. The use of a little gel gives hold and the desired wet look to his short haircut and as a side effect also adds shine.

All of the hair was ruffled with the fingers, the fringe loosely pulled into the forehead and the sides are pushed back so that the narrow but manly sideburns can radiate their fashionable charisma.


Get Up, Stand Up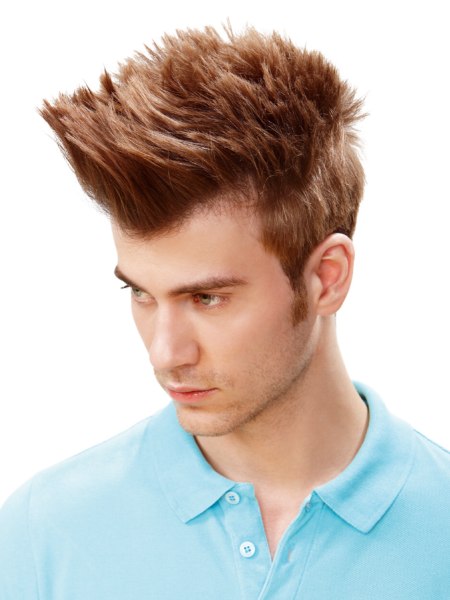 ... for your fashion rights. Men should have the same choices as women if they want big hair, dramatic looks and styling to express their souls. There is no reason for them to not get what they so desire. Tradition has moved aside and made room for rebellious styles, radical shapes and gravity defying stylings.



Quiffs and spikes are super trendy once again and this look combines the essence of both. High in front and textured throughout it is a knockout look. Elvis meets punk and brings a new dimension to men's hair.


Eccentric and Retro Look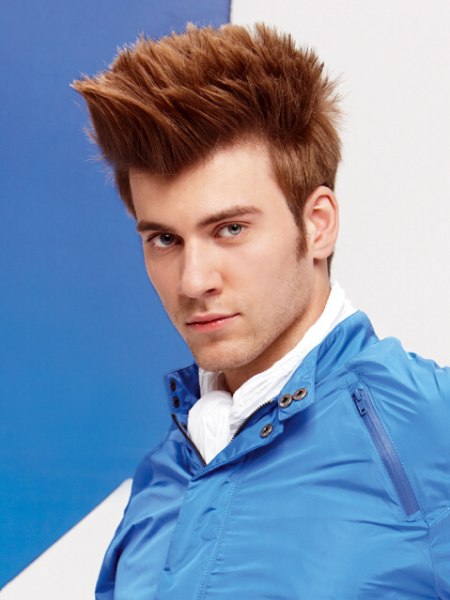 This might be just the hairstyle that James Dean would be wearing if he was alive today. A highly textured cut relieved from the pull of gravity (with the help of a good styling product, of course) and showing off its edgy side with a variation of lengths.

The sides of this male haircut are kept conservative and close to the head, creating a tingling contrast to all of the flamboyance that is spiking around on top. His hair color is a smooth medium brown, making all of the rebellion a bit softer and warmer.


Diagonal Styling for Men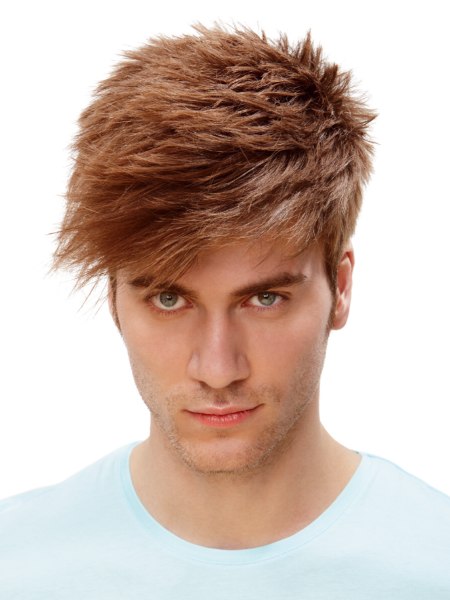 Since the front is longer than the back, this radical diagonal styling comes out so beautifully with a long sideways pointed fringe. All of the texture that appeared rather blunt with the straight upward styling now takes on a different character and surprises us with its finely shredded and soft surface that shows so much movement and dimension.

The sides are still neat and nice not distracting from the real star of the style which is the top section with all of its styling options.


Textured Fringe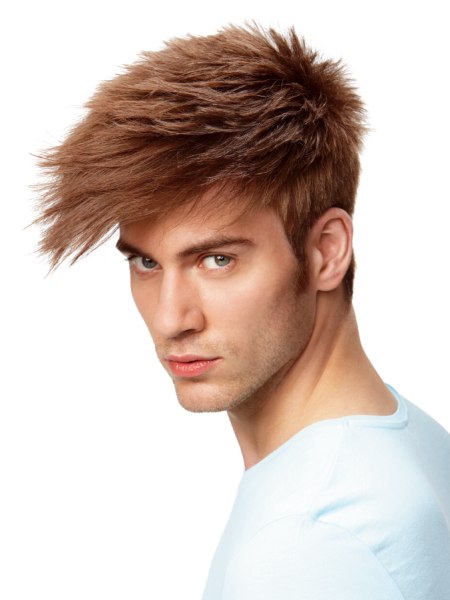 Seen from the side the extent of the gradual lengthening from back towards the front becomes very evident. Subtlety is overrated, who needs it when men can have radical chic like this?!

Texture galore and a balanced, perfect hairstyle are the new accessories for men who care about their appearance and who don't want to fade into the crowd. This haircut combines several classic elements but exaggerates them to create this rebellious flair.

The products he used give the hair a strong but flexible hold and a matte sheen since a wet look is not always desired. There are so many great products for men's hair on the market today, that there is no more excuse to not have cool hair with great styling. Go for it boys!


Trend Haircut for Men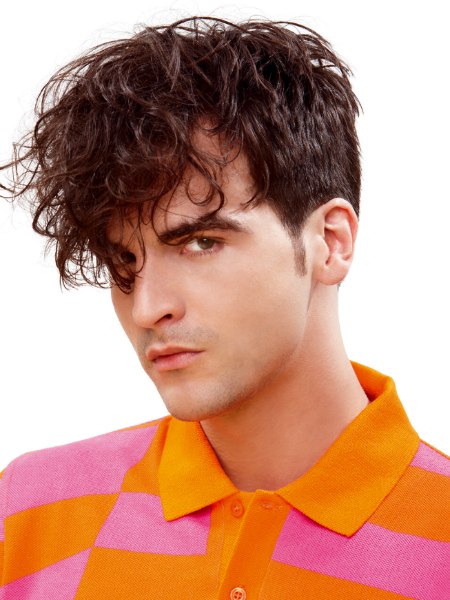 He wants it all and with the new styles in men's hair fashion he actually can! Long and short all in one style. Tradition and modernity are mixed and are once again proof that opposites do attract and even though we may think they don't get along, they do. Just like pink and orange. His sides are traditionally short, which is continued in the back.

Small sideburns reflect the current trends. In comes the top with its explosion of curls and gradually lengthening hair from the back to the long fringe. The curls look very natural and are enhanced with a styling product. They fall softly over his face and remind of certain looks from the again famous 80s.


Disco Look for Men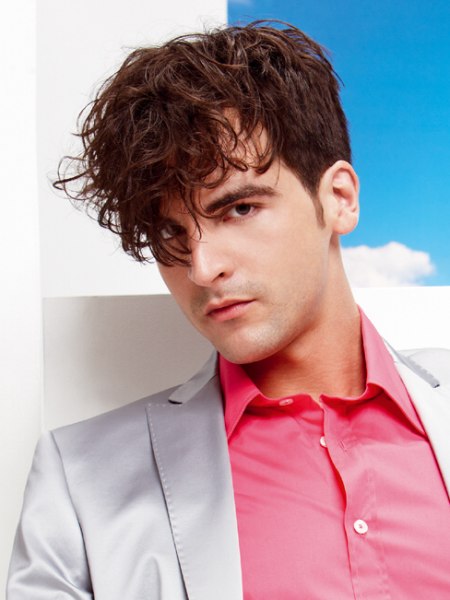 Yay! Disco is back with all of the satin and the hairstyles. A long fringe with a ton of curls is just asking for some "Night Fever".

Keeping things traditional in his haircut with short sides and back, he lets it all out on top with a gradual lengthening towards the front and a display of wild curls that have us wrapped around his finger.

Tall, dark and handsome with a fun twist. In the pulsating lights of a dance floor or anywhere else - he will turn heads with his unique and slightly eccentric style.


Retro Men's Look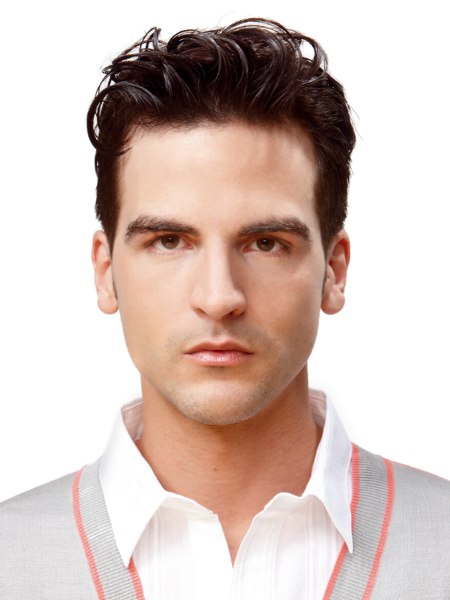 The long bangs can also be styled towards the back of his head and - voilà - back in time as well. A modern vintage haircut comes about with the classic short sides, a graduated back and longer top hair, which invites for interesting plays with styling options.

His hair is naturally curly and even defies some of the styling products. This comes in handy to create the larger curls that are just casually playing above his forehead and give him a dandy, but also irresistible boyish charm.


Male Haircut with Slick Styling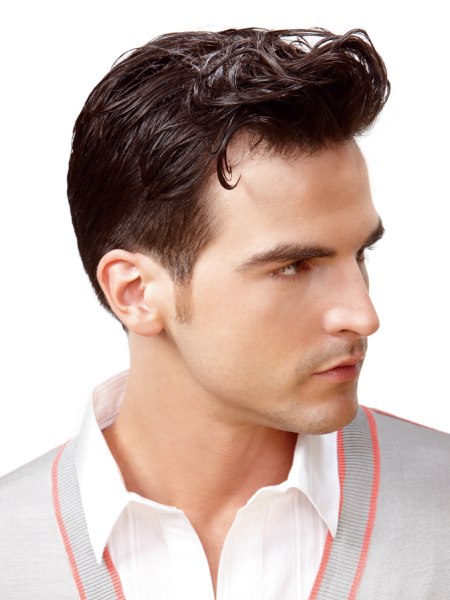 There is a hint of rebellion with the slick styling and the curly quiff. This look has attitude and rhythm. With a good base cut that keeps the sides and the back short and neat while the top is long enough to play with, there is no limit to handsomeness.

The product he uses for hold and the cool little swing in his quiff, also adds a lot of shine. A flexible gel or one of the new and less greasy pomades should be the tools of choice.

Photographer: Michael Petersohn, Berlin
Copyright: Zentralverband des Deutschen Friseurhandwerks

See also: Short hairstyles | Long hairstyles | Men's hairstyles