Long Hairstyles by La Biosthetique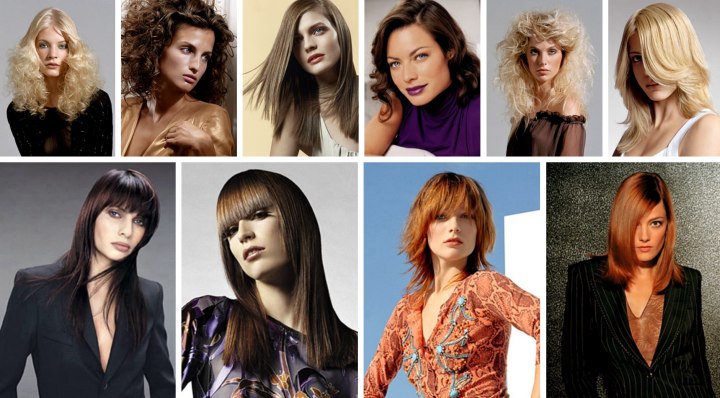 Scroll down for more photos ↓

Long hair comes in so many shapes and with so many different details that it takes a proud collection of this size to display the most impressive cuts. Sleek and curled, a mix of both or cuts with classic lines and modern texture. It is the chemistry of cleverly mixing the nostalgic and the new that creates the charisma.

This collection features amazing hairstyles for business women, sporty champions and classic beauties. Cuts are tailored for a perfect fit and the hair styling puts emphasis on smooth, feminine lines with a satiny shine and a luxurious flow.



Just as there is much diversity in texture and style, the palette covers beautiful shades from coppery reds to midnight black. Check out the bouncy curls and the long bangs!


Below the Brow Bangs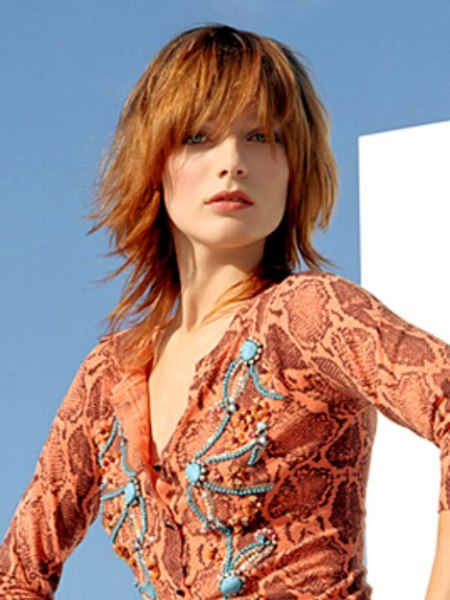 This long bob is trendier than the classic one-length version because of the heavy splicing at the ends, the shaping at the sides and the below the brow bangs. A fiery red hair color is the finishing touch that makes this hairstyle really stunning.

All of the texture makes the hair light and wispy. With that much movement in the style all lines are soft, which of course also affects the features. This type of look is fresh, a little feisty, sporty and so easy to wear.

Just wash, air dry, run fingers through it and go. Some mousse massaged into tresses will build and hold the volume and of course a touch of gloss or shine spray makes the coppery reflexes come out much stronger.


Curvy Shape for Long Hair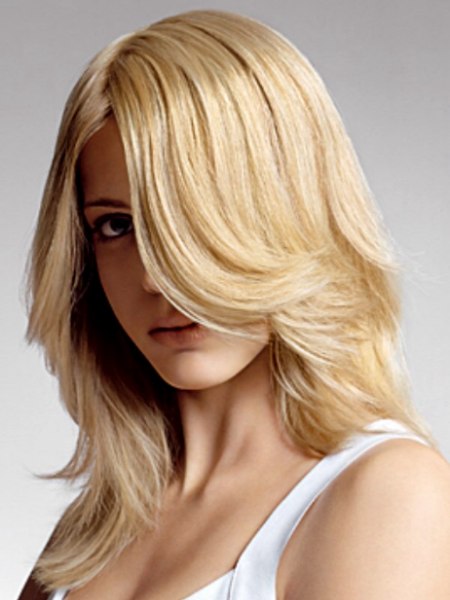 Strands of hair go glam when cut in a curvy shape with very long side-blended bangs. The deep side part gives the hairstyle a sultry finish.

With the low curve covering half of her face, she gets an adorable and also sultry expression. So much mystery can be in hair and in a face when one eye is covered! The hair reaches about the width of a hand below her shoulders and has a nice swing in every single layer.

This is a very youthful look that has a slender effect on the features. It can be dressed up or down and goes with many styles. It is also long enough to be put in a ponytail.


Face Framing Long Hairstyle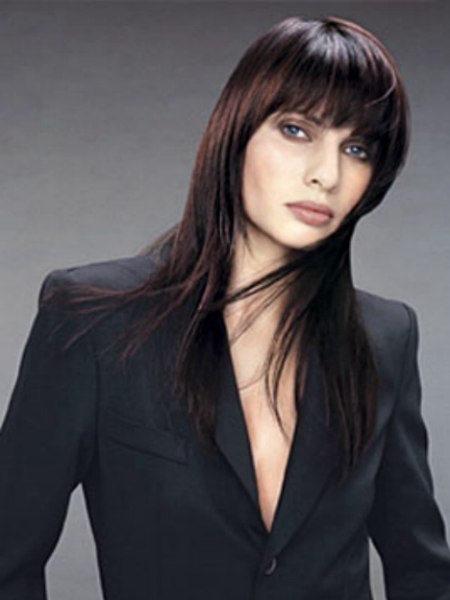 Looking for a beautiful long hairstyle? Here hair has been given long heavy bangs and has been shaped to frame the face. A straightening iron will help to create the smooth shimmery look.

The face is framed by the eyebrow long bangs and the smoothly layered sides, which has a soft transition between them. Layers are long and slinky. A look as sophisticated as her chic blazer and very suitable for a business environment as well as for a glamorous party.

All of the effects are very subtle and just elegant, as is the color. A warm, almost black brown with a bronze shimmer gives her a smoky, seductive aura.


Bouncy Curls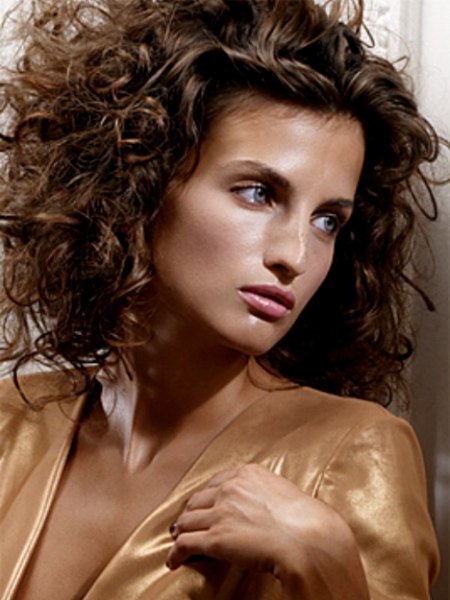 There is plenty of bounce in these loose curls. Large rollers and hood drying turn long hair into such a delight full of movement and volume. After cooling off, the curls can be broken up by raking through them with your fingers.

A little teasing with a styling comb will add height to the front area and a little gloss over the finished hairstyle will not only multiply the shine, but also give more definition to individual curls. Use a spritz of hairspray for extra hold. With its texture and the sheer bounty of bouncy curls, this look is one of the most romantic ones in this collection.


Shoulder-Skimming Curls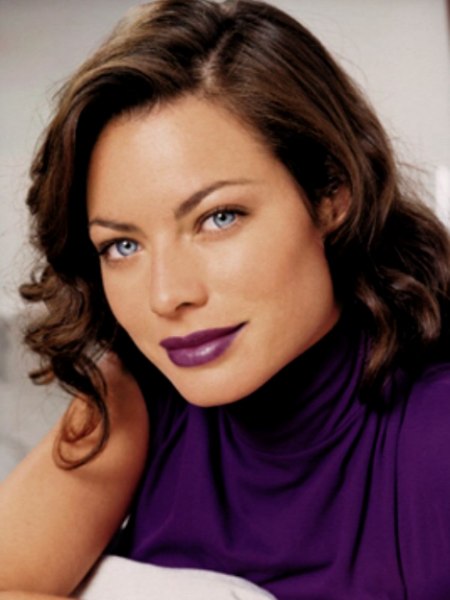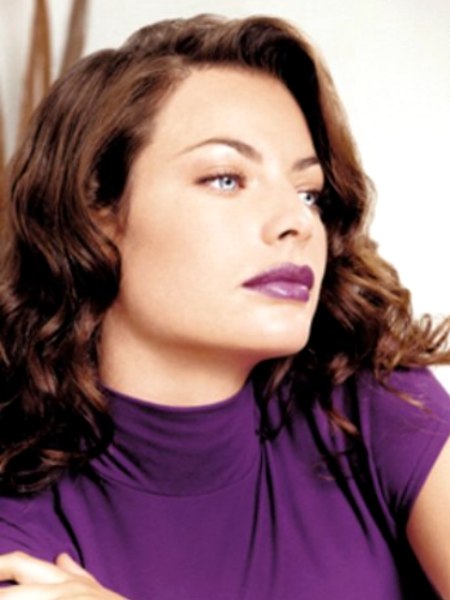 These curls get their flair through their soft fall and with the side part, this shoulder length bob is a great and timeless example of casual elegance. The hairstyle has a calming simplicity but also a ton of finesse and radiance. A dark brown is the base color, with very subtle lights in it. A side part allows the hair on the smaller side to be tugged behind one ear. A winner!



How to achieve this style: Even straight hair can be set to create this hairstyle with shoulder-skimming curls. Dry your hair, spritz it with some setting spray and set it on medium sized velcro rollers. For extra hold, re-spritz setting spray over the rollers. Hood dry. When dry and cooled, rake through your hair with your fingers and/or a wide-tooth comb.


Long Free-Flowing Curls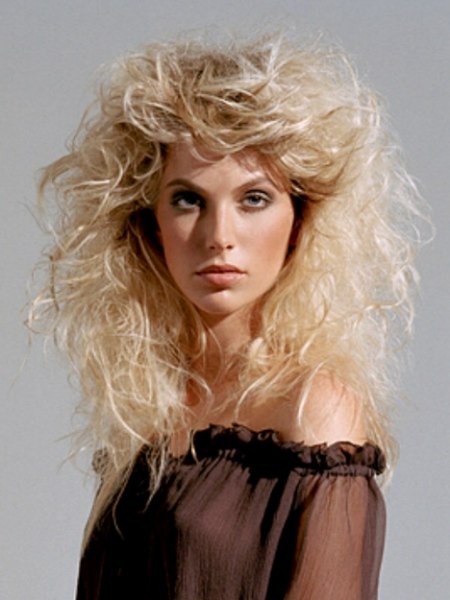 A long hairstyle with plenty of free-flowing curls is at times the only accessory you need. This wild mane is not holding anything back. Crazy texture, partially teased, amazing volume and all that in a bright and shiny vanilla blonde. It does not get any better.

How to achieve this hairstyle: For such a wild effect, set your dry hair on hot rollers or use a hot iron to curl the entire head. When your hair has cooled, rake through it with your fingers to separate the curls. At last use a vented-back brush and gently brush through the curls until the desired volume is achieved, while backcombing or teasing the hair at the roots and at midlenght. A good hairspray will enhance shine and hold.


Straight and Shiny Hair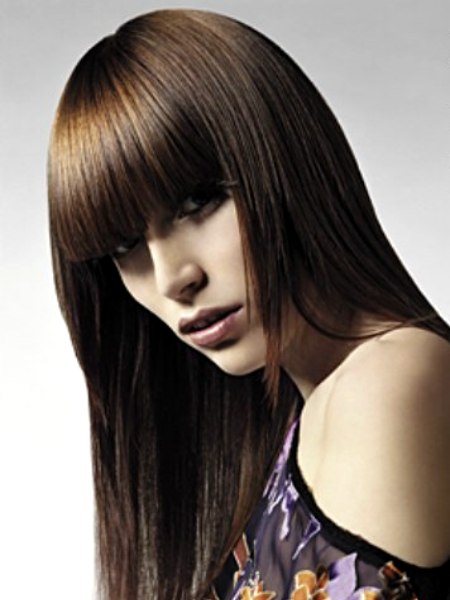 This long and straight hairstyle turns very retro with the fascinating bangs. These are cut in a straight line so that they almost tickle her eyelashes. The sides along the face are finely tapered, and the styling is all about creating a sleek and shiny appearance. This cut works great also with thick and dense hair. The shape brings much focus on her eyes.

How to achieve this look: If a shiny and well groomed straight hairstyle is what you are after, you should definitely invest in a quality straightening iron. It is an essential tool to create this polished look and also comes in handy to add shape to shorter layers. After blow-drying your long hair, straighten the back first and work around the head until you reach the front.


Long Sleek and Shiny Hair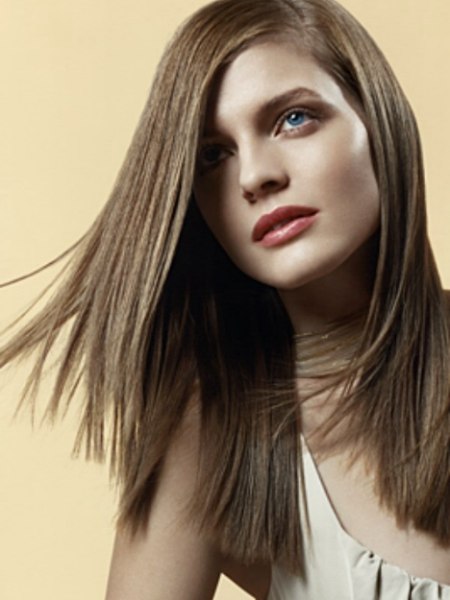 Sleek lines like this are never out of style. Especially when the hair is cut to such an ingenious shape! It hugs her face in its heavy, satiny fall and only around the shoulders there is some tapering that comes in to give it extra impact.

The tips are blunt, which gives it a modern and close to choppy effect when the hair moves. Much care went into the design of the part, which is neatly drawn and in a diagonal line from the center back to the very low side on her forehead.

How to achieve this style: After washing your hair, use straightening balm to calm wavy and flyaway hair. When you blow-dry, use a round brush and point the hairdryer nozzle down the hair shaft. This will smooth your hair and leave it extra shiny.


Perfect Perm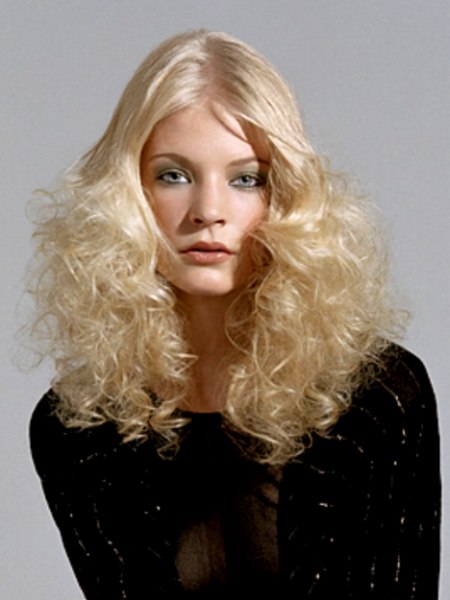 About two-thirds of her long hair is permed, but the top is left smooth. This makes the hair look more natural, but not without a very extravagant flavor. Of course this hairstyle comes out amazing with a natural curl, as long as the top part is straightened.

An anti frizz or smoothing product will keep flyaway strays at bay and bring luster to the almost platinum blonde. The curls are shaped in fine spirals and carefully picked apart with the long end of a styling comb and the fingers.


Long Bob for Straight Hair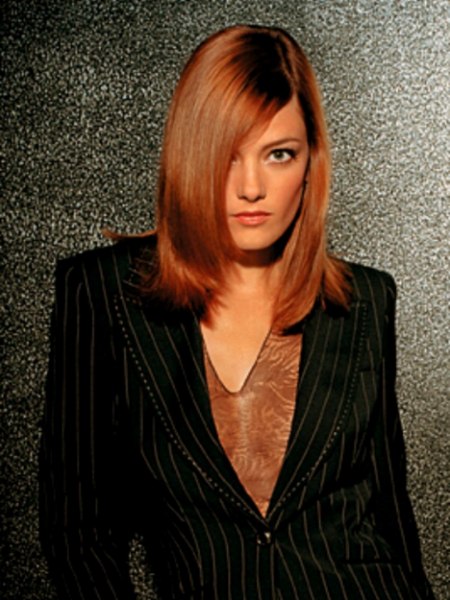 This long bob has just a few distinct layers to give it a nice swing. A little texture in the tips keeps the lines soft and smooth, but it is the hair color that takes the prize with this one. A fiery copper steals the show, and it comes with an irresistible and almost iridescent shine. Talk about glamorous! Match the color of the lipstick, and perfection is born.

How to achieve this hairstyle: This style works best if your hair is naturally straight. Blow dry the hair to give it shape, shine and those alluring curves in the tips. For the gentle volume it is best to blow dry over the head while lifting the hair with a wide paddle brush. Use a straightening iron if you have a natural wave.

Hairstyles: La Biosthetique Paris

See also: Long hairstyles