Low Maintenance Pixie Cuts
Q: What types of pixie cuts are low maintenance, look good on an oblong/oval shaped face, and work well with curly/wavy hair? Thanks!

A: Pixie cuts can be low maintenance as you can leave the hairstyle a few months to grow out before having to cut it again. The way that it grows out will inevitably make your pixie cut look unique, but remember that if you wait too long to have it cut again, your hairstyle may tend to look un-kept and unruly. Thus be sure to make a future reservation with you hairstylist every time that you have your maintenance trim.

Most pixie cuts look lovely on oval faces, thus your choice of pixie-cut would depend mostly on your personality and what look you're going for. If you're an intense, strong-willed woman full of confidence, you would be able to pull off a super-short, vixen pixie-cut with ease. Think Charlize Theron with her super short sides and back, with a little more length on top, styled into a mini coiffe in the front, adding sparkle to the style with highlights.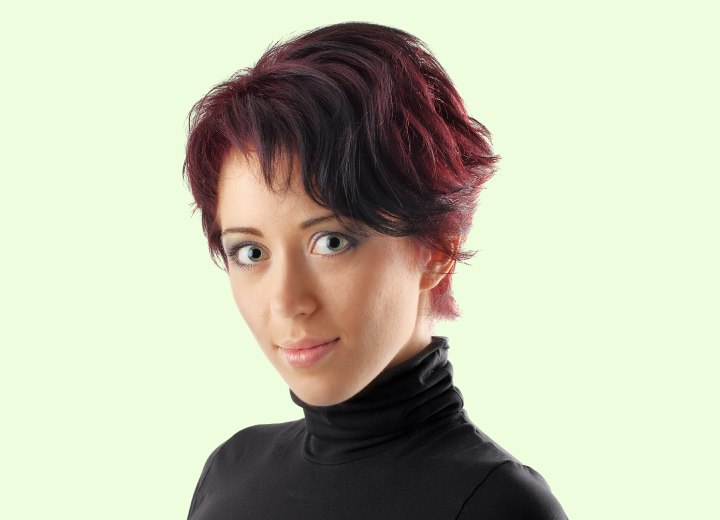 If you're more into wispy pixie cuts, have a look at some pictures of Carey Mulligan, Anne Hathaway and Victoria Beckham. The nice thing about keeping a bit of length even with a pixie-cut, is that you can style it to suit your mood. You can use hairstyling products to create a wild, uber-modern look (think Pink, Pixie Geldof and even Miley Cyrus), or you can go easy on the spikes and create a more streamlined, elegant look (Keira Knightly and Michelle Williams).

Curly hair can go well with pixie-cuts, but you'll have to get to know your style and the best way to work your hair. Ask your hairdresser advice on this while she's cutting you hair. Also ask her to style your hair while not blowing it with the hair-dryer, but using your natural curl instead. Watch the way that she uses her hands while she's styling your hair, and note the technique she's using. Is she scrunching it, or combing it with the tips of her fingers to create just the right waves? Ask her to explain what she's doing and why she is doing it, and which hair products you will need to emulate the desired effect.

The cool thing about curly hair is that you can straighten it with a hair-straightener to create pointy, foxy styles (Sharon Stone, Pink), or you can wear your curls naturally for a more feminine, laid back look (Rihanna, Halle Berry). The most important thing is to search through hair and fashion magazines or on the web, to find a picture of exactly what you want. This is so that you and your hairdresser are on exactly the same page.

©Hairfinder.com