Jessica Alba's Shoulder Length Hair
Jessica Alba is a lovely American-born actress of Danish/French-Canadian, and Mexican-American descent. She began her career at the age of 13 and has worked in many television shows and movies, but her big break came as the lead in the TV series "Dark Angel". After this she became a leading lady and increased her star power working in films like "Sin City", and the "Fantastic Four" franchise.


She's been no stranger to changing her hair for her movie roles (as Sue Storm in "Fantastic Four" she had blonde hair) but her natural dark locks are generally her most-flattering look. Here we see Jessica with chocolate hair featuring some soft caramel highlights. The subtle variance allows for a depth of color and warmth that seems very natural. The style itself is a shoulder-length layered haircut that is terrific with Jessica's natural wave pattern.

How to Cut the Hair

To achieve this particular haircut, Jessica Alba's hair is layered along the bottom third of the length. This creates the shallow layering that tapers the ends and retains fullness in the upper portions of the hairstyle.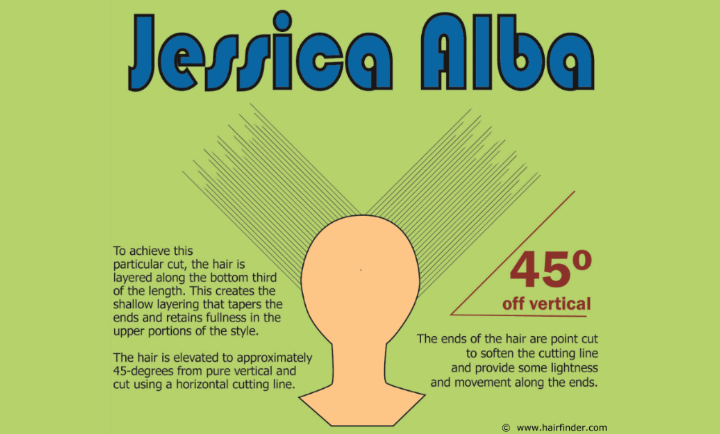 Click to enlarge

To get this type of layering the hair is elevated to approximately 135-degrees (45-degrees from pure vertical) and cut using a horizontal cutting line. You can also use a 90-degree elevation (straight out to the sides) and a 45-degree cutting angle (scissor tips inward at the top of the cut).

The ends of the hair are point cut to soften the cutting line and provide some lightness and movement along the ends.

Next Page