The Basics of the Bob Haircut (3)
Previous Page
First Page
Unusual Problems: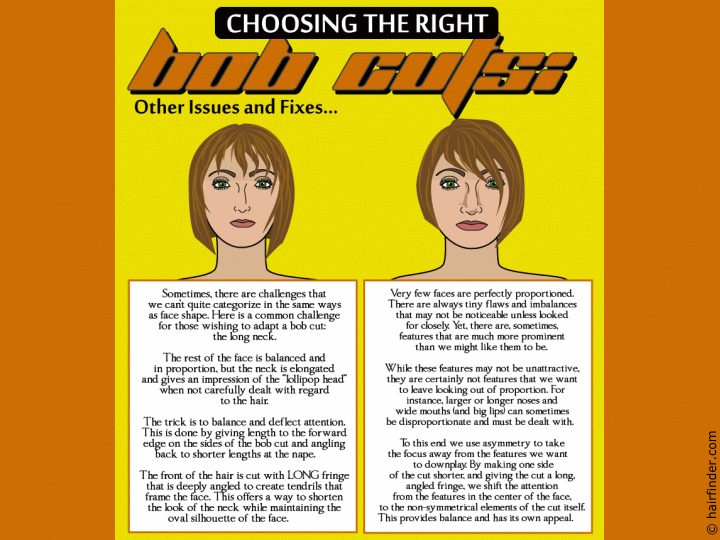 Click to enlarge
Long Necks
Sometimes, there are challenges that we can't quite categorize in the same ways as face shape. Here is a common challenge for those wishing to adapt a bob cut: the long neck.
The rest of the face is balanced and in proportion, but the neck is elongated and gives an impression of the "lollipop head" when not carefully dealt with regard to the hair.
The trick is to balance and deflect attention. This is done by giving length to the forward edge on the sides of the bob cut and angling back to shorter lengths at the nape.
The front of the hair is cut with a LONG fringe that is deeply angled to create tendrils that frame the face. This offers a way to shorten the look of the neck while maintaining the oval silhouette of the face.
Large Features
Very few faces are perfectly proportioned. There are always tiny flaws and imbalances that may not be noticeable unless looked for closely. Yet, there are, sometimes, features that are much more prominent than we might like them to be. While these features may not be unattractive, they are certainly not features that we want to leave looking out of proportion. For instance,
larger or longer noses
and wide mouths (and big lips) can sometimes be disproportionate and must be dealt with.
To this end we use asymmetry to take the focus away from the features we want to downplay. By making one side of the cut shorter, and giving the cut a long, angled fringe, we shift the attention from the features in the center of the face, to the non-symmetrical elements of the cut itself. This provides balance and has its own appeal.
Stacy - Master Cosmetologist ©Hairfinder.com
Related posts:
Photos of bob haircuts
The bob as a low risk short hairstyle
How to cut a blunt bob
How to cut a short stacked or angled bob
Bob haircut for baby fine hair