Men's Haircuts Women Love (2)
Previous Page

As enticing as the long locks may be, the majority of women perhaps still prefers a well groomed man with a classic short haircut. These are now even more exciting than ever,due to modern hair design, refined texturing and high versatility that allows the modern man to sport a more conservative look at his job and then with just a few steps he can transform his do from classy and neat to exciting and bold.

A word of caution:
Don't do mullets. Do not even think about a mullet. It is not an option! If you cannot decide between long or short, then do not take the middle path as a way out. It would only be the path to a very sad love life.

Neat or Messy

There is a time for everything. Who can resits a rugged, chopped cut with a wonderful disheveled styling, or no styling at all and just fun, tousled strands sticking out or curling about. The "bedhead" is always popular and well liked by the ladies. But who wants to stroll around the boulevard and into the galleries with a guy who is wearing his son's hairstyle? A stylish close cut with a meticulous outline and proper appearance does have its own irresistible Rudolpho Valentino quality. A look that is made famous once again and can be seen in the award winning movie "The Artist". Thank you Jean Dujardin for bringing elegance and subtle sex appeal back into men's fashion.

What if the hair falls out?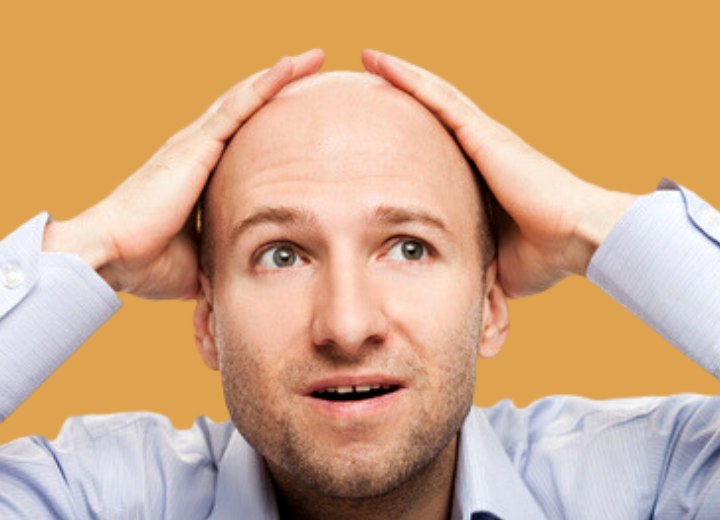 Male baldness is the cause of crisis and nightmares for many sufferers. It is also a lucrative business for a growing industry. It can be observed however that it is mostly men who are so bothered when more and more hair makes room for shiny patches of scalp. They still do not understand that women like a nice bald head.

Instead of spending thousands for hair transplants, take her on a nice vacation and start enjoying the increased air flow around your head! Bald is sexy. Comb overs, toupees and corn row like transplants are not.

What about the color?

Most women love natural hair colors on the men in their lives. The specific color is a matter of personal preference as some women (just like men) seem to prefer either the "tall dark and handsome type", the blonde beach boy or the quirky redhead.

Embrace the grey! Grey hair, salt and pepper colored or all silver can look very attractive. If George Clooney dyed his hair, he would only be half as interesting. Or look at Richard Gere, Anderson Cooper or Patrick Dempsey. It would be a big mistake for any of those men to change the color of their hair.

If you really cannot live with what nature gave you, please keep it as natural as possible. There is nothing worse than a bad bleach job with brassy patches.

Highlights, really? If they are not put in by the sun, save the money and rather get a good bottle of champagne, strawberries and chocolate for the one you want to impress.

Next Page