Going Blonde (2)
Previous Page

It is important to know that if you are comparing yourself to others? If so, you aren't being fair to yourself. What is good for them may not be good for you. If God made you a banana, don't try to be an apple. But, you can be the best looking banana in the whole bunch.

What about your age? Have you already been covering up your gray with a light blonde? One mega mistake an older woman can make is to cover up that gray with a lighter blonde. There isn't any mystery to it and everyone knows exactly what you are doing. Instead, put some color into that blonde if you want to cover your gray up. Allow your colorist to put a dab of warmth into that blonde instead of any pale yellow. Besides, by now you are in need of color on your cheeks. The warm blonde or golden blonde will definitely help you out.

Another big mistake many older women make in covering up their gray is to just foil over the gray. This looks like your gray is "yellowing." This does not look like the sun has turned your gray into a sunny blonde. What you could do is to find a warm golden blonde/brown color and cover the whole hair with it. As it fades in the places where you are gray will look very golden. You will automatically have at least two different shades without the problems and expense of foils. Then, you are doing more depositing instead of lifting which is what you need.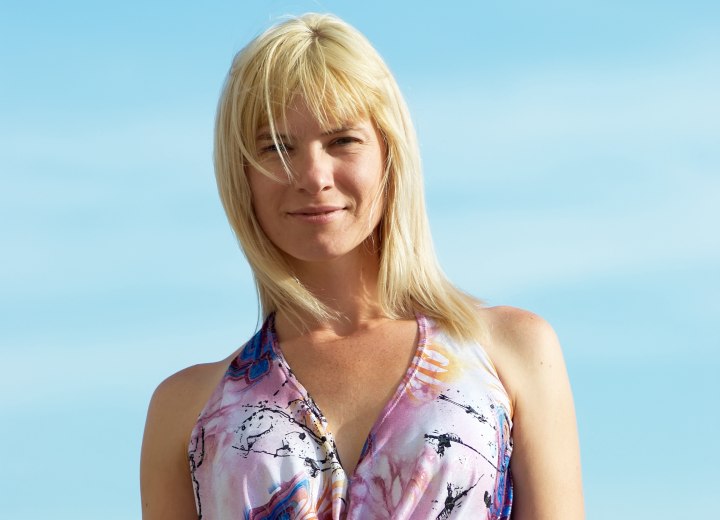 It is a good idea to go lighter when you are more "mature." It takes away any harshness that has been added through the trials of your years. Lightness can bring a lightheartedness and warmth to your face. Sometimes, there is a graying process in our faces as we age, this is when we really need the warmth to help add blush to our cheeks and make our eyes seem much more colorful. One thing to remember though, pale blonde is just like gray and will not add anything to your face or eyes.

Some of the best colors are developed over the process of time. For example: if you have dark hair that is touching your shoulders and can see the gray coming in or are already aware of your long streaks of gray and have decided on foils. You can begin with adding only two colors at a time. Add a light warm blonde and a deep fiery red. I say the rich red because this color will fade into a gorgeous rich caramel within one to two months. With about 4 foils over a period of one-two years, you will have a totally rich outstanding color to your hair. There are many options to going blonde and most of the time, blonde doesn't look best or natural when it stands alone.

One of the best things to determine is not only if the color blonde is for you; but are you ready for a new cut as well? Just going into a reputable salon and having that coveted blonde color will not be enough. One of the smartest and most sophisticated looks I've seen on blondes is when they wear a short bob. One that is clipped high to medium in the back with small layers just fluffed over it that moves up into the crown. The sides cover only half of the ears; while the top is much longer and flows onto the sides. This is a very chic, smart look for a blonde. Even if you are a bit heavy, this look will still look better on you instead of long hair flowing down your back. So, when your mind is made up and you walk into that salon, remember to get the whole make-over. Many of the better salons wouldn't dream of giving you just a color and not a style as well.

Consider the cost in more ways than money. I'll be touching on the high maintenance that factor into being a blonde in "She's a High Maintenance Gal." It is my hope this will help out with your decisions.

As you reflect upon good knowledge and information, you will be saved from a world of heartaches, misfortune and trouble with your hair.

Penny - Stylist ©Hairfinder.com