Warm Autumn Colors by Andrea Beers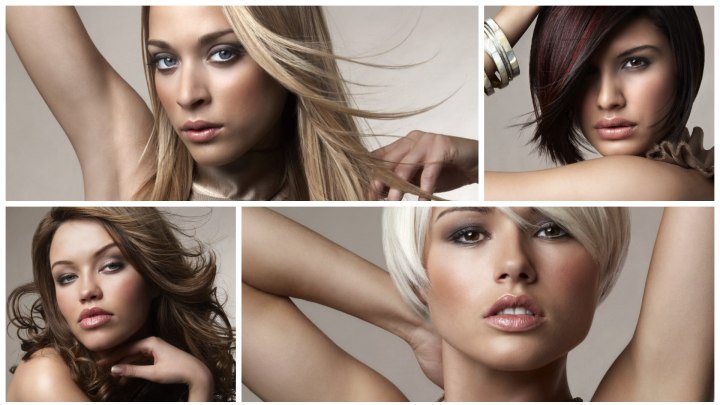 Here's a collection from Andrea Beers called "Warm Autumn Colors" that showcases the dramatic and gorgeous tones of the hair as much as the sexy, stylish cuts.

The colors are rich and real and bold and perfectly suited to the hairstyles they are enhancing. They all fall into the warm and neutral families of color that are perfect for the fall season.



The hairstyles are all smooth and silky, with a range of lengths and all seem to feature soft curves, razor-textured ends and smooth silhouettes with satin finishes.


Forward-Angled Bob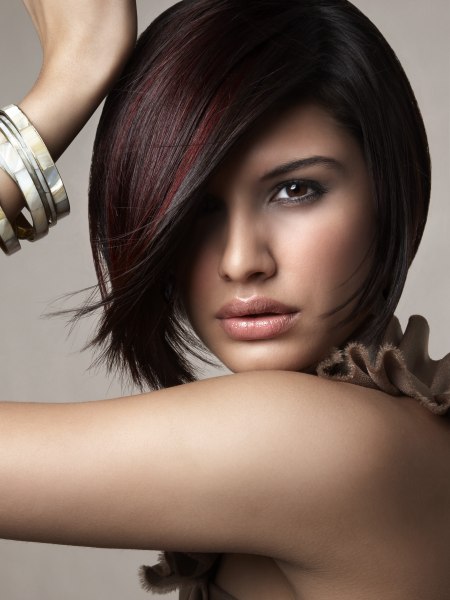 This lovely incarnation of a forward-angled bob features razor-tapered ends that soften otherwise hard edges and sharp corners. The hair is parted on the deep left side and sweeps dramatically across the forehead.

The natural base of sable brunette hair is warmed up with a rich toasted cinnamon highlight that forms a veil across the surface of the hair. The blow-out styling with round brush helps to form soft lines and flattering curves to frame the face.


Bowl Cut Inspired Hairstyle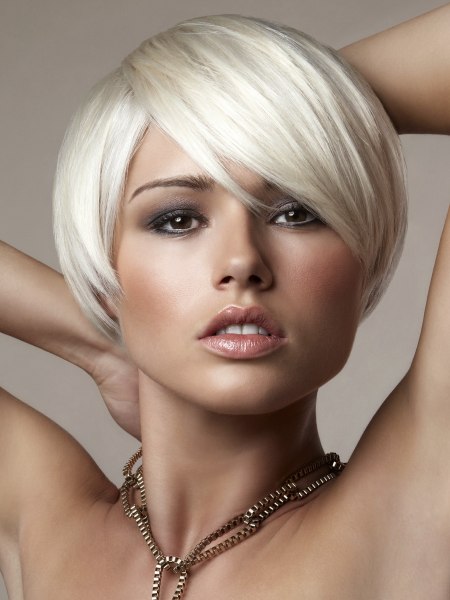 In the 70's the bowl cut was all the rage and its sassy bounce and movement made for dramatic looks in gamine-chic style. This short bowl-inspired hairstyle is razor-cut for soft edges, and features both undercutting and interior layering to give the silhouette a rounded appearance.

The hair color is a lush cottony white with a neutral tone that keeps the look from being cold. It's a look both exotic and inviting, with a style the promises a carefree abandon to all pursuits.


Long Silken Locks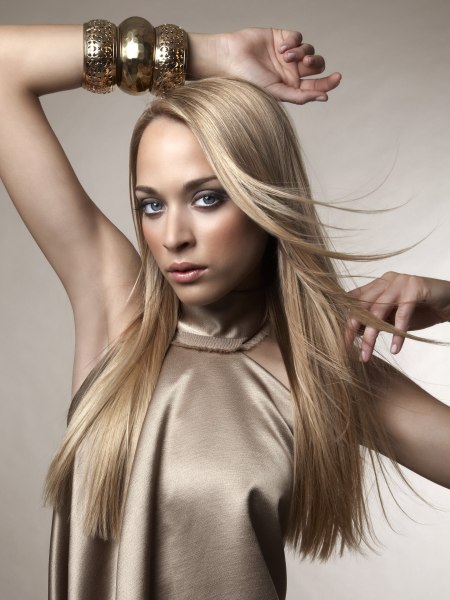 Long locks of golden wheat color characterize the silken strands that form the flowing veil that is our model's hair. The look is idealized by the long, blunt cut with just a touch of layering along the leading edge of the style.

The hair is styled with a blow-out using a flat brush to achieve the long, straight lengths, and using very light or no product so that the hair remains perfectly pliable and free-moving. If desired, or needed, a flat iron can be passed through the hair to perfect the satiny finish.


Mass of Large Curls


Looking lovely with walnut tones in a subtle blend of haircolor highlights and lowlights, the long hair is cut with a few layers to balance the bulk and allow for maximum impact with the styling.

The styling mentioned is a mass of large curls achieved by setting the hair with large rollers and brushing gently out once they have set. The rollers are placed off-base to minimize the lift at the scalp, but still give plenty of body, volume and balance to the style.

Hair: Andrea Beers, Kidderminster
Photography: Richard Miles
Make-up: Justine Collins