Red Hot by Anne Veck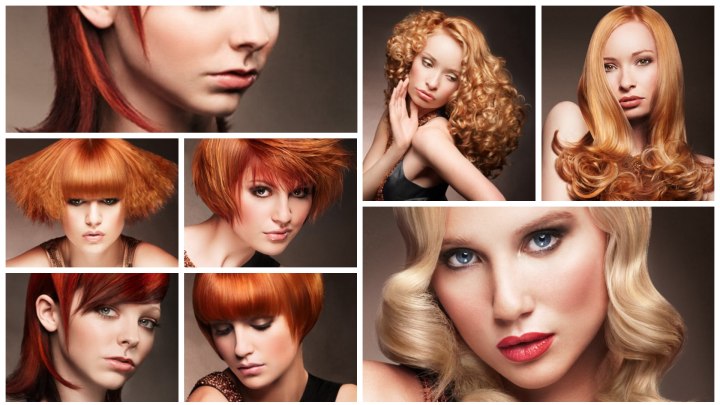 Scroll down for more photos ↓

With her collection of very glamorous hairstyles, Anne Veck reawakens the seductive feminine energy that was covered in a flood of androgynous styles. Flowing lines, smooth contours, high volume and beautiful textures are a wake-up call for the senses and bring stylish heat back to our cities.

A glossy range of blonde and red hues increase the temptation and intensity making her styles not only irresistible but also center of attention wherever they show up.



In her architecture of hairstyles, curls and straight play an equally strong role and are often combined in one look. Texturing is only used to soften the lines and the sophisticated styling makes these luscious looks perfect for any occasion and setting.


Long Hair with Curls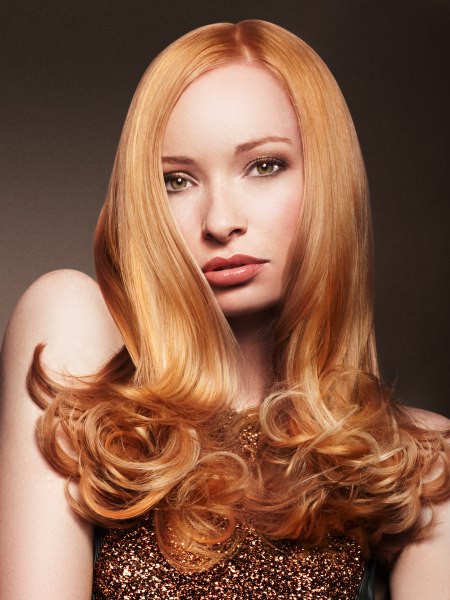 A smooth flow of dark gold begins humbly and with side parted elegance before it turns into a sea of perfectly rounded curls in the tips of the long hair. The luxury of the hairstyle is underlined by the perfectly tuned combination of light and darker hues that become most evident in the curly section. A sizzling and seductively ladylike look.


Red Spiral Curls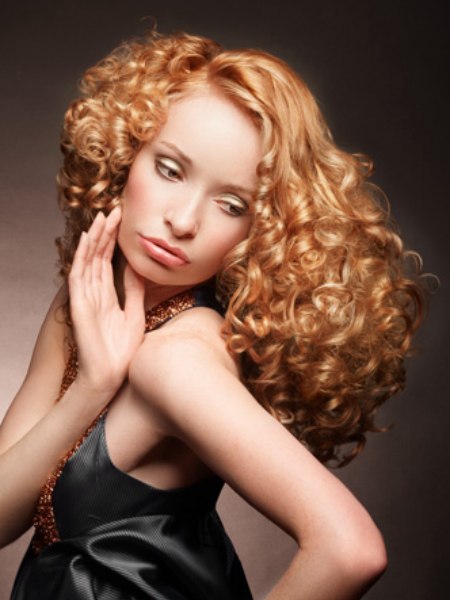 Gigantic asymmetrical volume is made up of hundreds of lively, highly defined spiral curls. The small side and fine definition of each curl and just the sheer amount of them guarantee the utmost in glamour and luxury.

Eternal feminine energy oozes out of each curve and out of each ray of light that is reflected by the red-coppery blonde.


Angled Side Partition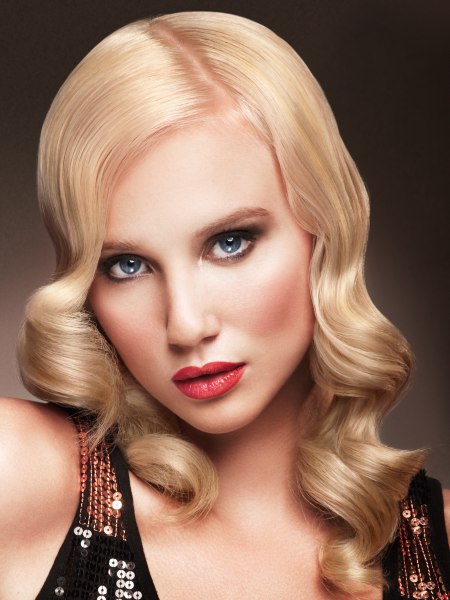 Inspired by goddesses of the old Hollywood, this hairstyle does not fail to captivate and hypnotize in our times. Long waves are molded into bold definition and surround the face with the glow of blonde hues from light to gold. The angled side partition provides sophistication and elegance.


Short Red Hair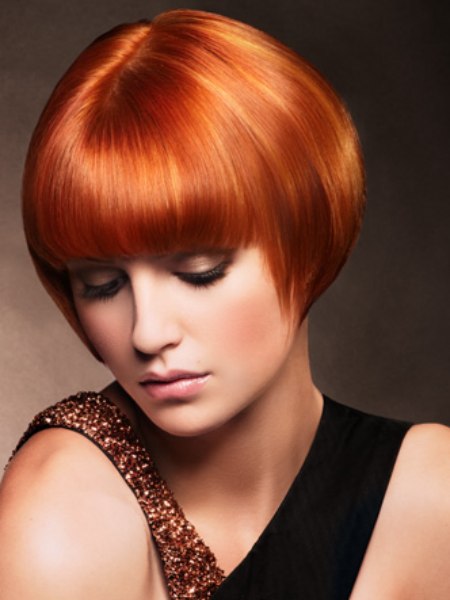 Round in shape and bold in effect is this short, fringed super sleek and chic French bob hairstyle. Cut with just minimal texture along the sides and a gentle graduation to achieve a snug fit, the focus is on hair color and seductive smoothness.

Deep glowing hues of red, copper and gold seem to shine from the inside out and create an aura of refined sensory sensations.


Short Coppery Red Hair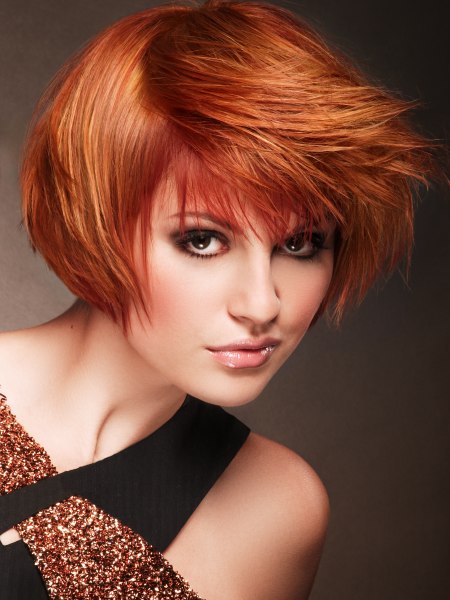 Combed forward, the round shape shows off its graduated construction which provides volume and dimension. The gentle texturing also makes the side swept fringe come alive with motion and visual interest that is only equaled by the deep coppery red hue that brings a rosy glow to even the palest cheeks.


Ruby Red Hair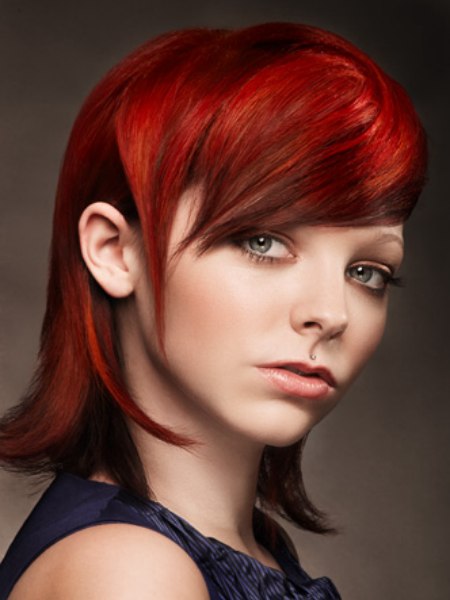 With a color as bright as this you will not go unnoticed. Mixed with a refined and sophisticated shape the intensity of the red hue becomes more than a fashion statement.

It is an expression of artistic instincts and a sense for high style with an even higher glam effect. Chocolate colored effects make the ruby red fire even more impressive.


Uplifting and Frozen Bangs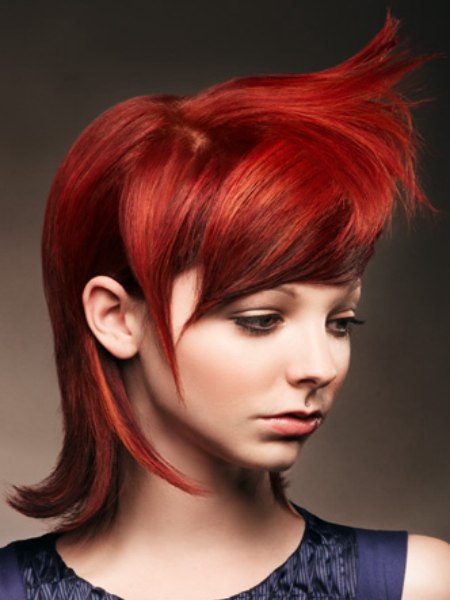 The elegant lines of the previous look were playfully disrupted by an uplifting caught-by-the-wind section on top. Subtle curves curl and twist outward in the back and in long sweeping lines along the sides.

The bangs are still frozen in a ruby red petal shape and another leaf of fire highlights her cheekbones with pointed clarity.


Crinkled Copper Red Hair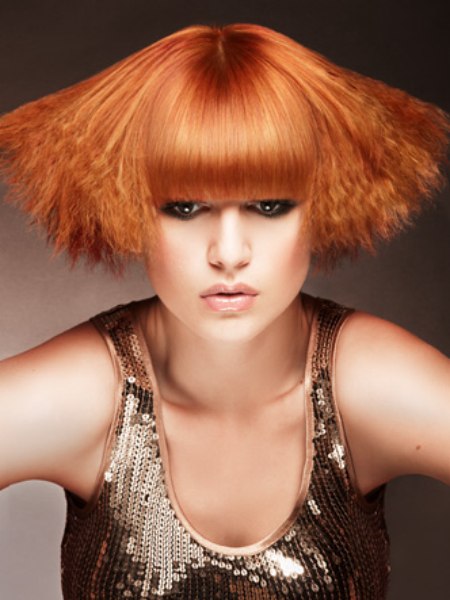 Trapeze shaped and out of this world shiny, this voluminous short hairstyle boasts a wreath of crinkled texture from one high cheekbone to the other. The hair is parted in the center to get the full and thick bangs, cut in a straight line at eye-lash level.

A mix of silky straight and crinkled surfaces keeps the tension and attraction factor at its highest level.

Hair: Anne Veck
Styling: Charlotte Woodly
Make-up: Cheryl Corea
Photography: Charlotte Kibble

See also: Short hairstyles | Medium hairstyles | Long hairstyles