Sexy in the City by Mod's Hair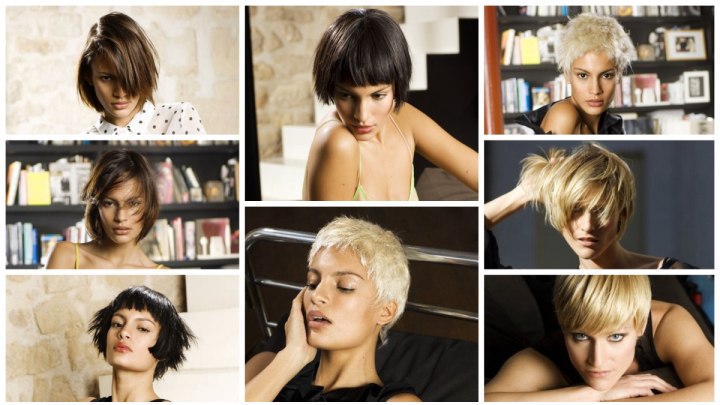 Scroll down for more photos ↓

Sexy hair comes in any length, and it is not the color or the anatomy of the cut that makes it so irresistible. It may be as simple as just the attitude of the women who wear a well-cut style or perhaps it is the texture and the touchable, tousled styling. Mod's Hair brought together four short haircuts, each one styled in two ways, which all turn up the heat and the chic in the city and beyond.

Androgynous lines and classic designs are a part of the collection as are a lot of passionate movement, soft styling and extremely touchable surfaces. This gem of a collection is also infused with elegance and urban sophistication, a touch of luxury and high design of hair. All in all, a group of hairstyles that creates the desire to wear them or at least to be close to them.


Alissa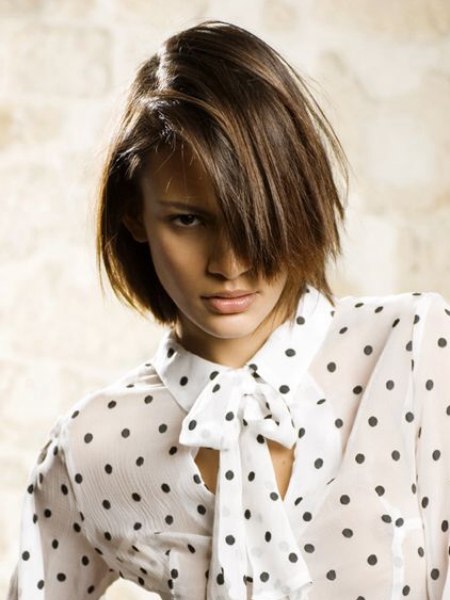 Give them something to talk about! A chin length haircut with that much texture and hot diagonal styling will start the gossip all by itself. But the mystery will remain all yours and your allure will only increase with each sexy tousle of your hair.

The front was strongly textured with few feathery cuts along the edge of the long fringe. An angle along the sides makes them fit snugly to the line of the face and the warm color of brown sugar speaks for itself. Style it with a forward motion and a deep side part, giving the top a bit of lift for superlight volume.


Alissa Encore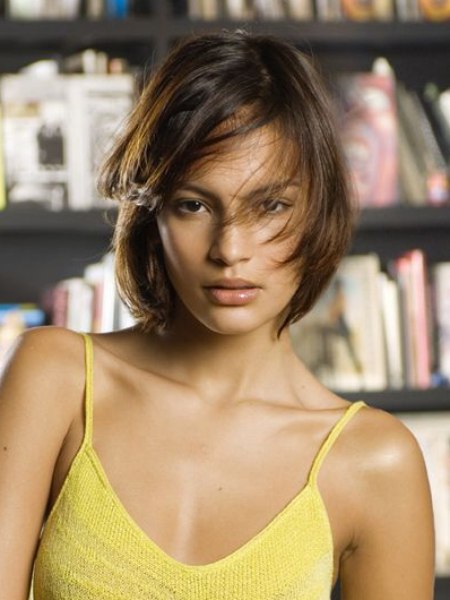 With the change of the part from one side to the other, new facets of this slinky, sexy short haircut emerge. The styling now focused more on emphasizing her features, yet the mysterious air is still there with long, curved tendrils that are swept into the face.

This version has a very soft, light feel and a lot of dynamic movement. The aura is smoldering hot and very feminine.


Louise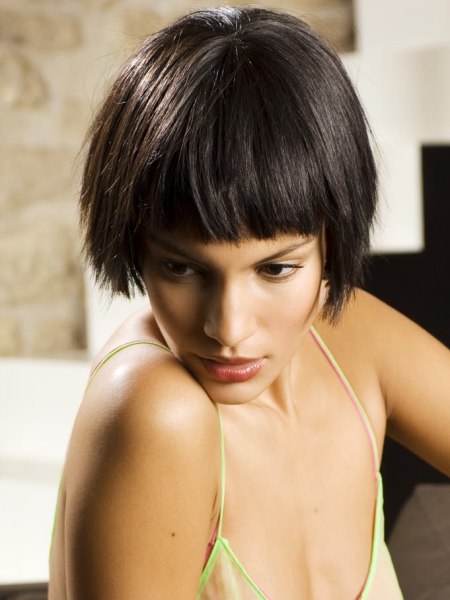 A very short bob with an equally short fringe tingles with vintage glamour. The appeal is somewhere between cabaret and pin-up, but also with a good dose of runway-ready high design. The simplicity of the cut is challenged with the subtle texture and styling that emphasizes emotions more than strict lines.

A deep and very dark brown hair color, it is almost black, comes with sophistication and rebellion at the same time. Untamed but controlled, just on the verge of forgetting all of the rules and falling head over heels. If you fall, you might as well do it with that much style.


More Louise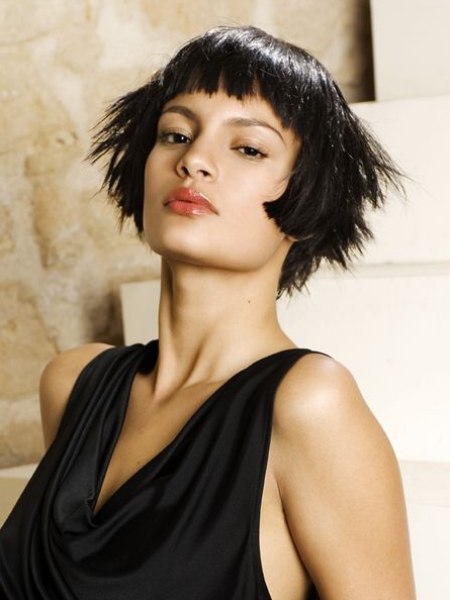 In this second styling, Louise put more swing into her hair. The sharp front angles of the bob were curved ever so enthrallingly that the longer back is now more pronounced and the fringe lifted with the help of a smooth curve all along its width which raises the retro length even higher above her brows.



This irresistible look is as fresh as a spring day in France, classic and intriguing like a film noir and seductive with an attitude.


Luna


Don't avoid extremes. They can be fun and very, very appealing. Supershort hair with its androgynous charm alone will make his jaw drop, but spiced up with this intense platinum hue; it will make him promise you the world. The extreme short cut has a light and very feathery texture with a velvety, cotton candy surface that just wants to be touched and explored.

It is still long enough so that you can play with its shape and discover a range of different styling options. This is where different products come in that can change your look from sweet and tender to dangerous and wild with just a dollop.


Luna All Anew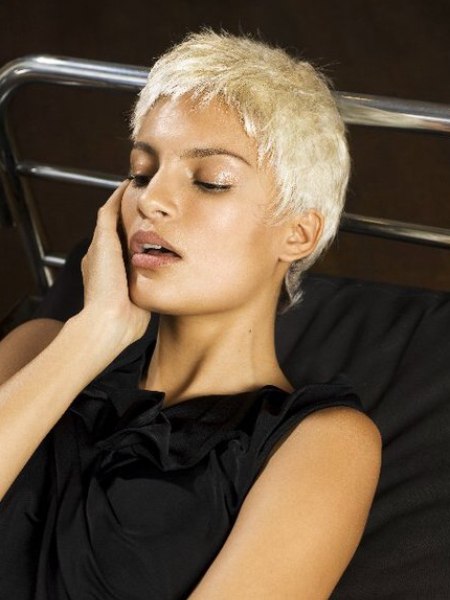 A change of texture becomes a change of personality. The short, feathery haircut got a little makeover with a smoothing effect. The texture of the hair becomes very visible like this, especially around the edges. It now has a close fit to her scalp and brings more attention to her face.

The gleaming platinum color shines brightly against her tanned skin and has a simply divine allure that defies description and can only be felt deep inside. Sexy and sophisticated this kind of look is absolutely gorgeous with a little black dress, a suit or even a rough and rugged leather jacket.


Maureen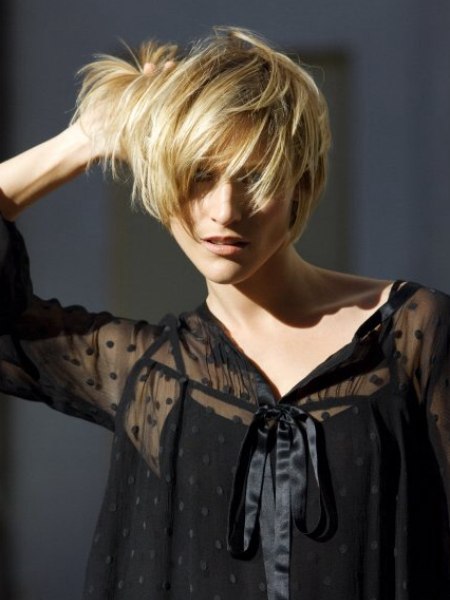 Ruffle it, squeeze and shake it. The more the better. A neat short cut can turn naughty with a good scrunch and some mousse, texturizer and spray. A short bob is at the base of this outburst of feminine sensuality, and its long fringe is pulled into the face with the jaw-long sides.

The top hair together with the back follow the same direction, all in one powerful draw, right into his arms. Her golden blonde shines intensely with some highlights, signaling that it is time to finally open that bottle of champagne.


Sally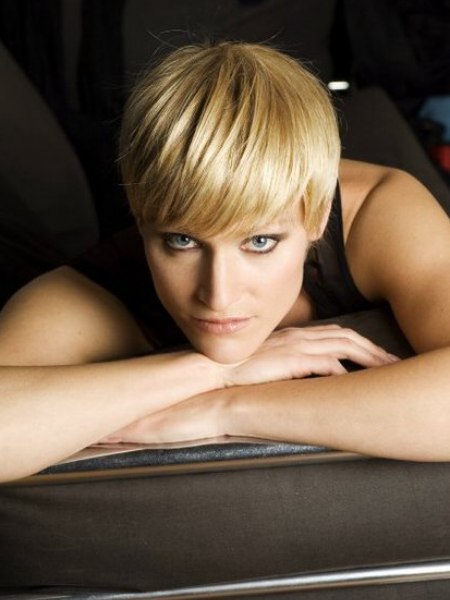 If you ever doubted that a short garçon cut could be seductive, then now it is the time to admit defeat. Who could resist this short, meticulously haircut? The long top hair falls around the head from a central pivot point at the back of the crown, creating a nice pattern of slightly curved lines.

It is the gentle movement and the determined lines and angles that make this short hairstyle a winner and the sleek surface is the perfect canvas to showcase various tones of blonde that create the high and low points with all of their dimension and structure.

Hair: Olivier de Vriendt for Mod's Hair
Make-up: Karine Belly
Clothes: Corinne Cobson
Photography: Guillaume Bérard

See also: Short hairstyles | Medium hairstyles