Portrait de Femmes by Dessange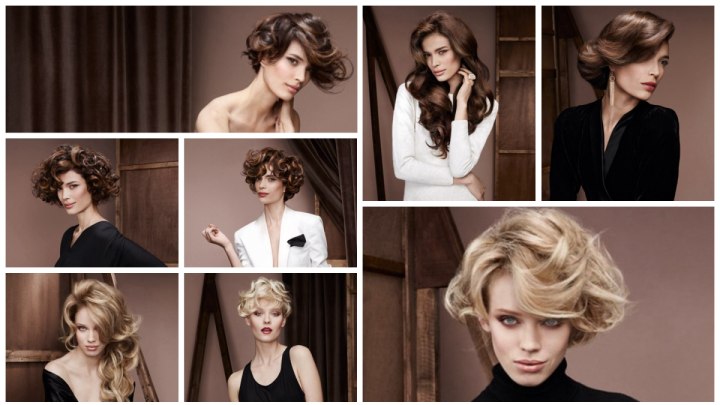 The world of cinema has inspired this fabulous collection of glamorous hairstyles by Jacques Dessange. Celebrate fall and winter with looks that are smoldering hot, extremely feminine and are made for the confident woman who knows what she wants and how to get it. The styles include all lengths, sleek and curly textures.

The Dessange colors for the colder season are earthy browns and heavenly blondes with cool and warm tones juxtaposed. One common element of all the twelve haircuts are generous lines, voluptuous curves and the air of luxury, sensuality and enough drama to stand out.



Modesty is an overrated virtue, so get seduced to flaunt what you have and unleash the diva inside. Red carpets can be anywhere and you better get ready for it!


Epic Romance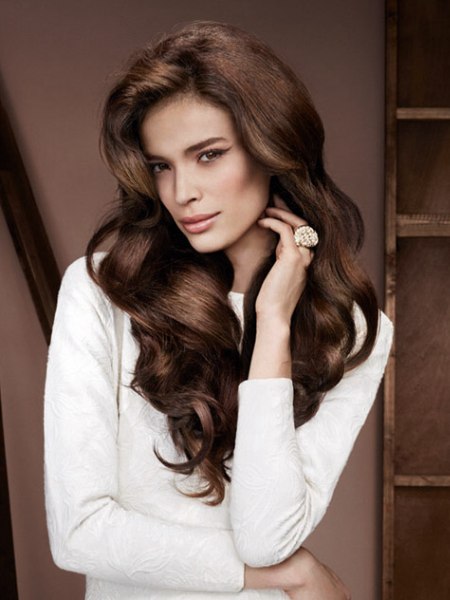 This ultra feminine long hairstyle is timeless and still bedazzles with its voluptuous charisma. Ingeniously composed lengths and a full, supple texture with a styling focusing on large, smooth waves, create sexy volume and a very ravishing flow of just one curve after another.

Styles like this are meant to tempt and seduce. The smooth chocolate brown makes it truly irresistible and it is enhanced by darker sections and a creamy, satiny shine. To add a touch of wild to all of the sensual sophistication the part was drawn in an irregular shape. A small detail with big effect.


Bun Grande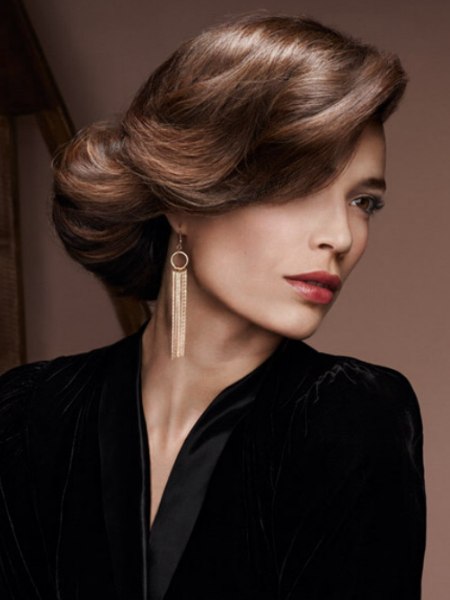 The XXL size of this rolled bun is so generous that it takes the character of this classy look to the max. Making everything a little bit bigger and more generous has a dramatic effect.

Wide curves, a soft side fringe and a warm color with golden highlights make this timeless hairdo ready for the spotlights. Everything just flows and the shape looks so natural as if there never was another. This look is made to be seen.


Mission to Seduction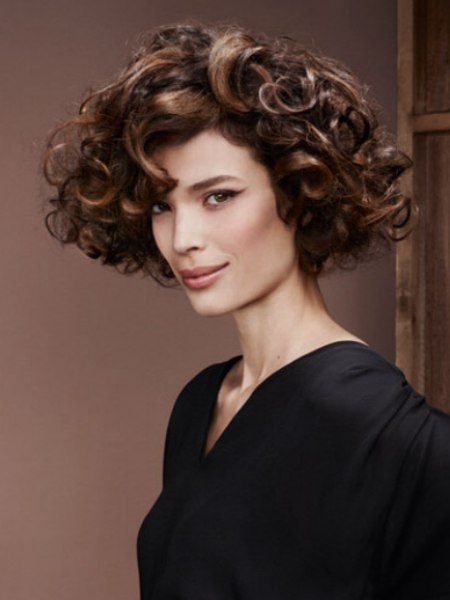 Curls have always accompanied the most seductive women on and off the screen. They can be long or short, it does not matter as long as they are a little bit wild and well defined. This Oscar worthy creation is based on a short bob with a side part.

The curls look even more impressive with the coloring in a lighter, warm shade of brown, caramel highlights and a deep cocoa base. They come in smaller and large sizes and are full of elastic bounce. To style the curls are brought into shape by hand as no brush shall diffuse the dramatic nature of this expressive look.


Fashion Forward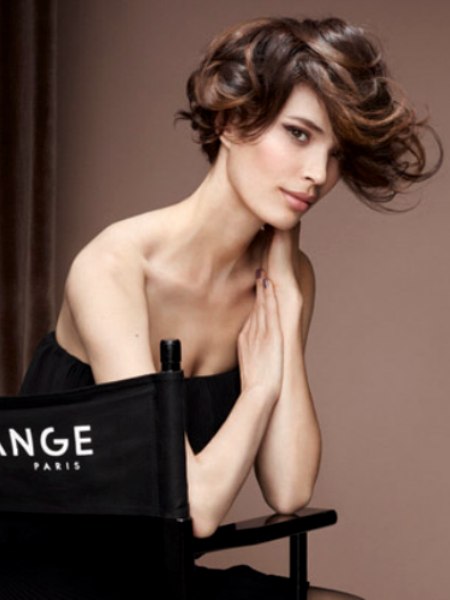 A short back and long front always have the touch of glamour and avantgarde. Softened by wide sweeping curls this iconic haircut oozes with seduction. Soft lines, silky texture and movement to the rhythm of a silent melody are the powerful ingredients, which make this classy and sexy look a star.



Styling makes sure that the lines are not too neat, but slightly disheveled for the famous bed-hair look. Dark brown and caramel catch the light and accentuate the shape.


Encore, Encore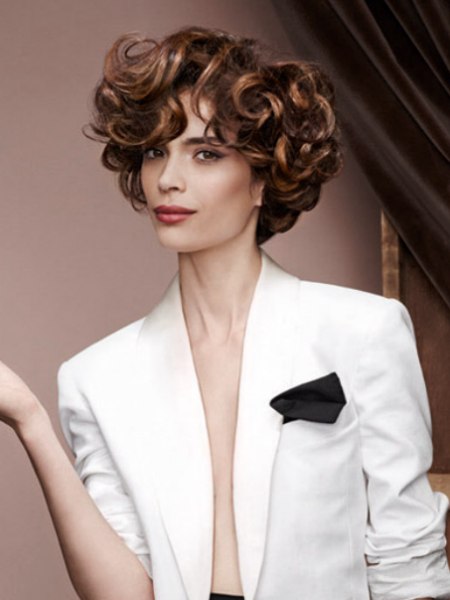 We cannot get enough of thick, glamorous curls that frame a beautiful face. Dessange brings back the look that turned women into screen goddesses and adapts it to our modern wants and needs. Large curls support each other in a tempestuous play that is accentuated and enhanced with dark and lighter shades of luscious browns.

The part is just off center but not really visible due to the passionate play of the coiled strands. The underlying short haircut is layered and the neck is cut in an angled line to provide the rounded shape with the mass of her in the top section and a slender transition towards the neck.


A Star is Styled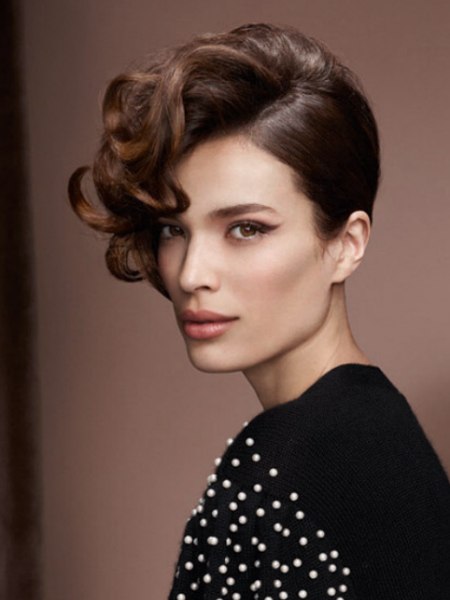 Finesse made into hair is just what this refined updo is. The energy that is created by the asymmetrical styling, divided into a sleek and a curly side, is tangible and will resonate for all to notice. The hair is draped around half of the head for a sleek and snug fit one side.

The bodacious volume on the opposite is styled by hand, each wave and curl custom made for perfect balance and amazing drama. A smoky brown with gentle highlights completes the elegance.


The Long and Winding Mane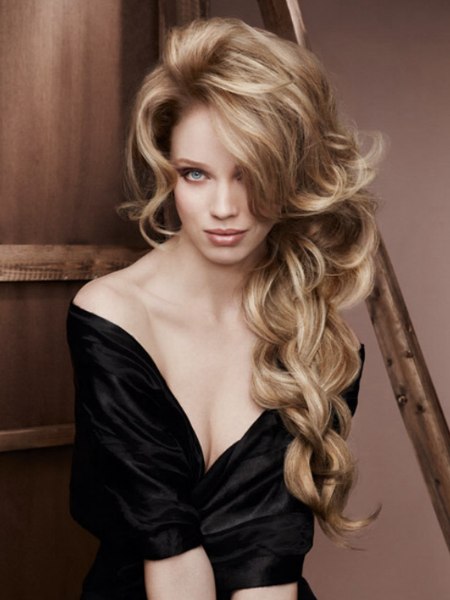 From Aphrodite to Pam Anderson, long flowing hair is the look of seduction and dangerous temptation. Some things just never seem to change, but take a closer look at this long and blonde work of high coiffure.

Besides boasting a most refined art of cutting layers and a layered coloring of various blond tones, the length, casually draped over one shoulder, displays a loose but exquisite woven pattern. Like a long and open braid that is on the verge of unraveling. This creation takes the "morning after" looks to a new and very captivating level.


After Hours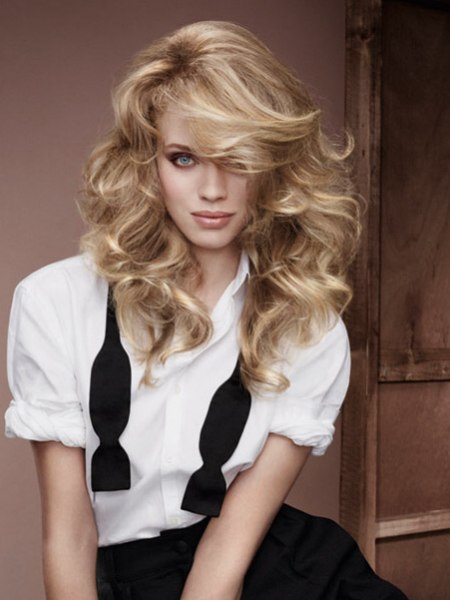 Illuminate every scene with a bright, sandy blonde enhanced by some sunny highlights, subtle as they can be. All of that in the shape of a long layered hairstyle with sweeping movement, high velocity waves and a sexy disheveled styling and you have one of the perhaps most seductive looks in the galaxy.



The fringe falls deep and accents an air of mystery and secret agendas. The sheer fullness of the hair invites the touch and demands attention.


Woven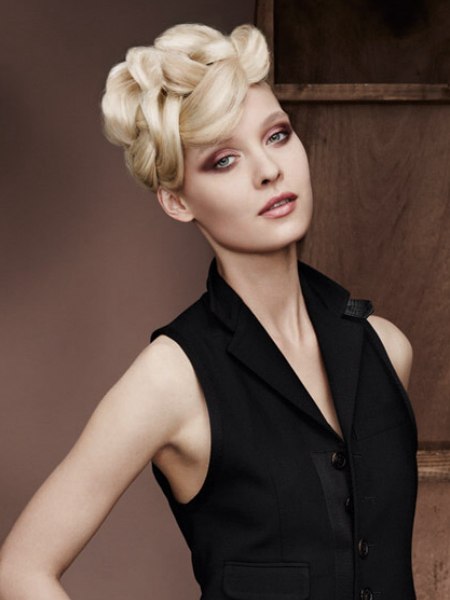 To call this look elaborate might be an understatement since it takes a great vision and even more dexterous talent to create this work of wonders. The blonde hair has to have a good length to even consider this updo.

After wide, thick strands were smoothed out with a good serum, the hair was literally woven like a multistrand braid, but with a more expressive pattern and a soft flow. The color makes it look even more like a crown of fashion, reflecting rays in iridescent mother of pearl. Elegance and eccentricity in their best shape.


Close-Up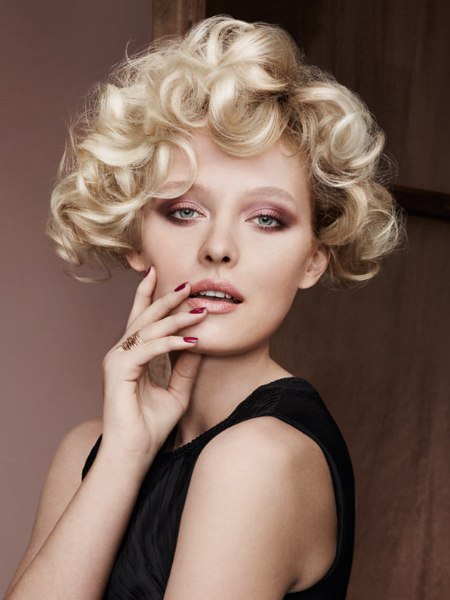 Your name does not have to be Marylin or Jean to wear this iconic haircut that resembles the signature style of a range of famous screen vixens. Cuts that can make every woman feel like a femme fatale come in short length and in a beige blonde with highlights. The short bob cut just bursts into curls that know no mercy.

A few strands pulled into the face soften the look more and raise the allure. Once the curls are set they are brought into shape with the hands, the best way to achieve a controlled distinction of their shape together with a very wanted hint of disheveling.


High Roller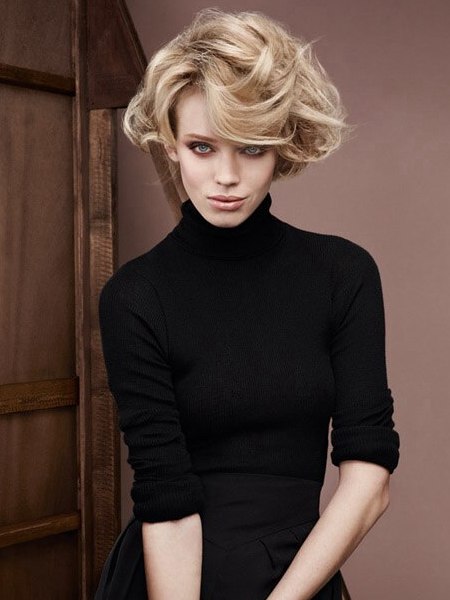 The elevated silhouette does not only match her turtleneck like they were meant for each other, it also comes with an air of irresistible luxury and seduction. Like a morning in a grand hotel at the Cote d'Azur, the sheets ruffled and the bottle of Champagne long emptied.

A short hairstyle that makes you dream and forget your surroundings for a while. Long sweeping curves float across her forehead and shorter curls caress the sides. Elegant volume and a magic degree of deconstruction do the trick.


Blondissima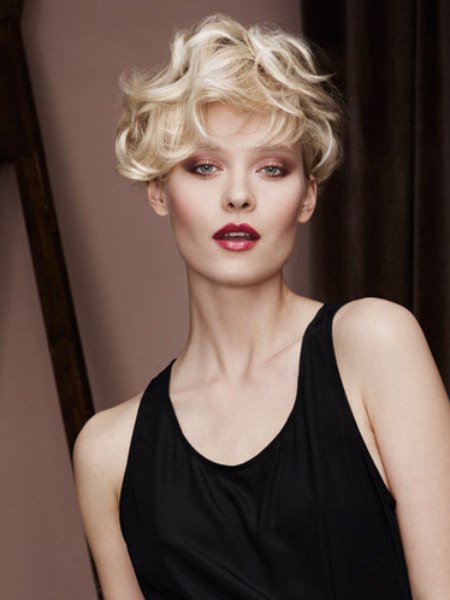 The blondest blonde and a fun short haircut with a lot of sex appeal and also elegance. One does not have to exclude the other and Dessange is a master of finding the perfect balance. Contemporary shapes of curls and waves, spiced with a good dose of mussed magnetism, present themselves in a classic shape but without the stiffness of those days.

Light and easy like the flight of a butterfly is the movement of the hair and even though seemingly on the verge, all control is not lost.

Haircuts: DESSANGE