Basic Hair Parting Techniques
Everyone is always looking for a new way to jazz up their style. This can mean, adding highlights, lowlights, all-over color, curls, texturing, and a wide variety of products to add shine and depth to a finished style. It can even mean ornamentation, like jeweled accessories: clips, combs, scrunchies, ribbons and bows.

But there's a basic element to many hairstyles where a little variation can offer a whole new slant on the style. That part is just that - the Part. Many of us have a natural part in our hair. It's all a matter of the hair's growth pattern. And in many traditional styles there is always that clean, straight even parting of the hair.



By adding a change in the line we use to part our hair, we can add new interest to an old style. Here are a few examples of some basic parting techniques to add some zip to your style:

Zigzag & Criss-Cross Parting:

Whether you're trying to update your usual day-to-day style, or you want to add some fun to your little girl's braided pigtails, parting the hair in a zigzag line will serve. A zigzag parting does look best on hair that is dense on the scalp, because the denser the hair growth, the cleaner the partings will appear.

For hair that is sparsely spaced on the scalp, consider the criss-cross parting. This allows you to create an illusion of more hair on the head without resorting to a 'puffed-up' style.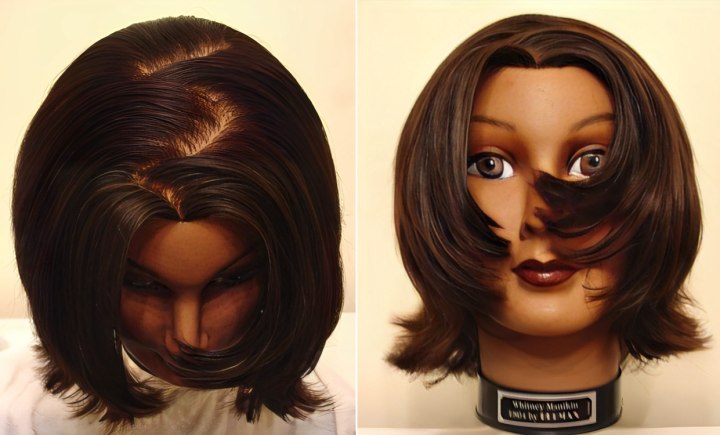 To do a zigzag part, simply part the hair in a straight line as normal. Then, using the wide-toothed end of the styling comb, 'cut' a triangle of hair on one side of the line and comb it back across the line. Move to the other side of the line and repeat the process, working your way back. The depth and width of the zigs and zags depends largely on the density of the hair and the overall style you are creating.

For a criss-crossed part, begin with the straight-line part as above, and 'cut' triangle of hair, and comb it at more of an angle (typically forward). Next, instead of creating a clear line of parting, cut an angle on the opposite side and comb that segment of the hair over the 'part' of the first angle. Work your way back on this manner. The result is a 'woven' look at the parting line, and in "flat" styles, a camouflaging of sparse hair.

Curved Parting: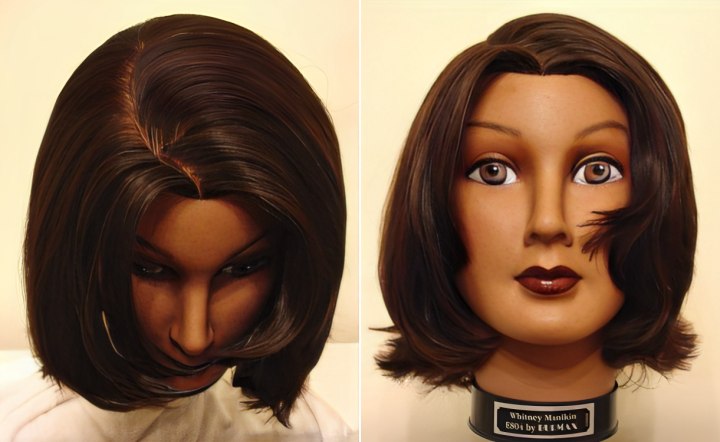 To create a more asymmetrical style, you can use the curved line parting. The number of turns included in the parting can maximize or minimize the effect. This part is especially useful in "swept-over" styles to add a little more interest to the style and volume on top.

Curved parting can also be used in many up-styles to add variation to the base on which more hair can be then anchored. Using a curved line part in a little girl's pigtail hairstyle is another alternative to add some fun without having the hard lines.

Diagonal Parting: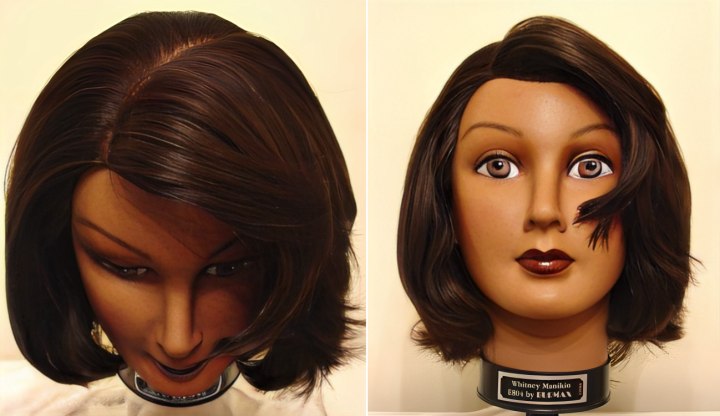 A truly asymmetrical element of hair design, the diagonal parting can be used to direct the amount of volume in the style in one direction or another. It is especially good for styles that want a wide sweep of hair in the foreground of the style. Diagonal partings are also used in many up-styles to hide foundational elements of the style and prevent 'holes' in the finished hair-do.

You'll want to play with these concepts on your own style and see which best suits the look you want. And here's a tip: A small amount of pomade can be emulsified between the fingers and then smoothed along the parted hair (always smoothing away from the parting line) in order to give a cleaner more defined part.

©hairfinder.com

See also: More Hair Styling Techniques