French Riviera by Dessange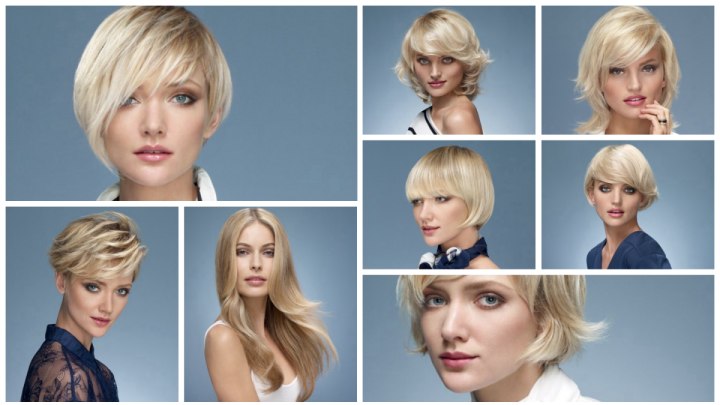 There is nothing like a summer in the South of France. Jacques Dessange blessed us with a collection of hairstyles that convey the joie de vivre of the French Riviera whether you are there or not. If light blonde is your color or one that you would like to have, take a close look at these eight beauties.

Long glamorous looks with and without dramatic curls are followed by a series of medium long and short haircuts. Classic, feminine lines are just a part of this collection as are soft texture, much movement and sun kissed highlights that compete with the sparkle in your glass of champagne.


Luxurious Lengths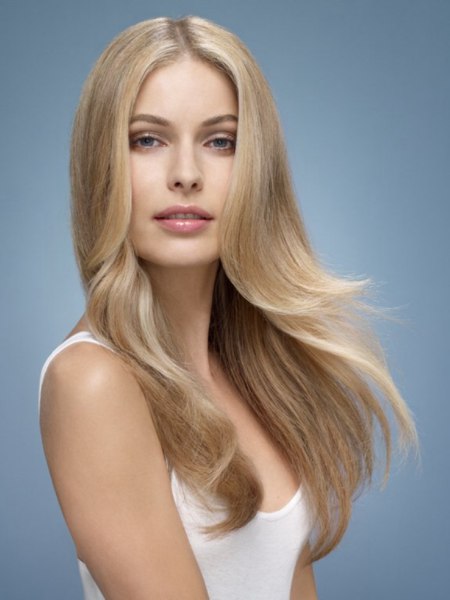 Get the rich girl look with long flowing layers that dance in the warm breeze like the finest silk. This classic long hairstyle has been the choice of many celebrities and those who would like to call themselves one of the in crowd. Sexy and with the air of high maintenance it is simply seductive.

To get this look of luxury you need very long hair, have it cut in long layers and a great conditioner has to be your best friend. Some smoothing lotion or spray will help to keep it supple.


Curly Extravaganza


For an even more dramatic look have your long layers curled to perfection and keep the definition by just gently plucking the curls apart. This ravishing version of the first look also comes to life with the various shades of blonde in the hair. They range from a darker ash type of blonde, mostly in the lower areas to a highly polishes beachy beige blonde which is used for the highlights.

Instead of the simple and chic center part the hair was here parted on the side which sweeps most of the volume over to her right. Wearing it over the shoulder like this displays the opulence perfectly.


Sunshine Look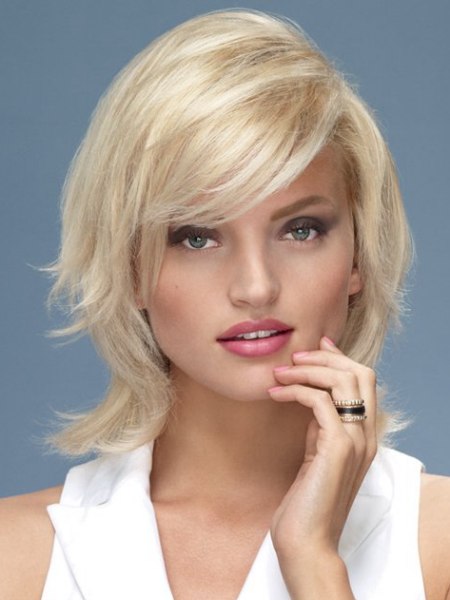 A medium long hairstyle with so much chic should require a weapon's permit. It has a lot of movement and volume in just the right places and will sweep everyone away with the up flipped sides that barely touch the shoulders. The perfect length to show a bit of a trendy collar.

A long fringe and wispy strands all around pull it all together. Charming, elegant and classy, this exquisite look will make everyone's summer even brighter. Light beige blonde highlights bring the extra spark.


Wispy Motion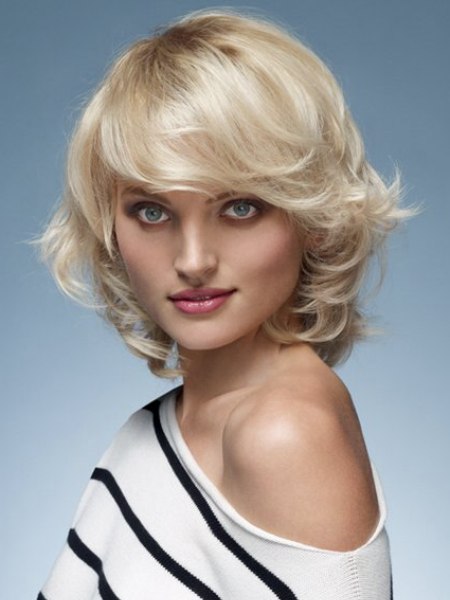 The medium long curls seem to be in a wild dance of light. Darker and bright shades of blonde support this effect with adding much dimension to the layered haircut. The bulk of the volume sits on top where a wide, curvy side fringe also displays its irresistible and very oh-la-la charm.



The narrower sides are turned inward and bring the focus back to her face. A bit of texture all around softens the tips. This hairdo is also highly versatile. You can flip the sides outward for a whole different appearance.


Asymmetrical with Esprit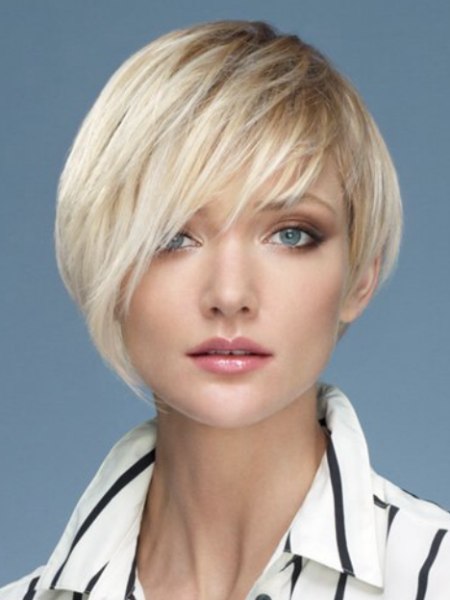 One circular cut reaches all around the head and creates this asymmetrical wonder. A lot of texture comes into play to soften the edges and create more interest, but the attraction of this short haircut definitely sits in its adorable shape with one long, partially eye covering side and one ear-revealing side.

Medium and light blonde do their magic and bring in the deep, natural glow that seems to radiate pure sunshine. And one of the best features of this very wearable and versatile look is that you can wear it with the once again trendy shirt collar and even stand it up without being covered.


Slim Bob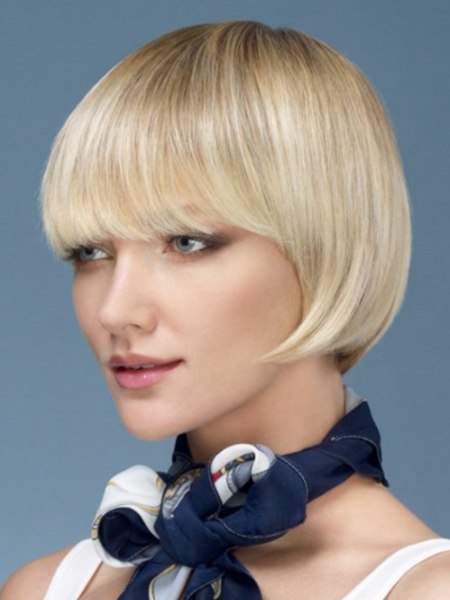 High volume is often overrated and you can look spectacular with a classic haircut that has gone through a Dessange makeover. The trick to make this short bob new is the adorable line reaching from the very long fringe to the curved tips that reach into the face and the soft swing in every strand that will also give your step and confidence a new bounce.

Again light and darker shades of blonde were used to create a beautiful, natural looking surface that reflects a lot of light.


Fringe Domination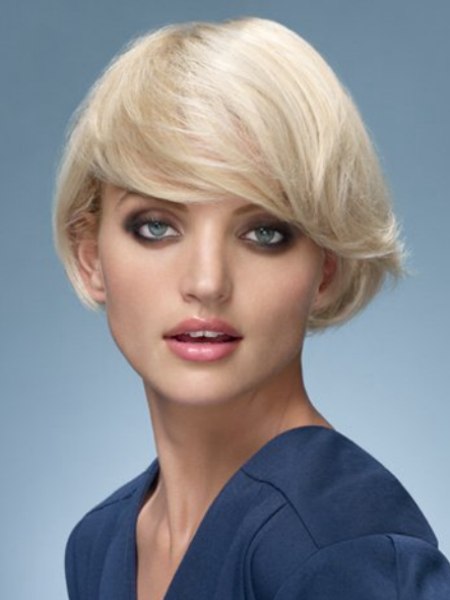 Half of this alluring short hairstyle is the fringe. A masterful styling and cut arrange the long bangs in a fluid motion from one temple to the ear on the opposite side. Good texture and technique add a beautiful surface to it.

The sides are the length of a short bob and neatly curved inward since no extra drama is needed to make this short cut stand out.


Romance in Short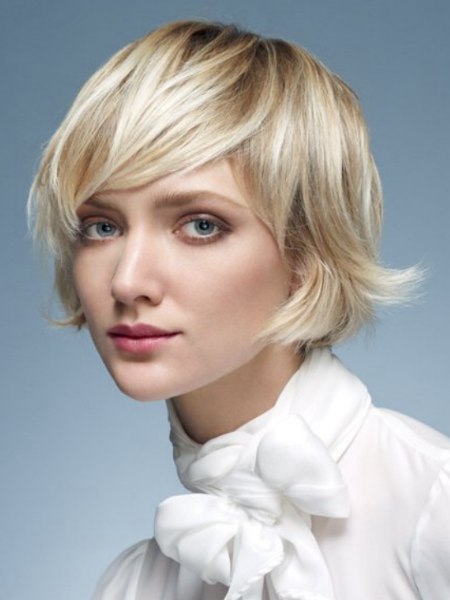 Soft and romantic hairstyles don't always have to be long. This chin length haircut is a good example on how to create a style that is feminine and romantic and it does not even require curls to achieve this.

Soft texture, a few flipped out and forward tips, a controlled disheveling of the hair during styling by giving wide strands a slightly different directions is all you need in addition of course of the perfect color combination. Vanilla and beige tones do the trick here.


High Tide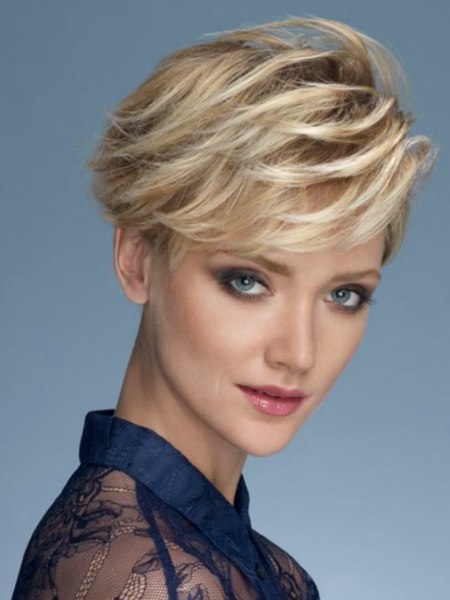 Ripples of light blonde illuminate the darker base and are styled mimicking the fine ripples of the sea that appear right between the tides in the late afternoon. A natural texture and color are captured in very short hair, which is extremely manageable and ideal for a summer vacation.

The pixie will keep you cool on hot days, make you look hot on cool nights and all you need to do is run your fingers through it to freshen up the style.

Haircuts: DESSANGE