Intense by James Parrucchieri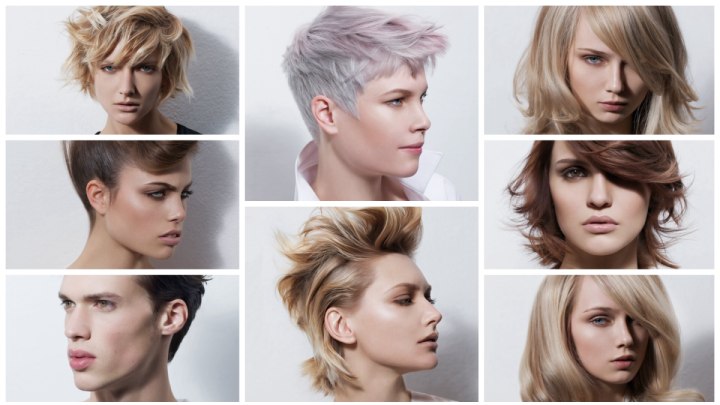 Scroll down for more photos ↓

Versatility is still a strong buzz word when it comes to trends in hairstyling. And why not? The option to take one haircut and create a lot of different flavors of stylings out of it is just too tempting. So release the creativeness inside and go for more options.

With his aptly named collection of hairstyles, "Intense", James Parrucchieri shares his inspiration and gives us ideas to get a choppy and layered makeover that has an edge. His long, medium and short hairstyles all express a wild side. Can you hear them roar?



Layers and texture are the key players, but the hair colors are not to be underestimated either. Enjoy spicy blondes, warm brown and red and there is also a tempting silver with a lavender kiss in the mix.


Long Layered with Bounce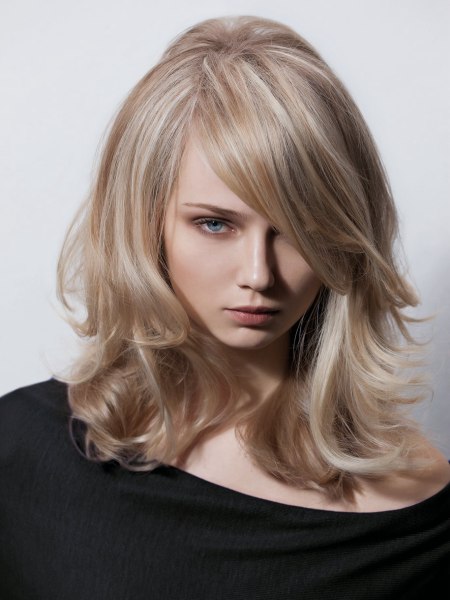 Eye candy comes in many layers these days. Get out of your rut and get a fresh bounce with a lifted top and smoothly swinging lengths. The partition is very short to give more room to the back bounce and the wide and deep plunging fringe.

Sides are flipped outward and curves throughout can be styled toward the back or in all directions for an even wilder flair. The hair color is made of several tones of blonde. Warm gold and cool silvery shades with platinum highlights create a hypnotic effect and the pattern changes with the movement of the choppy and soft strands.


Bouncy Long Hairstyle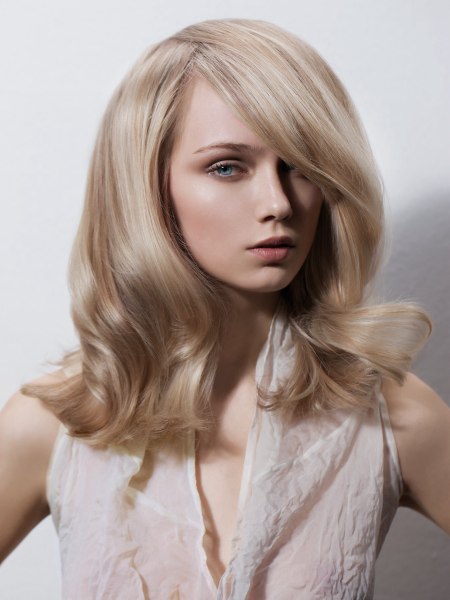 To break the rut, try overlapping your partition. It is not as hard as it may look and your stylist can show you how to do it at home, so that you can recreate a glamorous and modern hairstyle like this one also at home. The long side swept fringe is full of elegance and does at the same time not lack in seductive attitude.

Towards the lower sections the hair becomes increasingly curly, breaking up the silky sleekness of the upper part. Volume is everywhere, and what looks like very thick hair is actually a great styling technique that gives a lot of lift to the roots and keeps the hair soft and bouncy to create the impression. Her hair color is a demure blond with some ashen and some platinum components.


Short and Chopped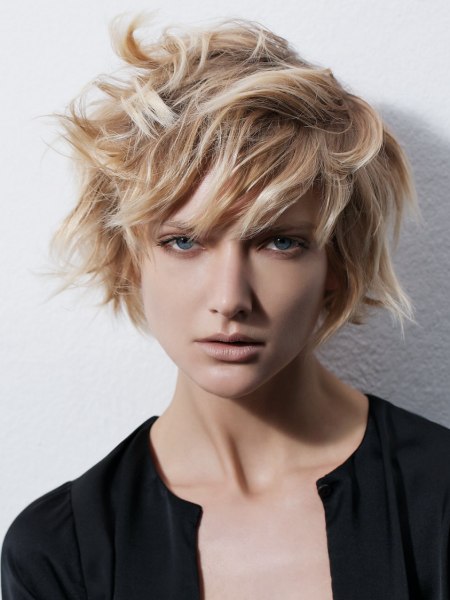 You cannot be a good girl all the time and to announce your new attitude to the world, make sure your new hairstyle reflects the awakening to your inner vixen. A ruffled, tousled and textured short haircut with a lot of movement and a delightful color are all you need.

This cut is based on a chin length bob and was styled to define broad strands that are also enhanced with highlights that mostly illuminate the tips of the hair. This way you never have to worry about growing out roots and the blonde hair color looks very natural and sun-bleached.


Trendy Short Hairstyle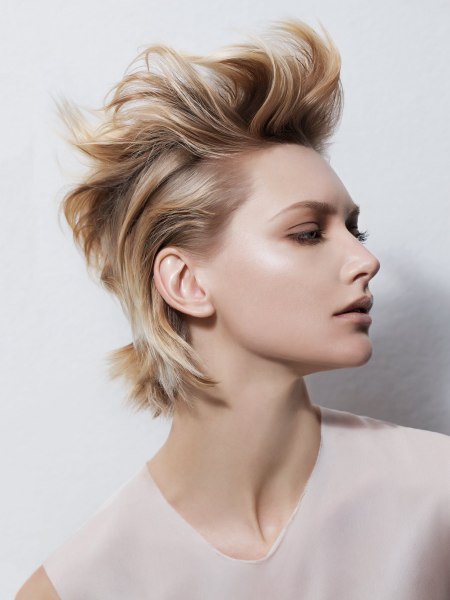 Lift off and combat gravity in your hair and you will see that life will seem to be lighter as well. This dynamic and captivating short hairstyle is one styling version based on the previous choppy bob. Check for products that give your hair hold without being sticky or adding an unwanted wet shine to it.

Most of the product is applied in the root areas to give the hair a good lift and not weighing it down. The front was styled up and back whit the sides staying close to the scalp and just curving around the ear. This look has a great amount of sexy tousles but also a trendy retro effect, reminding of rockabilly quiffs and also of David Bowie's glam rock looks.


Short Hairstyle with Wispy Ends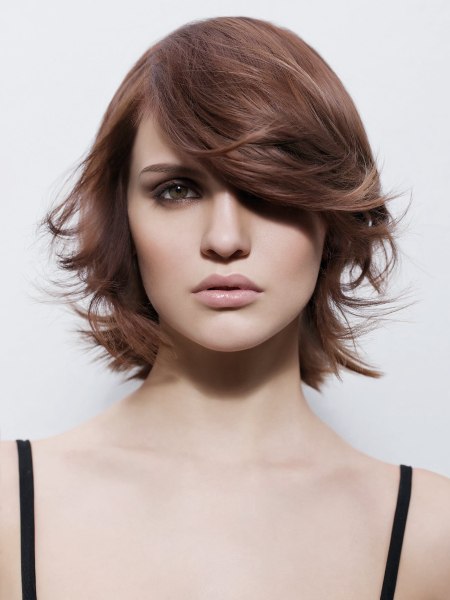 Combine a full, deep sweeping fringe with feathery light layers and soft wispy ends and you get a short hairstyle that is not only trendy but also full of charisma. The contrast of the luscious fullness, the round shape and then the airy texture is too pretty not to show off.



A bit of mystery never hurts and with one eye veiled by the fringe it comes easy. The hair color adds to the soft appeal and is the smoky, velvety tone of a strong cappuccino.


Silver and Lilac Hair Colors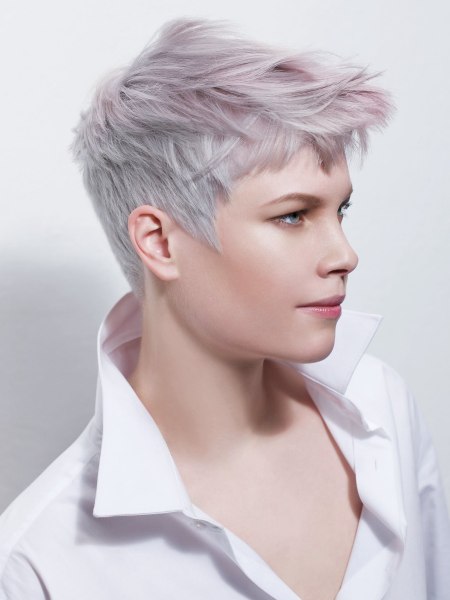 Cuter than a cupcake and impressive with its daring combination of light, yet intense colors, this short haircut is an instant favorite. Classiness at times comes with a lot of texture and in a silver and lilac combo. The hair around the back and the sides is graduated neatly and stays snug to her head with a clearly defined outline.

The action happens on the crown with longer hair, lots of texture and a kiss of violet on the light metallic color. The pixie cut can be styled forward, as seen here, but all other directions can be quite marvelous as well. Get creative and clear your chakras with the purity of the hair color and shape!


Updo with a Roll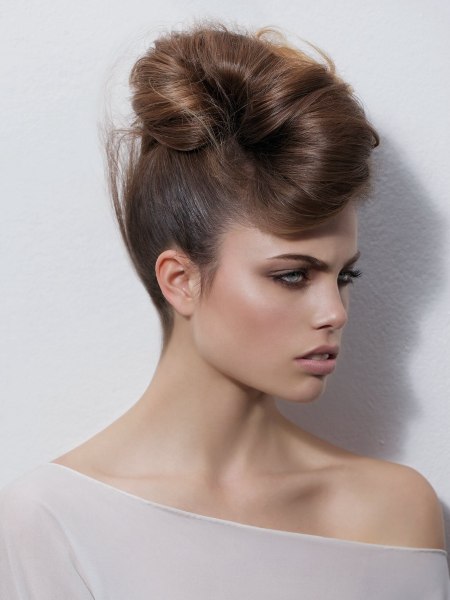 When the occasion calls for a glam look you can wipe out the competition in one roll. This extravagant new placement of a French twist, almost reminds of those cute hats that were fashionable in the early to mid last century and they are indeed a rather flattering way to accentuate a woman's beauty.

The hair was pulled tight towards the top, twisted and pinned invisibly to create a long, airy and not too strict roll. A few rebellious hairs that try to go astray are perfectly ok, since they help with the seductiveness of this modern classic.


Upstyle with a Knotted Scarf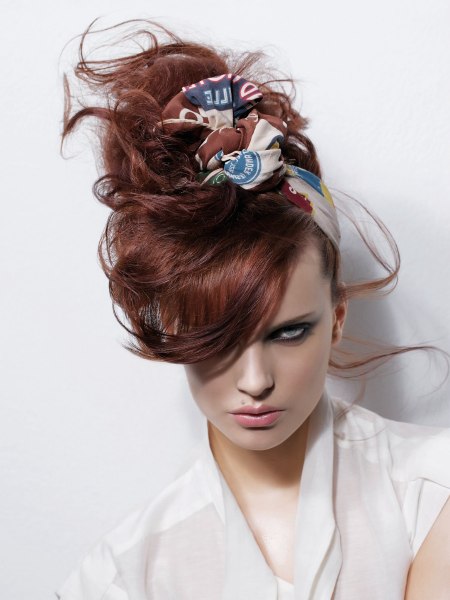 Be it a bandana or a French silk scarf, follow your own taste and style, but consider using fabric to accentuate your hairstyle. This wild upstyle gains a fun and modern touch with the colorful scarf that embraces her head and is tied to a large know a bit off center on the crown.

Got to have that knot! Place it anywhere where it is well visible. The hair around this centerpiece is wild, curly, sexy and out of bounds. A long sweeping side fringe adds mystery and elegance.


Adaptable Men's Hairstyle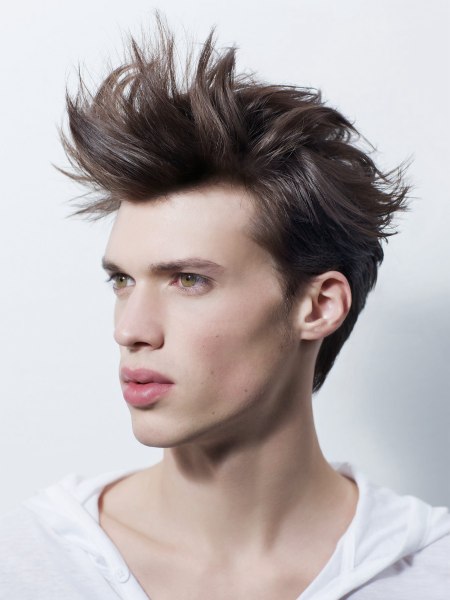 Some men want it all. This hairstyle can at least help with an adaptable appearance that can be tamed down for the office and after hours turn into a statement of his wild side. All that is needed to do is to rub a tiny bit of a styling product into the hair and style it mainly with the hands.

The textured fringe is lifted upward and slightly curved to the back and the sides. The back remains fairly neat and clear in its shape. A smoky, almost metallic, brown with a cool base note is one of the hottest hair colors this season.


Slicked Up Men's Hair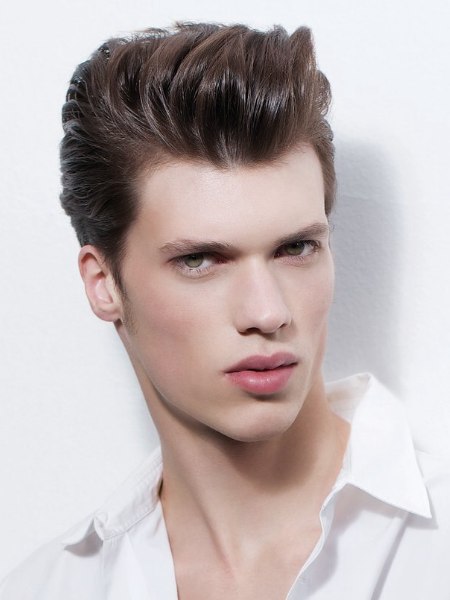 The 50s are just a dollop of pomade away. All slicked up, the hair can be combed in any direction and even lifted to new quiffs. The size of the comb determines the width of the texture in the strands and you can play with a couple of different ones in one style, for example with a smaller and more tighter flow along the sides and more generous and thicker strands that wave their way across the crown.

Hairstyles: James Parrucchieri

See also: Short hairstyles | Long hairstyles | Up styles | Men's hairstyles