Intercoiffure Mondial
Paris' Most Beautiful Hair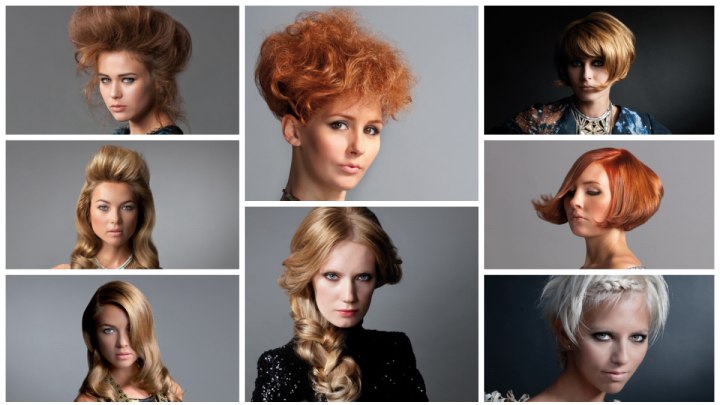 Scroll down for more photos ↓

Paris is still the center of our planet's world of fashion. The entire city is drenched in the energy that celebrates art, fashion and beauty. With this collection Intercoiffure Mondial brings us a fabulous array of highly inspired hairstyles that reflect the spirit of this great city through time.

The hairstyles feature some of the best elements of hair from different eras. There are baroque upstyles, ethnic influences, whiffs of the 50s, 60s, and 70s - all showing off beautiful shapes that are sophisticated and just a little bit eccentric.



The looks are elegant and wearable - not only in Paris - and are sure to beautify even your neighborhood.


Twisted Beauty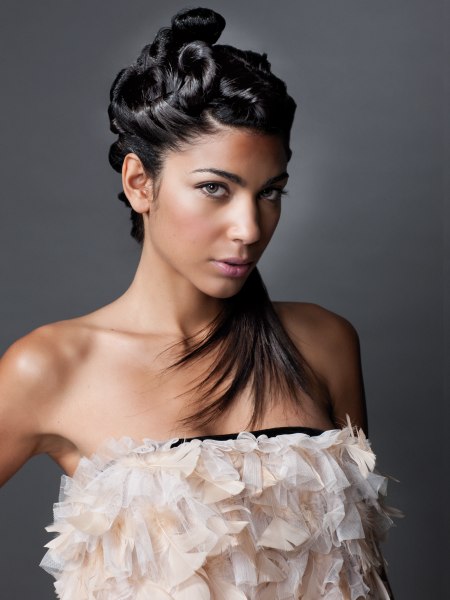 A sure way to get attention is a hairstyle that is as twistedly beautiful as this one. Her long hair was arranged up by twisting, turning, rolling and pinning thick strands in a mixed and very creative technique. The effect has a tribal feel, but also reminds of ancient styles that we can see on the mosaics of Greece or Rome.

A longer section is left open and pulls around the side of her neck in utter sleekness, showing off deeply textured tips. The ivory black hair colors gets an amazing shine through the styling products. Pomades, waxes or gels can be used or just a good smoothing balm.


Airy High Upstyle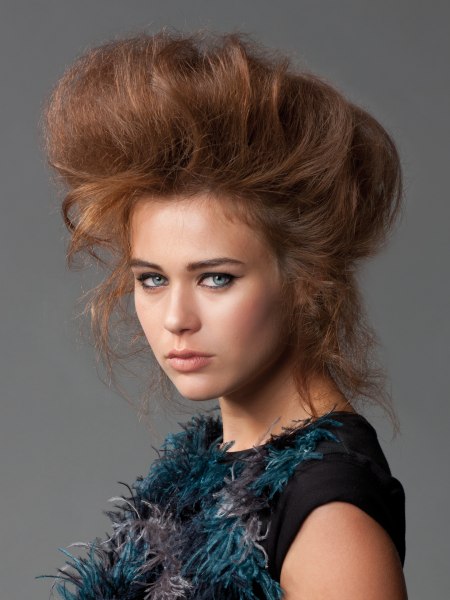 Our great-great-great grandmother's had similar hairstyles and who would have thought that it would ever come back. But now of course in a much more exciting and also lighter version. This bulbous upstyle is as airy as cotton candy and gentle teasing of the hair helps to build the volume.

The hair is taken from all sides and swung to the top creating a large, round sculpture of fibres with playful strands hanging out all around. Her hair has a warm ash blonde tone and is freshened up with interspersed fine strands of gold.


Curly Updo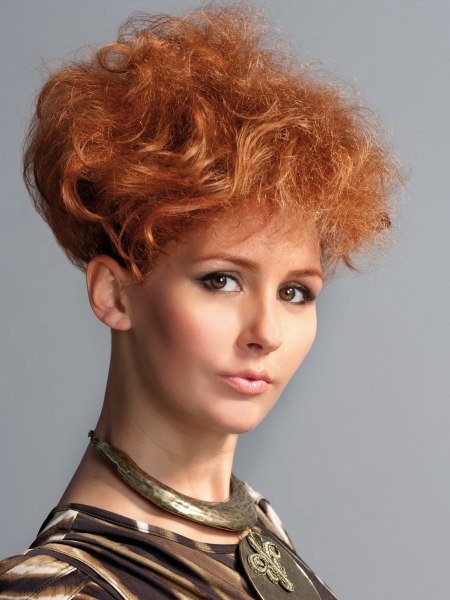 It will not only keep your neck cool, but turn you into the beauty of the night, or day if you choose. This simple but so very refined upstyle comes to life with its large and small curls that flow in an irresistible fashion. The longer back part is pulled up, tugged in and invisibly pinned.

The hair on the crown is layered and thus the bulk is distributed evenly. Structure comes with the different sizes of the ringlets from small to large and wavy and a very modern touch is to have some of them in full shape and definition while others are fuzzy and deconstructed with skill. Copper is one of the hottest hair colors of the season!


Bangs with Upstyle and Attitude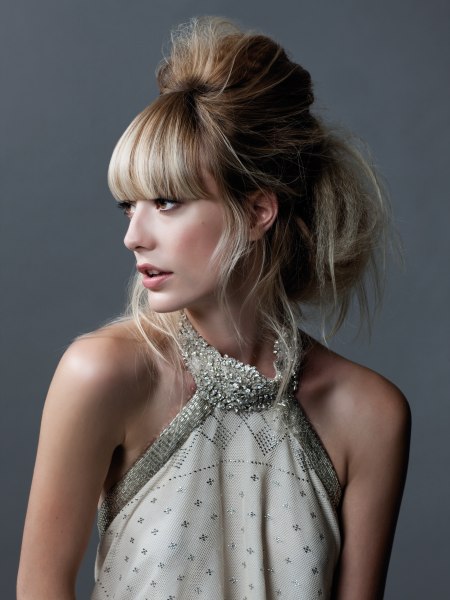 Three things make this hairstyle so unforgettable and get under one's skin. The contrast of the straight and sleek bangs with all the textures that are going on in the rest of the look. The unusual up styling with one smaller and one very large roll and bun and then there are all of the romantic and free-flowing strands that adorn this creation and give it the perfect finish.



Romance and rebellion are caught in one hairstyle that is at once modern, but also cannot hide the influences of the 1960s. The dark blonde with beige highlights gives it class, depth and definition.


Lifted Fringe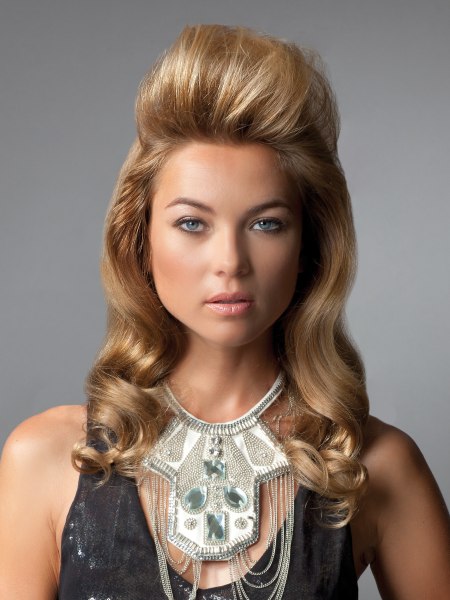 Get that special rich girl look with long soft movement and a high fringe. The puffy quiff was formed by lifting up the long fringe and after curving it backward and fastening it with pins. Of course hairspray is the most essential tool to help keep up the gossamer fine structure.

The rest of the hair flows gently along the side and turns into delightful curls at the bottom. With all that elegance and soft extravagance the hair color keeps it all balanced with its natural and earthy honey blonde tone.


Glamour with a Side Part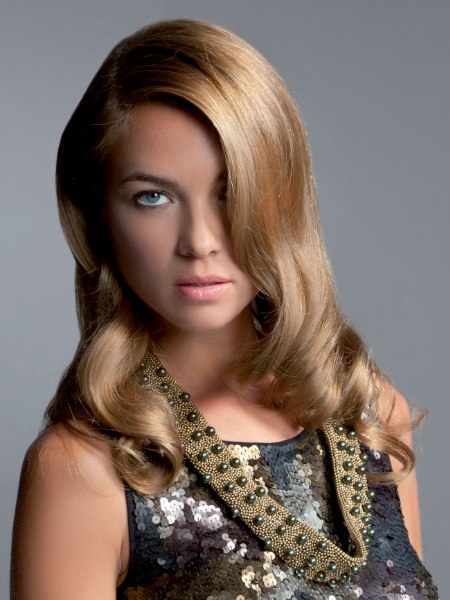 Spoil yourself to a Hollywood make-over and indulge in as much glamour as you can get. It is easier than you may think. A deep side part sets the tone with its elegant asymmetry. The smooth and silky long hair flows in large waves and partially covers the face for a little bit of that sultry femme fatale expression.

Her hair color is a beige and honey blonde melange with a precious shine. This look is sexy and fashionably retro, great for work or play.


Irregular Braid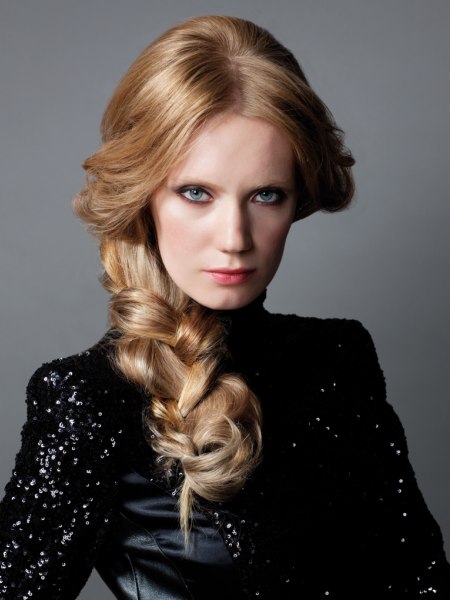 Finesse has a new look. Part governess, part burlesque, this asymmetrical look with a center part takes home the prize. The thick, long braid is irregular, giving the hair a modern and rebellious feel that wonderfully contradicts the evenness shown in the other parts.

The long sides were elegantly draped and curve to the back in one soft movement. Sensual power galore and even a playful touch are part of the allure. Wear it on a special night out.


Short Bob in Copper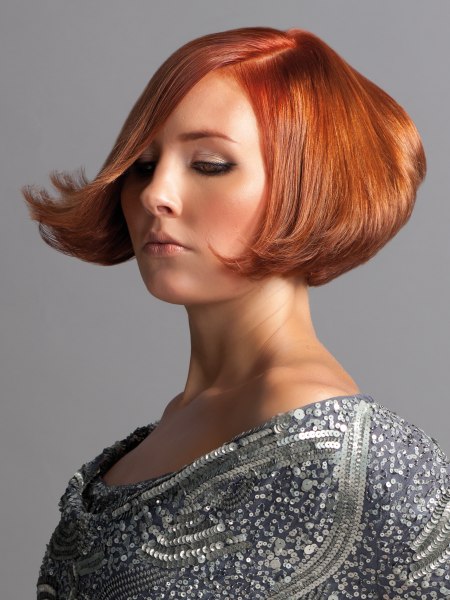 This short bob is on the move! A smooth A-line curves forward with determination. The neck is especially full and slightly lifted. With the flipped out ends and this amazing color, there will never be a dull moment again.



Dark copper brings out the tone of her skin and it also enhances some eye colors, like green. To add even more sparkle small strands throughout where dyed just a few levels lighter than the base color. Gleaming classiness is never out of style.


Low Maintenance Haircut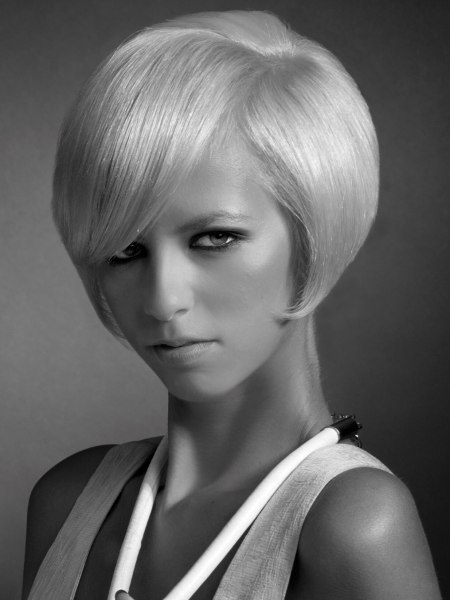 Mad men look. If they are not mad for you already, then this darling little hairstyle will surely do the trick. Irresistible with its retro 1950s flair it is astonishingly low in maintenance and easy to style. Short in the neck the cut follows the line of her jaw and ends at the level of her lips with a sexy curl into the face.

Another very stylish trick took place on the crown with the very distinct sectioning of the hair. The hair color is as platinum as platinum can be. Go for it and drive them crazy!


Teased Bob with Volume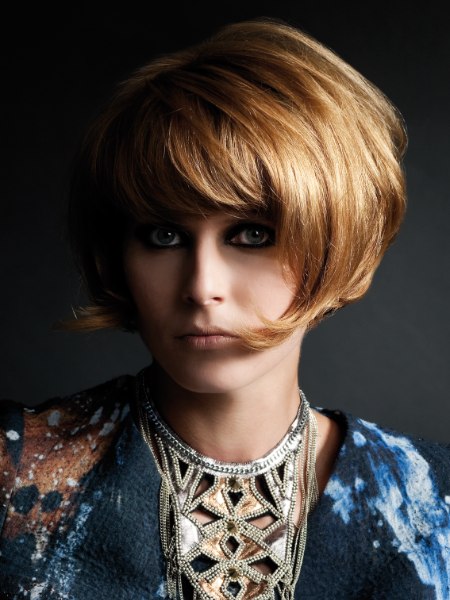 A well cut short bob with retro styling and a lot of sensual texture gives you that little extra something that might just make a difference in how you look at the world. Treat yourself to this chic, fun, sexy and wearable do.

To get it to its top shape a little bit of teasing will raise the back and a targeted blow drying over a styling brush puts in the volume. And of course don't forget the adorable curves at the ends. Shiny honey-blonde chases away any blues.


Volume and Waves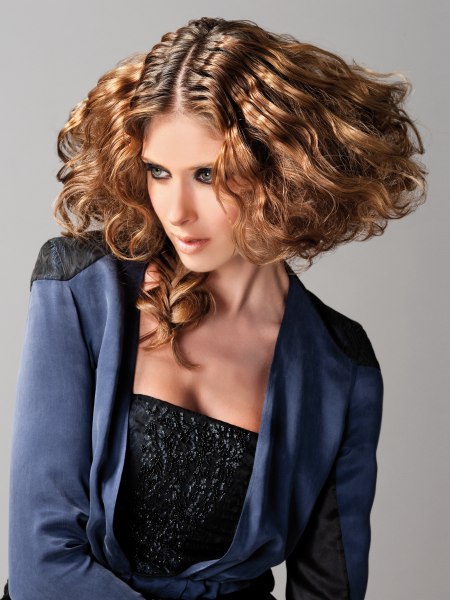 Volume and texture are the main players that give this hairstyle its character. But that is not all. A longer braid peeks out underneath the bob-shaped creation and adds another level of artistry and flair. This can only be topped by the unusual surface texture reminding of golden and bronze ribbons.

Underneath are billowing locks, slightly teased for more mass and extra hold. The center part keeps things balanced and in harmony.


Braided Hairband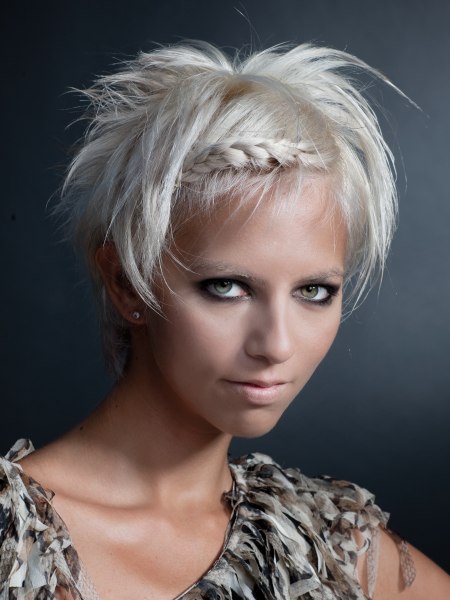 Some hairstyles just amaze us with their genius design. And often it is a very simple element that makes the difference or an unexpected juxtaposition. This smart short hairstyle stands out in any crowd not only through its pretty platinum color and the extreme texture at the spiked ends, but because a small braid adorns the front and is used as a hairband. Funky, punky and a little bit girly.

Hairstyles Photos: © Intercoiffure Mondial
Photography: Rob Peetoom

See also: Short hairstyles | Long hairstyles | Up styles