Vintage Hairstyles 1909 - 1914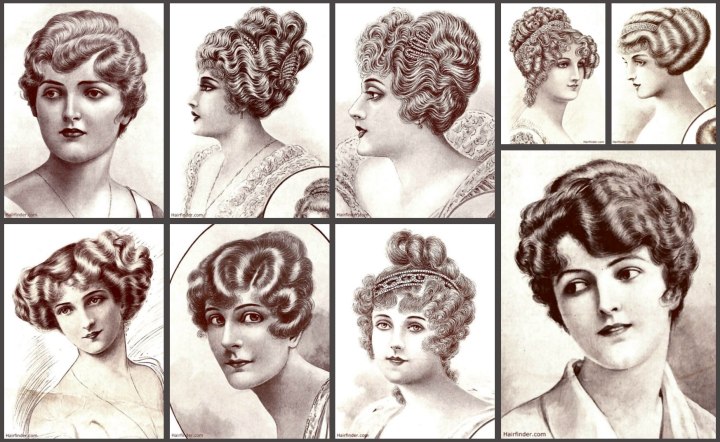 These pictures take us on a walk down memory lane, starting at a 1909 example of the iconic Gibson Girl, created by Charles Dana Gibson. These images began appearing somewhere in the 1880's.

We progress through the World War One era, and see first-hand how the hairstyles changed during time of war and famine, with information snippets of WWI history in between. Enjoy!


Waves and an Oblong Shape


The woman in this illustration wears a horizontally oblong hairstyle. This hairstyle is flat on top while exaggerated to the sides, using different directions of styled waves to create the oblong shape.

All the hair is styled in waves that move away from the face, encouraging the illusion of youthfulness. Note that the fringe is parted slightly off-centre, styled in finger-wave-like waves that move to the back, to be incorporated with the rest of the hair.

In those days, these waves were created by using Marcel tongs, which was heated in a fire and then used to curl the hair.

Illustration Source: Hairdressing, July 1909


Vintage Formal Hairstyle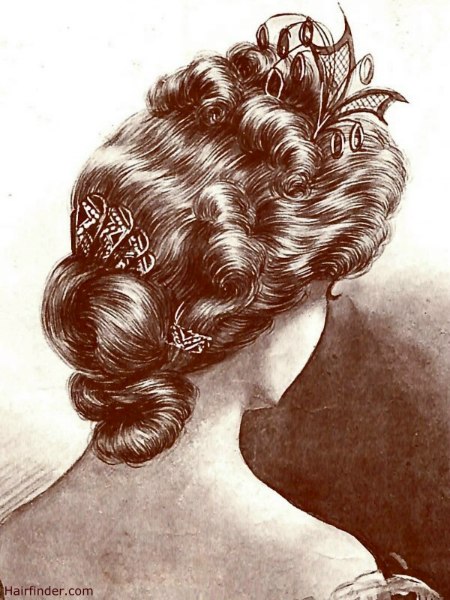 The lady in this depiction is illustrated while wearing an intricately formal hairstyle constructed with an incorporation of curls and waves styled away from the face at the front, leading down to a chignon at the nape in the neck at the back.

Note that all the hair is styled from the front to the back, in order to leave the face open and create the impression of a fresh and youthful lady.

Big hair and immensely intricate styles were de rigueur, and at evening functions the hair were expected to be even bigger and more impressive. Thus beautiful hair-accessories such as jewelled combs and plumes were used.

Illustration Source: Hairdressers' Weekly Journal, March 1912


Edwardian Era Hairstyle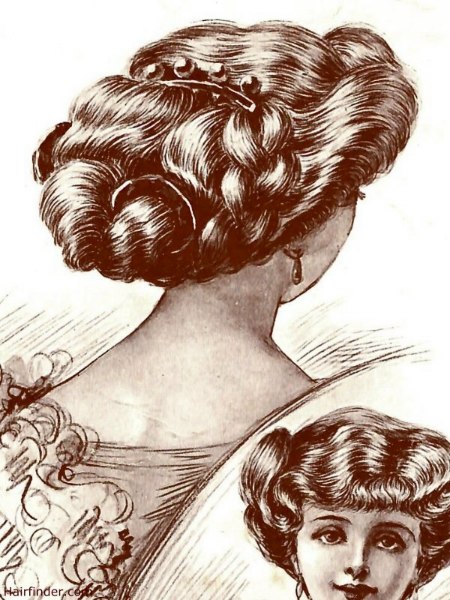 Here is an illustration of a typical Edwardian era (1901-1910) hairstyle with Grecian style influence. This hairstyle is shaped in an oblong style, created by using waves styled away from the face towards the back.

The waves were styled by using Marcel tongs, which maids warmed in a fire to create waves in the hair of their mistresses. The front side of this illustration shows a slightly off-centre parting with a single rolled curl in the fringe area.

The rest of the hair is styled in soft waves to the back, held in place with an elaborate jewelled comb resting on the parietal bone area. The waves are incorporated into an ostentatious chignon just above the nape of the neck.

Illustration Source: Hairdressers' Weekly Journal, May 1912


Waves and a Bird Feather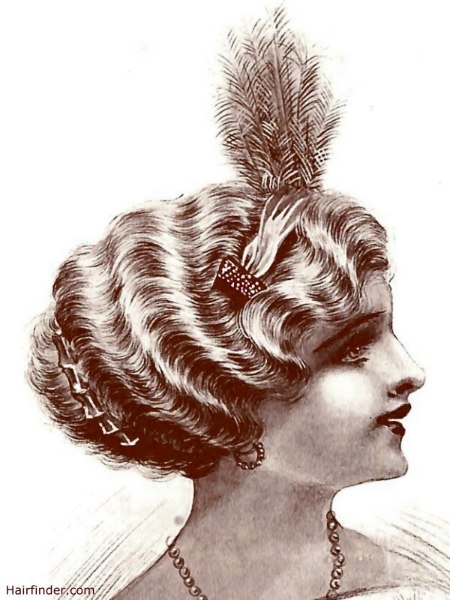 Here we see a slightly off centre parting, with the fringe section styled down the sides of her face. The rest of the hair is also styled in Marcel-tong created waves, constructed to the back of her head. Note that the waves follow a uniform pattern, much like modern fingerwaves.

She is wearing a delicate bird feather on the left side of her head. This was very modern in the pre World War I era, as "big-hair" was the norm, and what better way to add length to your hairstyle than a beautiful feather adornment? Also note her bejewelled hair accessories to add sparkle and shine.

Illustration Source: Hairdressers' Weekly Journal, June 1912


Pre World War I Hairstyle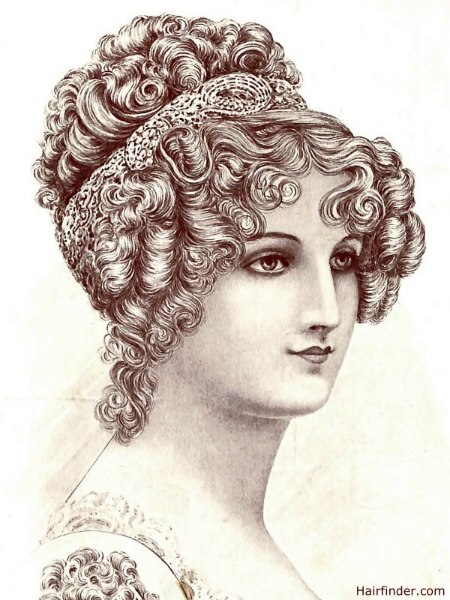 Here we see the hair piled up on the lady's head. This was very common in the pre World War I (1910-1912) era, as hair was mostly styled into styles constructed to add length and width to the face. Hair-pieces and hair-hats were used to exaggerate the length and width of the styles.

Here we see the hair curled into ringlets, and pinned up in the area between the occipital and parietal bones. Her fringe is parted in the middle, styled in soft curls around her face. She is also wearing a bejewelled headdress to support the hairstyle and add some flair.

Illustration Source: Hairdressers' Weekly Journal, September 1910


Gatsby Hairstyle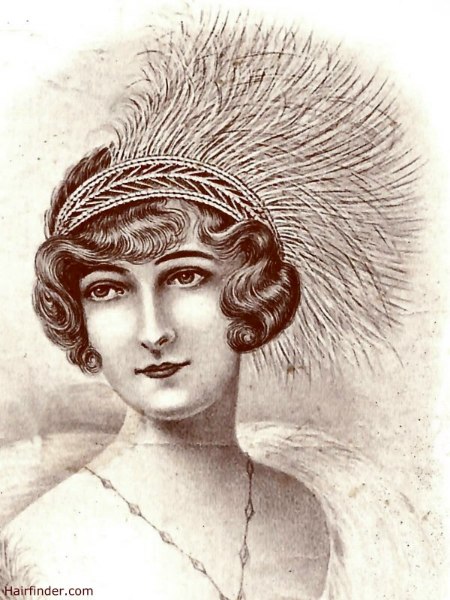 This hairstyle reminds me of the beautiful women in "The Great Gatsby" movie. The hair is styled in Marcel-tong created waves, with an off centre parting in the fringe area. Note the flipped fringe at the front, connected to the waves styled down the sides of her face.



She wears a jewelled and feathered headdress to add width and length to the style. A hairpiece was most certainly used at the back. Hair pieces were made with real human hair, and were used to add support and thickness to the styles. These beautifully elaborate styles had no limits, as any limitations were fixed with hairpieces.

Illustration Source: Hairdressers' Weekly Journal, March 1912


Edwardian Era Influence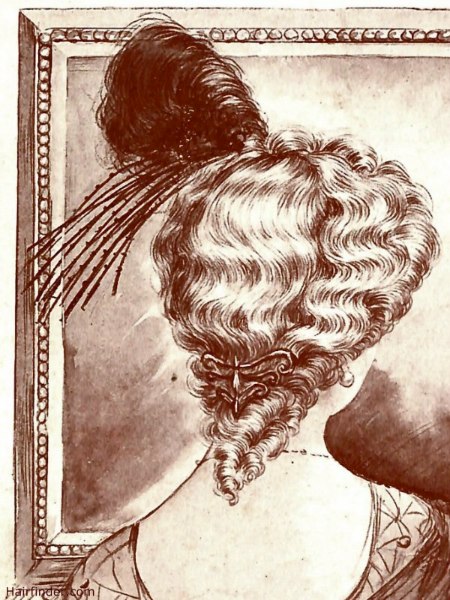 Here we still see Edwardian era influence in this particular hairstyle. The hair is styled in Marcel-tong created waves, with little ringlets at the off-centre fringe area. The ringlets are styled to frame her face, while the waves are constructed to the back of the head.

A hairpiece is attached on the top of the head, curving in a V-shape towards the nape area, where the length of the hair is clasped together in a beautiful jewelled hair accessory. A feather is pinned into the area just behind the off centre parting. The hairpieces and feathers were used as decoration and a means to add length and width.

Illustration Source: Hairdressers' Weekly Journal, February 1912


Winged Hair Accessory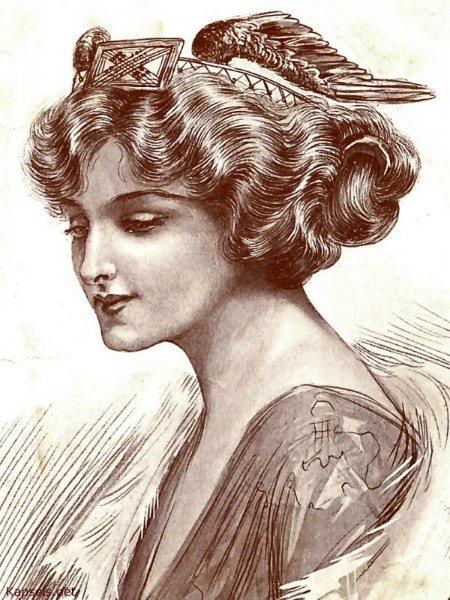 In this image, the hair is styled in Marcel-tong created curls. Emphasis is put on creating horizontal length, spanning from the fringe area to the extended construction at the back. A hair-hat (hair-piece) was most probably used to create support for this elaborate hairstyle.

The hair is styled in a bun-like fashion at the back, while also making use of an intricate winged hair accessory to create extra height on top of the head, in order to maintain the overall balance of the style. Note that the hairstyles of this era typically closed the ear and waves were styled to frame the face.

Illustration Source: Hairdressers' Weekly Journal, January 1912


Curled Hair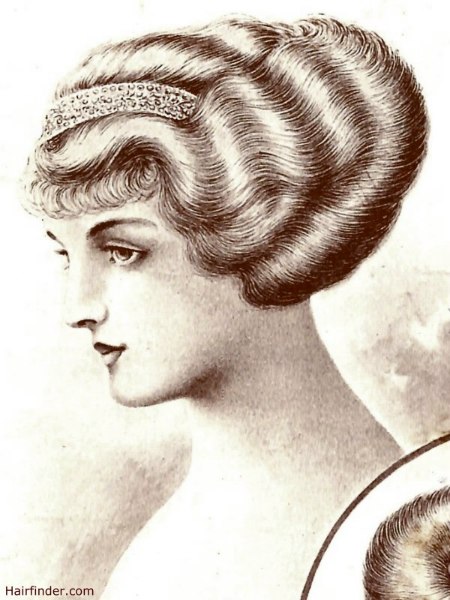 Here the hair has been curled with Marcel-tongs, and gently brushed out, and styled from the fringe area towards the back of the head. Note that the fringe at the front is full and short, resting on the forehead, and ultimately softening the look. Also see that the ears are completely covered with hair, as was customary in this era.

The hair is styled towards the back, concentrating on horizontal length. A hair-piece or hair-hat was probably used for extra support and thickness, while the hair is secured with a jewelled hair band at the front and a beautiful clasp at the back.

Illustration Source: Hairdressers' Weekly Journal, January 1912


Braided Vintage Hair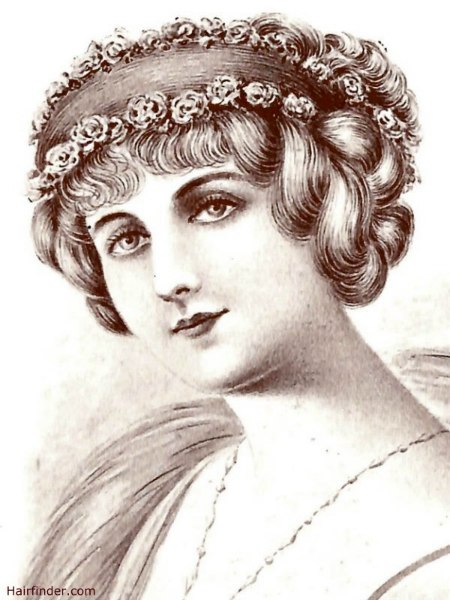 In this picture, the short fringe is slightly parted in the middle, yet full and resting on the forehead. The hair is braided loosely in the direction of both sides of the head, creating a braided frame around the face. The hair is also literally styled around the flower-adorned hair-band, which offers structure support and act as decoration.

The curls are styled into a bun at the back of her head, resting on the occipital bone area. This creates a look that lacks in height at the front, but creates a very aesthetically pleasing overall head shape from the sides and at the back.

Illustration Source: Hairdressers' Weekly Journal, June 1912


Vintage Hair-Hat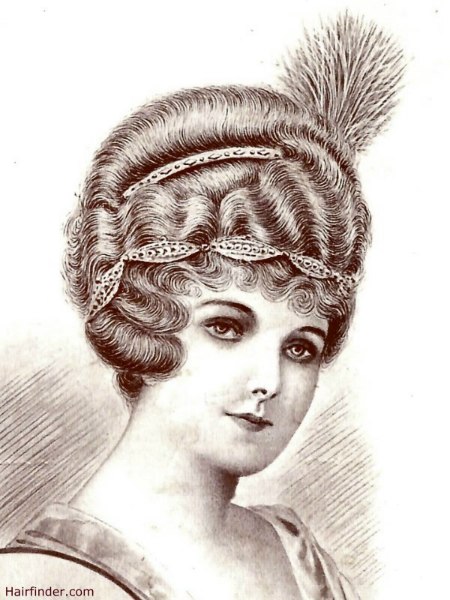 In this image, a V-shaped hairpiece was inserted in the fringe area, creating a side parting that runs in opposite directions towards the back. In this era, it was customary to use hairpieces and hair-hats to create these large and extravagant hairstyles.

Note that the ears do not show, and exaggerated height is created with the use of a hair-hat and a feather, adding lots of extra inches on this woman. In effect this elongates the face and creates the illusion of length.

The second hair-band helps to keep the feather and hair-hat in place. A hair-hat was literally hair constructed around a metal frame, placed on top of the head and incorporated into the rest of the person's natural hair to created exaggerated and large hairstyles.

Illustration Source: Hairdressers' Weekly Journal, October 1913


1914 Hairstyle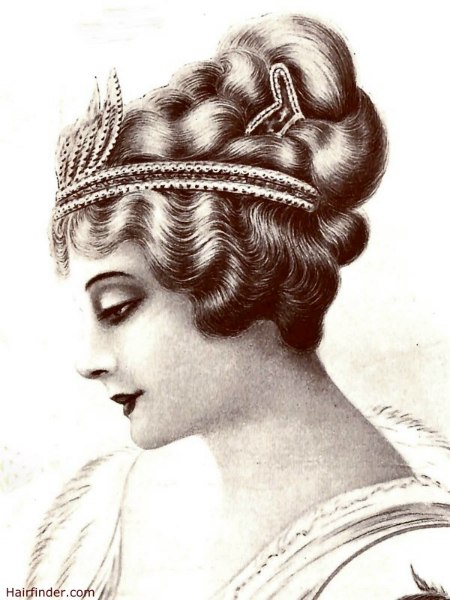 You can see that focus was applied to create height in the region of the occipital bone. She has a middle parting, with Marcel-tong created waves styled in opposite directions to form a soft frame around the face. A hair-hat was most probably used to create the height of this hairstyle.

The jewelled hair accessory helps to keep this elaborate construction in place, adding support to the structure while also serving as aesthetically pleasing.

Note that the style is quite flat at the front, but the elevated hairpiece equalizes the shape from the front. From the side you'll note that her ears are covered and the over-all shape is a beautiful oval.

Illustration Source: Hairdressers' Weekly Journal, May 1914