Hair Fashion by Cebado
Beautiful hairstyles for long, medium and short hair, created by Cebado. Long locks, a bob or a fun pixie cut? Scroll down for plenty of inspiration!


Long Hair with Copper Curls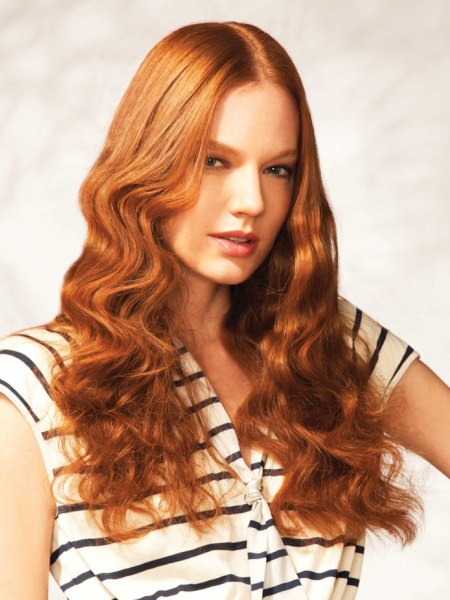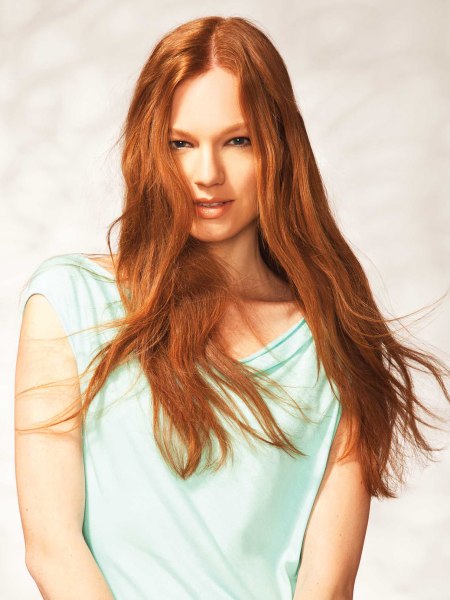 Sleek at first, but then the waves just keep on coming. A gradual increase in the intensity of the wavy pattern is contrasted with the simplicity of a straight partition in the center. The hair falls evenly to both sides and from the level of her eyes down the movement becomes stronger inch by beautiful inch.



Smoothing serum was used to keep the hair under control and to avoid any frizz. Her hair color is a rich copper with a golden shimmer, that sets the world around her on fire.


Long and Elegant Waves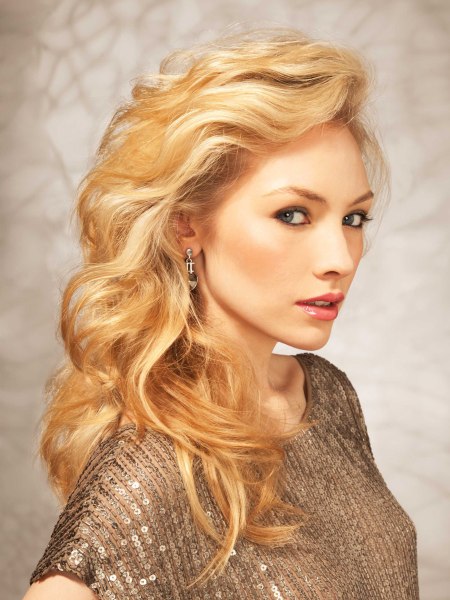 Layers and highlights work together to make this stunning long hairstyle such a winner. Large waves create movement, bounce and gorgeous volume in her golden blonde hair. Broad and thinner streaks of light blonde create rays of bright light adding more impact to the style.

The movement and depth of color and dimension are purely luxurious and she styled it with much finesse out of her face and towards the back in one grand, sweeping motion. The hair is parted on the side, which allows for a thick and elegantly lifted, side swept fringe.


Long Bob with Side Part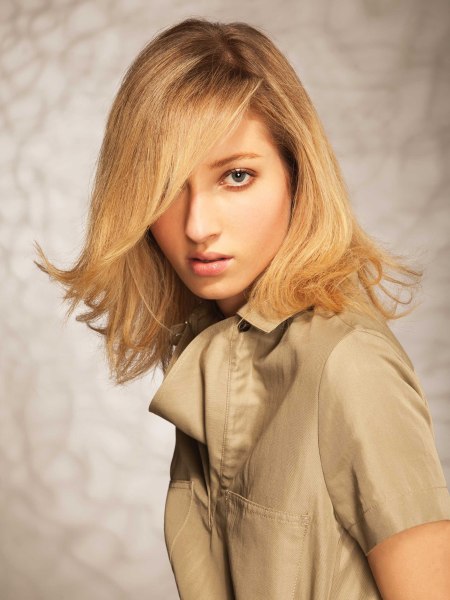 Shoulder long and with flipped out ends, this bob makes a statement. Its point of focus is definitely the long fringe, that was created by parting the hair in a diagonal line off center and then adding a strong lift to its onset in the roots before it swings to the side, creating a diagonal line and almost covering one of her eyes.

The tips curve up with a swing. This hairstyle wants to move and it puts a new freshness in your day! Medium golden blonde is a very elegant hair color, especially when combined with clothes in neutral tones.


Boundless Curls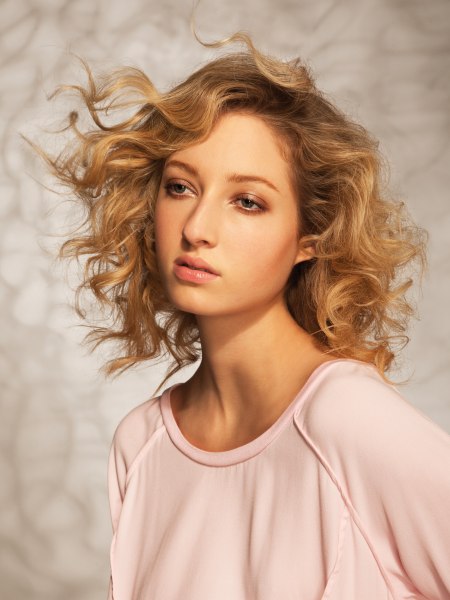 Let go of control every now and then and allow freedom for yourself, your thoughts and your hair. Give yourself the luxury of playtime, get creative and enjoy the results. The shoulder length hair looks very light and fluffy and has a very romantic flair. Easy going, but infused with masterly finesse in every curve and tip.

The mass of hair sits on the right side, but you can go either way, depending on how your hair grows and what you feel looks best on you. A natural curl is always a good basis for cuts like this and it can be quickly enhanced and molded with the help of a hot styling tool, be it rollers or an iron.


Graphic Bob Hairstyle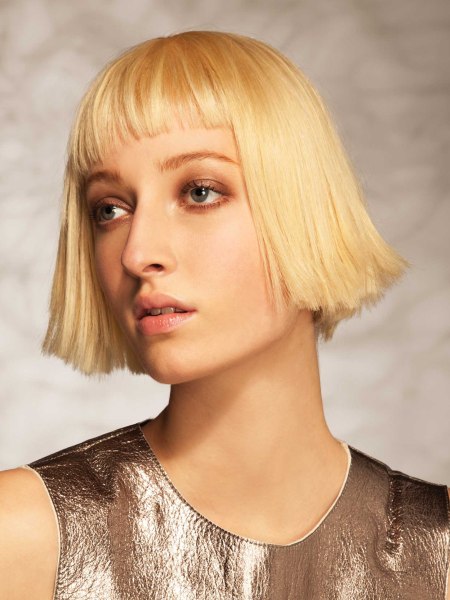 This bob comes with an edge. Literally. Sharp lines make up the design of the classically inspired look, which was given a very modern make-over. Note the slanted bangs! One side almost touches the eyebrow and then it runs in a straight line across the forehead to about half an inch above the other brow.

The length reaches her jaw-line and the lower cutting line is finely textured just with the tip of the scissors to create a bit of softness in the perimeter.


Textured A-Line Bob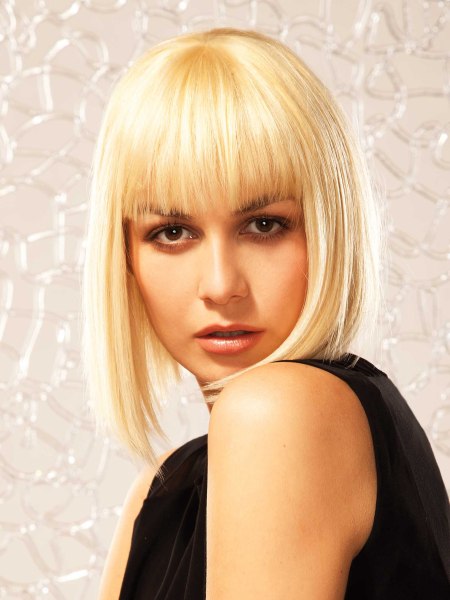 Blonde hair and black dresses are made for each other. Just as the bob is made for women with a taste for elegance and timeless beauty. New techniques give a new face to the classic and continue its fascinating evolution.

For this stunning hairstyle, the blonde hair was simply parted in the center and the lower line was cut in an angle to form that famous and still extravagant A-line. The edges on the bangs and lower perimeter where softened and slightly thinned with a slicing technique. This results in a semi transparent edge of the fringe and the beautifully jagged cutting line.


Flexible Short Cut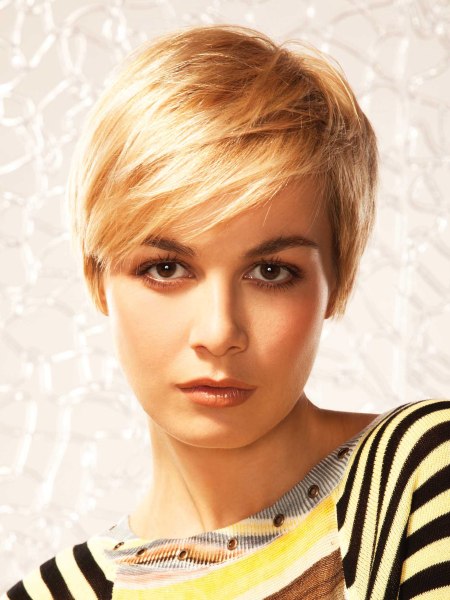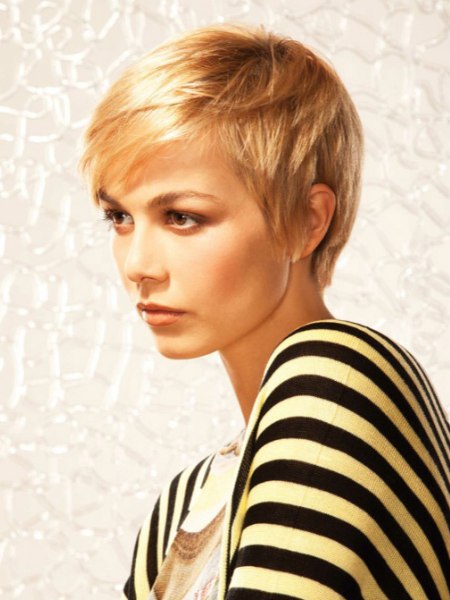 You want to keep your hair practical and manageable without much effort, but you also want all of the fun of fashion and a style that will underline your personality best? Don't look no further and consider going short for a change. This adorable hairstyle features finely layered sides with an increase of length on top.

It is long enough to create many different looks with, but still short enough for the hair to be light enough to lift up with the right products. See the next image for what can happen to this sweet blonde look, when the wild side strikes!


Up and Out of the Face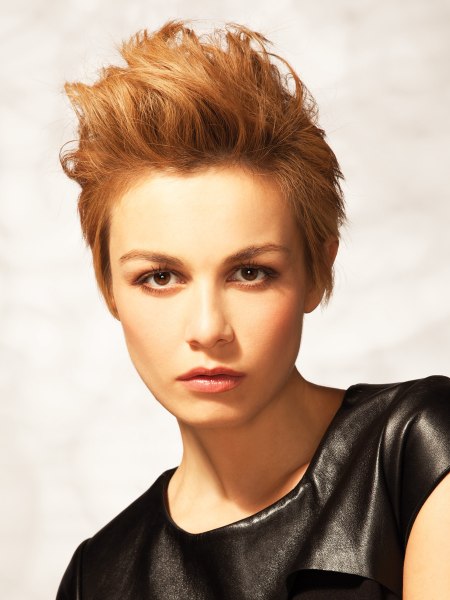 Rebel Rocker Look for the days when you feel you have to show the world that you are not just nice, but also have a free spirit and a kick-ass attitude. All that your short hair needs for this is a little lift. The cut has long layers with short sides.

The design is similar to traditional haircuts for men, but with the soft texture and the golden color it becomes very feminine. Now add some styling product to the roots and lift the hair up from the fringe to the back while the sides are kept narrow and close to the head.


Chin Length Bob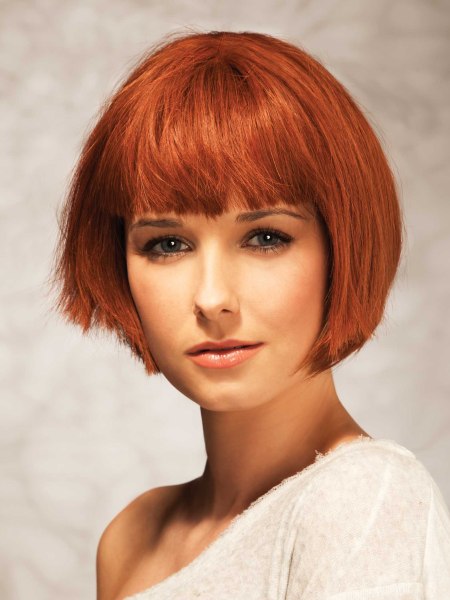 Paprika and copper make for a rather fiery color, which lets this chin length bob pop. The shape of this flaming style is finely tailored to fit her like a glove. Sides area layered, but only in the lower section to give the hairstyle this interesting angle and all over round shape.

Her bangs stop just a hint above her very well shaped eye brows and intrigue with their straight line. To add some movement to it a few hairs in the very top layer of her fringe are moved slightly to the side. Charming and dangerous. A force to be reckoned with!


Soft Long Bob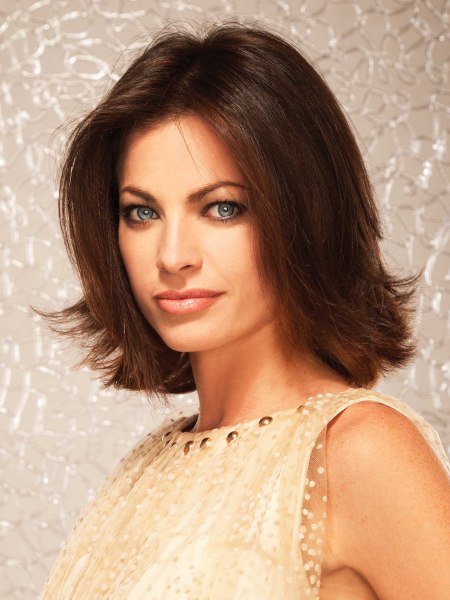 Wispy layers frame her face in a brunette extravaganza of a bob. The smooth shape is long enough for up styles but for festive moments she might as well leave it open and shiny as we can see it here.



The simplicity is sophisticated and besides adding some lift to the roots while blow drying, only the tips were turned outward for all of that elegant swing. The hair is almost at shoulder length and gently layered in the lower quarter.


Beautiful Mid Length Bob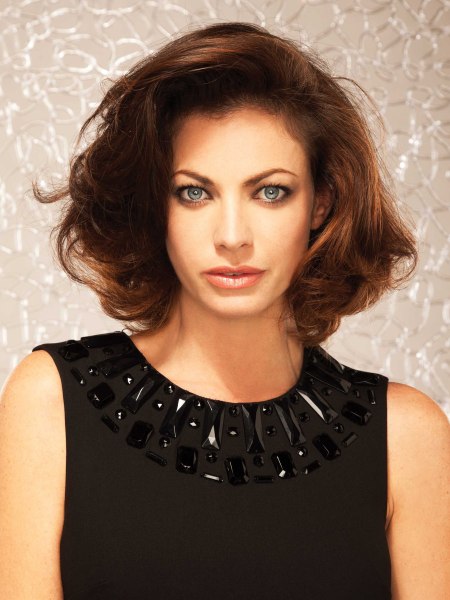 More movement than in the previous picture puts the sexy in the elegant bob haircut. Now parted on the side and with even more height and very large curls, the layered shoulder long bob is a display of femininity.

This hairstyle is stunning and flattering with its gentle, copper colored highlights on the brunette base color.


Straight Short Hair with Finesse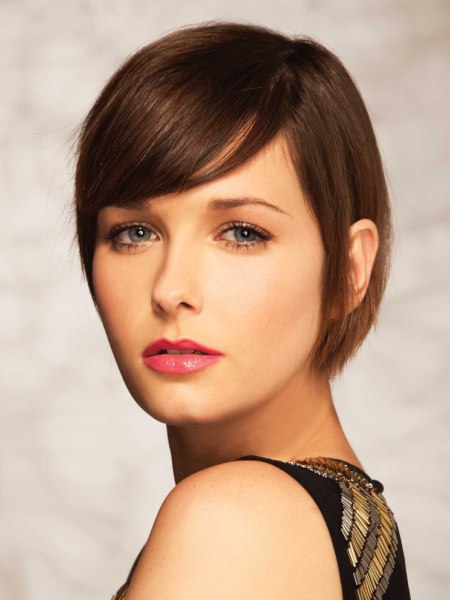 Vintage romance comes alive with this short haircut, styled all smooth and with emphasis on displaying its interesting lines. It does not always take bombastic volume to be stunning and to turn heads. The refined design of this cut does the trick and does not even try too hard.

A low side part allows the fringe to fall in a beautiful curve, while the sides are simple and small, close to the head. A nice touch is the peek-a-boo ear. The edges are softened with fine texture and the warm, brunette color of the hair really makes the color of her eyes stand out!


Elaborate Braids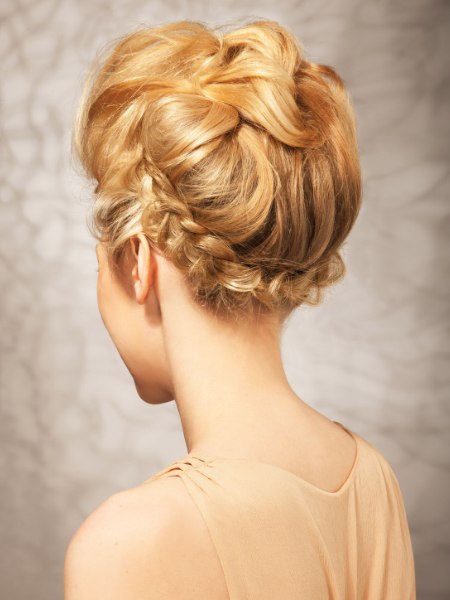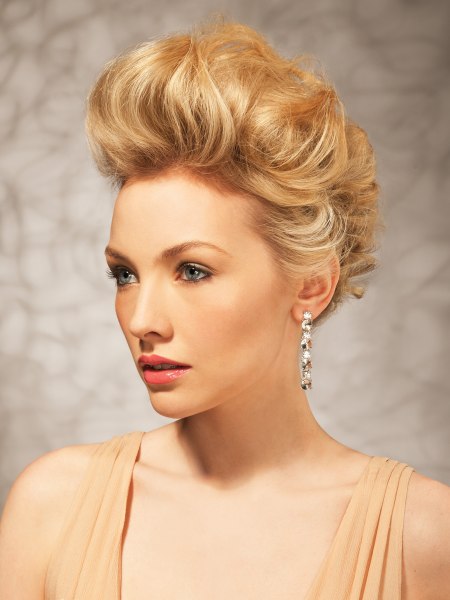 You might not be able to do this at home, so allow yourself the luxury and see your stylist for this once again trendy updo created by using a modern braiding technique. In a french-braid style a frame was created from one ear to another and along the neckline.

The rest of the long hair was pulled up and also slung and twisted, displaying the pattern of a very thick and loose braid just on the back of her crown. Light and darker shades of blonde come across as very natural and remind of the color of autumn wheat. The front is teased and full of body.


Braided Hairband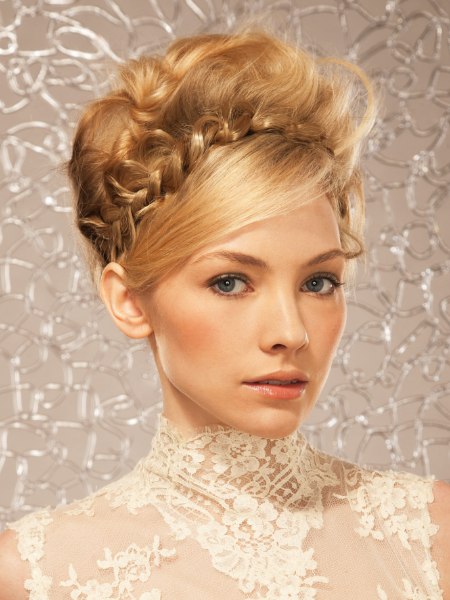 Go for the gold! At least when it comes to your hair color. Nothing brightens the mood and the day more than the shimmer of honey blonde hair. For a very festive look and to bring out the full potential of your long hair, try this upstyle with a braided hairband, which separates the fluffy, wavy and curly main body from the sleek diagonal fringe, which is tugged behind her ear.

Every element of this interesting and elaborate look is fascinating and artfully created. Together with a high collar made of lace, the nostalgic romance can begin.


Sophisticated Chignon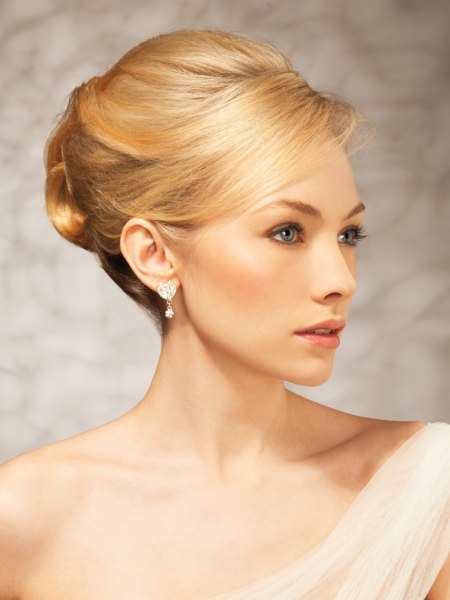 Noblesse in every strand! A most sophisticated upstyle with much volume on the crown and a posh chignon in the back. The long fringe section was moved around the side in one even, sleek motion that is as thin as a veil.

With this style the hair colors are very pronounced in their different shades from a light blonde to dark blonde and between the two is a beautifully radiant gold tone.


Clipped Short for Him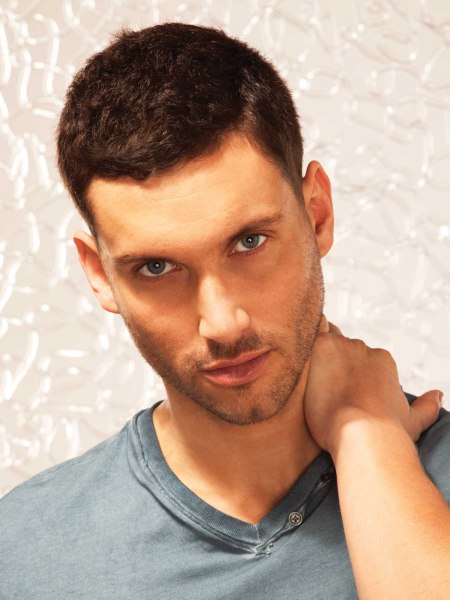 Short all around but with a touch more length on the crown, his look is neat, clean cut, sporty and dashing in its own modern way. And talk about being easy to maintain. It is the quintessential wash & go look for men who like to be active and don't want to waste any time in front of the mirror.

The cut has to be trimmed regularly to stay in shape. With his dense hair and light natural curl, interesting texture and some movement develop on the crown. A little wax for shine or gel for a wet look are great alternative stylings.


Flip in the Fringe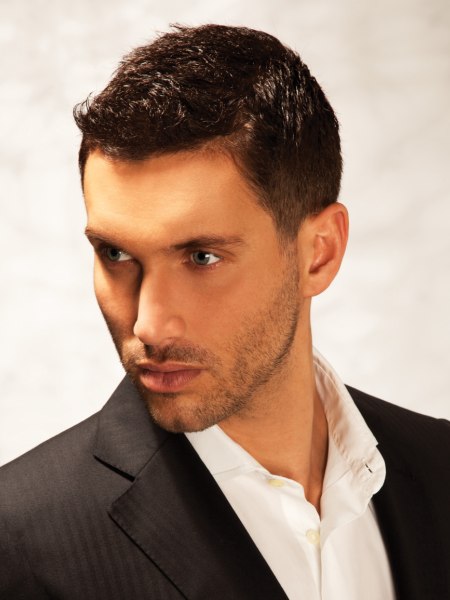 A very popular men's look that is right on top of the current trend-o-meter. Clipped short all around with clean contours and just a wee bit more in length on top to be able to style the hair in different directions and to play with the texture.

A few drops of gel make it shine and allow the short fringe to be lifted up to this feisty, sexy and very dressy little accent. A great haircut for office or play, wear it with or without the handsome stubble.


Long Fringe for Men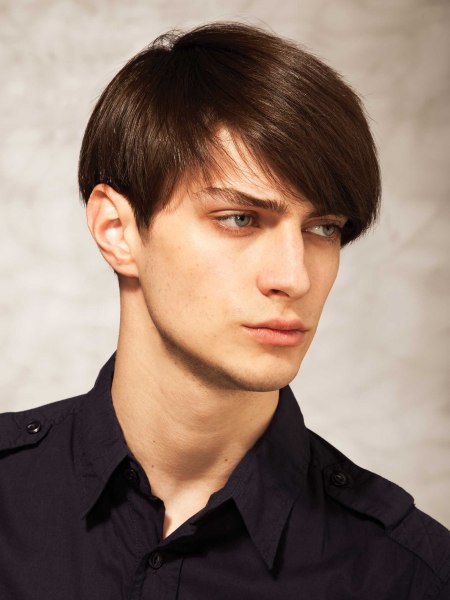 Long top hair and exact lines around the neck and the ears let us stop and stare. His thick hair was styled with perfection in volume and flow. A blow dryer is essential to create this look, like it or not, but even men should know how to use the tools of beauty.

A little lift in the roots give his hair the soft and airy volume and aids with the round shape of the cut. The ear is fully exposed and his bangs are ready to be flipped to the side.


Nostalgic Men's Look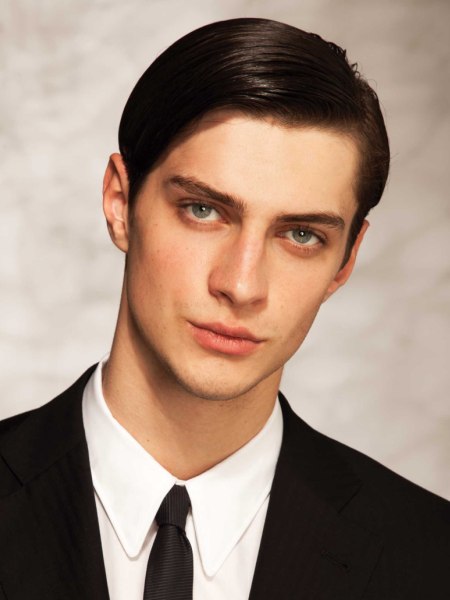 Get that pomade or gel out again! Stylish men make friends with modeling pastes, waxes, gels and other potions of eternal handsomeness.

His long top hair was sufficiently trenched in a fragrant and slightly sticky product and then combed with strict determination to the left and the right side of his neatly drawn side part. Nothing obstructs his face and the hint of retro is a subtle but at the same time extravagant touch.


Angelic in Blonde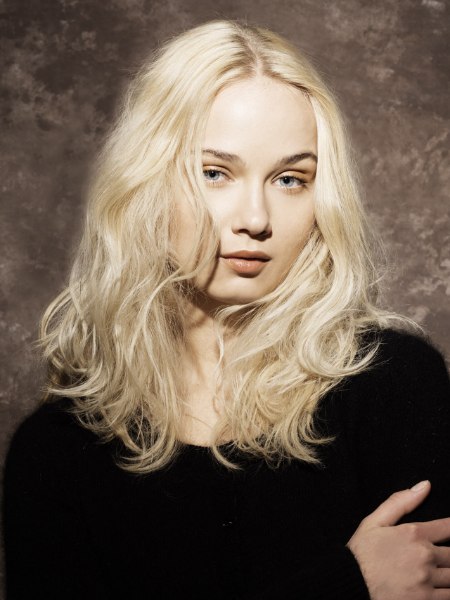 The magical myths of blonde will not disappear as long as there are hairstyles like this one. Seductive from root to tip it boasts large waves in the evenly parted hair. Only at the bottom are some layers to help with the shape.



The waves create the light volume and the airy feel, which is of course inevitable with this heavenly platinum blonde. The color is blinding when combined with an outfit in dark colors. Keep the make-up at a minimum and use natural colors for a very beautiful effect.


Super Short Bob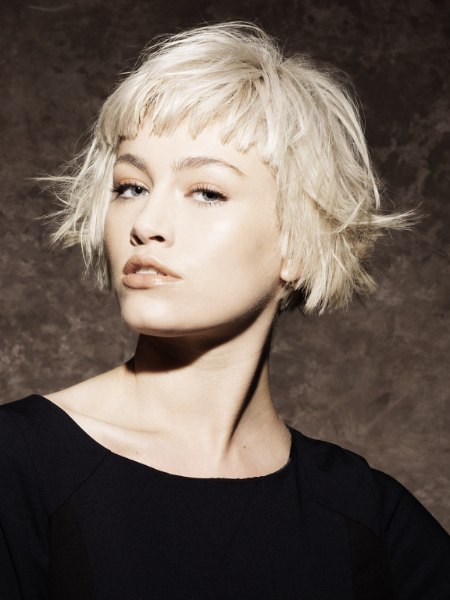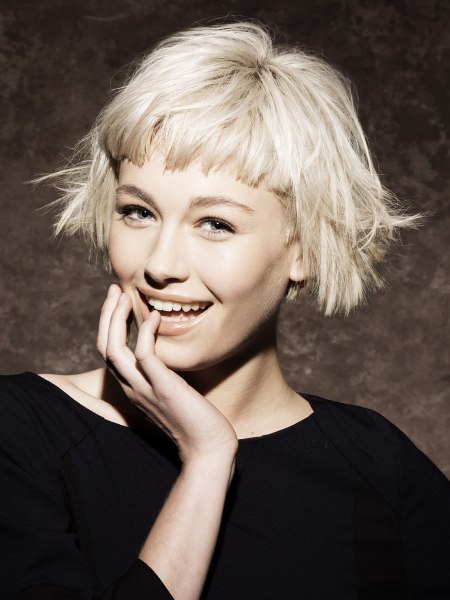 Short Bob and short bangs always have such a creative and artsy expression. In a bright platinum blonde this grows exponentially. Soft and cool, yet edgy and sassy, this classic hairstyle pulls on all of the strings. A titillating combination of past and future with an existentialist vibe.

The bangs cover half of her forehead and have a rebellious rugged cutting line. There is no subtlety in the texture for this look and it is not needed. This style is about being bold and not to be overlooked in its tousled beauty.


Sleek Platinum Bob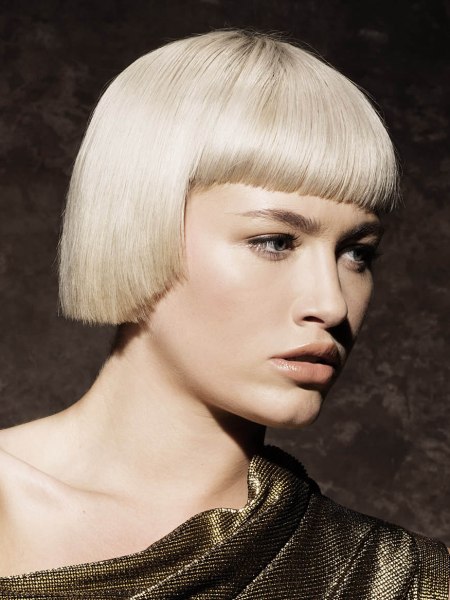 The same cut for a more serene expression with very sleek styling all around. This nicely displays the short bob with its interesting little cut corner in front. It is always amazing to see how such small details can change an entire look and give it a new vibe.

The lines are clear, geometric and striking. A simple, basic color like a pure platinum blonde or a pure black are the ideal colors to celebrate the unusual shape of this cut.


Practical Short Hairstyle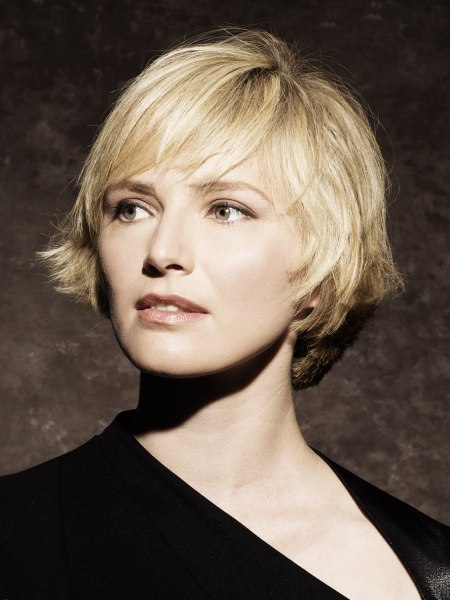 This cut is thoroughly practical under all circumstances, but it also has a high fashion factor and thrills us with its flexible nature. Steep graduation in the neck meets longer, playful layers on top.

All that with an equally playful fringe and lots of strands ending in wispy tips that frame her face. Style it calm or wild, the cut allows it all. Being low maintenance does not have to mean without finesse!


Thick Layers in Black and Brown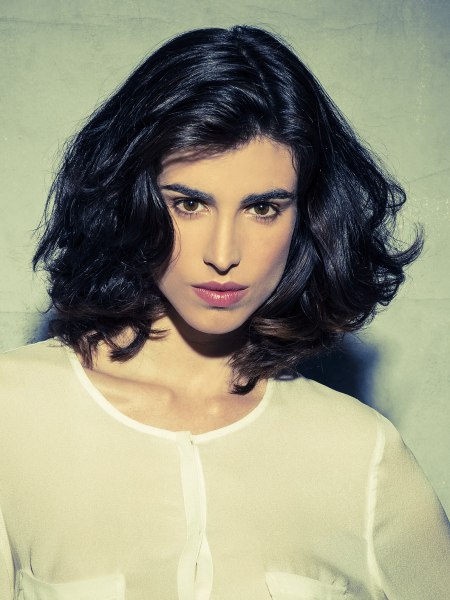 The black of this long layered cut is taken to the extreme and was given a dark blue shimmer that is out of this world. Underneath a few bits of brown strands peek through, bringing a warm contrast to the dominant metallic color.

Her thick hair was layered, which not only makes it lighter, cooler and easier to wear, it also supports her natural wave, that is not weighed down anymore now and can spring up to its gorgeous bounce.


Cute Pixie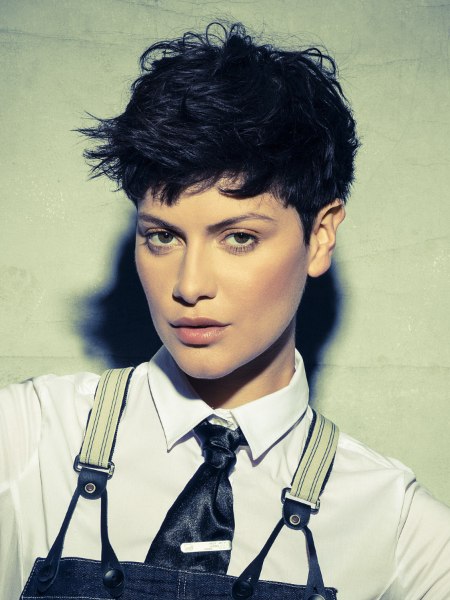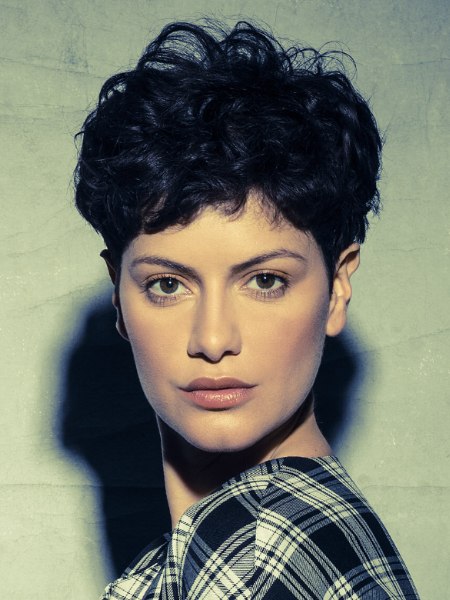 Short spikes and a funky, punky attitude make hearts jump and give her the feisty edge she wanted. While the top of her dark hair is wildly disheveled and tousled to the front but also randomly to the side and up, there is a distinct contour, which holds it all together.

The cutting line around the face is sharp and even features mini sideburns in front of hear, playing with the androgynous element and working with the necktie and suspenders she is wearing.

Hairstyles: Cebado