Ice Maiden's by The Hair Studio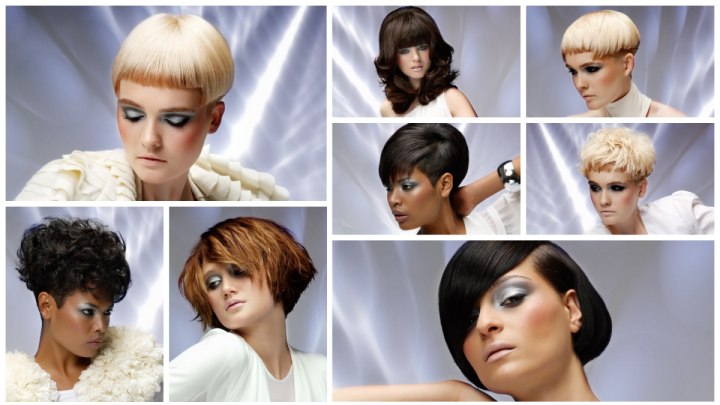 Scroll down for more photos ↓

These looks are not as icy as the name of the collection may betray. In fact they are so stylish, beautiful and hot that they will melt everything in their path.

Versions of each haircut keep the sensations coming, and the choices include hairstyles for a variety of types. A short hipster cut, a ladylike modern coif, razzle dazzle tousled hair and vintage beauty are rocking this winter wonderland party.



The hair colors are full in trend with their natural range of blondes, blacks and coppery reds. Sophisticated shapes and precious tones are always an irresistible combination and that is just what you need for all of those upcoming festive moments.


Two Tone Bowl Cut


Bold, ultramodern and yet romantic, this short haircut teases all senses and challenges conventions. Imagine a very short bob with the lower cutting line actually sitting above the eye level. This is basically how this cut is constructed. The short bangs are straight and on each side another inch juts down in a right angle.

Underneath, the hair is clipper cut close to the scalp on the sides and the back. Besides the exciting contrast of textures, the true star of this hairstyle is the color. Actually the two colors. A layer of a very light vanilla/platinum sits sleek on the warm caramel with a smooth transitional effect along the edges.


Same Cut New Styling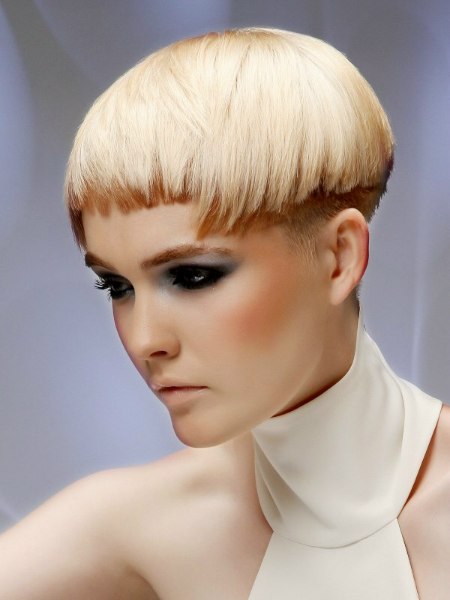 The first version of this fabulous short haircut was styled all soft and sleek. This version takes an edgier route with the hair running in different directions and overlapping in places.

Not only does the surface texture get much more interest, the two hair colors combination also takes on a bolder character with the now disrupted line and choppier expression.


Short and Ruffled Hair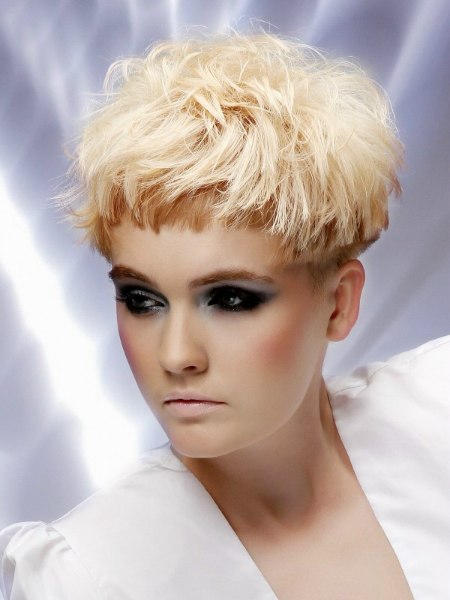 Another re-styling unveils the wilder side of the short mushroom - bob cut with a great amount of movement.

The vivacious velocity builds up high in the center of the crown with its platinum strands, spun like fine sugar. From there the storm settles towards the side, the structure becomes thicker and more choppy until it reaches the deconstructed caramel colored cutting line.


Clipper Cut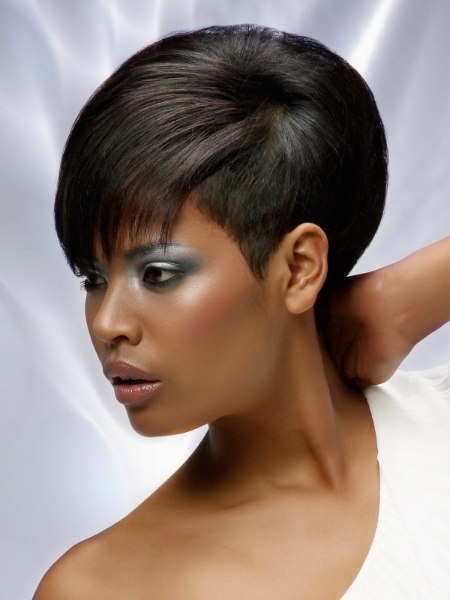 Behold how much feminine sophistication can be put into hair this short! It is all about the perfect cut and the right styling. Again there is nothing icy about this maiden, except perhaps for the sleek surface of her hair.

The shape is the most noticeable in its esthetic perfection, tailored to be in total harmony with the shape of her neck, head and face. Clipper cut sections on the sides keep it modern and sassy, while the longer top hair with its teased and then smoothed volume brings back memories of famous vintage styles.


Short Curls with Clipper Cut Sides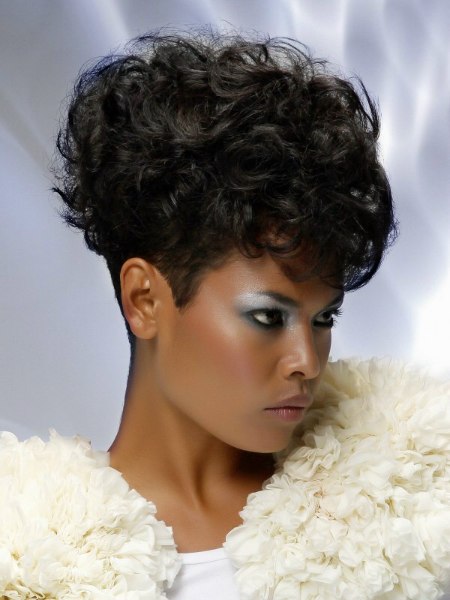 Feeling fancy tonight? Curl up those tresses and strut your stuff. With her short naturally curly hair she does not need much help, but a curling iron will still add shape and a specific size. Clipper cut sides and the supershort back add a Rihanna allure to this sophisticated and spicy look.



Romantic and classy don't always mix, but with this look, The Hair Studio pulled it off. Her color is a very dark, brown, almost black, but with a warm shimmer to it that makes it so much softer and in harmony with her skin tone.


Release the Volume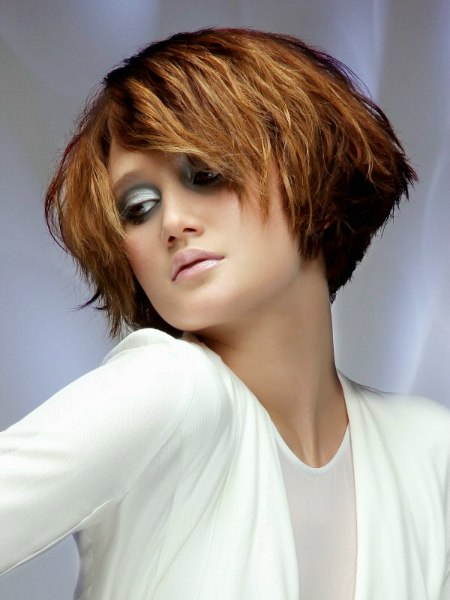 Thick hair is at its best with a short cut that lightens the weight and uses all of the volume in its shape. Touched by the vision of The Hair Studio this thick hair turned into a sassy example of a sensuous play with texture and colors. After cutting it with a blunt line, the entire hair, which most likely has a light natural wave was styled by scrunching and tousling to get this fun, wild but controlled texture.

A side part makes it trendy and gives it the chic and casual character. All of the effects from movement to volume are optically enhanced by the use of color with delicate highlights on the coppery, golden blonde top hair and darker hues that are infused in the lower hair.


Festive Curls for Short Hair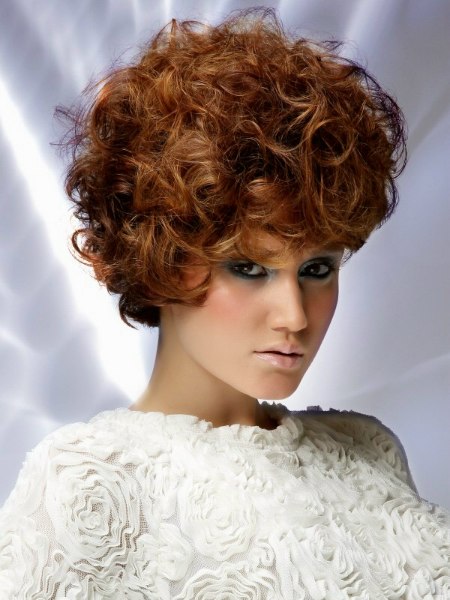 A treat for a special evening! Be the most beautiful you with a head full of the most luscious curls. The short layers of her coppery hair were shaped into perfect curls all coming together to a luxurious round shape that has the bulk of its volume on top of her head. This pronounces her fine swan like neck and gives her a very sophisticated and high-maintenance air.

To style the curls were just picked into place with the long point of a styling comb and the fingers. Adding a shine hairspray boosts the luster and let's this gorgeous hairstyle hold until way after the last dance.


Soft Fluid Lines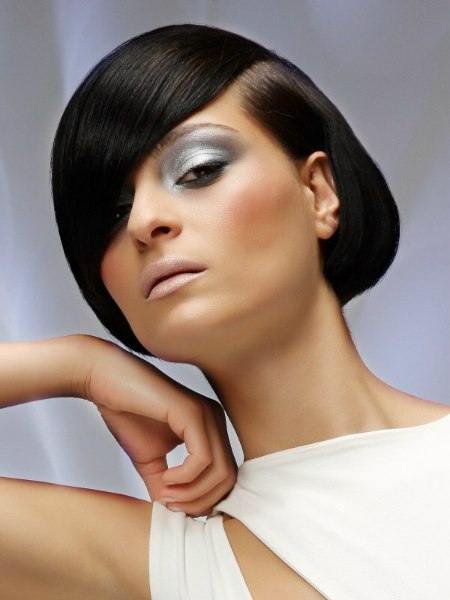 A touch of vintage comes with soft pink lipstick and raven black hair. Styled to a fluid, satiny and extremely polished look her short hair will tell the world of her heightened fashion sense and extraordinary taste that is actually rather simple, since only the best will do.

She does not compromise and knows what she wants. Her hair is under full control and flows diagonally across her face, and around her head in an organic and most elegant shape. To increase the asymmetry, a small strand is tugged behind one ear.


Retro Hair with Bangs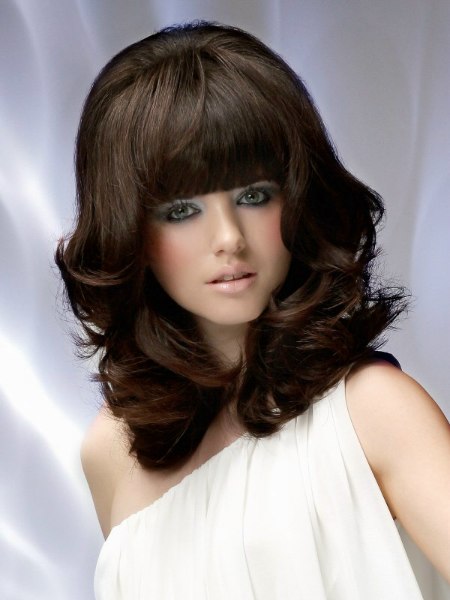 Looking at this flamboyant hairstyle, you can almost hear the beat of the 1960s music. Admit it; your foot is already tapping along! The new retro styles are of course much updated and the biggest difference is the soft styling and products that do not turn the hair into a stiff mass, but still giving it good hold.

A long, eyebrow covering fringe is cut in a straight line, which brings much attention to her eyes. Framed by large wavy layers her fine features are even more delicate and the volume, teased under the smooth top gives the style its signature height.

Salon: The Hair Studio
Hair: Harry Boocock & Chris Horsman
Make-up: Lee Pearson
Clothes: Claire Frifth
Photography: Jim Crone

See also: Short hairstyles | Medium hairstyles