Draw Attention to the Eyes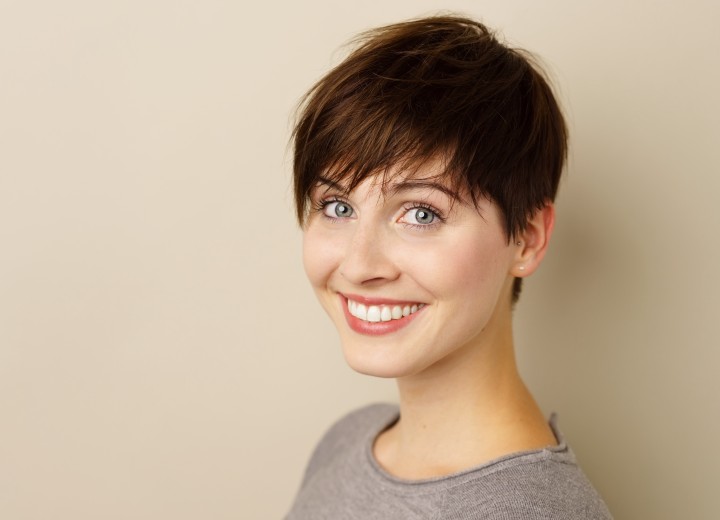 Q: I have an oval shaped face and I want to know how I can draw attention to my eyes without dyeing my hair?

A: Obviously, dyeing your hair to a complementary color can help to bring out the color of your eyes and make them more noticeable, but you can draw focus to your eyes via other methods as well. The most common of these methods is through the cut:



Most gamine-short haircuts result in the eyes becoming the center of focus on the face. This is primarily due to the fact that these styles keep the attention centered on the area around temple-level (or at least below the parietal ridge) which is the zone in which the eyes rest.

If going for a dramatically short style is not for you, you can achieve a similar effect by incorporating a fringe (bangs) into your hairstyle. By using a cut line in the foreground that hovers at or around the eye level, you draw focus to the eyes and make them stand out. Bangs can be cut and styled in many ways: they can be soft and wispy, or solid and heavy; they can be cut in a straight, horizontal line, or they can curve to frame the whole face.

Another method that can work, to a lesser extent, is the addition of layering around the face. Incorporating layers into the style that frame the face and draw attention to focal points along the length of the face can be used to draw attention to the eyes as well.

Finally, if neither color nor cutting the hair is acceptable, you can try styling techniques that create elements to draw focus to the eye level of the head. Long hair styles that are swept over and secured to create pseudo-bangs type elements can draw focus to the eyes, as can outward-swept sections at the temples. Any styling element that creates a horizontal focus at or around the temple level will help to bring the eyes attention.

©Hairfinder.com
Photo: Stockfour/Shutterstock

See also:

How realistic are you about your hair?

How can I bring attention to my eyes but away from my big nose and my weak chin?

What haircut will make my eyes look bigger?

What makes a hairstyle sexy?