My Balance by D. MACHTS SCHOOL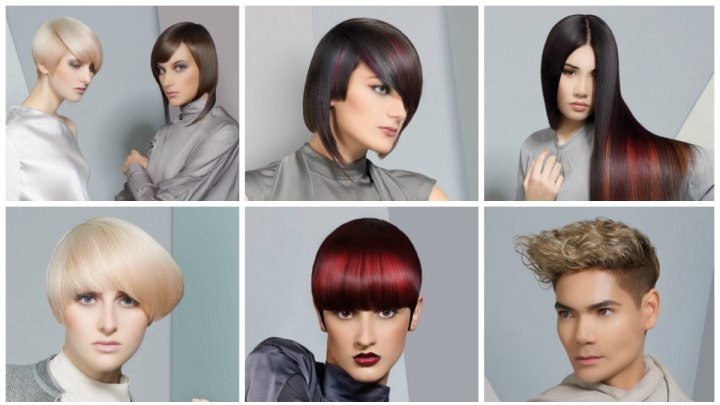 Scroll down for more photos ↓

Balance is essential to beauty, esthetics and life in general. We would not make it far without it, and we would not look that good. D. Machts School took balance to a more personal level and designed hairstyles for women, that are tailored to their types, reflect their personalities and include astonishing features of modern hairstyling.

Sleek and sculptural shapes appear like pieces of art, some reminding of modern masters like Henry Moore. Soft surfaces and fluid shapes, often with eye catchers of different lengths built in and hair colors that are pure and intense, have an intriguing effect and cast an inescapable spell with their powerful subtlety.


The Blonde and the Brunette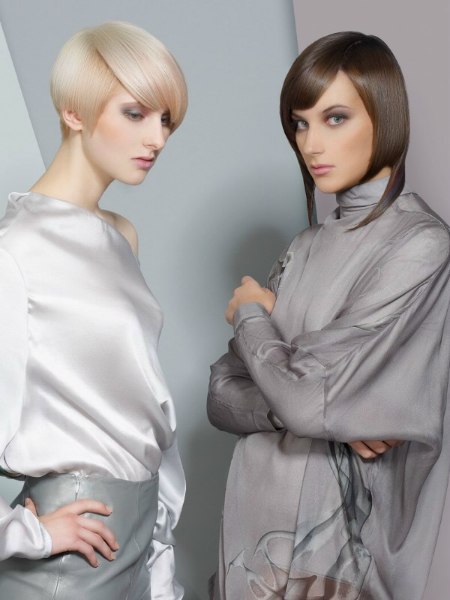 Blonde Silk: As smooth as the finest silk, this short haircut wows with simple lines and an exquisite finish. Not only is the cut immaculate, but the hair color also plays with our perception and sends our eyes off to a sensual journey. Very light blonde is applied in wide areas to highlight a medium, golden blonde base which shows mostly on the edges, in front and underneath. The short hairstyle is finetuned to the shape of her head and her features. Every corner and every line have a purpose. The bangs are low and start way in the back with a deep side part.

Zen in Brunette: Somewhere in the thought process to create this unconventional hairstyle was the idea of a bob, but the final result is way beyond the classic concept. Curved lines frame the face and also continue with a similar vibe around her neck and extended lengths in the back section. Those longer strands are cut tapered so that they can be sharpened to a fine point. Smooth motion and deep zen energy give this look its very special touch. Everything is round, organic and yes - balanced.


Meringue Asymmetry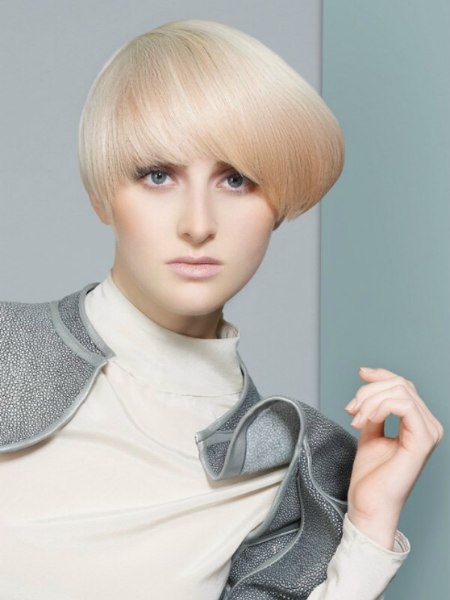 If there was a feng shui for hair, this short haircut would be the perfect example for balancing shape, color and energy. Balance does not imply that it has to be symmetrical, as we can clearly see here. A narrow side is offset by a bulging dominant side.

The difference of the opposites is created by parting the hair off to one side and adding rounded volume with good styling skills. The movement of the hair is subtle, yet contagious.


Intense Red Hair Color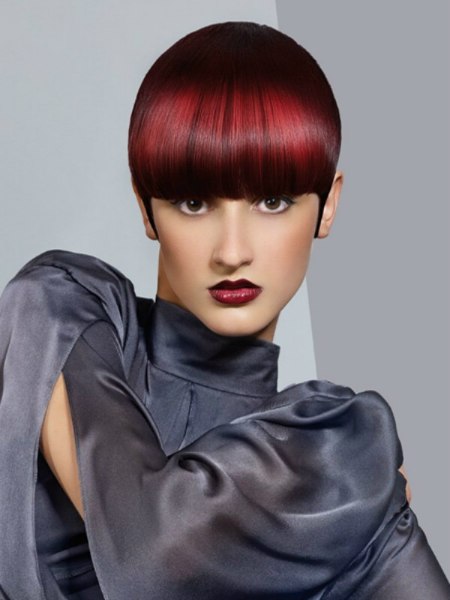 The minimalism of this short helmet style haircut is balanced by the extreme hair color. A palette of reds vibrates on the straight and smooth canvas in dark cherry and lighter paprika as well as fire tones.

Bangs dominate the frontal view before they curve down into tiny but, due to the color, stylish and intense sideburns. The entire look is a fashion statement and seems even futuristic in its approach. The skill and vision of the stylists can only be admired.


Varying Lengths and Colors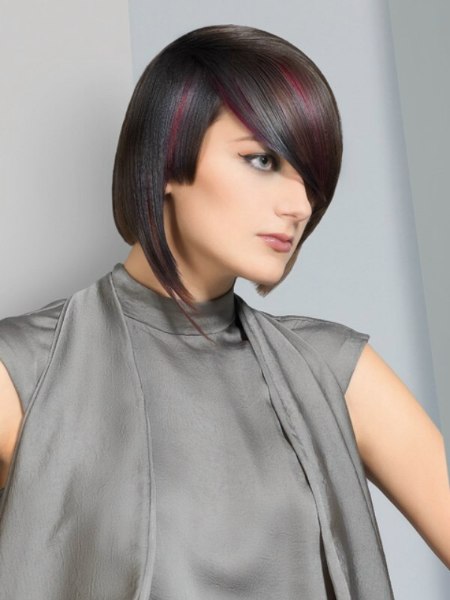 Iridescent like the most beautiful plumage that can be found in nature, this short hairstyle appeals to all of our senses. The hair color ranges from a dark silver on a dark ash blonde to metallic blue and fuchsia hues. The pattern will change with every move of the hair and with each different styling so that you can surprise yourself and all others anew each day.

The cut is not any less spectacular than the color and features varying steps in lengths, all balanced according to artistic principles. A mid-neck length is fronted by an almost shoulder length tendril with much texture. Another cornered step leads up again an into the overlapping deep side fringe. Asymmetry with a mission.


Elaborate Coloring in Long Hair


Simple shapes enhanced with intricate colors are among the most beautiful hairstyles. Especially when the hair is this long, this sleek and healthy. The shine speaks for itself, and the streaks of color make a lasting impact.

The intriguing shades combine blonde, dark cherry and copper in wide, flame shaped applications that seem to illuminate the dark hair from within and breathe a magic life into it. With hair like this you won't need any other accessories as nothing will be able to compete with the allure.


Feminine Men's Haircut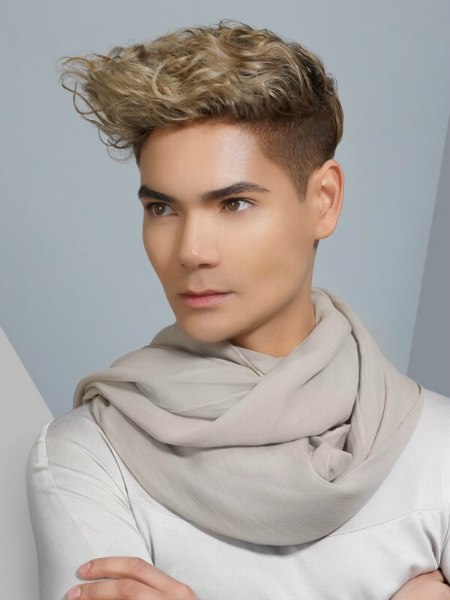 Explore the fascination of a men's haircut that turned feminine. The sides are clipper cut to stubble length and are contrasted stylishly by the longer top hair. This floats outward in small ripples as if pulled out and up by an unseen force.

Movement is accentuated by lighter and darker shades of blonde. This look with its modernist feel is very flexible and offers interesting styling variations.

Hairstyles: D. MACHTS SCHOOL

See also: Short hairstyles | Long hairstyles | Men's hairstyles