Comparing Hair Colors (2)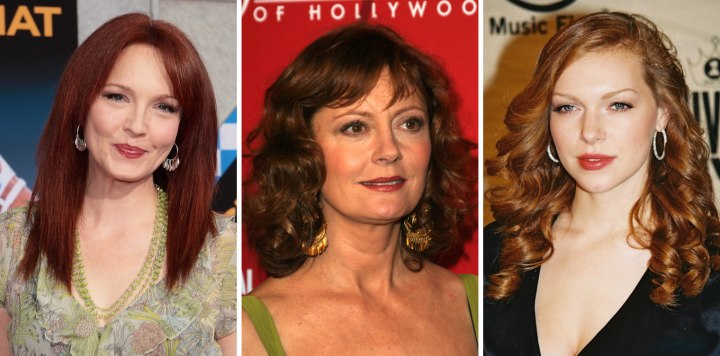 Previous Page

Redhead:

Whether the red is a flaming bright shade or just a subtle bit of warmth, the pheomelanin in the hair creates them all. Red hair can range in lightness level from 2 or 3 all the way to levels 9 or 10. Common hair color terms for redheads include: auburn, ginger, carrot and can be richer red-based colors or brighter orange-based colors.



When it comes to red, there's no way around it. Redheads make a splash wherever they are. Well-groomed red hair is possibly the most alluring of all the hair colors (in my humble opinion) and often it looks as though it should burn when you touch it. Red can also be found in a variety of shades, just take a look at Susan Sarandon, Laura Prepon and Amy Yasbeck.

Gray:

Gray hair colors come from the absence of pigment as stated above, but there's usually one of the other color categories upon which the gray shades are built. We speak of gray hair in terms of percentage of gray rather than levels. When the hair is 100% gray it is actually a translucent white. At 50% gray, the hair is often called steel-gray, and 75-80% gray is usually referred to as silver.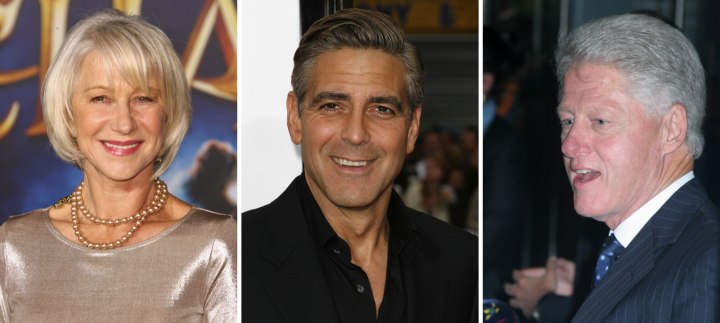 Gorgeous gray is nothing to cover up, and in fact, if you properly care for your gray hair, there's no reason it can't be the crowning glory it always was. Just look here at Bill Clinton and George Clooney, both gray, but different percentages. Both look smashing. And silver screen legend Helen Mirren is not only gracefully aging, but is showing her style still reigns as your haircolor fades.

Combinations:

As mentioned previously, there are colors that are a combination of categories. Those that are both blonde and redhead might be called "strawberry blonde", while "auburn" hair color is both red and brunette. Even "dishwater-blonde" is a combination/crossover of the blonde/brunette groups.

Is the lovely Evan Rachel Wood a blonde or a redhead? The truth may be a matter of debate. I call it strawberry blonde, and it's a prime example of a combination of blonde and red hair colors.



Jill Clayburg and Natasha Kaplinski are members of a different combination group. These ladies may present a problem for those trying to classify their hair color since it's hard to decide if they're dark, dark blondes or really light, light brown? Of course, when your hair looks this good, does it matter?

Lovely Amber Tamblyn is stunning with her warm brown curls. Her auburn tresses are clearly an example of the crossover point between red and brunette hair colors.

Stacy - Hair Stylist ©Hairfinder.com

See also:

Genes and hair color

Psychology of hair colors

Cool and warm hair colors

Hair colors and our color palette