Hairline & Vellus Hairs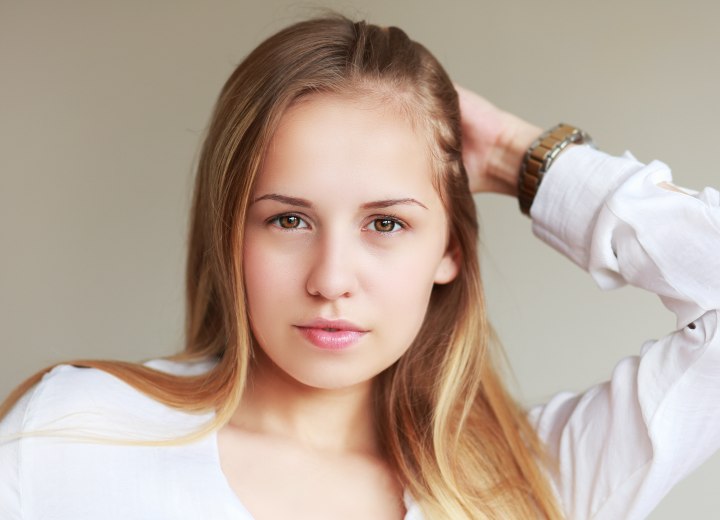 Q: I have another question. What if I have a "hairline" and not really a widows peak? What can be done with those? How can I have them go back when for example, I tie my hair back?



A: The best way to deal with these hairs is to use a strong hold styling gel or pomade (wax-based hair product) and a fine tooth comb or brush to smooth them back with the rest of the hair. In some cases, you can use a bit of hairspray on the hair when it's dry to smooth them into place as well.

Sometimes, these are simply overly long vellus hairs that form in a narrow zone between the forehead and the hairline, giving the hairline a "fuzzy" look. Many women choose to clipper these hairs to create a cleaner hairline, or may even shave or wax them.

However, the shaving and waxing can leave an obviously denuded area at the top of the forehead if the vellus hair on the forehead is particularly thick. You end up with an area that looks like a shaved patch on a peach.

If the hairs are long enough to be smoothed into the rest of your hair, this is usually the preferable option. You may need to use extra style product to smooth them or keep product with you for touch-ups during the day. Pomade is exceptionally portable for this purpose.

If the hairs aren't long enough to be easily kept blended into the main body of hair, consider clippering with an edger or beard trimmer tool so that you can shorten them to the length of the other vellus hairs on your forehead. Only consider shaving and waxing if the hairs are dark and too short to blend.

©hairfinder.com

See also:

What does a widow's peak look like?

How can I get rid of the baby curls at the front of my head?

What can I do about the new hair that is growing all around the front of my hair?