EvelineCharles™ - Versatility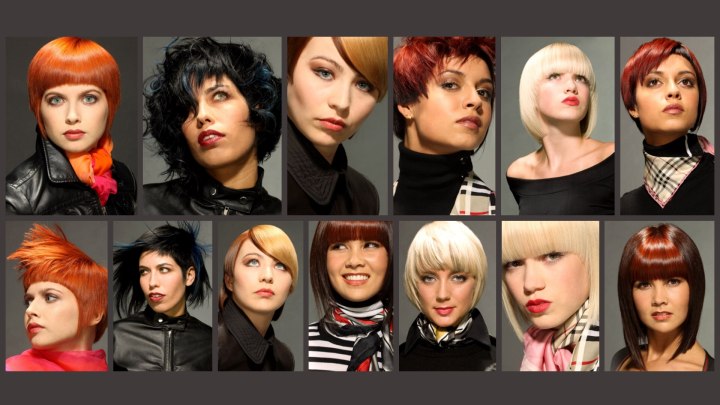 Scroll down for more photos ↓

The EvelineCharles™ Salons Spas Artistic Team created the Versatility Collection to showcase the multitude of looks that can arise from a single beautifully designed haircut and hair color. The collection showcases flexibility, modern style, femininity and boldness.

"Following fall fashion's theme of architecture in motion, we wanted to showcase haircuts that balanced strict, formal lines softened with fringes and voluminous hair movement," says EvelineCharles™ Artistic Director Ashley Harrison. "To achieve this look, talk to your stylist about a cut with a defined shape, and softness on the interior to create hair movement."



This season, EvelineCharles™ colors are rich and believable. The bold and warm hair colors of fall toy with hard and soft, once again showcasing strength with femininity. When it comes to color, the choice between a daring and feisty copper, rich espresso brown or sophisticated blonde, makes little difference, just be sure to go bold with your color.

"Accentuating your cut with precise color placement will add more shape and flair to your hair," says Harrison.

Fall's make-up is luxurious, elegant and edgy. The richness of a smoky eye returns in a palette of burgundy browns. To add color to the eyes, incorporate a jewel-toned blue, purple or green. The key to creating a smoldering eye is proper blending to flawlessly blend colors together. If you choose to go bold on the eyes, keep the lips nude.

Fall fashion echoes an era when dressing up was an everyday affair. The runways showcased full skirts, fur collars, sheer stockings, plaids, tweeds, scarves and classic pumps. All pieces were intrinsically modern; a refreshing approach to lady-like style. This fall welcomes the season of change; at EvelineCharles™ Salons Spas, fashion and beauty are returning to their roots of chic and beautiful style.


Asymmetrical Haircut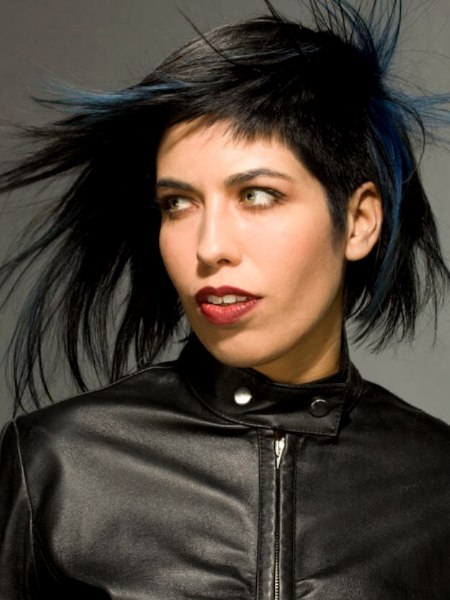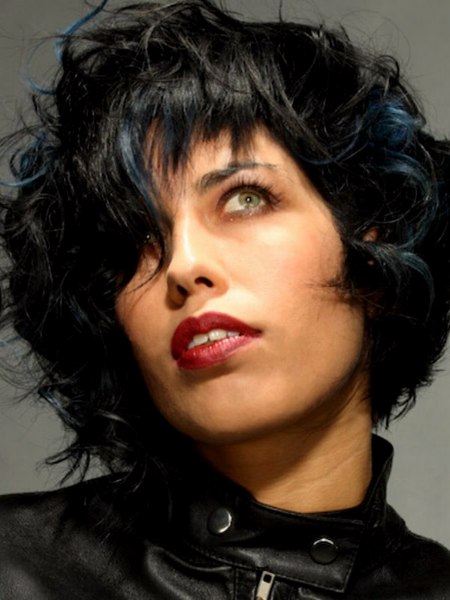 Two faces of boldness find their expression in this asymmetrical haircut. A thin lower layer of ultra short hair frames the face on one side running in a smooth line from tiny fuzzy fringes to a sleek indication of sideburns. The upper hair is cut in long layers with gently textured tips.

The first version shows us a sleek styling that brings out the rebellious shine of the raven colored hair. A softer and more feminine look comes with the curls, which are not less daring in their expression. Here the ice-blue streaks are emphasized and do their midnight magic to bring out the curls.


Exposing One Ear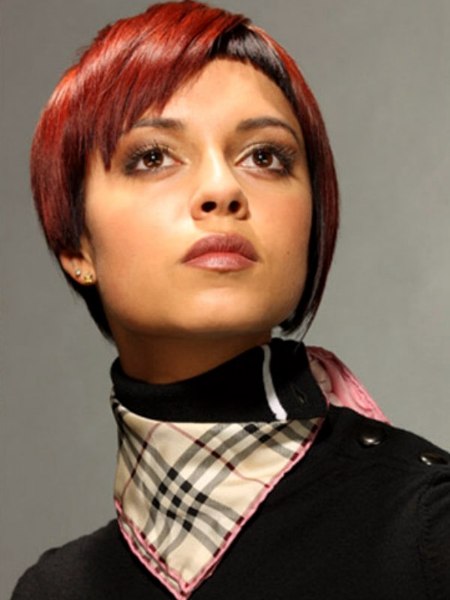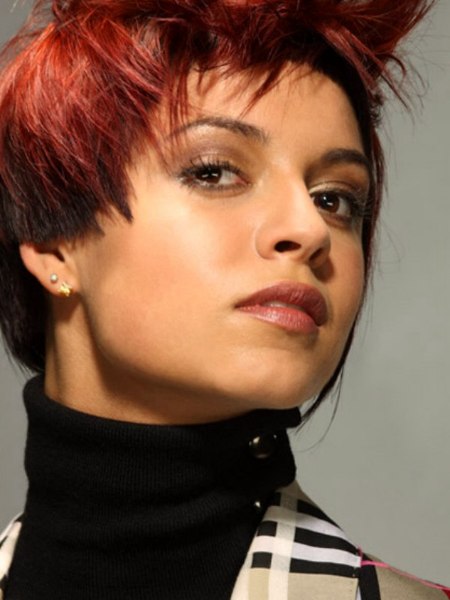 Layers of hair and color turn this short hairstyle into a piece of cubist art. Using hair as a building material for a three dimensional sculpture does not result in a low-maintenance hairstyle, but into one that will definitely turn some heads.

The hair is cut with slightly jagged edges, in a curved line around the head, one side covering the ear, the other side exposing half of it.

The side partition lets the fringe open like a stage curtain, revealing a very short fringe underneath that was cut into a precise curved line covering the width of the forehead. To enhance the effect, the lower portion of the hair was died in a deep raven tone, ingeniously contrasting the fiery red top part.


Precision Haircut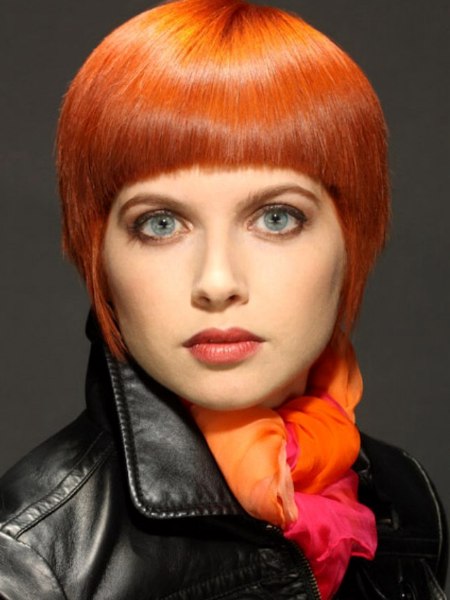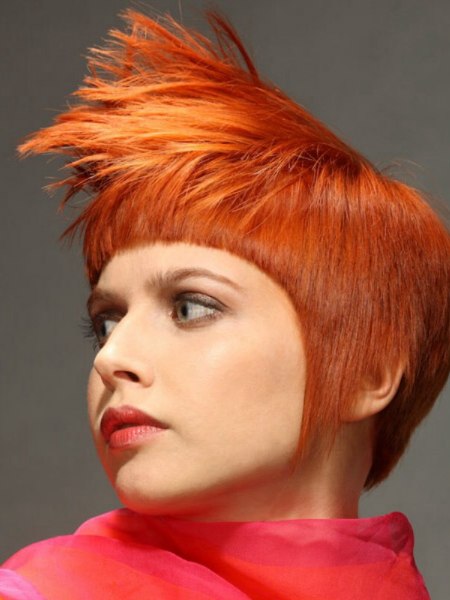 This masterpiece of precision hair cutting shows its high level of professionalism and vision in two versions - a geometric sleek styling resembling a futuristic helmet and it is especially evident in the ruffled feathers of the second variation.

The layers of this short style are so fine and textured that they seem to form one uninterrupted, shiny surface that flows around the head in a coppery orange hue, so heated as if it came right out of the center of the earth.

The alternative styling uses a handful of upper hair that is styled into fiery spikes pointing to the front and upward in a 45° angle.


Platinum Bob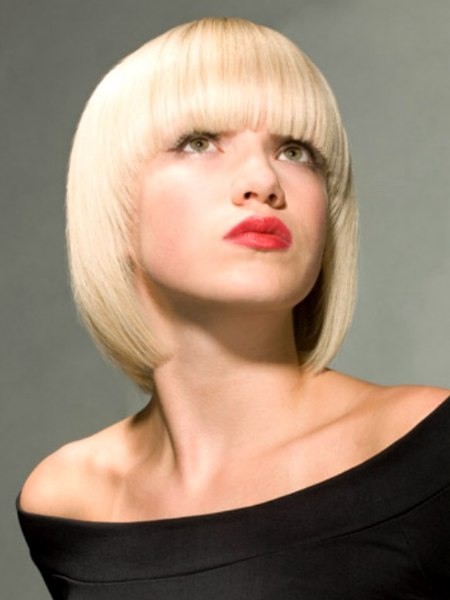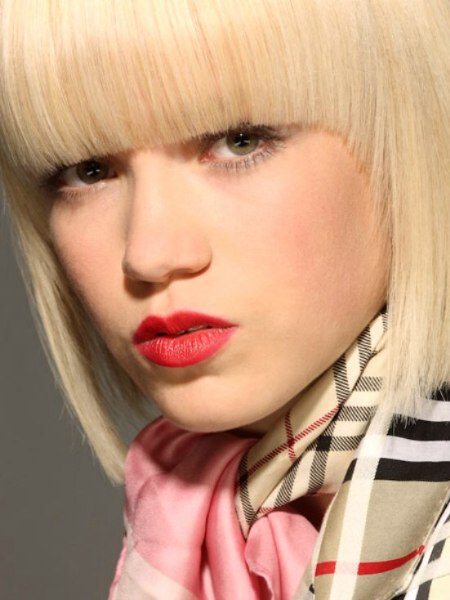 Dressed to kill. Hair that is. Who can resist the charisma of a platinum bob with extremely straight bangs that connect to the tapered sides with a precision cut curve? The coolness of the hair color and straight lines is toned down by soft edges that are designed to hug the curves of the face in a most dynamic and flattering way.



Gentle but determined in a color that reminds us of old Hollywood. The icy platinum is interspersed with tiny streaks of gold that turn this classical - modern mélange into a smoldering statement of timeless beauty.


Versatile Medium Haircut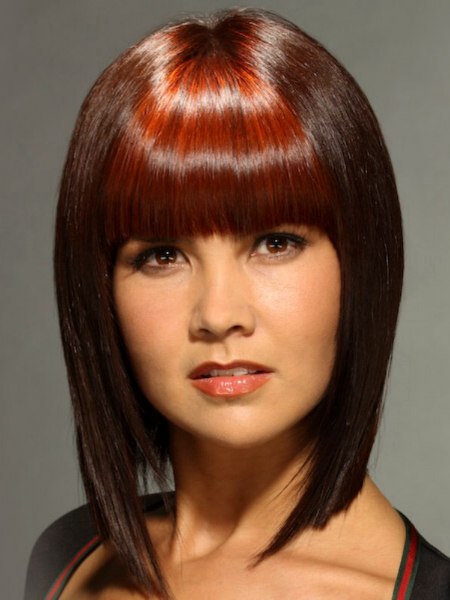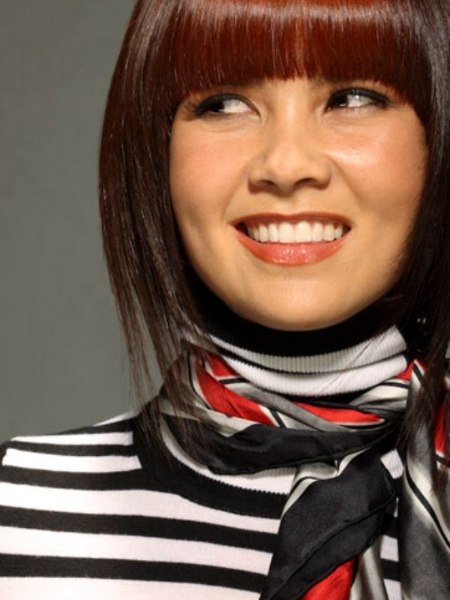 The classic long angled bob that inspired this cut is still visible, but with textured ends and a slight asymmetry it is on top of the current trend list.

Meticulously cut, the oval shape of this creation gently frames the face with straight bangs that are rounded on their ends to harmoniously blend in with the sides. The shape of this versatile medium length hairstyle is perfectly smooth; the surface shines like a freshly picked chestnut with a play of bold but natural colors.


Exquisite Hairstyle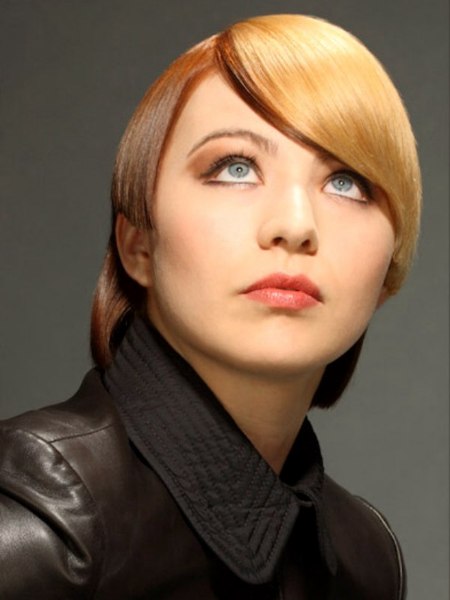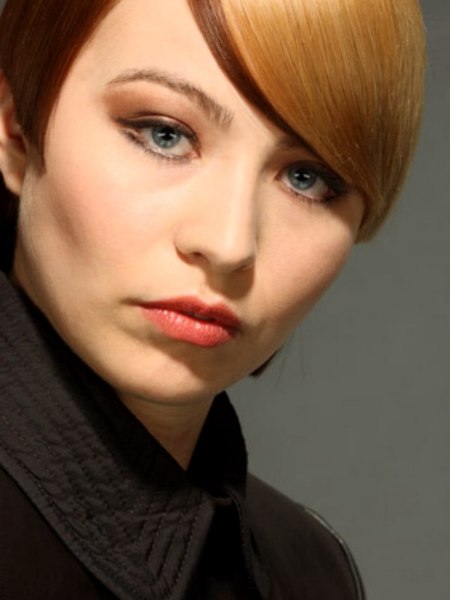 Smooth geometry in color and shape is the key to this exquisite hairstyle. The basic cut has gamine elements and a strong touch of a pixie cut. The back covers most of the neck and the ears are half exposed by a forward angled line.

The part is centered high on the crown and the hair flows smoothly in a large curve across the forehead while the other side is smoothed to the contours of the face in a straight line. This haircut comes alive with its colors that range from caramel, to coffee bean and vanilla. Each large section of hair has its own hue and the bangs are outlined by a perfectly sectioned dark brown strand.


Timeless and Versatile Hairstyle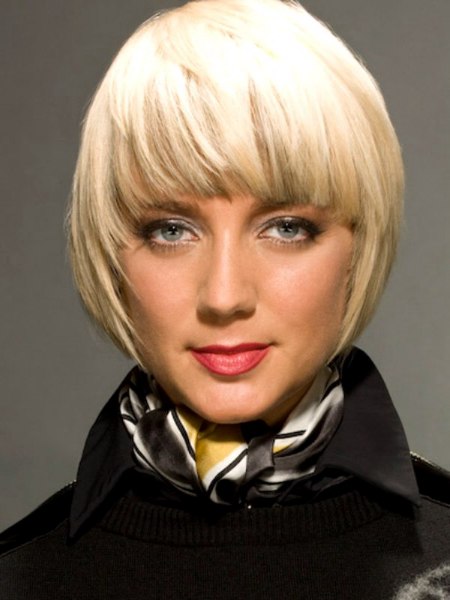 Sophisticated, timeless, versatile and so flattering, what more could you wish from a hairstyle? This platinum perfection comes as a chin length bob with textured ends, tapered sides and a gorgeous layering of color that brings deep dimension and light to this modern classic.

The platinum is joined by warm effects in vanilla and contrasted by a dark nutmeg shade underneath that reveals itself with the different motions of the hair.

In this photo the cut is styled towards the face, sleek and shiny with the blunt fringe and textured sides framing the face. However, it can also be styled to the back, ruffled, teased or curled for a fresh look whenever the mood calls for it.

Hairstyles: EvelineCharles™ Salons Spas Artistic Team

See also: Short hairstyles | Medium hairstyles