Sexy Glam by BUNDY BUNDY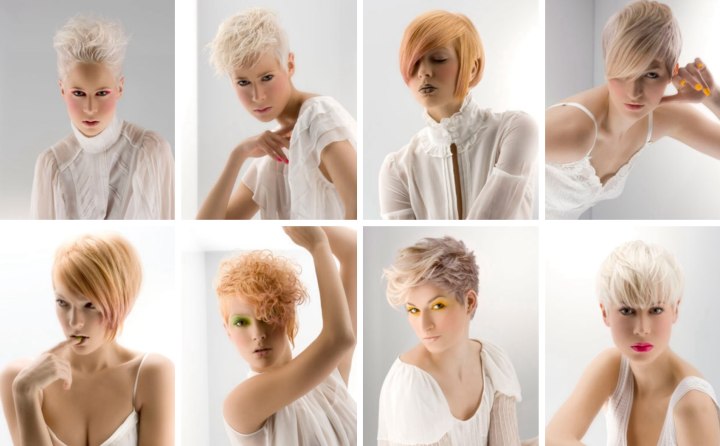 Scroll down for more photos ↓

BUNDY BUNDY's trendy message

Can you feel the lightness of springtime in the air? In fashion, this lightness translates into radiant white. At their summer/spring prêt-à-porter shows, Calvin Klein, Jil Sander and Nicolas Ghesquière for Balenciaga gave us a preview of what's in store this season. Strikingly minimalist cuts are paired with airy, yet luxurious materials.

To ensure that this look flows seamlessly from head to toe, BUNDY BUNDY's artistic team has created the ultimate matching hair look: "Sexy Glam"! It features a lively, radiant shade of blonde with a flexible short cut, injecting a dose of sex appeal into this glamorous look.



BUNDY BUNDY's new trendy colors

BUNDY BUNDY's new trendy collection shines in a blonde made for stars that is just right for today's Marilyn Monroes. It's pure luxury for light complexions. Thanks to our exclusive "Luxury Shades" colouring technique (developed by BUNDY BUNDY's artistic team), cool and warm shades of blonde are combined to result in a harmonious whole when there's movement in the hair.

To achieve this effect, they color very thin strands of hair using up to four different shades. The result: an amazingly radiant and lively blonde that adapts naturally to every skin type!

BUNDY BUNDY's new trendy hair cuts

A new look every day. Expect nothing less from the customized Perfect Cut, chosen by BUNDY BUNDY's artistic team to take center stage this season. Blow-dried over a round brush, this cut is perfect for the office. Or use some hair wax to achieve a bold tousled poolside look. For a big night out, transform it into a glamorous high-fashion look. It guarantees an infinite number of styling variations!

This is made possible by the ground-breaking BUNDY BUNDY cutting technique and its two-step approach. One is a compact cut of the lower layers of hair on the back of the head and on the sides, which looks incredibly feminine combined with longer top hair. This results in a smooth, flowing basic look that's a breeze to style at home.


Short Hairstyle with Soft Layers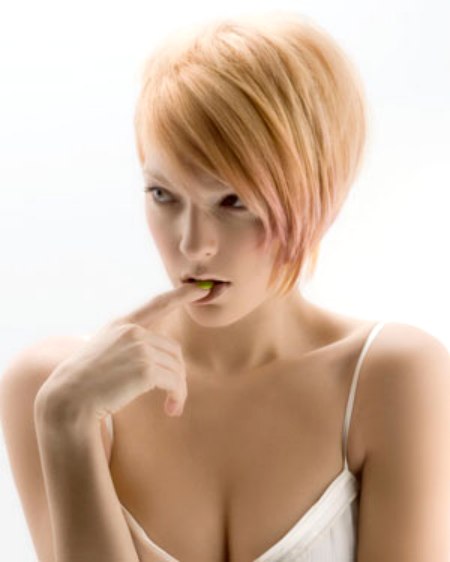 Soft layers and radiant color come together to create this asymmetrical, delicate and beautiful short hairstyle.

Tapering in the nape gives the back layers an extra lift and assures that most of the volume of this look is on the crown and in the back.

The color is a play of several blonde tones with hues in gold, strawberry blonde to a more intense berry tone at the side of the face.

To get this dynamic asymmetrical shape the bangs fall from a high anchor point across the forehead in a curve that meets the side line in a charming curve. Styling tip: A little teasing in the back and crown areas assures the fluffy volume. Hold it all together with a mist of hairspray.


Neat Female Haircut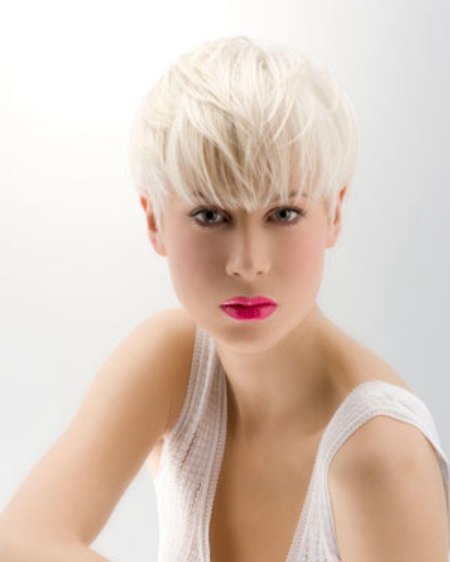 Fine layers on a gamine haircut with a short cropped neck and neatly cut out ears are the base for this ethereal look.

A stunning element is the very straight line of the bangs, only interrupted by strands snaking forward from the back and crown like finely spun cotton candy.

The icy cold platinum hair hue gets an irresistible touch and a promise of heat with the very subtle color effects in a light pink.

Styling tip: After blow drying and styling hair forward finish off with a dab of pomade or wax to identify individual strands. A mist of lacquer guarantees strong hold.


Cropped Sides and Back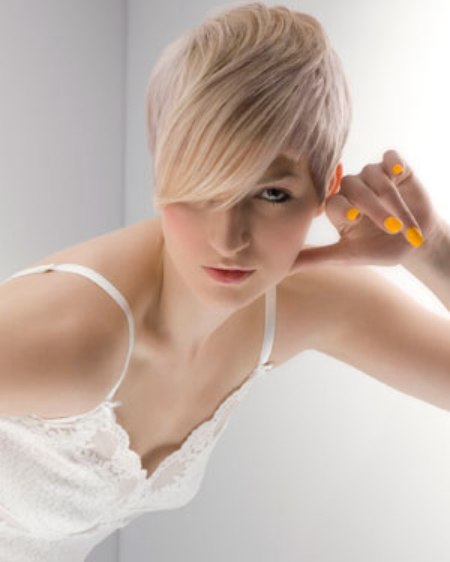 Don't let the soft light fool you. This short haircut is intense, bold and displays a delicious extravagance. However bringing all these contrasts together - the very short, cropped sides and back with a precision cut contour that frames the face in a perfectly round curve from one ear to the other, just to be topped by a lava flow of longer hair that forms a large S all the way from the crown, over one eye to the right cheekbone - results in a style full of surprising harmony.

The romance comes in with a light vanilla blonde that is, in order to not be too sweet, balanced with sections in a cool metallic silver and light graphite tone.

Styling tip: Use small natural brush or comb to style hair forward, use wax on top and on sides to keep flexibility while adding strong hold.


Short Hairstyle with Small Curls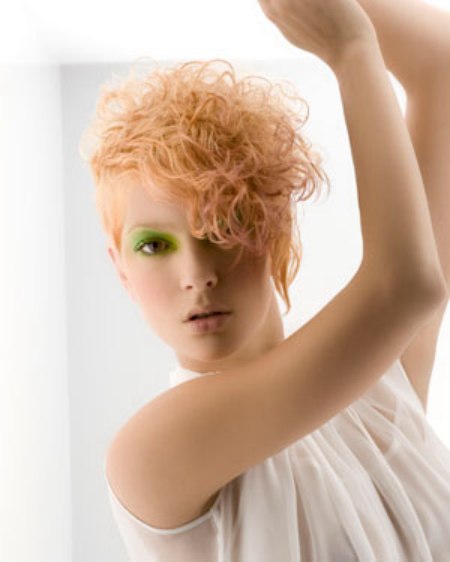 This perfect mix of contrasting elements comes across with captivating vibrations. Very short sides and back pay homage to the trend for androgynous haircuts.

The focus of this short hairstyle is the fluffy cascade of small, well defined curls that stream from the back of the crown all the way across half of the face to the jaw line.



The color is a papaya blonde shade enhanced with subtle copper tones and a kiss of raspberry in the tips.

Use a curling iron, separate curls with fingers and lacquer them for more hold.


Modern Short Cut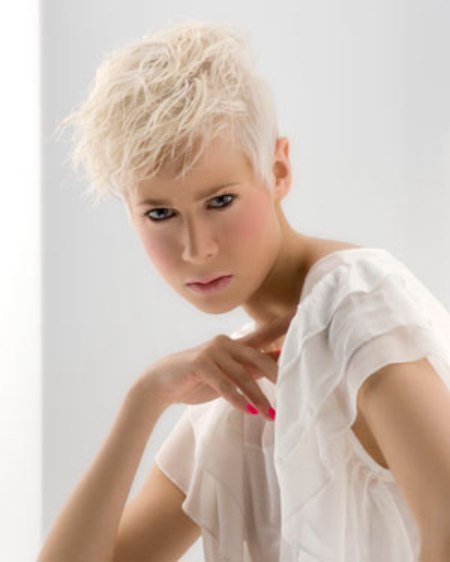 Very short side and back sections are styled smooth and close to the head. The top frolics in a whirl of tiny icicles that are streamlined from the crown to the forehead, following a slightly diagonal line.

The contrast of two distinctly opposite textures brings a lot of dynamic energy to this modern hairstyle.

Color takes this short cut and styling to a whole other level with its iridescent shine and a play of cool, almost transparent platinum and a flow of warm vanilla colored strands on top.

Use a strong mousse and some wax to separate strands and smooth out the sides.


Hairstyle with a Short Back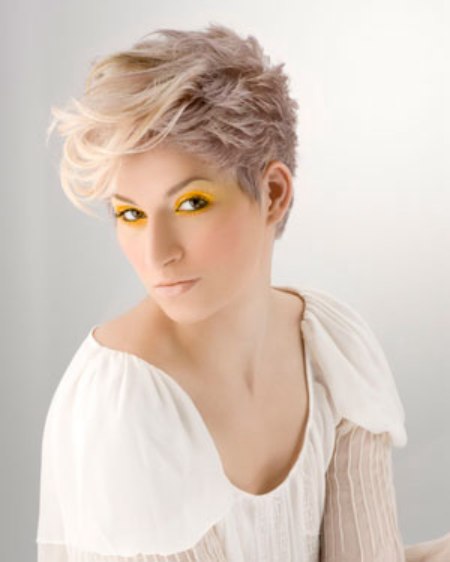 Waves, ruffles and a lot of motion are the key ingredients to this gorgeous short hairstyle.

Smoothly transitioning lengths from the supershort back to the long and flowing bangs are the medium which is turned into a work of hair art with a little finesse and determined styling.

Silver hues, vanilla and extra thin platinum highlights create breathtaking dimension and show off the movement of the frontwards styled layers.

A light and perfectly curved fringe barely touches the skin and seems to defy gravity. Use fingers to pull the sides forward and a round brush to fluff and curve the fringe.


Short Hairstyle with a Rounded Back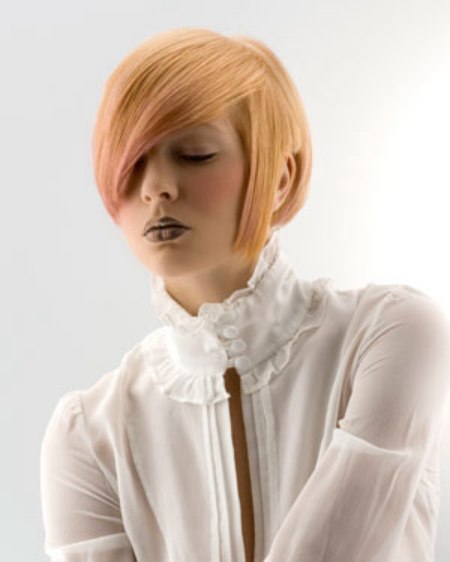 The geometric design of this haircut would make for a rather demure look with a pinch of shyness. This effect is elegantly offset by the skilled use of hair color.

Sheets of smooth and straight hair are draped diagonally across and on the side of the face. The ears are cut out with precision, and the back is slightly rounded and holds most of the volume of the hairstyle.

The hair color is a mildly spicy peach blonde, even more dramatic in its matte sheen and taken to fashionable heights with some of the ends dipped in a gentle overlay of a soft berry tone.

Smoothing lotion and a flat iron are needed for effective styling as well as a medium round brush to achieve the roundness in the back.


Haircut Featuring Short Sides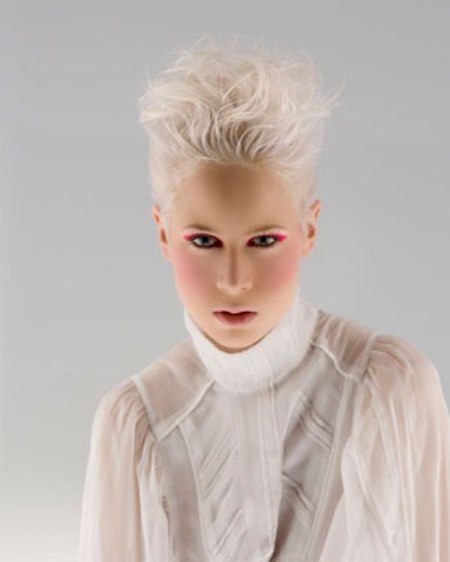 Like the previous hairstyles this pixie haircut also features short sides and back with graduated length towards the top.

The flawless transition gives a true edge to the overall silhouette, especially with the top hair styled upwards like a forest of tiny whirling icicles.

The perfect hair color for this look is, of course, blinding platinum, enriched for depth and dimension with some silver undertones.

Styling wax keeps the sides smooth and brings out individual strands at the top which should be relieved of gravity by using a dollop of mousse to keep it flexible but in wild array.

Hairstyles: BUNDY BUNDY Artistic Team

See also: Short hairstyles