UFO Salon and Spa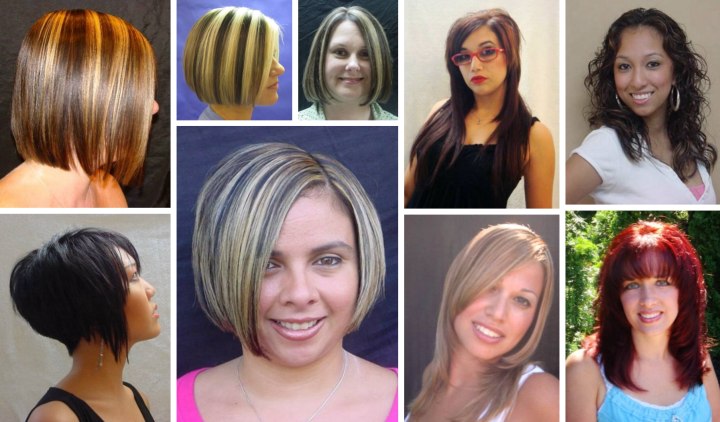 Scroll down for more photos ↓

UFO Salon announces hair fashion with chic round lines that grab attention, sharp blunt cuts, textured ends, smooth angled sides and full poofy bangs.

Other hairstyles have a sleek satiny approach, while longer layers dip and wind in spirals and waves. We love this smart hairstyles collection!


Glossy Bob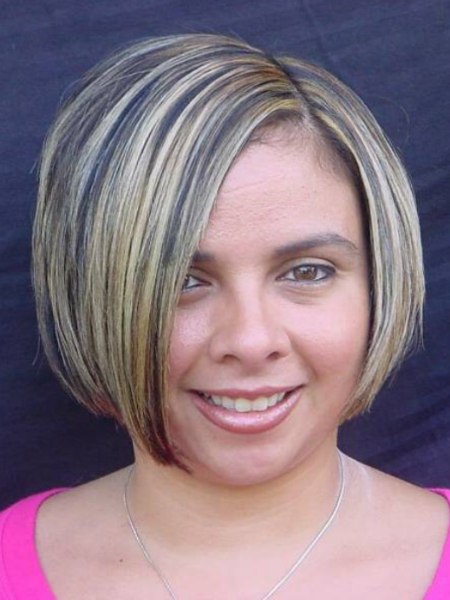 What is more attractive than the smooth velvety effect of a glossy angled bob that begins with a high side part, that is tailored in the nape and clings to the chin line?

One sassy piece is just a bit longer and covers the eye. Duo colors of browns and blonde are the finishing touch of this uniform coif.


Stacked Back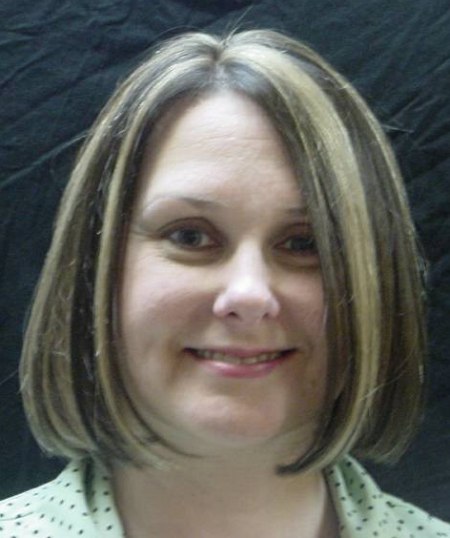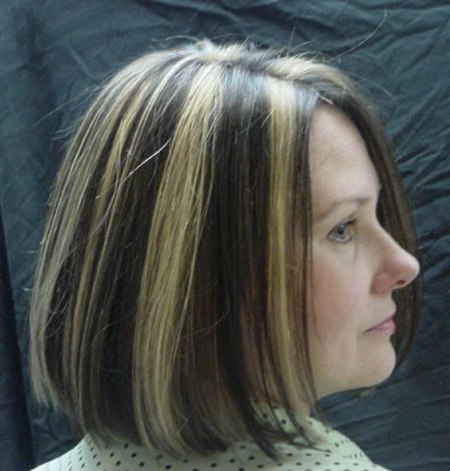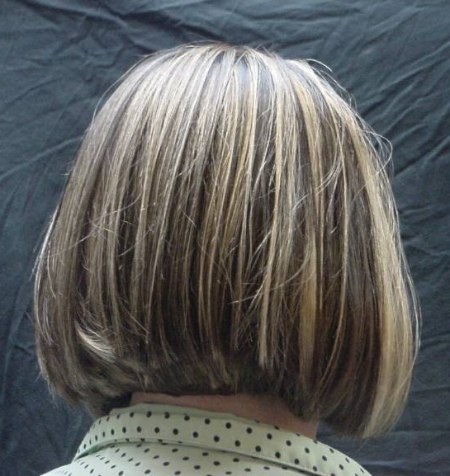 With an off center part, the model smiles glowingly with chunky colors of brown and blonde.

The back is stacked closely to the head and then edged to charmingly tilt under midway along the neckline. The use of a large round brush with thermo styling lotion helps while you blow dry.


Blunt Haircut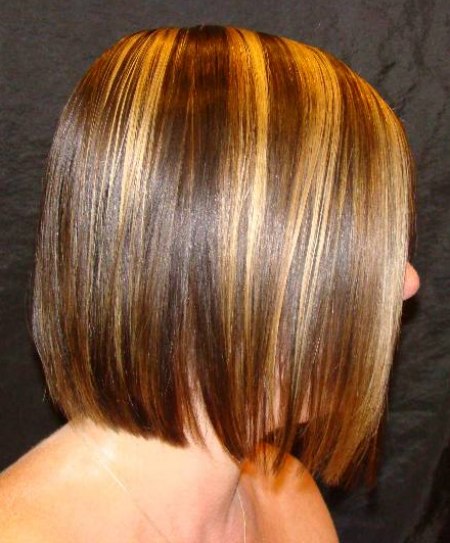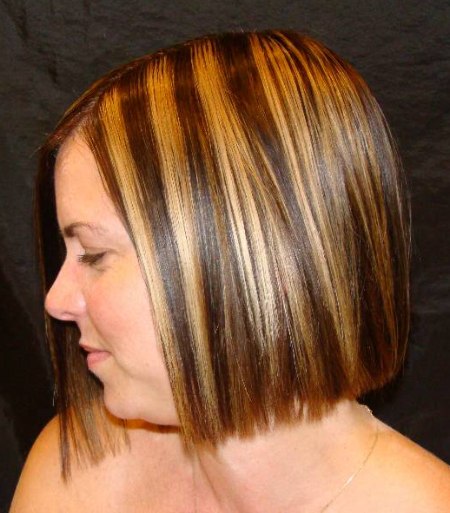 Classy chunked sections with various shades of brown and blonde have been created on this blunt haircut. The hair is edged with precision along the neck and it gradually extends in length around the sides. Who wouldn't love this hairstyle?


Fanciful Waves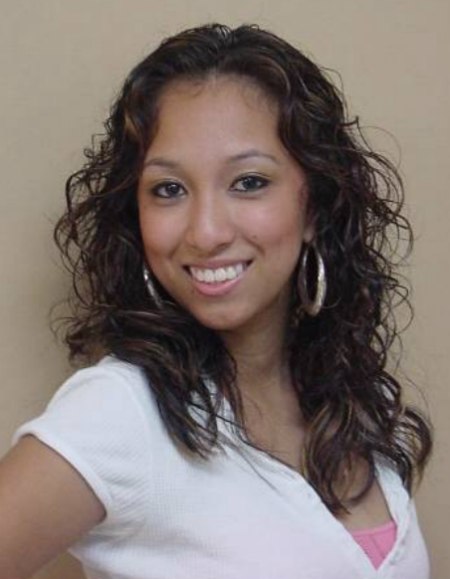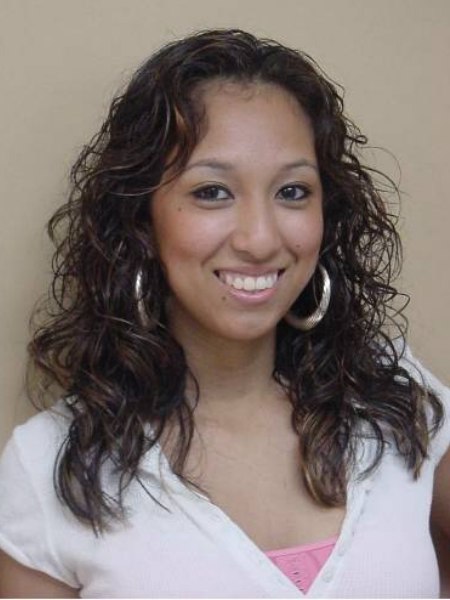 Two fanciful waves on each side announce the ripples of layers and coils that fall upon the model's shoulders in lazy curls. Totally brunette with a few slight threads of gold brings envied green eyes in our model's direction. Use your spiral curling iron or make an appointment to get a spiral permanent today.


Inverted Bob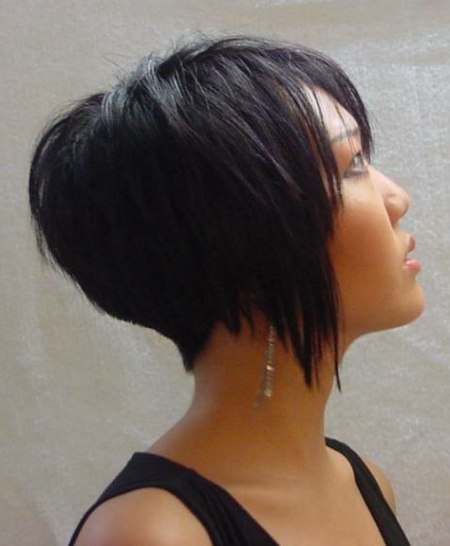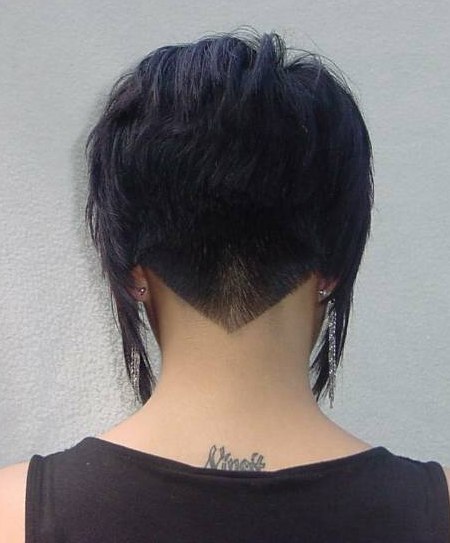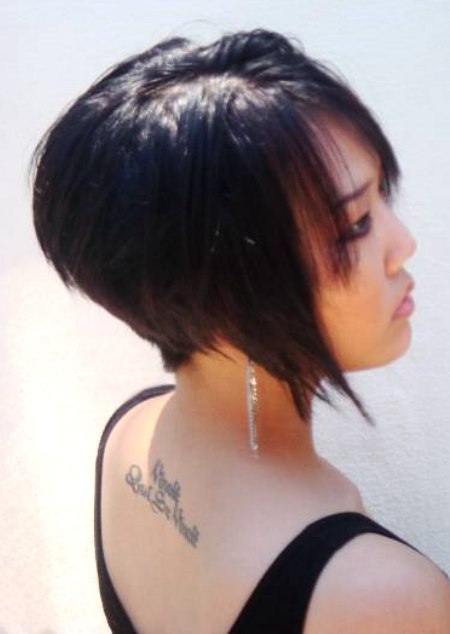 A sophisticated angled haircut with tight blending in the nape that comes to a point. The hair flows up into length when combed upward into the crown for pouf and then begins the extended descend along the sides into textured ends below the chin line.

See-through transparent bangs skillfully cover the eyes. Thermo styling lotion will assist with this inverted bob.


Poofy Bangs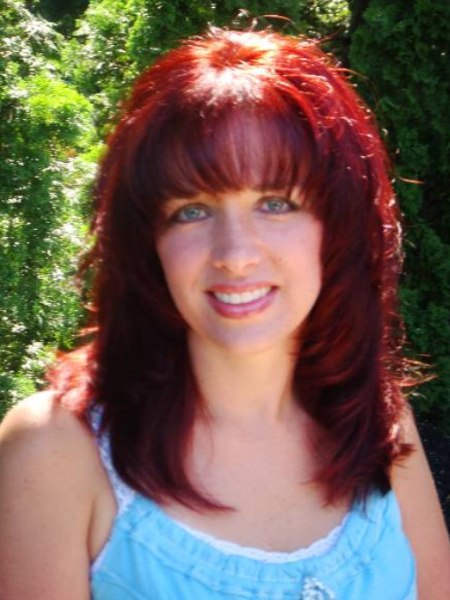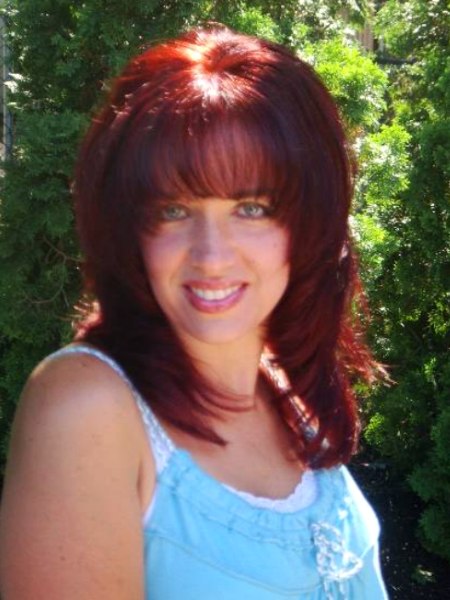 A radiant cherry with dashes of blaze red hair colors exude sun rays of fine layers. Poofy bangs dip just below the brows and mesh into the angled sides toward the face that nestle around the shoulders of this most attractive hairstyle.


Sleek Hairstyle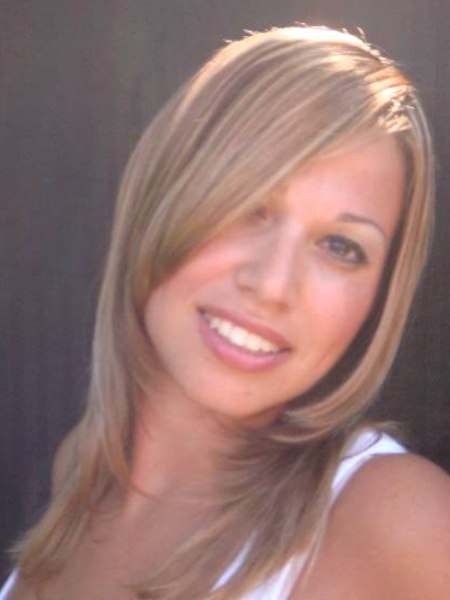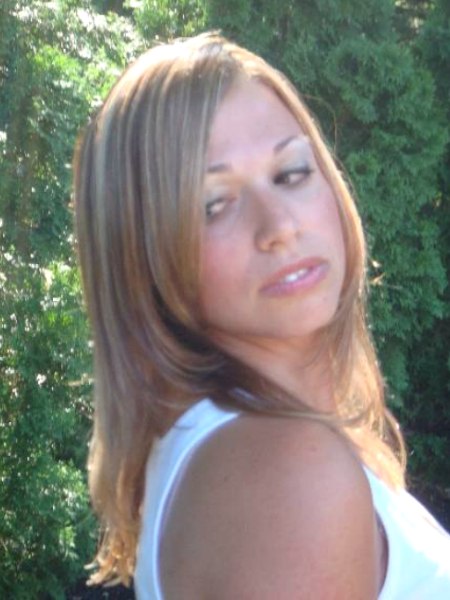 Smooth locks with blonde on blonde and some brown are awarded with a sleek top that is combed over to one side of the face and blending with the angles along the sides. Spritz styling lotion and use your large round brush when you blow dry.


Hairstyle with Diversity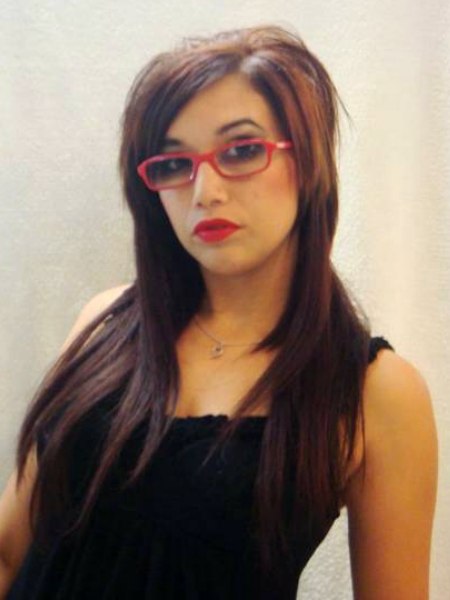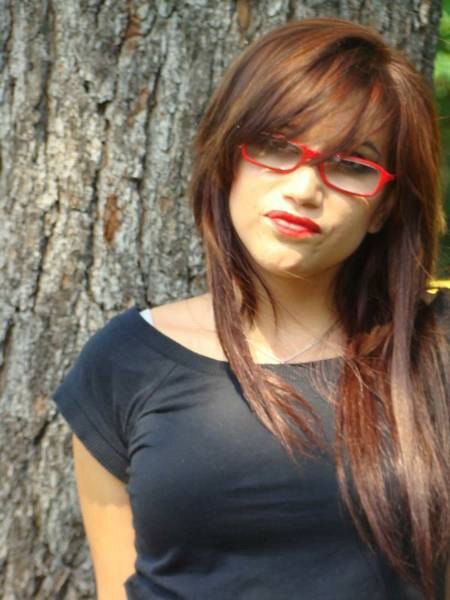 Focus your eyes on the lush angles of brown hair with warmer hues throughout the style. In the one photo we become aware of the straight bangs, fashioned over to the side. In the adjoining picture, wisps of bangs flow over her glasses.

One of the brilliant touches that mark this hairstyle's diversity. Smoothing serum will help create the lines for this style.


Bob and Chunky Hair Colors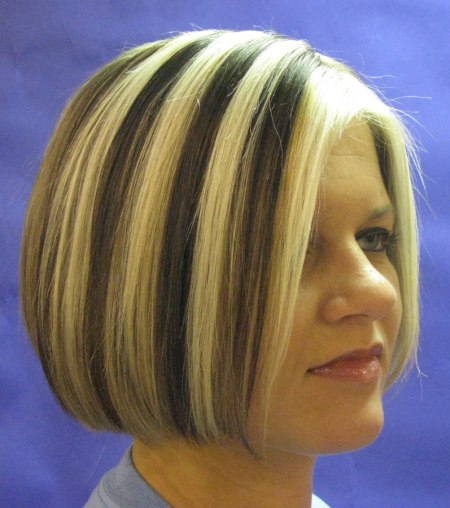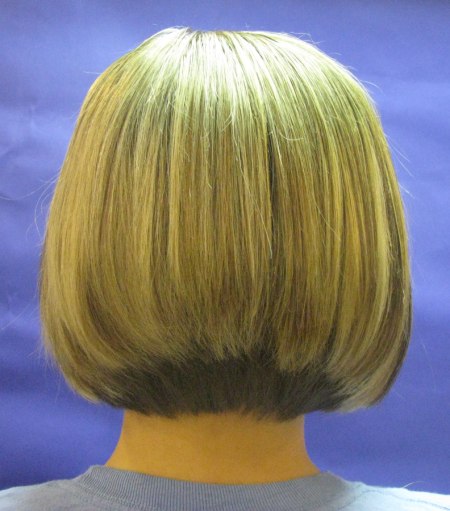 The hair magician transformed the pretty model into something totally gorgeous! Only this time instead of with a wand it was with scissors and hair color.

The nape has been clipped up closely to hug around the neckline and it was left to its natural dark brown hair color, while the rest of the hair has been edged into a bob that covers the ears and rides up in the back.

The fun chunky colors around the face are an array of platinum and dark brown while they all mesh together in thinner strips in the back. Use your favorite styling aids and a large jumbo round brush to style with your blow dryer.

Stylist: Stephanie Daniel
Salon: UFO Salon and Spa, Somerset, NJ

See also: Short hairstyles | Long hairstyles